Trade targets where cost is king
December, 4, 2012
12/04/12
8:33
AM ET
NASHVILLE -- Knowing that the surge of television money has reached the major leagues, executives aren't surprised that a lot of big contracts are being doled out this winter. But for baseball officials, hearing the specifics of each of the signings must be like walking into a Lamborghini showroom: They know it's going to pricey, and yet the numbers, in black and white, still take their breath away.
B.J. Upton
, considered to be an above-average player, but nothing close to an elite player ... $75 million.
Angel Pagan
, who is 31 years old and has about 1.5 good years in his career,
gets $40 million
.
No wonder baseball executives say that there is a high volume of trade talks, much of it centered around players who have become more attractive because of their modest contracts. Some names to watch:
R.A. Dickey
: The Mets have been taking offers from teams all over the place and asking for high return. He's the reigning Cy Young Award winner, he led his league in innings last year, and
he'll make less than Scott Baker in 2013
, given his $5 million salary. Dickey wants a two-year extension for 2014 and 2015, at big money, and he deserves an extension -- but that doesn't necessarily mean the team that acquires him has to give it to him.
Mets GM Sandy Alderson seems to be taking the same approach that he did in the
Carlos Beltran
talks 17 months ago. He's making the rounds, setting the asking price -- and as time goes on, he'll be in position to gradually go down the ladder in his demands with a series of teams (the Royals, Blue Jays and Rangers among them) until somebody says yes.
Alderson acknowledged
the trade talks
. The Mets are listening
to offers
.
Jason Kubel
and
Justin Upton
: Kubel hit 30 homers with 90 RBIs last season, and he's owed $7.5 million for next year; Upton is owed $38 million over the next three years. Arizona GM Kevin Towers is said to be among the most aggressive here in his trade talks. "You've got Kevin Towers with [trade] assets to deal, a lot of other teams under the same roof, and the chance for late-night trade talks -- that's a good combination for a deal," said a rival GM.
The Diamondbacks have their
eyes on pitching
, including
Brandon McCarthy
, writes Nick Piecoro. From his story:
A few minutes before beginning a session with reporters, Diamondbacks general manager Kevin Towers got a phone call, causing a ringtone from the theme of "The Good, the Bad and the Ugly" to sound through a hallway at the Gaylord Opryland Resort.

But Towers, who always has embraced his nickname of "The Gunslinger," didn't fire any bullets on Monday, the first day of baseball's annual winter meetings.

Instead, things felt eerily quiet for the Diamondbacks. They've made no secret about their wish list, but they've also made clear that they're comfortable with their club as currently constructed.

Towers said he met with four or five teams on Sunday night and another eight or nine on Monday. He's searching for the right match. He just hasn't found it yet.


Yunel Escobar
: Yes, he has a reputation for being a real pain, and yes, he had that ugly incident with the eye-black patches at the end of the season. But he also has what might be the worst contract from a player's perspective in the entire sport, and the best from a team perspective. Think about this deal:
• He will make $5 million in 2013.
• The team holds a $5 million option for 2014.
• The team holds a $5 million option for 2015.
Escobar has shown he can be a pretty productive shortstop, which means that if he plays well in this current deal, he will be underpaid. And here's the beauty of this contract, from a team perspective: If Escobar plays poorly, or he doesn't mix well with other players,
then they just get rid of him.
At little cost. In fact, the greatest risk to a team acquiring Escobar is that he decides he'd be better off forcing his way out of this contract with his play or behavior.
Escobar is one option
for the Athletics
, writes Susan Slusser.
Josh Willingham and Ben Revere
: Minnesota is desperately trying to make over its organizational pitching, and both Willingham and Revere would seemingly have a lot of value. Willingham is set to make $7 million for each of the next two seasons, coming off a season in which he hit 35 homers and drove in 110 runs, with a .366 on-base percentage. Revere, 24, is a cheap, young outfielder coming off a season in which he hit .294 and ranked among the major league leaders in some
defensive metrics
.
Notables
[+] Enlarge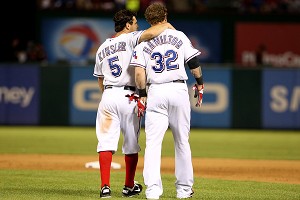 Ronald Martinez/Getty ImagesJosh Hamilton being embraced by the Rangers is no certainty. He could land elsewhere, and soon.
•
Josh Hamilton
and
Zack Greinke
have created logjams in some parts of the Winter Meetings market; the agents for a lot of pitchers are waiting to see what happens with Greinke, and the agents for some outfielders and corner infielders are hoping Hamilton makes his decision soon.
The Dodgers don't
have an offer
out to Greinke ... yet.
Hamilton is here to
drum up business
.
From Gil LeBreton's piece:
On the eve of these baseball Winter Meetings, as chance would have it, Hamilton and his wife Katie boarded the same flight to Nashville as Texas Rangers general manager Jon Daniels.

Awk-ward.

Business is business, though, and Daniels downplayed what he called a "coincidence."

He didn't ask, but Daniels said he assumed that Hamilton was headed to the winter meetings "probably to meet with some other teams."

Ballplayers, it should be noted, do not routinely attend the meetings. General managers and managers do. Wide-eyed recent college grads, seeking an entry level job in the minor leagues, do.

But an unsigned free agent? Not very often.