Union must fight to weed out cheaters
January, 31, 2013
1/31/13
12:44
PM ET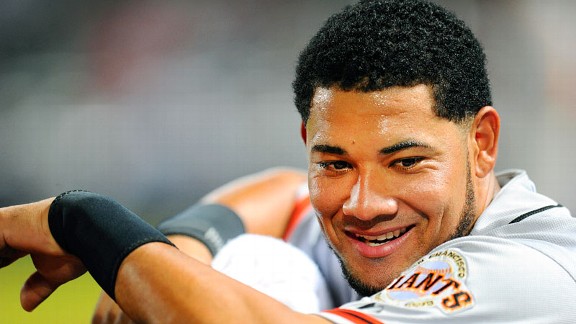 Dale Zanine/US PresswireIn a certain sense, Melky Cabrera has been taking money from fellow union members.
Rick Reed
became an important part of the New York Mets' rotation in 1997, posting a 2.89 ERA in his 33 appearances. But he was not wholly embraced by teammates that year, because in the spring of 1995, he had served as a replacement player during the players' strike -- a scab, in the eyes of the players' association.
I covered the Mets that year and can remember seeing Reed sitting outside of the clubhouse glancing through a newspaper while a union meeting was taking place inside. Teammates were polite with him, and some actually liked him a lot -- but he was not welcomed by the union because he was perceived as a threat to the rank and file of the brethren through his actions.
The Major League Baseball Players Association continues to face a far more significant threat from some of its own members these days -- and yet it remains to be seen whether the union will ever render the sort of harsh treatment that those outliers have earned. The players must decide if they will take a needed step forward.
The MLBPA has evolved in its stance on performance-enhancing drugs through the past 15 years, pulling its collective head out of the sand and finally bringing itself to ignore the antiquated counsel of Don Fehr and Gene Orza and accept drug testing,
in order to protect the interests of the clean players and those who used only because they felt they had to keep up with the cheaters.
The first round of survey testing went into effect in 2003, and some of the clean players in the union -- call them the silent majority -- were so adamant that testing was needed that some discussed refusing to provide urine samples, so that they would be marked as positive and trigger automatic testing in 2004. There were angry words about this at the White Sox spring training site,
as mentioned in this report that spring
.
By 2006, the union had agreed to tougher testing, and tougher penalties, to deter would-be users.
But over the past few years, it has become increasingly evident that for some, the incentive to use vastly outweighs the risk of punishment.
Consider the case of
Melky Cabrera
, who came up with the
New York Yankees
and was evaluated by them as an extra outfielder, for the long term. After a trade, he was a fourth outfielder for the
Atlanta Braves
in 2010 -- and a subpar player, at that. He hit .255, with a .671 OPS, which ranked 134th among 149 qualified hitters that year. Rather than paying him something in the range of $5 million for 2011, the Braves simply released him. At age 26, Cabrera was out of a job, a fringy major leaguer.