Miguel Cabrera's historic RBI pace
May, 5, 2013
5/05/13
9:02
AM ET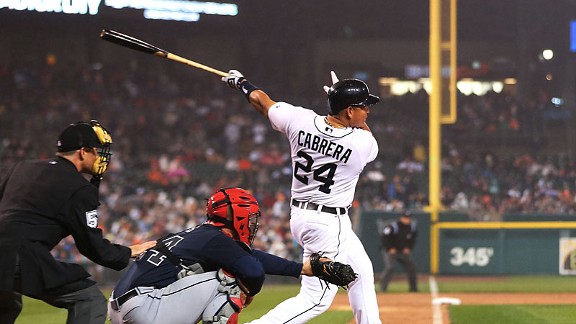 Leon Halip/Getty ImagesMiguel Cabrera is off to a fantastic start for the Detroit Tigers this season.
SAN FRANCISCO -- Let's get this out of the way: Yes, five weeks of a Major League Baseball season is a small sample size. But also remember that teams have been promoting and demoting dozens of players for weeks based on those small samples, because the talent evaluators are gauging what they expect the players to do. Because they believe that sometimes small samples become big samples of more of the same.
Roughly 20 percent of the season has been played, and some of the early-season trajectories are being established at record-challenging levels. When we say a player or a team is on pace to do something extraordinary, well, that almost always doesn't hold its course.
But there are some really interesting trend lines that threaten to intersect with history if the small samples become large samples of more of the same. Here are eight to watch:
1. Miguel Cabrera: on pace to drive in 201 runs.
He had six more RBIs Saturday night against the Astros, and now has
36 in 29 games
. Because this is a statistic based on the performance of teammates, many things could prevent Cabrera from beating Hack Wilson's all-time record of 191 RBIs: slumps by the hitters in front of him, injuries or opposing pitchers choosing to work around Cabrera. There is bound to be some regression in how Cabrera is hitting with runners in scoring position, because he's hitting at an absurd pace: 23 hits in 42 at-bats, for a .548 average. He has a 1.472 OPS in those situations.
But right now, Cabrera looks as if he is swinging at the absolute peak of what will be a Hall of Fame career, hitting .390, 21 points higher than anybody in the AL.
Last weekend, I asked colleague Orel Hershiser to come up with a comparable to Cabrera in the type of hitter he is, in his production and his ability to make adjustments, and basically, Orel was stumped. And why not: Cabrera has a chance to be the first right-handed hitter to win three consecutive American League batting titles since Nap Lajoie, who had the highest batting average year by year from 1901 to 1904. Rogers Hornsby, a right-handed hitter, won the NL batting title every year from 1920 to 25, and Honus Wagner won every year from 1906 to 1909.
2. Houston Astros: on pace for a 42-120 record.
This is, of course, '62 Mets and '03 Tigers territory, although not in the Cleveland Spiders' territory. The Astros' 17-2 loss Saturday may have been the
most humiliating
of the season for them.
3. Cabrera: on pace for 256 hits.
That would be the
most ever
in a single season for a right-handed hitter.
4. Austin Jackson: on pace to score 167 runs.
It's not like Jackson is off to a terrific start at the plate -- he's hitting a very solid .297, with a .357 on-base percentage. But that Cabrera guy hits two spots behind him, and that helps.
A season of 167 runs would rank in the top 10 all time, and would be the
most since 1936
.
5. Astros: on pace for 1,620 strikeouts.
They have exactly 310 strikeouts in 31 games, including a whole bunch this weekend against the Tigers … and they face
Justin Verlander
today. At their current trajectory, they will obliterate the all-time strikeout mark.
6. Astros: on pace for a run differential of minus-344.
The good thing is that the Astros have no chance of matching the worst run differential in baseball history, established by the aforementioned 1899 Cleveland Spiders, who were outscored by 724 runs in that season. But the Astros are on a trajectory to challenge for the worst run differential since 1900.