History stacked against Derek Jeter
April, 19, 2013
4/19/13
8:54
AM ET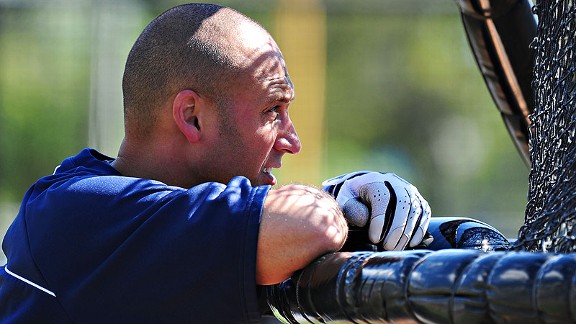 Scott Cunningham/Getty ImagesDerek Jeter will be 39 by the time he would return from injury after the All-Star break.
Derek Jeter
was in the eighth grade when he wrote an essay in Chris Oosterbaan's class about his dream of playing shortstop for the Yankees. When he was in the 11th grade, the personal coat of arms he created for his English literature course included an image of himself in a Yankees uniform.
The odds of a kid from Kalamazoo, Mich., becoming a shortstop in professional baseball are astronomical, of course -- and the odds of a high school baseball prospect being drafted specifically by the Yankees in 1992 were diminished by a factor of about 28.
But Jeter has never concerned himself with odds, which is part of the reason why the teenage dreamer not only realized his vision of becoming the Yankees' shortstop, but will go down as one of the greatest ever to play his position. He is not wired to be preoccupied with the seeming boundaries of history.
That is why his conversation Thursday with Yankees general manager Brian Cashman was typical for him. He and Cashman talked about the setback Jeter had suffered, the crack near the spot where he fractured his ankle last fall, and about the lengthened recovery time, and Jeter closed by saying, in so many words:
OK, I'll see you after the All-Star break.
Jeter has never allowed any doubt to enter his tone in discussing his recovery, or what he'll be capable of when he returns. You cannot accumulate 3,304 career hits if your habit is to fret over what might go wrong.
The lessons drawn from historical precedent suggest players of his age -- Jeter will be 39 by the time he would return after the All-Star break -- almost never come back after a year of diminished playing time.
I posed this question to Kevin Hines of Elias: How many times has a player at Jeter's age missed more than half of his team's games, then come back to be a regular (defined by accumulating 400 plate appearances).
There are only seven players who have done this in the past 100 years -- and only one was a middle infielder, Luke Appling.
Most games missed by season, Derek Jeter, MLB career
2013 -- 96 (assuming Jeter returns after All-Star break)
2003 -- 43
2011 -- 31
2000 -- 13
1998 -- 13
Jeter is 324 hits away from reaching Stan Musial's 3,630 career mark, fourth-place all-time. He will need to beat the odds again for this to happen; he will have to beat the odds to be an effective player ever again.
This may signal the end for Jeter,
writes Bob Klapisch
. The Yankees lost to Arizona Thursday night,
as Jorge Arangure writes
.
Eduardo Nunez
is ready for more action at shortstop,
writes Brian Lewis
.
Notables
•
R.A. Dickey
was excellent, but now the Blue Jays have some
injury concern
.
•
Tony Cingrani
won his
major league debut
for the Reds.
•
Brandon Crawford
keeps getting better as a hitter -- he was moved to the
No. 5 spot
in the Giants' lineup Thursday -- and we had him on the podcast Thursday; also, agent Jamie Murphy talked about
getting into the business
, negotiations and client-stealing.
• I watched a lot of Matt Cain's outing against the Brewers and once again, his stuff just looked flat -- his breaking pitches looked flat, his fastball looked benign, and indeed, as
Fangraphs.com shows
, his velocity now is the lowest of his career.
From ESPN Stats & Info: Cain's struggles have been with his breaking ball this season. Opponents are hitting .361 in at-bats ending with Cain's breaking ball (league average is .204).
More from ESPN Stats & Info: Cain is struggling to put hitters away with his breaking pitches. This season, he has thrown 44 breaking balls with two strikes and allowed eight hits. Last season, he threw 423 breaking balls with two strikes and allowed 21 hits. He also has struggled when falling behind hitters. In at-bats when Cain throws a first-pitch ball, opposing hitters are 13-for-26 (.500 BA), including six extra-base hits.
The San Francisco starters are giving up loads of runs,
writes Henry Schulman
.
•
Evan Gattis
and
Justin Upton
are ridiculous right now, which is what
Carroll Rogers writes
, in so many words. Upton hit his ninth home run in his 15th game; it took Upton 98 games to hit nine home runs last season.
From Elias: He is the first Braves player with nine homers in his team's first 15 games.