The King Felix deal: winners and losers
February, 8, 2013
2/08/13
8:11
AM ET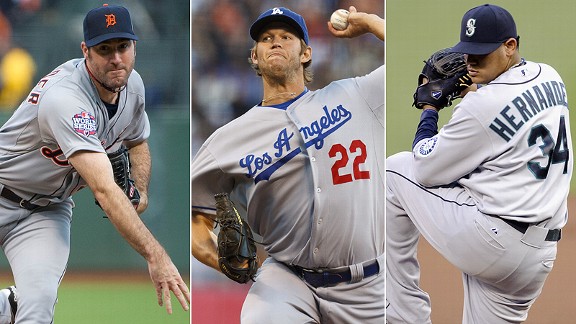 Getty ImagesKing Felix is getting paid, something that just might get noticed by friends in the biz.
The deal
Felix Hernandez
will soon finalize with the Mariners is a lot like the contracts agreed to by
Troy Tulowitzki
and
Ryan Howard
. It amounts to lots of money tacked on to the back end of another deal. There will be a lot of ways that accountants, agents and teams will tabulate the numbers, but ultimately Hernandez is getting an additional $135.5 million in new money, with five more years on the deal.
The annual average value of the new portion is $27.1 million, the highest average ever for a pitcher. In fact, no pitcher has been guaranteed $26 million a year. As USA Today first reported, he'll get a total of $175 million over the next seven seasons.
As with every deal, there are winners and losers:
1. Winners: The Mariners
It has been a really rough winter for the Mariners, who intended to do big things to reverse the disturbing trend in their attendance; the number of fans attending games at Safeco Field has dropped by a shade more than 50 percent
over the past decade
. And Seattle has become one of the destinations that some players -- position players, in particular -- have worked to avoid, particularly after the offensive struggles of
Adrian Beltre
.
Josh Hamilton
turned down millions of dollars in an offer from Seattle to sign with the Angels, and
Justin Upton
named the Mariners as one of four teams to which he could decline a trade and exercised that right. In recent days, the name of
Jesus Montero
, who was supposed to be an offensive leader for the Mariners in the years ahead, popped up in the whole Miami drug mess. Meanwhile, the three best teams in the dynamic American League West -- the Athletics, Rangers and Angels -- might all rank among the 10 best teams in the majors.
But finally, there is some good news for Mariners' fans, who now know that King Felix will stay, as
Cal Ripken
stayed with the Orioles and
Tony Gwynn
stayed with the Padres. I went to Safeco Field in February 2011 to do an interview with Felix, and he and his brother were the only players to work out that day -- because he is one of the few Mariners who chose to live in Seattle in the offseason. He made it clear that day he intended to pitch for the Mariners for the rest of his career, and he apparently meant it.
Seattle general manager Jack Zduriencik has fielded many phone calls through the years from other teams asking if Felix might be available, and he has always told them he would keep Hernandez. Clubs like the Yankees have been prepared to throw huge offers at Seattle, and Zduriencik's answer has been firm and consistent: no, no, no.
The Mariners have lots of problems that need solving, but they will continue to have one of the best pitchers on the planet leading their rotation. Every five days, at least, Seattle is one of the best teams in the majors. In each of the past six seasons, Hernandez has ranked in the top 10 in the
AL in strikeouts
, and he has finished in the top four in the Cy Young voting in three of the past four years.
Per Elias, he is behind only
Justin Verlander
as pitchers with the highest percentage of team wins over the past five years:
Justin Verlander (DET): 20.4
Felix Hernandez (SEA): 18.3
Jered Weaver
(LAA): 16.1
Bronson Arroyo
(CIN): 15.9
Losers: The Mariners
Let's be clear: Rival evaluators
love
Felix Hernandez. They respect the heck out of him, and they respect the Mariners for how they developed him. But Thursday night, the question being kicked around was: Why? As in, why do this deal now? Hernandez was already signed through 2014. Why not wait longer?
"If they had taken this deal to him next winter, he still would have signed it," said one NL executive, "and even if he didn't, his trade value wouldn't have gone down at all."
Why wait? Well, rival evaluators note that there have been some signs of regression in Hernandez, most notably the reduction in his average fastball velocity. From FanGraphs, here's a look at that average velocity in recent years:
2007: 96.3
2008: 94.5
2009: 93.8
2010: 94.4
2011: 93.4
2012: 92.4
Pitchers are like cars: The mileage adds up, and the wear and tear manifests itself. Only three pitchers since 1969 have thrown more innings than Hernandez before they turned 27. From Elias (first year in parentheses):
Bert Blyleven: 2,143.7 IP (1970)
Fernando Valenzuela: 1,805.7 (1980)
Dwight Gooden: 1,713.7 (1984)
Felix Hernandez: 1,620.3 (2005)
Vida Blue: 1,531.7 (1969)
Valenzuela was never the same after he turned 26, and neither was Blue nor Gooden -- although their respective descents were fueled by off-field issues. Maybe Felix will be like Blyleven and continue to be a great pitcher for years to come because of his understanding of his craft and ability to throw strikes and make the ball move. He's a really smart pitcher, like
Pedro Martinez
, and maybe he'll be great even with lesser stuff.
But history suggests that the Mariners are committing a huge sum of money to pay for Hernandez's decline after an incredibly heavy workload early in his career.
[+] Enlarge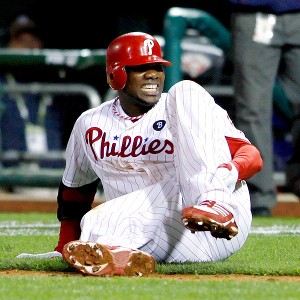 AP Photo/Alex BrandonPhilly's deal with Ryan Howard in a word: ouch.
One parallel that some evaluators drew Thursday night, in talking about the timing of this deal, was to the Phillies' decision to sign Ryan Howard. In April 2010, Howard had almost two full seasons remaining on his deal with Philadelphia, but the Phillies gave him a five-year, $125 million extension -- a top-of-the-market deal for a player who was still a long way from free agency.
With the benefit of 20/20 hindsight, it has become clear that deal was a big mistake for the Phillies, a contract that will hamper their decision-making for the next four years.
In the eyes of rival evaluators, the Mariners could have waited another year before committing a top-of-the-market deal to Hernandez -- another year in which they could have collected more information on what Hernandez will be as he approaches his 30th birthday, another year of avoiding risk.
"If you sign a player to an extension that far away from free agency, there should be some sort of discount," said another GM. "There's no discount in this deal."
Winners: Justin Verlander, Clayton Kershaw and David Price
Those three pitchers are now positioned to perhaps become the first $200 million pitchers in baseball history. Verlander and Kershaw can become eligible for free agency after the 2014 season, and Price probably will be traded sometime before the start of the 2014 season. Their price tags just got bumped upward, significantly.
Losers: Teams that wanted Felix
As one general manager explained last year, big-market teams such as the Yankees, Red Sox, Phillies and Dodgers don't have easy access to elite pitchers. They usually contend for the postseason, which means they aren't picking at or near the top of the draft. They either have to trade a huge package of prospects for elite pitchers, as the Phillies did with
Roy Halladay
and
Cliff Lee
and the Red Sox did with
Josh Beckett
, or they have to fork over a lot of money in free agency, as the Yankees did with
CC Sabathia
. (Or they find a diamond via international scouting, as the Mariners did with Hernandez when they signed him at age 16.)
This is why the Mariners got so many calls through the years. It's extremely difficult for a team like the Yankees to land a young talent like Hernandez. And now he's off the market for the foreseeable future.
Losers: AL West hitters who don't play for the Mariners
In recent seasons, officials with other teams have constantly counted out the days for Hernandez's starts to see if they would win or lose the King Felix lottery. You look forward to playing the Mariners in general, one scout said last summer, but if you see him twice in back-to-back home-and-home series, you feel as though you lost a round of Russian roulette.
Opposing hitters' OPS against Hernandez in his career:
2005: .546
2006: .729
2007: .751
2008: .727
2009: .605
2010: .585
2011: .660
2012: .629
Elsewhere: Finally, some
good news for Mariners fans
, writes Larry Stone. The Mariners are
also close to a deal
with
Joe Saunders
, writes Geoff Baker.
A lot of teams other than the Yankees are
spending a lot of money
, writes Ken Davidoff.
Notables
•
Victor Martinez
looks great as he
takes swings
. From Tom Gage's story:
"Victor looks unbelievable," [hitting coach Lloyd] McClendon said about Martinez, the Tigers' designated hitter who missed all of last year because of left knee surgery. "I am really, really impressed with what I've seen.

"He's in great shape, and he's swinging the bat extremely well. A lot of zip, a lot of pop, it doesn't look like he's lost anything."

After batting .330 and driving in 103 runs in 2011, his first season with the Tigers, Martinez was hurt during an offseason workout last year.

He was able to avoid ligament reconstruction surgery in his left knee, but micro-fracture surgery -- as well as the damage he'd done to knee ligaments -- ended his 2012 season before it began.

The word from Lakeland [Fla.] during the Tigers' caravan two weeks ago was that he was doing well in the final stages of his recovery, but that recovery could be witnessed first-hand Thursday.

Still, a swing in the cage isn't the same as one against live pitching during a game -- and the Tigers aren't saying it is. But they are pleased with what they see.

"His hands are active, his legs are active, he's driving through the ball," said McClendon. "He hit all kinds of pitches -- up, in, out, down -- which really impressed me."


• A proposal that would allow the Rays to explore other stadium options
went nowhere
.
• Sandy Alderson is
very chatty
about
Michael Bourn
, writes Adam Rubin. Sources say that Bourn is looking for a four-year deal and trying to get the Mets or some other team to push to that level.
Moves, deals and decisions
1.
Dayan Viciedo
has added
a leg kick
.
2.
A Brewers pitcher
had knee surgery
.
3.
The Mets
signed
Brandon Lyon
.
4.
Clark Spencer has some stuff on the
Jose Valverde
-Marlins rumor
that went nowhere
.
5.
The Rangers should sign
Elvis Andrus
to a
long-term deal
, writes Randy Galloway. Takes two to tango.
6.
Kyle Lohse
would make
more sense
for the Rangers than Michael Bourn, writes Evan Grant.
Other stuff
• Michael Weiner says it's
too soon to
make judgments in the drug cases.
•
Curt Schilling
talked
about a time
when some member of the Boston organization brought up the idea of using performance-enhancing drugs, a statement that he clarified.
• Larry Rothschild is overseeing a
group of older starters
, writes Anthony McCarron.
• Paul Hoynes writes about the Indians'
starting rotation
.
• A couple of Cardinals are focused
on the present
.
• The Diamondbacks will look
different this season
, writes Dan Bickley.
• There are
no guarantees
for
Daniel Bard
.
• The Phillies have
bench jobs up for grabs
.
•
Jarrod Dyson
is aiming
for 50 stolen bases
.
•
Adrian Gonzalez
brings his
multicultural background
to the Dodgers.
• The Cubs' plans are starting
to come together
.
• A spring training tradition has
already begun
: autograph-seekers lining up for hours hoping that a player will stop and sign -- in this case,
Derek Jeter
.
The most incredible patience I can remember seeing exhibited by fans was that of the folks lining up outside the Orioles' complex in 1995 and 1996, hoping that Cal Ripken would stop. I'd see fans near the parking lot entrance at 6:30 a.m., and I'd see some of the same fans at the end of the day, after a day of standing in the sun.
• Some
details emerged
in Todd Helton's DUI case.
• Tim Raines yearns
for Cooperstown
.
And today will be better than yesterday.