A chip-cashing trade
December, 9, 2009
12/09/09
8:07
AM ET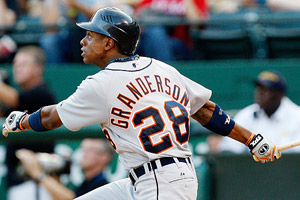 Getty ImagesGranderson is a solution for the Yanks, but there's a sense his departure was a solution for the Tigers as well.
The trade will include big names and first-round picks when it is finally completed.
Curtis Granderson
is an All-Star with some major numbers and a superstar presence, and
Edwin Jackson
was picked for the Midsummer Classic last year.
Max Scherzer
is regarded, generally, as one of the great young power arms in the game, and there will be back-to-back days, inevitably, when right-handed hitters will struggle to muster half-decent swings against him and
Justin Verlander
.
Daniel Schlereth
could be a closer some day. Austin Jackson comes with more than two years of advance notice, having once been part of the
Johan Santana
trade talks.
But some talent evaluators who chatted about the deal in the lobby in Indianapolis sensed a strong whiff of chip-cashing going on in this trade, with each side perhaps selling an asset before the flaws are further exposed.
Granderson is high character and high production in home runs and stolen bases, but there are those within the Tigers organization who came to regard him as a good player -- but not a great player -- because of repeated route mistakes on fly balls, because of his significant strikeout totals, because of his shrinking on-base percentage and because, inevitably, his vulnerability against left-handed pitching becomes an issue in the later innings. If the Yankees place him leadoff in their lineup, that means
Derek Jeter
will go back to the No. 2 spot, where he tended to hit into double plays in the past. If Granderson hits second, then opposing managers will constantly call on a left-hander to face him and turn No. 3 hitter
Mark Teixeira
into a right-handed hitter.
If the Diamondbacks viewed Max Scherzer as a can't-miss, front-line type of pitcher, there is no chance they would have traded him early in his major league service time. Rather, there is some sentiment inside (and outside) the organization that with his unusual head-snapping mechanics, Scherzer is going to be at high risk for injury, and that eventually, he would probably have to be moved to short relief.
Granderson was
beloved but on the decline
, writes Lynn Henning. A bloated Tigers payroll
forced the Granderson trade
, writes Drew Sharp. The Tigers are still
looking for a closer
, writes John Lowe. The prospects
are not enough
for the Tigers, writes Bob Wojnowski.
Clutch
is the question
about Curtis Granderson, writes Joel Sherman. The trade
addresses four points
for the Yankees, writes Ken Davidoff.
The Diamondbacks have about
$6 million left to spend
in this offseason, writes Nick Piecoro. Here is a look at the deal
from the Diamondbacks' perspective
.
Here's the thing for Arizona: It's pretty clear that the Dodgers are in lockdown mode financially, because of the impending divorce of the McCourts, and the gap between Los Angeles and the other teams in the NL West is closing. If
Brandon Webb
bounces back fully -- and so far, it's all systems go for the former Cy Young Award winner -- then Arizona could have a strong rotation, fronted by
Dan Haren
, Jackson and Webb, with Kennedy poised to be at the back end.
Elsewhere ...
Johnny Damon
feels like there is still a
window for him to come back
, writes Tyler Kepner. Bob Klapisch wonders: Will the Red Sox
throw in the towel for 2010
?
Sox counter?
We have come to expect counterpunches in the Hundred Years' War between the Red Sox and Yankees, and in the aftermath of the Granderson trade, there is a natural assumption that Boston is going to throw a left hook in response, with the signing of one of the corner outfielders, perhaps
Matt Holliday
or
Jason Bay
. The Red Sox could emerge in the bidding for
John Lackey
, or
Adrian Beltre
, another position player who fits their current blueprint, because of his extraordinary defense.
But you get the sense that the Red Sox don't necessarily view any of the players on the current market as gotta-have-'em, difference-making players. Yes, they'd like Jason Bay -- but only at their price. Rival executives don't sense the Red Sox are all hyped up to get into a bidding war over Bay, or over Holliday.
The Red Sox have expressed interest in
Coco Crisp
, and they are forming some contingency plans in the event they don't sign either Bay or Holliday; they'll play some combination of
Jeremy Hermida
and a free-agent outfielder, alongside
Jacoby Ellsbury
and
J.D. Drew
. It may be that, like in 2009, they save their biggest bullets for midseason deals.
There is
calm for the Red Sox
, writes Michael Silverman. Boston's choice will
come down
to Bay or Holliday. The Red Sox
don't plan to throw
a lot of money at the fill-in relievers.
Moves, deals and decisions
1. Heard this: The Brewers expect to get a decision today from
Randy Wolf
on whether he is accepting their three-year offer.
2. Heard this: The White Sox are talking with other teams about
Bobby Jenks
, but the expectation is that they will keep him if they can't make a trade, rather than non-tender him. "I can't see (the White Sox) getting zero value for him," said one official.
3. Heard this: Rival executives expect the Padres to get second-line prospects in return for both
Kevin Correia
and
Kevin Kouzmanoff
.
4. Heard this: As noted above, the Red Sox are among the teams that have expressed interest in Coco Crisp.
5. The Jays will
get a Halladay deal done
, writes Richard Griffin.
6. The Angels are open to trading
Erick Aybar
, writes Mike DiGiovanna, and
are targeting Halladay
.
7. The Brewers have
a narrow focus
, on Randy Wolf, writes Tom Haudricourt.
8. The Cubs have
reached a tipping point
on
Milton Bradley
, writes Paul Sullivan.
9. Kouzmanoff is one of the names
being talked about
by the Padres, Bill Center writes.
10. The White Sox signed
Mark Teahen
and moved on
Coco Crisp and
Hideki Matsui
, writes Mark Gonzales.
11. Nolan Ryan has served up
a fat pitch for Tom Hicks
, writes Evan Grant. If his bid to buy the team fails, he
could leave the Rangers
, writes Jeff Wilson.
12. Pudge Rodriguez is the Nationals' bridge
to the future for the pitching staff
, writes Ben Goessling. The Nationals are now
looking to add a starter
.
13. The Astros' focus at the
winter meetings
has turned to
LaTroy Hawkins
, writes Jose de Jesus Ortiz.
14. The Braves
intend to deal
Rafael Soriano
, writes David O'Brien.
15. The Marlins are still
open to a long-term deal
for
Josh Johnson
, writes Clark Spencer.
16. The Rays continue to
look for upgrades
, writes Marc Topkin.
17.
Chone Figgins
signed, officially
, with the Mariners, but Seattle is keeping an open dialogue with Adrian Beltre. Beltre fits what the Mariners are trying to do more than Jason Bay, for sure.
18. Waiting for Matt Holliday
could cost the Cardinals
a shot at
Mark DeRosa
, writes Joe Strauss. The
Brad Penny
signing
makes sense
for the Cardinals, writes Bernie Miklasz.
19. Obstacles
block the Royals' pursuit
of
Felix Pie
, writes Bob Dutton. The Royals are
pursuing
Jason Kendall
.
20. Oakland could
be a landing spot
for Hideki Matsui, writes John Shea.
21. The Giants don't
appear to be interested
in
Dan Uggla
, writes Andrew Baggarly.
22. The Indians' Manny Acta
feels like they have a lot of pieces
in place. The Indians picked
Jon Nunnally for hitting coach
.
23. The Mets expect pitching
help to come through
free agency, writes Ben Shpigel. John Lackey is
on their radar
, writes Adam Rubin.
24. The Dodgers
are still short
on starting pitching, writes Dylan Hernandez.
25. The Phillies mean
business with their budget
, writes Paul Hagen.
No major deals are imminent
, says Ruben Amaro.
26. The Orioles like their
range of options at third base
, writes Jeff Zrebiec.
27. The Pirates
are set
to sign
Bobby Crosby
, writes Dejan Kovacevic.
28. The Twins still haven't filled the
hole at third base
, writes La Velle Neal.
29. The Rockies
are locked in
on signing a catcher.
Trivia
From Mark Simon, a Yankees/Curtis Granderson-related trivia question:
In 2009, Granderson had the only 30 HR/20 SB season in Tigers history. On the other hand, four different Yankees have done it:
Alex Rodriguez
(three times) and
Alfonso Soriano
(two times) are two of them. The other two are outfielders with famous names ... Can you name them?
The answer is at the bottom of the blog.
Digging through the numbers
Some numerical storylines from the ESPN Stats & Information department:
On the Tigers payroll
: The Tigers jumped into the top 15 teams in Opening Day payroll in 2005, after spending four straight seasons ranking in the lower half in Opening Day payroll, and by 2006 they were back to being a winning team (and in the World Series). Their seasons as a bigger spender, however, have been a mixed bag -- three with a winning record, two with a losing record.