The puzzling numbers of Holliday's deal
January, 6, 2010
1/06/10
8:01
AM ET
The Cardinals
finished their negotiations
for
Matt Holliday
, Joe Strauss writes. Holliday was an MVP candidate in Colorado and he performed exceptionally for the Cardinals in the last nine weeks of last season, giving St. Louis a devastating two-man punch in the middle of its lineup.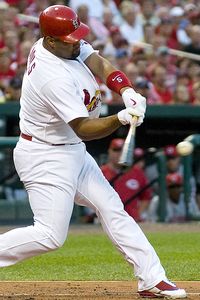 Getty ImagesThe numbers for Holliday create significant questions about plans for Pujols.
That said, the news of the Cardinals' seven-year deal is stunning to many in rival front offices. "Who were they bidding against?" asked one GM. "If the Red Sox, with their money, offered him $82.5 million, and then pulled out of the running, then why go higher than that? They [the Cardinals] look like they spent about $30 million more than they needed to."
Said another executive: "I guess that will end the collusion talk."
Part of the rivals' confusion over the Cardinals' deal is that from the outside looking in, it would seem to put the team into a position in which they would have to offer
Albert Pujols
a deal much higher than the record-setting contract (for St. Louis) that they just gave Holliday. "What is it going to cost them to keep Pujols now? Thirty million a year?" asked another high-ranking executive. "After this contract, he wouldn't be out of line to ask for that, because he's the best player in the game."
Holliday is exactly one
day older
than
Pujols
, and both turn 30 in the next 10 days. Pujols' contract runs out after the 2011 season. This means the Cardinals are headed down one of two roads.
Route A
: They are prepared to pay something in the range of $43 million to $47 million annually to two players who will be past their 32nd birthdays, from 2012 forward.
Or ...
Route B
: They won't sign Pujols.
As the contract details are coming out, the industry will get a more complete picture of Holliday's deal. Strauss writes within his story above that it includes deferred money that lowers its present-day value to $16 million annually.
On the face of it, though, it appears to be an extraordinary deal for the slugger, and for agent Scott Boras -- who once again managed to get a record-setting deal despite the fact he didn't appear to have the Yankees, Mets, Red Sox, Phillies, Angels, Orioles (who never offered more than $70 million) or Dodgers competing against the Cardinals.
And it's a contract which is raising a lot of eyebrows in other front offices, as well as a simple question: Why that much?
By the way: Within the same piece above, there is word that the Holliday signing means that the Cardinals almost certainly will not pursue either
Felipe Lopez
or
Miguel Tejada
unless their asking prices drop markedly.
Ryan Church
is
one possibility
for the Cardinals, writes Derrick Goold. What is learned from this deal is that the Cardinals
are not cheapskates
, writes Jeff Gordon.
Here are the figures from the Holliday deal: He will make $15 million a year in salary for seven years, plus the vesting option for 2017; if the option doesn't vest, then the team can either pick up the option at $17 million or take the buyout for $1 million. He also will make an additional $2 million a year in deferred salary, which is how we get to the present-day value of $16 million a year.
To review:
From 2010 to 2016: $15 million annually, plus another $2 million a year in deferred payments.
In 2017: At least $1 million in a buyout.
This is how we get to $120 million.
Here's a take on Holliday's contract
by the numbers
, courtesy of the St. Louis P-D.
No more no-trade?
• When the Have-Not teams start putting together a list of disadvantages to discuss in advance of the next round of labor talks, here's one more that will be brought up: No-trade clauses.
Increasingly, executives with small-market and mid-market teams say that they simply cannot afford to dole out this contractual provision because it wrecks their leverage in the event they need to move the player because of financial concerns. The no-trade clause was a major factor in Toronto's handling of the
Roy Halladay
trade talks; San Diego's dealings with
Jake Peavy
; and Minnesota's trade talks involving
Johan Santana
two years ago.
"It's just a killer," said one GM. "You're already under the gun because you are working to move the contract, but then to have the player control the process -- it's just too much to give up unless you're the Yankees or the Red Sox."
The first of 30, by the way ...
Problem
: Boston's offense has eroded over the past 18 months, with the departure of
Manny Ramirez
and the regression of
David Ortiz
, and most recently, with the departure of
Jason Bay
. But the overriding concern for the Red Sox was their pitching: Boston's starters' ranked 19th among 30 teams in ERA last season, at 4.63. So without any perfect offensive solutions available in free agency or in the trade market, the Red Sox have moved to strengthen their pitching and their defense.
Solutions
: Boston will probably end up being the biggest spenders in free agency this winter. Shortstop
Marco Scutaro
signed a three-year, $17 million deal,
John Lackey
signed a five-year, $82.5 million deal,
Mike Cameron
was locked up to play center, and now
Adrian Beltre
-- generally regarded as the best defensive third baseman in the game -- will take over at third base.
The Beltre signing will not interfere in any way with Boston's likely pursuit of
Adrian Gonzalez
in the trade market this summer, given that Beltre is signed to only a one-year contract. If the Red Sox made a move on Gonzalez, they could either trade Beltre or keep him as part of their deep 1B/3B/DH/C mix that will also include Ortiz and
Victor Martinez
.
An AL talent evaluator e-mailed some thoughts on Boston's changes in its defense: "Any time you get
Julio Lugo
off the field [the Red Sox traded Lugo in the middle of last season], it is an upgrade. They have a strikeout staff and a small left field [in Fenway], and this means their defense can't have as much impact as for other teams. But the changes are an upgrade overall. I still need to see Scutaro play a season at Fenway, off the turf. Solid defensive upgrade overall; they'll be better in left, center, third base and shortstop. They position themselves well and will make the routine plays as well as any team."
Jacoby Ellsbury
is going to play left field, and Mike Cameron is
going to play center field
under Boston's new alignment, Joe McDonald writes. Beltre is
an excellent pickup
for the Red Sox, writes Nick Cafardo.
Some numbers on the Beltre signing: