Liriano a key for slugging Twins
March, 4, 2010
3/04/10
7:44
AM ET
It's shaping up to be a fine spring for the Twins. Joe Mauer's agent is meeting
with club executives
, and sources say there continues to be optimism about the talks. The team is set to open what appears to be a beautiful new park, Target Field -- although there are indications that it's going to be a place hitters absolutely love and pitchers maybe love a whole lot less.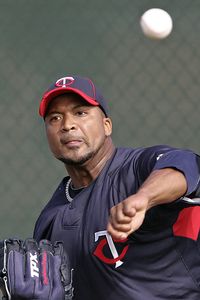 Getty ImagesThe Twins need Francisco Liriano to recapture some of the potency of 2006, or the rotation could be a question mark.
Only Wrigley Field will have less foul territory than Target Field, which means all those long pop fouls that third basemen and shortstops and left fielders ran down in the Metrodome are going to be safely tucked away in the stands. Rick Anderson, the Twins' pitching coached, joked with Mauer and
Justin Morneau
that Minnesota might have to slug its way to the AL Central title this year. Given how deep the Twins' lineup looks, with
Jason Kubel
-- perhaps the most underrated player in the league -- playing a support role, that could happen.
But the best news of the Twins' camp might be how good
Francisco Liriano
looks, how well he is throwing.
The Twins have a whole lot of strengths, whether it be their lineup or their defense or the depth of the rotation, but the big question about the pitching is whether Minnesota's rotation has enough pure stuff to beat good teams.
If Liriano bounces back to his
form of 2006
, when he struck out 144 in 121 innings and posted a 2.16 ERA, the Twins' rotation will look very different. So far, Liriano looks great, Anderson says.
"He really has his arm strength back," Anderson said. "His innings jumped from zero [in 2007] to 76 [in 2008] to 136 last year, and now he's got that arm strength. His arm is alive again."
Liriano is known for wearing his emotions out loud. If he's not feeling well, you can hear it. If he's frustrated, you can see it. If he's disappointed with himself, you know.
This spring?
"Big smiles," Anderson said. "You ask him, 'Frankie, how are we doing?' And he says he feels great."
The improved arm strength means Liriano's fastball has more life in the last couple of feet to home plate, and his slider -- dormant the past couple of years -- is breaking very sharply and very late on its journey to home plate.
"It's those last couple of feet that makes the difference," Anderson said. "Now the ball is exploding at the end."
As Liriano struggled to regain his slider the past two seasons, Anderson worked with him on developing and refining a changeup, and now Liriano throws that pitch effectively. "Now that he's got his slider back, he's got a good three-pitch mix," Anderson said.
In theory, Liriano is one of the starters competing for the fifth spot in the Twins' rotation, behind
Kevin Slowey
,
Scott Baker
,
Nick Blackburn
and
Carl Pavano
. But if Liriano is indeed back to where he was, with that nasty, tilting slider...
"That's not a fifth starter," Anderson said, chuckling.
• What's so impressive about Jason Heyward, in his first two games of spring training, is the walks. Six plate appearances, three walks, two hits. Think about it: He's 20 years old, there's growing hype around him, these are just the first games of spring training, and he'd have every reason (and excuse) to be anxious. And he's
taking walks
. His OPS after two games: 1.833.
• Some pitchers will pick up clues from the body language and the swings and the stance of hitters. The Yankees'
Phil Hughes
doesn't feel as if that's something that he does very well. "I wish I could be better at it," he said.
Hughes focuses on the glove of the catcher and concentrates on his own execution, and somehow, in his tunnel vision, he does not see the telltale signs that sometimes betray hitters' intentions: the placement of their feet, early opening of the front shoulder. Hughes usually goes back inside after every half-inning to review videotape of what just happened, and it is
then
that he gets his own read on hitters, which is something some pitchers see immediately. "That's something I'll rely on my catcher to get," Hughes said.
• What follows is pure speculation on my part: The Rays are devoted to extracting the best possible value out of their assets, even if it means making bold decisions, such as the aggressive effort to move
Scott Kazmir
last summer. So you do wonder if Tampa Bay will look to get some return for at least one and maybe two of its prospective free agents, even if the Rays are contending (and it does look as if they have an excellent team for 2010). They are uniquely set up to do this.
More specifically, you wonder if they would look to trade first baseman
Carlos Pena
, whose three-year deal expires after this season. Let's just say, for argument's sake, that a team like the Giants or the Mets was looking for a power-hitting first baseman midway through the season. If Pena were having a good -- but not great -- season, and the Rays were in the thick of the AL East race, what they could conceivably do is move Pena and get some prospects or low-service time players in return. They would have the option of shifting
Ben Zobrist
to first base and moving top prospect Desmond Jennings to right field.
They could take the same approach with
Rafael Soriano
, perhaps looking to deal him
if
they could identify a suitable replacement during the season.
If the Rays' front office were to seriously consider any of these kinds of moves, part of the equation they would have to weigh is the potential impact of such deals on the psyche of the team. Pena has been a productive part of the team for a while, and there would undoubtedly be some unhappiness about his departure. But because of where the Rays are, because of their place in the market, these are options routinely considered.
Wrote here awhile back: When you think of teams like the Rays and the
Oakland Athletics
, remember that they're liking folks sitting in a leaking rowboat -- they must constantly work to keep above the rising level of financial obligations and replenish the talent in their system in order to remain competitive.
Jennings, by the way, was hit by a pitch,
but he's OK
, as
Joe Smith
writes.
The Rays have a lot of good pitching
but no clear ace
, writes Gary Shelton. In a perfect world, I'm sure they'd love to see
Matt Garza
climb to the next level of pitchers.
• One thing the Yankees absolutely love about Jesus Montero is his ability to make adjustments, as a hitter, during the course of the game. If a pitcher is working him down and away, he will take the ball to right field with ease, and if pitchers try to throw in on him, he is quick enough with his swing to react to that.
Moves, deals and decisions
1. A voter explained
why he picked
Miguel Cabrera
over
Joe Mauer
, writes Tyler Kepner.
2.
Justin Upton
says he
wants to be great
, writes Nick Piecoro.
From Katie Sharp of ESPN Stats & Information, about Upton:
Upton had a breakout year in 2009, and one of the key areas he really improved on from his first two seasons was his performance against fastballs.