Willie Davis was a signature star
March, 10, 2010
3/10/10
7:55
AM ET
A couple of years ago, I was cleaning out some old trunks in the basement and found a familiar small tan box that I had kept in a desk drawer as a kid. Originally, it had housed a fishing reel that my grandfather had given me, but in time, I took out the rarely used reel and replaced it with a keepsake that didn't quite fit in the box, slightly bowing out its top and bottom.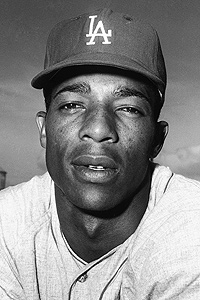 Getty ImagesBriefly an Expo, Davis is remembered as a great Dodger.
On Sept. 29, 1974, the Expos played host to the
Philadelphia Phillies
at Jarry Park in Montreal, and among the
23,326 fans that day
were the members of the Central Vermont Little League. We boarded a bus that morning, and I carried with me that baseball, and a mission: I wanted to get Willie Davis' autograph.
I was crazy for the Dodgers and Davis had played 13 seasons for Los Angeles, and some of my first baseball cards were of him in a Dodgers uniform. Before the 1974 season, he was traded straight-up to the Expos for reliever Mike Marshall. But to me, he was still a Dodger, and wore the same uniform number that I did -- No. 3 -- and I went to Jarry Park that day devoted to the idea that Davis would sign my baseball.