Why time is gaining on Derek Jeter
February, 17, 2013
2/17/13
8:51
AM ET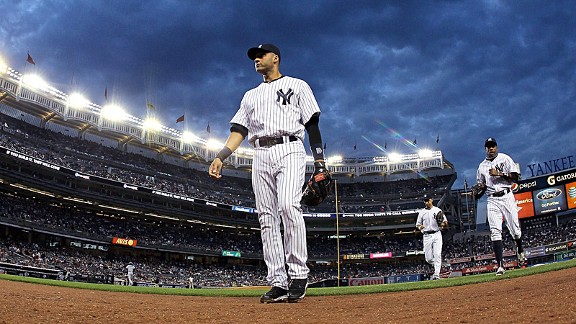 Jim McIsaac/Getty ImagesHow well will Derek Jeter return from his ankle injury suffered in last season's ALCS?
TAMPA, Fla. -- Don't tell
Derek Jeter
this, but time is gaining on him.
He has heeded Satchel Paige's advice and refrained from looking back, and last summer he all but thumbed his nose at age. He fought off inside fastballs and rolled out 216 hits at age 38, the most since he was 25. He was an All-Star, finished seventh in the MVP voting and passed a whole bunch of Hall of Famers on the all-time leaderboards.
At the end of his season, when he collapsed on the field with a broken ankle, he refused to give in to time. When
New York Yankees
manager Joe Girardi reached him while Jeter while sprawled on the dirt, the first thing Jeter said -- knowing that he was seriously injured -- was that he didn't want to be carried off the field. So he half-limped, half-walked off, supported by others, before anybody thought about bringing out a cart.
But time is relentless. You may have heard that it posted 50 years on Michael Jordan today, who seemed an immortal in his time. It will get Jeter eventually.
Will that happen this summer? Who knows? Jeter has spoken confidently about his rehab work, about how he's right on schedule, and after his resurgence over the past year and a half, we'd be fools to doubt him.
But he's now reached the stage of his career when it wouldn't be a surprise if the decline came at any time. If his batting average plummeted from the .316 of last season to something much lower, Willie Mays and Hank Aaron and
Cal Ripken
would probably nod their heads and say,
Yeah, it happens
. In the summer of 1973, when Aaron was 39 years old, he clubbed 40 homers. The next season, he hit 20. Two years after that, he retired.
Jeter will meet with the media today and will grin at the questions that are couched in doubt. He has earned that right, for sure. I thought he was at the beginning of the end at the outset of 2011, when his swing generated a whole bunch of ground balls -- and I'd bet I wasn't alone in that assessment. Jeter -- like Jordan and Kobe Bryant and a whole bunch of other players who have been the best of their time -- feeds on those doubts, which is part of what makes him great.
But time is gaining.
There have been only a very small handful of players who have ever played shortstop regularly at an advanced age. Jeter turns 39 on June 26. John Fisher and Kenton Wong of ESPN Stats & Information dug out this list of players who at 39 or older played at least 50 percent of their games at shortstop and had at least 500 plate appearances since 1901 (table on right).
None of the teams for which Vizquel, Aparicio, Appling, Maranville and Wagner played in those seasons referenced reached the postseason -- and, in fact, only
one
had a winning record.
2007 Giants (Vizquel): 71-91
2006 Giants (Vizquel): 76-85
1973 Red Sox (Aparicio): 89-73
1949 White Sox (Appling): 63-91
1947 White Sox (Appling): 70-84
1946 White Sox (Appling): 74-80
1931 Braves (Maranville): 64-90
1915 Pirates (Wagner): 73-81
1914 Pirates (Wagner): 69-85
The Yankees made the playoffs last year, when Jeter was 38. If he has a 160-hit season, he would climb to sixth on the all-time hits list:
5. Tris Speaker -- 3,514
6. Cap Anson -- 3,435
7. Honus Wagner -- 3,420
8. Carl Yastrzemski -- 3,419
9. Paul Molitor -- 3,319
10. Eddie Collins -- 3,315
11. Jeter -- 3,304
With a 90-run season -- a mark he's surpassed 14 times in his career -- he would climb into ninth place in runs:
8. Cap Anson -- 1,999
9. Stan Musial -- 1,949
10.
Alex Rodriguez
-- 1,898
11. Lou Gehrig -- 1,888
12. Tris Speaker -- 1,882
13. Jeter 1,868
Jeter needs 26 doubles for 550 in his career, two more stolen bases to reach 350, and with 449 at-bats, he'll become only the ninth player in history to achieve 11,000 in his career.
News and notes
• Even before the end of the World Series last year, there was some resignation that
Pablo Sandoval
's weight was going to be an issue this year, because he played well last year when he was heavy and because he was destined to enjoy himself in the aftermath of the Giants' success. And sure enough, the Panda came in
very overweight
.
•
Mike Trout
says
he's not fat
. From Mike DiGiovanna's story:
Yes, the 21-year-old outfielder reported to spring training at 241 pounds, about 10 to 15 pounds more than he weighed in 2012 and five pounds heavier than slugger Albert Pujols, who checked in at 236.

And, yes, with his thick neck and muscular build, the reigning American League rookie of the year looks more like an NFL fullback than a major league leadoff hitter, causing an uproar among fans on Twitter and message boards, where Trout has been called, among other things, "Blimpy" and the "Hindenburg."

But most of the added weight is muscle -- Trout's body fat is 9 percent -- and he expects to lose about 10 pounds during camp, which would put him right around the weight he finished last season at, 230 pounds.

And he has not gained 30 pounds, as some have speculated. Though he was listed at 6-foot-1 and 210 pounds last season, he actually weighed between 225 and 230.

"I think it's pretty funny," Trout said of the response to his weight gain. "I usually lose five to 10 pounds in spring. I figured if I came in at the weight I want to play at and lost five to 10 pounds, I'd be underweight to start the season."


•
Houston Astros
owner Jim Crane is going to
golf with the president
.
• As far as
Pittsburgh Pirates
owner Bob Nutting is concerned, it's
playoffs or bust
. From Rob Biertempfel's story:

Pirates owner Bob Nutting has high expectations for this season.

"My expectation is the same as everyone within our organization, and that is winning our division and competing for our sixth World Series championship," Nutting said in an interview with the Tribune-Review. "That is and has to be our objective every year. We all expect the progress we have seen over the past two years on the major league level to continue.

"We need to continue to give our fans a team that they can believe in. The strong show of support from our fans has further crystallized for me just how important the Pirates are to so many generations and strengthened my commitment to completing this turnaround."


•
Chipper Jones
was in the
Atlanta Braves' camp
, with no itch for a comeback, David O'Brien writes. From O'Brien's story:
Despite inevitable speculation that Jones will consider a comeback once he gets the itch, the switch-hitting slugger indicated that was about the last thing on his mind.

"I just haven't had the urge," he said. "I'm here, and I thought today would be difficult not to get the itch to put the uniform on. I don't even want to put that uniform on, to be honest with you. I'd much rather just kind of walk around in anonymity and just hang out with the guys, and just kind of wean myself off this clubhouse."


The battle for jobs
1.
Aroldis Chapman
's transition to the rotation is the
hottest topic
in the Cincinnati Reds' camp, writes John Fay.
2. Here are the candidates for the
Minnesota Twins' center field job
, from Phil Miller.
3.
Brian Roberts' health
is the biggest factor in the competition at second base.
Moves, deals and decisions
1.
Chris Sale
is
not in a rush
for a long-term deal.
2. Ned Yost would like to put
Alex Gordon
in the leadoff spot
.
3. The
Texas Rangers
are trying to decide
when Jurickson Profar's career will begin
, in earnest.
4.
Clayton Kershaw
is
getting the ball
on Opening Day. As if there was any doubt.
5.
Homer Bailey
worked out
a deal
.
6. Charlie Manuel is tired of
talking about his contract
.
7. The
New York Mets
should
go after
Jose Valverde
, writes Ken Davidoff.
Dings and dents
AL West
Ian Kinsler
will be asked to
provide leadership
now that
Michael Young
is gone, Richard Durrett writes.
There is a
new look and feel
to the Seattle Mariners' roster, writes Geoff Baker.
Hiro Nakajima could be the
Yoenis Cespedes
of 2013 for the
Oakland Athletics
, writes Susan Slusser.
AL Central
Jeff Seidel asks if
Bruce Rondon
can
handle the pressure
.
Here are
10 observations
from the Detroit Tigers' camp, from Lynn Henning.
Jhonny Peralta
has
impressed so far
.
Justin Masterson
and
Ubaldo Jimenez
know that the
Cleveland Indians' hope for improvement
really rests on them.
Tom Brunansky is in a tough spot as the
new hitting coach
of the Twins.
NL West
Cody Ross
has had an
immediate impact
, Nick Piecoro writes.
Todd Helton
has
delayed his talk with the media
since his DUI arrest, and there must be a reason, writes Troy Renck.
Wilin Rosario
is working to
reshape himself
as the Colorado Rockies' catcher.
NL Central
The
Chicago Cubs
have a pitcher who
once played on a hexed team
, writes Paul Sullivan.
Ian Stewart
is
looking to prove himself
, writes Gordon Wittenmyer.
The
St. Louis Cardinals
have to
rebuild their chemistry
from within.
Tony Sanchez
is
trying to reach the big leagues
with the Pirates.
AL East
Tampa Bay Rays
pitching coach Jim Hickey is
building on
what is already an excellent rotation.
The Rays need
Matt Moore
to
take the next step
, writes Gary Shelton. I couldn't agree more.
The Yankees'
CC Sabathia
passed his first test
.
Adam Lind
is
trying to find his swing
, writes Ken Fidlin. The
Toronto Blue Jays
have a
new hitting coach
.
History shows that a high payroll
doesn't always translate into success
, writes Richard Griffin, in reference to the Jays.
John Farrell is the
perfect personality
to turn around the
Boston Red Sox
.
The expectations for
Mike Napoli
are
downsized
, writes Dan Shaughnessy.
NL East
For the
Miami Marlins
, it's
back to the future
, writes Clark Spencer.
Jayson Werth
talked about the
sting of losing Game 5
last year.
The
Washington Nationals
are going to work on
preventing steals
, writes Adam Kilgore.
The New York Mets'
Collin Cowgill
is
embracing the underdog role
of the team.
Other stuff
• Ryan Braun's team needs to
go to bat for him
, writes Tom Haudricourt, referring to the player's lawyers.
With all due respect: That's on Braun, not the lawyers. They will do what he tells them to do; they work for him. He's the only person who can waive the client-lawyer privilege issue that would have to be addressed -- and he's on record saying he will fully cooperate with any investigation.
Let's see Braun's lawyers show the paychecks they sent to Tony Bosch for his consulting work. Let's see the contemporaneous notes of those exchanges, of the questions that the lawyers posed to Bosch and what his answers were. Let's see the full explanation of why they would bypass licensed doctors and seek the expertise of a guy who might as well have been dealing PEDs out of the back of his trunk, in the way that he did it.
Let's see if Braun follows through with his stated willingness to fully cooperate.
Milwaukee Brewers
owner Mark Attanasio is taking a
wait-and-see approach
. And why wouldn't he wait?
I'd venture a guess that some of Braun's teammates probably would like to hear some answers, too, given how they stepped out and supported him last year.
•
Miguel Tejada
wants to help
the
Kansas City Royals
in any way he can.
• The cost of hope for the Mariners is
$175 million
, writes Jerry Brewer.
•
Yasmani Grandal
apologized
to his teammates. We need to
see Grandal's remorse
, not just hear it, writes Kevin Acee.
• Vanderbilt
keeps getting better
.
And today will be better than yesterday.