The Off Couple
June, 11, 2010
6/11/10
8:35
AM ET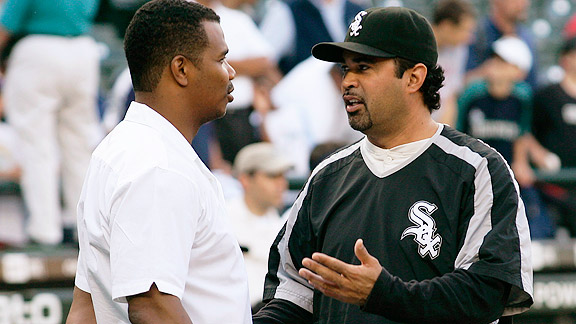 Getty ImagesThe relationship between Guillen and Williams appears strained, and it's now a very public issue.
The drama is building in the White Sox organization: Ozzie Guillen and Kenny Williams
almost came to blows
, reports Joe Cowley.
Ken Williams, speaking on the White Sox website about the relationship between him and Ozzie:


"We are both very competitive men, strong-willed men. I believe in self-assessment, and I think you have to assess all parts of our operation from top to bottom to determine if it's, in fact, still a productive working relationship.

"Whether or not the maintenance of that relationship is such that we still have the drive to get through some things and still have the drive to get through some differences ... I'm still in that assessment mode for myself, in particular.

"That should not lead to the assumption that I mean that [Guillen] is the one [who may benefit from a change of scenery]. If I determine that I am the one that is the cog in the machine, then I am the one who will stand in front of Jerry Reinsdorf and tell him so and step aside. ... I will not deny that I am growing weary of the soap opera."


Over the past two days, I've spoken with about half a dozen officials from other organizations who were following the Guillen tweets with fascination, wondering how all this will fuel a building storm. Right now, the White Sox are the "Jersey Shore" of baseball.
Elsewhere
• The future is now for the Indians' Carlos Santana: Reportedly, he is
headed to the big leagues
and will make his debut tonight.
Russell Branyan
rescued the Indians
on Thursday night
.
• They will have
an aquarium
behind home plate at the Marlins' new ballpark, writes Sarah Talalay, visible from the stands and the field. As someone who could stare at fish in a tank for hours, I love this.
• A-Rod left the Yankees' game in the first inning with
groin trouble
.
Dings and dents
1.
Within this notebook, there is word that
Dallas Braden
had an
MRI on his elbow
.
2.
Todd Wellemeyer
hurt his leg and could
be replaced
by
Joe Martinez
.
3.
J.J. Hardy
landed on the
disabled list
, as La Velle Neal writes. The Twins' middle infield is in a state of flux right now.
4.
Not surprisingly,
Kendry Morales
is
out for the year
.
5.
Nelson Cruz
is being cautious in
handling his injury
, writes William Wilkerson.
6.
The cracked-rib count on
Jacoby Ellsbury
is up to five
, and he may not be back until July.
Moves, deals and decisions
1.
Cameron Maybin's star is falling, as Mike Stanton's
stock rises
.
2.
The Cardinals are
bringing back
Jeff Suppan
. It makes all the sense in the world for the Cardinals to try this, in light of Suppan's history with the team, because it costs them virtually nothing to try. They don't need a No. 1 or No. 2 in their rotation; they just need a steady No. 4 or No. 5, and if Suppan gets better in a few starts, he could be that guy. If he's not, the Cardinals can try somebody else.
3.
Heard this: There are no ongoing
Roy Oswalt
trade talks.