Past ace, present ace and AL West
June, 15, 2010
6/15/10
7:56
AM ET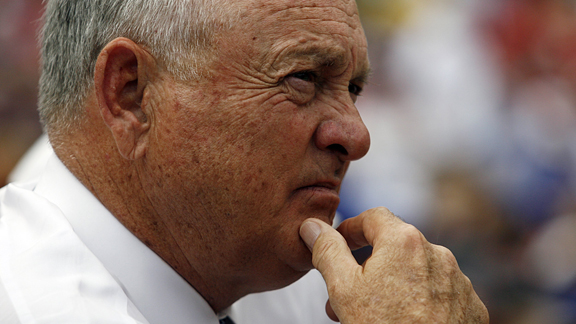 Getty ImagesA smooth transition to Nolan Ryan as a co-owner of the Texas Rangers could help decide the AL West.
This should be a big week for the
Texas Rangers
, who could learn
in a hearing this morning
about the timing of the ownership transfer that's going to take place.
If the legal proceedings move quickly, the team could shift smoothly into the hands of Chuck Greenberg and Nolan Ryan, and the Rangers could be active before the trade deadline -- and given its wealth of prospects, it's in position to be aggressive, and could use a catcher or a starting pitcher. But if the legal stuff gets bogged down and the sale of the team is not moved along before the trade deadline, the Rangers presumably won't have the same flexibility. As we wake up today, Texas is leading the AL West over the
Los Angeles Angels
, by a game.
Also within the AL West, I recently heard this: There is a sense among some rival executives that the
Seattle Mariners
figure to be among the more aggressive sellers. They've got the big fish in the pitching market, of course, in
Cliff Lee
. The Mariners got crushed again Monday and are now
16 games under .500.
Lee has been dominant on fielding-independent performance,
as Geoff Baker writes.
Heard this a whole bunch in the past week: There just doesn't appear to be much in the way of available cash in the trade market, with few teams willing to take on much money. If this holds, it will limit the number of deals that can be made, as well as the size of the deals. The player most directly impacted by this, in all likelihood, is
Roy Oswalt
, who bears $27 million in salary obligations and is overpriced in the current market.
• The
Washington Nationals
are hoping that the attention on
Stephen Strasburg
will reflect well on all of them,
writes Adam Kilgore.
By the way: I checked on the tickets available for Strasburg's next start, on Friday against the
Chicago White Sox
, and it appears that the best right now are tickets in the right-field corner -- which means the Nationals appear headed for another sellout.
Some Nats fans are canceling subscriptions because they
couldn't get a poster
of Stras.
Dings and dents
1. The Angels lost
Erick Aybar
when he got taken out at second base,
as Mike DiGiovanna writes.
2.
Brandon Phillips
is probably not going to land on the DL,
says Walt Jocketty.
3. It's expected that
Edgar Renteria
will be activated from the disabled list Wednesday, as mentioned
within this Henry Schulman notebook.
And if you follow what is being said by Bruce Bochy, it sounds like
Bengie Molina
is the guy who is going to lose at-bats.
4.
Dustin McGowan
had
a setback.
5.
Miguel Montero
is back with the
Arizona Diamondbacks
, and he has
brought some energy.
6.
Huston Street
should be back later this week,
writes Jim Armstrong.
7.
Everth Cabrera
is nearing
his return.
8.
Jair Jurrjens
continues to make progress in his rehab,
writes Jeff Haws.
9. Some
Baltimore Orioles
players are making progress in their respective rehabs, but
Brian Roberts
is
not.
10. A-Rod and
Jorge Posada
will get the word today from
Joe Girardi
if they can play against the Phillies,
as Peter Botte writes.
Moves, deals and decisions
1.
David DeJesus
of the
Kansas City Royals
is going to be the center of attention as we get closer to the trade deadline,
writes Bob Dutton.
Totally agree with that, because there are just so few solid options in the outfield trade market and it's becoming apparent that in order for the Royals to maximize DeJesus' trade value, they should move him now. He's a year away from free agency and is under contract for a reasonable $4.7 million this season, with a $6 million option for next season (and a $500,000 buyout); he's experienced; he's versatile both in where he can play in the outfield and in where he can hit in the lineup; and he's always had a pretty good knack for hitting with runners in scoring position. Pure speculation: He'd be a nice fit for the
San Diego Padres
, Angels, the
San Francisco Giants
and
Cincinnati Reds
.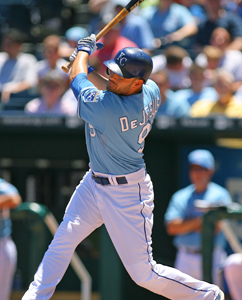 Getty ImagesA name that could make a lot of difference in July: David DeJesus.
2. Speaking of, it's time for the Padres to think about a trade,
writes old pal Nick Canepa.
3. Also speaking of, the Reds are looking for bullpen help, and a trade is a possibility,
writes John Fay.
4. The
Pittsburgh Pirates
are going to promote
Pedro Alvarez
soon, and the other players are looking forward to it. Neal Huntington should do this now,
writes Ron Cook.
To be clear, I haven't seen Alvarez take an at-bat in the minors this year. But when the Pirates do promote Alvarez, they should be prepared to hang with him through some deep valleys -- his
high strikeout rate
tells you that pitchers have found a way to get to him. Along the same lines, the Rangers stuck with
Justin Smoak
through a rough start, and that seems to have paid off: Smoak has been hitting better of late.
5. The
Chicago Cubs
will wait a little longer before deciding when and who to trade,
writes Paul Sullivan.
The Cubs need to go in a different direction, writes
Gordon Wittenmyer.
6. Mike Scioscia thinks the Angels have enough depth at first base, which means
they aren't going crazy
to make a deal for someone like
Paul Konerko
.
7.
Alex Rios
is making the gamble by Ken Williams pay off,
writes Mark Gonzales.
8. The
Milwaukee Brewers
met with their top pick.
9. The
Minnesota Twins
are mulling over some
deadline deal options
. It will be interesting to see if they're aggressive in going after Cliff Lee, who could be a transformative player for them in October.
10. Omar Minaya has gambled on prospects and won,
writes John Harper.
Jeets
From Mark Simon of ESPN Stats & Information
Derek Jeter
tied the
New York Yankees
' record for career leadoff home runs with his 24th on Saturday. There is arguably no player better than Jeter at starting a game off right for his team, as illustrated by this chart, provided by Stats & Information's Mark Simon and the Elias Sports Bureau.