Jimenez going it alone
June, 18, 2010
6/18/10
8:25
AM ET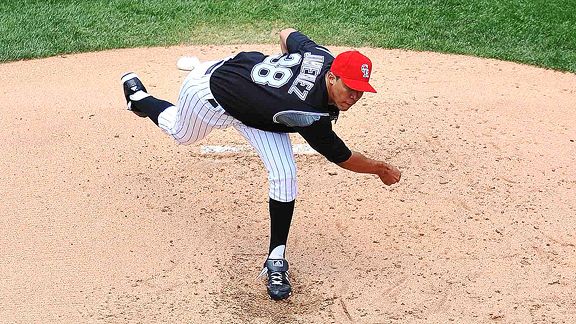 Getty ImagesNobody has been more of a solo success act this season than the great Ubaldo Jimenez.
Ubaldo Jimenez
is pitching like Bob Gibson in 1968, and he's single-handedly propping up the Rockies' playoff hopes
along the way
. If the season ended today, you could make a strong case for him as the NL MVP, because no player has meant more to his respective team than Jimenez. It's the Year of the Pitcher II, and in light of that, consider these simple numbers:
When Jimenez pitches, the Rockies are 13-1, a winning percentage of .929. In the games in which he does not pitch, the Rockies are 21-31 for a winning percentage of .403. We haven't reached the halfway point of the season, and he's bound to lose more in the days ahead. But I assume that the disparity in winning percentage between the games he pitches and the Rockies' other games, of .526, is probably on pace to be a record. It's far from a perfect way to assess value, because pitchers on bad teams have an inherent advantage, but it is one way to measure just how valuable Jimenez has been.
I didn't have time to go through all the numbers this morning, but did check on some other notable performances: The Indians went 24-7 in the games
Cliff Lee
started in 2008, while going 57-74 in the games others started, a winning-percentage disparity of .339. In one of the more incredible pitching performances of all time, the Phillies won 29 of the 41 games started by Steve Carlton in 1972 for a .707 winning percentage, and 30-85 (.261) in all other games, a disparity of .446.
I will await confirmation from the good folks at the Elias Sports Bureau.
And for the record: Twenty-five years have passed since a starting pitcher won an MVP award -- Roger Clemens,
in 1986.
Jimenez was not as dominant Thursday as he had been in other starts this year -- in fact, Doug Kern of ESPN Stats & Information sent along this note. Why Jimenez should
not
have won against the Twins (relatively speaking):