Joe Torre's bittersweet reunion
June, 25, 2010
6/25/10
10:53
AM ET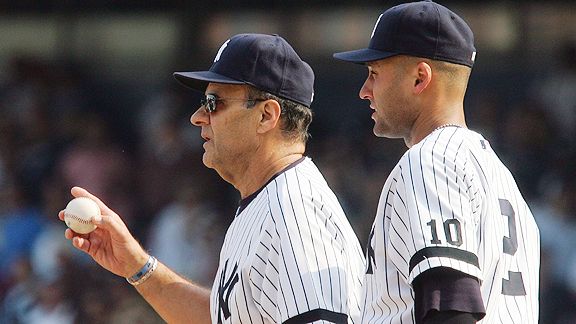 Getty ImagesOnce a symbol of the Yankees, Joe Torre will face a team divided on where he stands in Yankees lore.
Yogi Berra did not set foot inside Yankee Stadium for 14 years because of how George Steinbrenner fired him in 1985. Eventually, the words of his grandchildren -- many of whom had never been inside Yankee Stadium with him -- and an arrangement with the Yankees that helped the Yogi Berra Museum in New Jersey, led to a reconciliation between the Hall of Famer and the team. And Berra was in the Yankees' clubhouse last Saturday, as he is on a lot of days, chatting with
Chad Gaudin
and other players.
Joe Torre's relationship with the Yankees also ended in an ugly fashion, with Torre reacting angrily to the team's suggestion that he take a pay cut. But unless Torre picks up the phone and calls Hal Steinbrenner directly and asks for a reconciliation -- without any financial strings attached -- it seems very unlikely that there will be the same kind of happy ending as there has been for Yogi.
It was apparent in Torre's book that he remains upset because of those last hours with the team. But whatever he feels, the anger within the Yankees' organization toward Torre goes far deeper than he knows; in the eyes of many, he will never be viewed the same way, and never be fully forgiven.
As the Yankees' manager, Torre spoke at the beginning of each spring training to the players about keeping their disputes in-house, about respecting one another even where there were differences. He sometimes chastised reporters when he felt that probing questions went too far and were too salacious for his sensibilities. Folks within the organization didn't always agree with Torre's managerial decisions -- no team has a complete consensus -- but they always felt that he kept his dignity.
So when Torre took aim at others in his book, selling memories of in-house disagreements that he had always talked about hiding from public view, the collective opinion of him changed forever within the Yankees' organization. They found his portrayal of particular events to be fiction. They thought he unnecessarily demonized the Steinbrenner sons. They were stunned by how he torpedoed general manager Brian Cashman, who had shielded him through the years from the wrath of George Steinbrenner and been his strongest advocate. And they were appalled by what they viewed as cheap shots at the likes of
Alex Rodriguez
and
Kevin Brown
and
Carl Pavano
; in Pavano's case, Torre was in a unique position to know that all of his injuries were legitimate. In short, they came to view him as a hypocrite.