Comfortably Young
July, 22, 2010
7/22/10
8:04
AM ET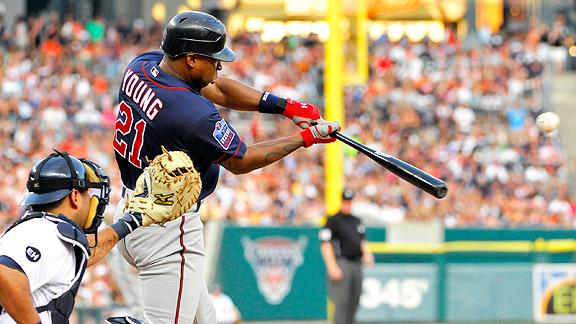 Getty ImagesHe's been there and done that, and been given up on. But Delmon Young is still a pup.
A few hours before
Justin Morneau
suffered
a concussion
, he raved about the work of
Delmon Young
. "He's had so many big hits, even hitting from the 7 or 8 hole," Morneau said. "He's made adjustments. His preparation is really good. He has a plan for his at-bats.
"The thing about him is he loves the game. Not many people get to see the person we see -- great guy, funny, a great sense of humor. ... I think when we first got him he was young, and we forgot how young he was."
Yes, we did.
Delmon Young was suspended for flipping a bat at an umpire, he was traded by the Rays, he struggled in his first 1.5 seasons with the Twins, and is now tapping into the natural ability that everyone has always seen in him -- and he is still only 24 years old.
If Young had gone to college, he'd have been out only a year or two by now, and he'd probably be going through the same growing pains that we've seen in two prospects who are close to his age:
Justin Smoak
and
Gordon Beckham
.
But Young is in the fourth full season of his major league career, and he has learned lessons -- about preparation, about taking care of his body, about hitting. With Morneau on the disabled list and
Joe Mauer
struggling through one of the worst seasons of his career, Young has shouldered a greater burden for the Twins. Batting third in the Minnesota lineup, Young drove in three runs Wednesday, pushing his batting average to .314, with
a team-high 67 RBIs
.
"He has finally has committed himself totally to what he wants to be in this game," said Twins manager Ron Gardenhire. "You have to commit yourself during the offseason and season, and I think he's really turned the corner. He got himself in great physical shape, he really worked hard in spring training on his swing, and he started to trust a few people; he has learned to trust people.
"He has gone from being kind of a guarded young man to someone who is really into it. When he's in the dugout, you'll hear him talk about how he's going to play people defensively, and he never did that before. He's been nothing but a pleasure in everything that he's doing."