A glimpse of great expectations
August, 9, 2010
8/09/10
8:27
AM ET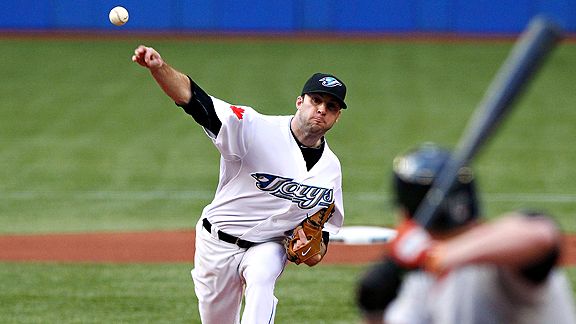 Getty ImagesScouts always saw Brandon Morrow as a major talent, but how he's been used has been an issue.
The
Seattle Mariners
had the fifth pick in the 2006 draft and they selected
Brandon Morrow
, passing on a local kid who grew up within a hard ground ball of Safeco Field,
Tim Lincecum
.
It doesn't make life any easier to have this kind of thing on your resume. And while Lincecum became great immediately, Morrow did what a lot of young pitchers do -- he struggled. He switched from being a starter to being a reliever and then he switched back, and by the end of the 2009 season, there were enough questions about him and enough doubt that the Mariners traded him to the Blue Jays for
Brandon League
.
If you had only tracked Morrow by his earned run average, which stood at 4.79 going into Sunday's start, you might've thought that he's continued to struggle. But he has had bursts of excellence all summer long, innings and games when he was completely dominant, when you could see him putting together his fastball and his changeup and breaking ball more consistently, when you could see his potential coming together.
"The only question about him now is his consistency," one talent evaluator said at the All-Star break. "He'll lose it for an inning or a series of batters."
But Morrow held it together throughout his start on Sunday, en route to 17 strikeouts and a near no-hitter. He was absolutely dominant, in a way that few pitchers can be. After the game, Morrow didn't seemed overwhelmed by the disappointment of failing to finish the no-hitter, and given where he came from -- and where he seems to be going -- that was completely appropriate.
How Morrow nearly no-hit the Rays, from Albert Larcada of ESPN Stats & Information:
A)
He threw 25 changeups (career high) for 18.3 percent of his pitches (third most in a start in his career).
B)
The Rays chased 38.5 percent of pitches out of the zone (second most in a start in his career).
C)
He threw 70.8 percent strikes (second most in a start in his career).
D)
He induced 20 swings-and-misses (second most in a game in his career).
He also joined a club of pitchers that have lost a no-hitter with two outs in the ninth inning since 2000 (
Mike Mussina
and
Armando Galarraga
had perfect game bids):
Brandon Morrow: Aug. 8, 2010 vs. Rays
Armando Galarraga: June 2, 2010 vs. Indians
Curt Schilling
: June 7, 2007 vs. A's
Mike Mussina: Sept. 2, 2001 vs. Red Sox
Then there's Blue Jays history:
According to Bill James' metric "Game Score," which is a one-number summary of how good a pitcher's single-game performance is, Brandon Morrow's 17-strikeout, 2-walk one-hitter on Sunday -- which got a score of 100 -- is tied for the fourth-best single-game pitching performance since 1920. It was the highest by any pitcher in a single game since
Randy Johnson
scored 100 in his perfect game back in 2004.
Morrow came oh-so-close to throwing
a no-hitter
, writes Ken Fidlin. Morrow made a
scout proud
, Bob Elliott writes. A near-miss like this
will haunt you
, says Dave Stieb. Cito Gaston wanted him to
finish the game
.
Vernon Wells
gave up his body to
make a big play
.
By the way: Dave Perkins was the official scorer in the Rogers Centre on Sunday, and he deserves credit for having integrity on the
Evan Longoria
play. There is a small minority of official scorers who would have made a different call in that situation, with the home team's pitcher so close to history, on a ball that hit the glove of a fielder -- but Perkins made exactly the correct call, immediately.
Elsewhere
• Meanwhile: The Rays continue to be a mystery team. It can't be coincidence that they either have been no-hit or have come close to being no-hit repeatedly, and that they've fallen into these inexplicable funks; Sunday's loss was their fifth straight.
But more importantly, they've got a couple of
sore-armed starters
, John Romano writes. The Rays don't think either
Jeff Niemann
or
Wade Davis
is seriously hurt, but they will spend the day
in an MRI tube
, writes Marc Topkin.
• The Pirates fired two coaches, and the moves
reassert the authority
of manager John Russell.
Voices
1.
Braves GM Frank Wren, in an e-mail about the progression he has seen in Mike Minor, who makes his debut today for the Braves: "He has grown a lot since he had just a short exposure to pro ball last year. In the spring he was very respectful and made a strong impression with our veterans and staff. Then he went out and backed it up with strong performances. His command and stuff has continued to get better."
2.
Chuck Greenberg, whose ownership of the
Texas Rangers
could be approved this week by Major League Baseball, on what this week will mean to the team, in an e-mail: "All of us are looking forward to this week with a great sense of anticipation. First the Yankees, then hopefully approval from MLB followed by the Red Sox for the weekend, with huge crowds and historic levels of excitement among our fans, it just doesn't get any better than this ... at least until October."
3.
Texas GM Jon Daniels, on what the resolution of the ownership situation means to the Rangers: "The [players] were pretty well insulated from it, and other than occasionally asking a question or two, it wasn't a distraction. The biggest short-term impact should be the way we can market the club, upgrading our facilities for next year, and planning for next year and beyond (both big league payroll and building our infrastructure). Plus, it settles things down where our staff won't be worried about their futures -- a lot of good things going on here now, and the only thing that would have kept us from keeping our best people would have been a lack of stability."
Dings and dents
1.
Dustin Pedroia
is making
progress in his rehab
. The question will be: Is it too late?
2.
A-Rod was back
in the lineup
, but
A.J. Burnett
was a late scratch.
3.
Chris Coghlan
will undergo
knee surgery.
4.
Mark Reynolds
was back
in the lineup
.
5.
Alex Gordon
's sore heel is
getting better
.
6.
Kevin Slowey
has a sore elbow and
Francisco Liriano
has
a dead arm
.
Moves, deals and decisions
1.
In a meeting with his manager,
Jeff Francoeur
was told he will play more
against right-handers
.
2.
The Nationals cleared the way for
Stephen Strasburg
to be added to the
active roster
.
3.
Keeping
Cliff Lee
will be a priority for the Rangers'
new owners
, writes Randy Galloway.
4.
Eric Chavez
is mulling the possibility of
retirement, again
.
5.
Oakland is about to call up its
top prospect
, writes Susan Slusser.
6.
The Dodgers moved to cut
Garret Anderson
, and have
called up
Jay Gibbons
. Gibbons has worked very hard for the moment he had yesterday.
7.
Hideki Matsui
was
benched
.
8.
Jim Thome
wants to
keep playing
.
Sunday's games
1.
Josh Beckett
couldn't give
the Red Sox the lift they needed, Amalie Benjamin writes. Beckett
has struggled of late
against the Yankees, Dan Shaughnessy writes.
It was typically
forgettable
, writes John Tomase.