A Manny in full
September, 1, 2010
9/01/10
8:08
AM ET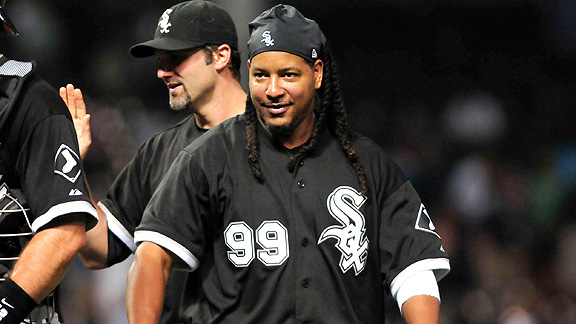 Getty ImagesWant a full season of Manny Ramirez? Better know how to structure a deal that can keep him playing.
The
Boston Red Sox
swallowed $10 million to get rid of
Manny Ramirez
just before the trade deadline in 2008, and two years later, the Dodgers gave Ramirez away after receiving 170 games, 27 homers and a drug-related suspension in return for the $33 million they spent on the outfielder in 2009 and 2010.
He quit on those two teams.
The Dodgers aren't saying much publicly because of professional decorum, but behind that facade there are very strong and angry opinions about how Ramirez conducted himself in his last season with the team -- feelings that echo what his Boston teammates and employers felt two years ago.
But Ramirez, at 38 years old, can still hit and should help the White Sox in the last 33 days of the season, and he will get offers this winter. However, any general manager who offers him a big-money deal should have his sanity questioned, given the amount of money squandered over the past three years because Ramirez decided he didn't want to play anymore.
If a team wants to sign Manny for 2011, this is what makes sense:
They should dangle a low base salary -- $800,000 to $1 million -- and structure the rest of the deal in a way that compels him to stay on the field. Incentives based on plate appearances. In other words: He'll have to play to get paid.
Let's just say, for argument's sake, that the White Sox wanted to bring Manny back for 2011, and they gave him a $5 million deal. Well, history tells us there's a good chance he'll just decide he doesn't feel like playing, in spite of the money he is being paid. He apparently lacks a basic level of professional integrity that hundreds of millions of people have in their jobs. Buyer beware.
I'm sure the White Sox were thrilled with the fact that Manny seemed too fatigued to play Tuesday, as well as what David Haugh describes as a
bizarre 15-minute press conference
. It's unclear whether he intends to abide by
the team's hair rules
, writes Mark Gonzales. The White Sox are
cutting Manny some slack
, writes Joe Cowley. They're spending $3.8 million, or a little more than $100,000 a day, and on the first day, they got little bang for their buck -- although he may or may not have influenced the pitch selection of an Indians right-hander in the ninth inning.
The most interesting moments of Ramirez's time with the White Sox will only happen if Chicago drifts out of contention over the next two weeks. If that happens, and Ramirez quits on the White Sox as he did the Red Sox and the Dodgers, then Ozzie Guillen -- who has never had a filter in the way that Terry Francona and Joe Torre do -- will call him out publicly. Francona and Torre never did do that, either because they were trying to maintain his trade value or because they were concerned that Ramirez would go into a shell or because they're just too polite. Ozzie will not care about any of that; he'll say what he thinks.
But if the White Sox win and Manny hits, well, all will be good. Until Ramirez discovers in the winter how few employment options he has.
The McCourts
Frank McCourt didn't seem to
remember much
during his 45 minutes of testimony, writes T.J. Simers. Some testimony shed light on the
collapse of the marriage
, writes Bill Shaikin and Carla Hall.
Eleven lawyers
are working this case.
Moves, deals and decisions
1.
The Rangers
traded for
Jeff Francoeur
.