Trevor Hoffman's dive into history
September, 8, 2010
9/08/10
8:22
AM ET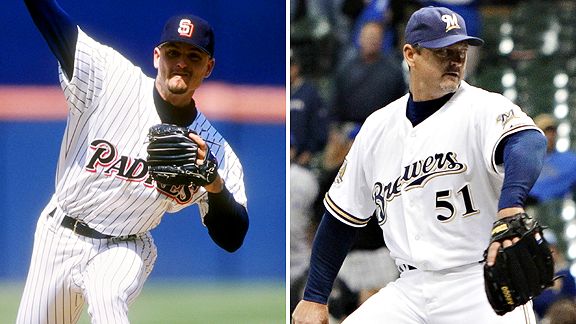 Getty ImagesHoffman relies on a change-of-speed scheme, just as he did 16 years ago. How he discovered it is the oddity.
A few years ago, I worked on a long piece on
Trevor Hoffman
for ESPN The Magazine, and we sat in the visitors' dugout at Shea Stadium and talked about his father's influence, the games he played as a child with his older brothers, about his baseball history.
I was covering the Padres for the San Diego Union-Tribune when the Marlins had traded for Hoffman as part of the
Gary Sheffield
deal in June 1993 -- it was in the midst of the Padres' Fire Sale. Trevor had, in a roundabout way, gotten me into trouble with my sports editor at the time.
I had written glowingly about what scouts saw as the high potential of the hard-throwing right-hander that the Padres had gotten back in the deal, and the sports editor was angry.
Hoffman had been drafted as a shortstop by the Reds, but after many 0-for-4s at the plate, Cincinnati's minor league staff suggested that he try pitching; Hoffman heard the words and realized -- rightly -- that he was hanging on the ledge of a professional baseball abyss, and that he needed to try something different.
"Pollyannish," the sports editor barked.
When Gene Harris struggled at the outset of the 1994 season, Jim Riggleman anointed Hoffman as closer. By then, Hoffman's reputation for being an exceptional teammate, for being a hard worker, for being a stickler for preparation, for being accountable, was cemented among the others in the
San Diego Padres
' clubhouse.
But somewhere along the way, Hoffman had lost that great 95-96 mph fastball that he had shown in 1993 and 1994. As I talked with him at Shea Stadium, I had a list of things I wanted to get to, and had written in my notebook, in capital letters, this word: VELOCITY.
"Why do you think you lost velocity on your fastball before the 1995 season?" I asked.
Hoffman looked at me and smiled, and then looked back out on the field. It was an I-know-the-answer-but-I'm-not-sure-if-I-want-to-tell-you expression, something familiar to reporters everywhere.
"Off the record?" he asked.
"Sure," I said. "Off the record."
And then he told the story in detail. Remember the first days after the 1994 players' strike, he asked?
Of course, I replied. I had been the beat writer covering the Padres for the Union-Tribune, and the San Diego players -- most of them very young -- had gone to play golf together. And they had asked me, as the only traveling beat reporter, to go along, too, and I had played in a foursome with
Andy Benes
. I remembered it all very well.