Scanning the options market
September, 17, 2010
9/17/10
8:16
AM ET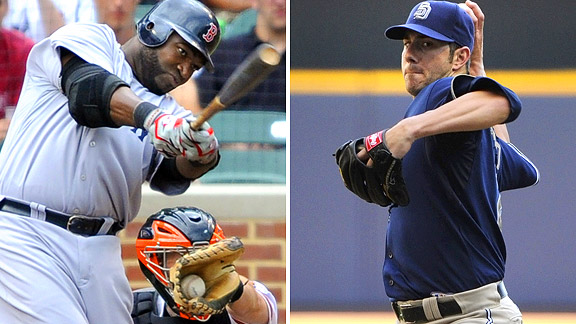 Getty ImagesAmong the many on the options market, Garland and Ortiz look like players who'll have theirs picked up.
ESPN Research monster Mark Simon and Doug Kern of ESPN Stats & Information put together a list of some players who have contractual options for next season, using information from the excellent
Cot's Baseball Contracts
. Take a look:
First basemen
Lance Berkman
NYY ($15M club, $2M buyout)
David Ortiz
BOS ($12.5M club)
Albert Pujols
STL ($16.0M club, $5M buyout)
Second basemen
Mark Ellis
OAK ($6.0M club, $0.5M buyout)
Jose Lopez
SEA ($4.5M club, $0.25M buyout)
Shortstops
Omar Infante
ATL ($2.5M club, $0.25M buyout, with $1M more if he meets plate appearance criteria)
Jhonny Peralta
DET ($7.0M club, $0.25M buyout, with various incentives attached that could increase option)
Edgar Renteria
SF ($10.5M club, $0.5M buyout)
Jose Reyes
NYM ($11.0M club, $0.5M buyout)
Third basemen
Adrian Beltre
BOS ($5.0M player, $1M buyout if he has 575 plate appearances)
Eric Chavez
OAK ($12.5M club, $3M buyout)
Bill Hall
BOS ($9.25M club, $0.5M buyout)
Nick Punto
MIN ($5.0M club, $0.5M buyout)
Catchers
Miguel Olivo
COL ($2.5M club, $0.5M buyout)
Yorvit Torrealba
SD ($3.5M mutual, $0.5M buyout from either)
Gregg Zaun
MIL ($2.25M club, $0.25M buyout)
Outfielders
Coco Crisp
OAK ($5.75M club, $0.5M buyout)
David DeJesus
KC ($6.0M club, $0.5M buyout)
Jason Kubel
MIN ($5.25M club, $0.35M buyout)
Magglio Ordonez
DET ($15.0M club)
Starting pitchers
Bronson Arroyo
CIN ($11.0M club, $2M buyout, possibility of increase to $13M based on 2010 innings)
Jeff Francis
COL ($7.0M club)
Jon Garland
SD ($6.75M mutual option, buyout of either $0.3M if player rejects or $0.6M if team rejects)
Aaron Harang
CIN ($12.75M club, $2M buyout)
Ian Snell
SEA ($6.75M club)
Chris Young
SD ($8.5M club)
Relief pitchers
J.C. Romero
PHI ($4.5M club, $0.25M buyout)
Matt Thornton
CWS ($3.0M club, $0.25M buyout)
Kerry Wood
NYY ($11.0M club)
At first glance, some no-brainers for the second-tier option to be picked up: Thornton, Infante, Garland.
At first glance, some no-brainers for the option to be rejected: Berkman, Romero, Harang, Lopez, Hall.
In early May, the Red Sox had conversations about possibly releasing David Ortiz, but he rebounded in a big way and now it makes sense for Boston to pick up his option for $12.5 million, because Ortiz has demonstrated he can still hit, and because one possible alternative scenario could be a nightmare for the Red Sox. Imagine if Ortiz delivered himself into the hands of the Yankees, and took advantage of the helpful dimensions of new Yankee Stadium to have a 35-homer season.
The McCourts
Peter O'Malley says that Frank McCourt
needs to sell the Dodgers
.
Says O'Malley, within Bill Shaikin's story: "For many years, the Dodgers have been one of the most prestigious institutions in our city and throughout professional sports. Sadly, that is not the case today."
This would be like having Johnny Carson, in retirement, saying out loud that a late-night talk show host needs to give up his job. And what this does is it gives Bud Selig and Major League Baseball owners cover to start putting pressure on the McCourts to sell the club.
McCourt is now
completely isolated
, writes Bill Plaschke.
And meanwhile, the Dodgers -- finishing a tough year after the front office was never allowed to augment the pitching staff in the way it should be -- got smoked by the Giants on Thursday, and San Francisco
moved into first place
.
And within this piece, there is word that Joe Torre knows
what he will do
for next year. Unless he has been holding double-secret negotiations with McCourt on an extension in the midst of what friends say has been a frustrating season for Torre, what this almost certainly means is that Torre is leaving, because the choice to manage the Dodgers in 2011 must be unilateral; it has to be made in concert with Frank McCourt.
NL West
As the Padres' offense came back down to earth and San Diego fell out
of first place
, the Giants may have found
a new leadoff man
as they wiped out the Dodgers, writes John Shea.
From Doug Kern of ESPN Stats & Information, how
Jonathan Sanchez
shut down the Dodgers:
(A)
His strike percentage of 74.4 (on all pitches) was the highest of his career in a start. It was spread across all pitch types (76.7 percent on fastballs); the free-swinging Dodgers swung and missed 18 times, the most for Sanchez since April.
(B)
His curve and slider worked well; Dodgers went 0-for-7 against those two pitches, which also accounted for five of Sanchez's season-high 12 strikeouts. They also chased half of all those two pitches outside the strike zone.
(C)
His high strike percentage led him to
zero
three-ball counts the entire game (not even 3-2). That's another first in his career as a starter. He went 2-0 to only two batters, both of whom later made outs.
The Giants are poised to play
Buster Posey
every
day the rest of the season
. Chris Young is set to rejoin
the San Diego rotation
.
As the Rockies resume their schedule today, getting guys on base in front of
Carlos Gonzalez
and
Troy Tulowitzki
is
going to be key
, writes Jim Armstrong.
AL Central
If the Twins' victories on Tuesday and Wednesday were nails in the White Sox coffin, then what Minnesota
did on Thursday
was throw dirt on the Chicago season, in completing a sweep.
Joe Mauer
and
Carl Pavano
worked
well together
, writes La Velle Neal.