In one game, three cases were made
September, 24, 2010
9/24/10
8:13
AM ET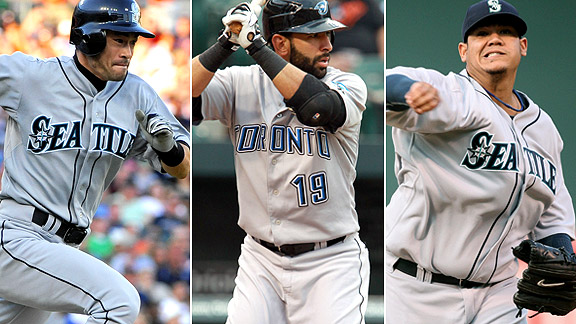 Getty ImagesEach of these guys made a significant case Thursday, but each was very different.
The most significant game in the majors Thursday had no bearing on the top of the standings: In Toronto's victory over the Mariners,
Ichiro Suzuki
collected his 200th hit
,
Jose Bautista
mashed his 50th homer and Cy Young candidate
Felix Hernandez
dominated
-- and lost.
About Ichiro: He's a lock to be voted into the Hall of Fame five years after he retires, and he's been so good you wonder if he'll have a shot at challenging the highest standards for voting percentage. Incredibly, he has a shot at 3,000 hits for his career -- he's at 2,230 and counting -- and he has been a dominant, shutdown defender who has won the Gold Glove in
every year
of his career. He's been one of the sport's best baserunners in every year of his career.
It's hard to fathom a reason why any voter wouldn't "X" the box next to Ichiro's name on the Hall of Fame ballot.
About Bautista: He made an adjustment in his swing in 2009, starting his swing earlier, and he believes this has helped him to get to fastballs he wasn't getting to earlier in his career. But welcome to baseball in 2010. Production like Bautista's will never be taken fully at face value, because of what baseball experienced during the steroid era.
And the facts both help minimize and perpetuate suspicion.
Fact 1
: Bautista has never been suspended for performance-enhancing drugs, and there has been no indication that he has ever used performance-enhancing drugs.
Fact 2
: You can cheat and not get caught under the current system, because there is no testing for human growth hormone (and perhaps other drugs we haven't even heard of). Only a player -- whether it's
Mariano Rivera
or
Tim Lincecum
or
Derek Jeter
or Bautista -- knows for sure whether he's actually cheating.


The defeat will underscore for voters again the pure futility of the Seattle offense. In Hernandez's 12 losses, the Mariners have scored 14 runs.


When a player puts up numbers like this, you can be assured that it's not only media and fans who are wondering if the numbers are legit; there are team executives asking questions, too. That may or may not be fair to Bautista, who is paying for the lies and mistakes of others, but that's just the way it is.
About Hernandez: His 1-0 loss might be the
best thing that happened to his candidacy
, writes Larry Stone, who makes a great point that the defeat will underscore for voters again the pure futility of the Seattle offense. In Hernandez's 12 losses, the Mariners have scored 14 runs, which goes a long way toward explaining why King Felix has a 12-12 record.
The AL Cy Young race, as of today:
1.
Felix Hernandez, whose ERA is a
half-run better
than
David Price
and nearly a full-run better than
CC Sabathia
.
2.
Sabathia
3.
Price
NL West and NL wild card
Juan Uribe
and the Giants broke out in
a big way
. He has 22 homers and 83 RBIs this season; San Francisco moved
into first place
when the
San Diego Padres
lost to the Dodgers, writes Bill Center.