Rays only baking up trouble
September, 28, 2010
9/28/10
8:12
AM ET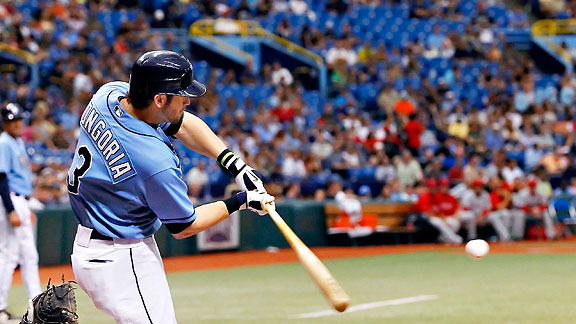 Getty ImagesEvan Longoria and the Rays continue to win, but empty seats always dot the background.
About 12,000 and change showed up for the Rays' game on Monday, a night when Tampa Bay had a chance to clinch a playoff berth.
Evan Longoria
had some things to say about that, calling the
support embarrassing
;
David Price
later chimed in on Twitter before apologizing for his tweet.
Saying this stuff out loud makes no sense whatsoever, in the same way it makes no sense for a farmer or a hardware-store owner or a computer-outlet owner to complain about the customers. Can you imagine if the owner of a bagel store -- and I worked as a baker in bagel stores in West Lebanon, N.H., and in Nashville during my college years -- in St. Petersburg were to talk like Longoria?
"You know, I've never made bagels as well as I'm making them now," the bagel man would say. "The lineup of sesame seed, cinnamon raisin and pumpernickel is the deepest I've ever had. We have more speed in our counter service than ever before, and the bakers -- that is a group that has been clutch all summer.

"For us to go a full season of baking great bagels, it's kind of like, what else do we have to do to draw customers into this place? It's actually embarrassing for us.

"I've thought about this for a long time. I'm not trying to take a low blow at the customers. I'm actually just trying to rally the troops and get more people in here. I'm not trying to say we have bad fans or any of that because, believe me, I've been here since '06, and I love the Tampa Bay community. It's just tough to see, and I felt I was the right guy to say it."
A bagel-store owner who says something like that would be laughed out of town. Folks who run a business -- any business -- put a product up for sale, and would-be patrons have the right to decide whether they want to buy the product. Nobody is obligated to buy the product, just as the Rays are not obligated to commit to staying in St. Petersburg forever.
Longoria is right, writes John Romano, but
he's the wrong messenger
.
In matters of baseball, the Rays missed a
chance to clinch
, writes Joe Smith, and so did the Yankees;
A.J. Burnett
was nothing
less than awful
, Mark Feinsand writes. Burnett
was awful
, writes George King, but he will get the ball in the playoffs.
With the division title and home-field advantage hanging in the balance, the Yankees
will throw
CC Sabathia
tonight.
Meanwhile, Longoria
is healing
.
Thumbs up
The latest film by Ken Burns and Lynn Novick -- "Baseball: The Tenth Inning" -- will air Tuesday night, and it's exceptional. The years covered in the documentary include Cal Ripken's record-setting night in 1995, the Atlanta Braves' brilliance, the Yankees' dynasty, Ichiro and the Red Sox's comeback in the 2004 playoffs. But the arc of the film is provided by
Barry Bonds
, whom we first see as a spectacular, dynamic and skinny young star, and who evolves over time. Burns and Novick's take on the steroids era is nuanced, and appropriately so. More on this on Wednesday.
NL West/wild card
The Braves won a game
in extra innings
but lost
Martin Prado
, David O'Brien writes.
Tim Hudson
will get the ball
on short rest Tuesday
.