The home-field advantage myth
September, 30, 2010
9/30/10
9:30
AM ET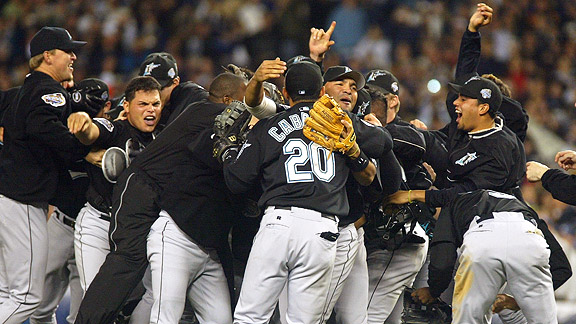 Getty ImagesThe home edge most omit: being able to drive home quickly after a devastating loss.
The Rays, Yankees and Twins are fighting for home-field advantage in the AL playoffs, but as Kenton Wong of ESPN Stats & Information writes, history tells us that it really doesn't make that much of a difference.
This from Kenton:
"On Sept. 22, the Yankees and Twins were tied for the best record in baseball at 92-60. The Rays were just 1.5 games back at 90-61. The Twins had already clinched the AL Central and the Yankees and Rays had firm grips on the AL East and wild-card spots.

"The three teams still had home-field advantage to play for, but it seems like no one really wanted it. Since Sept. 23, the Twins have gone 1-5, the Yankees have gone 2-5 and the Rays have gone 4-3. Hardly spectacular play from three of the best teams in baseball -- but maybe they are on to something. Since 1995 (in the wild card era), the team with home-field advantage in the division series has won just 31 of the 60 series. Since the division series adopted a 2-2-1 format in 1998, the team with home-field advantage has won 25 of 48 series. (It was a 2-3 format from 1995 to 1997).

"It's a similar story when we get to the league championship series. Teams with home-field advantage in the LCS are actually under .500 since it began in 1969: 39-41. The win percentages for division series since '95 for the team with the 'advantage' are just .517, while in the championship series, the 'advantaged team' has a .488 win percentage."
All three of those teams played Wednesday.
The Yankees lost on Wednesday, and while
Jeff Niemann
threw well, the Rays still lost in front of a
packed house
. The Twins rebounded to win.
Niemann pitched his way back into
playoff consideration
.
Evan Longoria
is
feeling better
, as mentioned within this
Joe Smith
notebook.
The free tickets given away by the Rays were
gone in 30 minutes
. The giveaway probably
wouldn't have happened
if not for the comments of Longoria and
David Price
, said team president Matt Silverman.
Some Yankees don't want to rest
down the stretch
, Ben Shpigel writes. A-Rod slammed his 30th homer on Thursday; according to Stats & Info., he is now tied with
Barry Bonds
for most consecutive seasons with 30 HRs (13) and trails only Hank Aaron (15) for most career seasons with 30 HRs (14).
This is not good:
Andy Pettitte
says his back stiffened
during his last start
, Mark Feinsand writes.
The Twins stopped their bleeding by coming back to
beat the Royals
, writes Joe Christensen. Bill Smith is unfazed by the Twins'
recent struggles
, writes Charley Walters.
Justin Morneau
has been
feeling better
and will take batting practice today, but keep in mind, his return is an extreme long shot. Assuming that he doesn't have any setbacks -- and
Aaron Hill
and others who have suffered from concussions will tell you that setbacks are just part of the equation -- Morneau would need a consistent regimen of workouts and then about a week's worth of games in instructional ball. And then the Twins would have to evaluate whether he had made enough progress to return to the lineup. From the outside looking in, it would seem that if he was to return, the best shot would come if the Twins reached the World Series. It's a race against time.
With head injuries, there's nothing to do
but wait
, writes Jeff Blair.
NL races
•
Brooks Conrad
continues to do his best Lou Gehrig impression (to Martin Prado's Wally Pipp). In consecutive days, the 30-year-old
has mashed
a crucial triple and a home run, nudging the Braves closer to a playoff spot, as Atlanta completed a sweep of the Marlins.