Twins are in the right frame of mind
October, 9, 2010
10/09/10
10:56
AM ET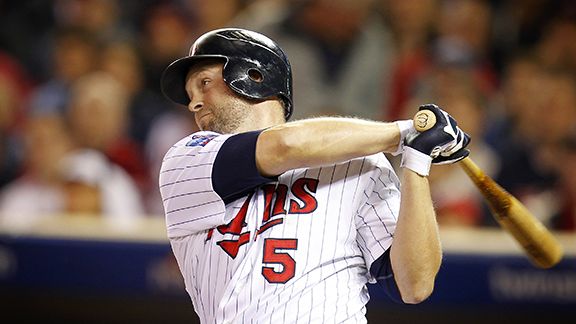 William Perlman/The Star-Ledger/US PresswireMichael Cuddyer is the vocal leader of the Twins, something he learned from Torii Hunter.
There hasn't been a day since
Michael Cuddyer
joined the Twins when he felt out of place saying something to teammates.
Torii Hunter
encouraged him in this way: If you've got something worth saying, then go ahead and say it.
It is because of this culture that the Twins have a full set of emotional safety nets in place following their losses in the first two games of their ALDS against the Yankees. The Twins' greatest challenge, as they head into Saturday's Game 3, will be to turn the page on eight consecutive postseason losses to the Yankees, and in the Minnesota clubhouse, the players made it clear that they felt this would not be a problem.
Joe Mauer
spoke up right after the Game 2 loss,
encouraging his teammates
, and slowly, the frustration that filled the Twins went away. "Last night we got on the airplane, it was a little quiet, but as it went along, guys landed and there was a lot of laughing," Ron Gardenhire said. "They are ready to go. We know what's in front of us."
Jim Thome
helps the Twins refocus after defeats, and so does Cuddyer, who tends to be the guy who reminds everyone that their focus need only be on the next game. Nick Punto's sarcastic humor is helpful in these situations, as is Orlando Hudson's high-energy commentary and Carl Pavano's irritability. "Pavano was irritated last night," Gardenhire said, "which always makes us laugh. Gives us a good chuckle to see him mad."
Said Hudson: "We put things behind us. We have fun, we talk about certain things and once it's talked about say, 'It's done,' throw it in the trash can and get ready for the next day."
But no matter what is said and done, what is more important for the Twins is to hit with runners on base. So far in this series, they are 0-for-10 with runners in scoring position.
Brian Duensing
, who starts tonight for the Twins,
is cool, calm and collected
, writes Joe Christenson.
Cuddyer is
keeping the faith
, writes Jim Souhan.
The choking Twins are
getting no sympathy for their playoff failure
, writes Tom Powers.
Other stuff from the postseason's Day 3:
1.
There was about a 48-hour period 34 months ago when it appeared as if
Phil Hughes
might become a Minnesota Twin. He was part of a Yankees offer for
Johan Santana
, along with outfielder
Austin Jackson
; when members of the Red Sox front office heard about the Yankees' offer, they assumed Minnesota would make that trade.
At the time that was going on, Hughes was at home in California, where his family's home was being remodeled, so he had no access to the Internet and no television. He kept getting phone calls from friends keeping him up to date, but mostly, he was cloaked in an information blackout.
"It's funny looking back at that now, how kind of how far things have come in the last year and a half, two years," Hughes said. "I'm just happy to have stayed."
2.
Managers lean on their closers just a little bit more in the postseason, asking them to go above and beyond their usual contributions. It was in that vein that Giants manager Bruce Bochy asked
Brian Wilson
to get the last six outs for San Francisco in Game 2 -- and
it didn't work out
, as Ron Kroichick writes.
Wilson is probably not suited for this type of assignment the way
Mariano Rivera
is, because while Wilson is an excellent closer, he doesn't have the kind of clean innings Rivera does. Consider the average pitches per inning for the two relievers over the past three regular seasons:
Rivera: 13.9, 15.5, 15.5
Wilson: 19.0, 18.2, 17.5
Wilson often refuses to give in to hitters, and tends to pitch into deeper counts and walk more hitters. Rivera, on the other hand, goes right after hitters, breaking bats and generating slow rollers with his cut fastball. If the Giants recover from this loss to advance -- and this series is probably a toss-up now, given that
Tim Hudson
is lined up and ready to pitch Game 3 in Atlanta, where he has allowed opposing hitters a .218 average and just eight homers in 128.1 innings -- you wonder if Bochy will ask Wilson for six outs in any game again.
Rick Ankiel
mashed a
tie-breaking home run in the 11th
, Henry Schulman writes, but the Braves' victory came with a price -- it's possible that Billy Wagner's career is over.
A
couple of Giants got banged up, too
, and
Freddy Sanchez
may or may not be able to play in Game 3.
It was a
cool way for the Braves to win
, Ankiel said. You
can't replace a guy like Wagner
, says
Brian McCann
.
The Braves' comeback in this game was the
greatest miracle of the season
for this team, writes Jeff Schultz.