Zack Greinke's uncertain future in KC
October, 16, 2010
10/16/10
10:20
AM ET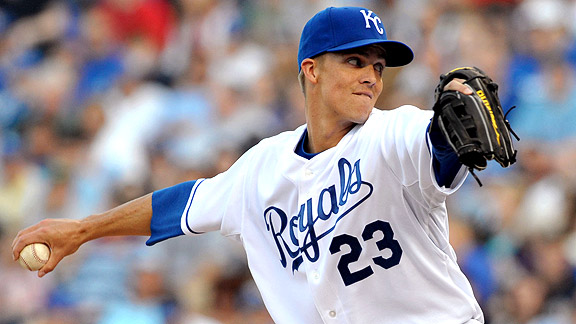 John Reiger/US PresswireZack Greinke could be traded to a contender if the price is right.
A wave of high-end prospects will hit Kansas City in 2011 and 2012 -- guys like Mike Moustakas and Eric Hosmer and John Lamb -- and time will be needed for some maturation before the full impact of these players is felt. The Royals will probably be in position to contend sometime in 2013 or 2014.
Zack Greinke
's current contract ($13.5 million per season for each of the next two years), on the other hand, runs only through 2012.
The timeline of Greinke's career may not be in line with the organization's reconstruction plans, so the Royals intend to listen to any and all offers for the All-Star right-hander this offseason, according to sources.
Kansas City will oversee what essentially will be a one-man market -- a seller's market,for sure -- because after
Cliff Lee
signs a huge deal, the best available free-agent starters will be respected veterans like
Ted Lilly
and
Jorge De La Rosa
; but there won't be anybody like Greinke, whose résumé is unique:
The Cy Young Award winner of 2009 turns 27 on Oct. 21, and he is completely healthy, without a hint of an arm problem. Over the past three seasons, he has issued 162 walks in 651.2 innings, with 605 strikeouts. He posted a 2.16 ERA, and while his ERA nearly doubled in 2010, to 4.17, the wide perception among rival evaluators is that Greinke is simply bored -- distracted might be a better way to put it -- by the fact that the Royals don't have a chance to win right now. "He doesn't really look like he's into it," said one AL evaluator, in the middle of the summer.
Greinke did get the ball in a meaningful game on the final weekend of the season, against Tampa Bay, and he was excellent, predictably, striking out nine and walking two over seven innings in a 3-2 victory. He had spoken during the season of wanting a chance to win and, given his contract situation and the timetable for guys like Moustakas, Hosmer and Lamb, the Royals could be served best by taking offers for Greinke right now -- while he's still very young and healthy, and when there is almost no impact pitching available in the market.
The Royals do see value in keeping Greinke; it's possible that he's inspired by what he sees next year, and he could sign an extension and be the leader of the staff into 2013 and 2014 and beyond. He is an example of excellence, in his preparation and execution, and pitchers like Lamb could learn from him.
But if the Royals trade Greinke now, they presumably would get strong offers of prospects who would better fit the 2013 and '14 timeline; Kansas City's core of young talent would deepen and could blossom altogether. As the
Tampa Bay Rays
have demonstrated, that is how small-market teams have to compete.
Because of Greinke's breakdown in 2006, there will be questions within the front offices of big-market teams about how he would adapt to the scrutiny of playing in a place like New York or Boston or Chicago. But Greinke's talent for throwing strikes, and for commanding such a wide array of pitches, will presumably create a strong market for him.
The Royals could trade him this winter, or maybe they'll wait until next summer, when pennant races sometimes drive up the prices that contenders are willing to pay. But either way, they will listen to offers in the weeks and months ahead.
Yankees-Rangers
• After the Yankees' comeback victory in Game 2, you wonder if Texas manager Ron Washington returned to his office and started reconsidering the idea of trying to match up some of his relievers against specific hitters in the New York lineup.
Lefty
Clay Rapada
was brought in to face the left-handed hitting
Robinson Cano
, a garden variety lefty versus lefty strategy. But the thing is that right now, Cano is hammering lefties -- heck, he's hammering
everybody
, with seven hits in his first 16 at-bats in this postseason. He blistered Rapada's first pitch to center field.
As Texas moves forward, maybe Washington would be better off going with his best relievers, regardless of whether they are right-handed or left-handed. By the time the Rangers had frittered away a 5-0 lead,
Neftali Feliz
had yet to throw a pitch.
And maybe
Derek Holland
, who shut down lefties this year, would be a better match against Cano in the games ahead; I was surprised it was Rapada, rather than Holland, who got the ball to face Cano on Friday night. Maybe Holland, who is relatively new to the relief thing, just hadn't warmed up enough.
But, in retrospect, the weak link for Texas in Game 1 was
Darren Oliver
, who walked both hitters he faced,
Nick Swisher
and
Mark Teixeira
. The Rangers will need him to be better in order to win this series. Washington told reporters afterward: "Those are the guys I wanted in there. I mean, Darren Oliver has been nails for us. [He] just walked two guys back-to-back. He wasn't Darren Oliver. It just didn't happen tonight; that eighth inning just killed us out of the bullpen."
The bullpen
let the Rangers down
, writes Randy Galloway.
The Rangers added left-handers to their bullpen, but it's
unclear whether they can really help
.
The Yankees rewrote their script with their
late burst of runs
, writes Ben Shpigel.
Cano had an MVP moment
, writes Joel Sherman.
From Michael Trainor of ESPN Stats & Information, some more on Cano's postseason: "As has been the case for most of the 2010 campaign, Cano came up big for the Yankees. He got the Yanks on the board with a 7th-inning homer off a
C.J. Wilson
slider -- one of two sliders Cano saw on the evening. The fact that Cano saw few sliders -- and that he crushed one -- should come as no surprise. Cano has now hit 11 of his 30 home runs this season (regular season and playoffs) off the slider, compared to 12 off the fastball. Combining the regular season and playoffs, Cano is hitting .337 against the slider and .331 off the fastball. Cano was 2-3 off the heater Friday night."
The rally started with a
little hit from
Brett Gardner
, writes Mark Hale.
For the Rangers,
this was a nightmare right out of the '90s
, writes Jeff Wilson. That
eighth inning might haunt Texas
, writes Tim Cowlishaw.
From the Elias Sports Bureau: