The Texas Rangers' magical season
October, 23, 2010
10/23/10
8:53
AM ET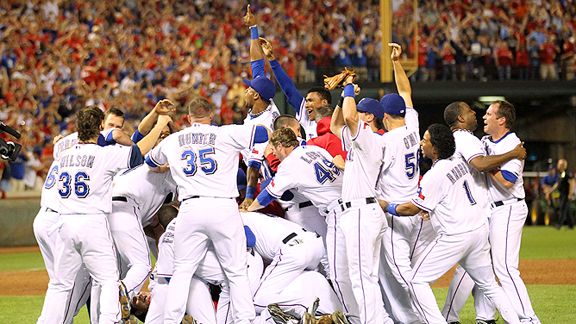 Matthew Emmons/US PresswireThe Texas Rangers are headed to the World Series, but they had quite a journey to get there.
Some rival executives wanted the
Texas Rangers
placed in lockdown mode over the last year, with their payroll pinned in place, like some rookie NFL player who has been duct-taped to a goal post. The feeling among other teams was that through the Tom Hicks years, the Rangers' ownership had mismanaged the franchise's finances and that the team had remained afloat -- and was able to make payroll -- only by the good graces of and money from their competition.
They existed day-to-day partly on borrowed money, and the commissioner's office could have stepped in at any time and shut off the spigot. So when the Rangers signed
Rich Harden
to a $7.5 million contract this winter, eyebrows in other front offices were raised -- and when they landed
Colby Lewis
, the frustration of some other teams mounted. When the Rangers were rumored to be in the bidding for
Cliff Lee
, the summer's big-ticket item, the anger in other front offices metastasized, with this question being asked:
Why should the Rangers be allowed to go shopping with our credit card when they owe us money?
For businessmen and executives of other teams competing against Texas, it was a legitimate concern.
The extra spending could not have happened without the approval of commissioner Bud Selig. And it was the right decision, however unfair it may have seemed to some of the Rangers' rivals.
The Rangers were up for sale all summer, going through bankruptcy. By allowing them to augment their roster, Selig gave the team a better chance -- a badly needed chance -- to thrive. If he had taken draconian measures and punished the Rangers for Hicks' follies, then they probably wouldn't have been able to add Lee or other veterans during the season, and it's very possible that the incredible scene Friday night might not have taken place.