For Texas, one pitch to ponder
November, 2, 2010
11/02/10
7:48
AM ET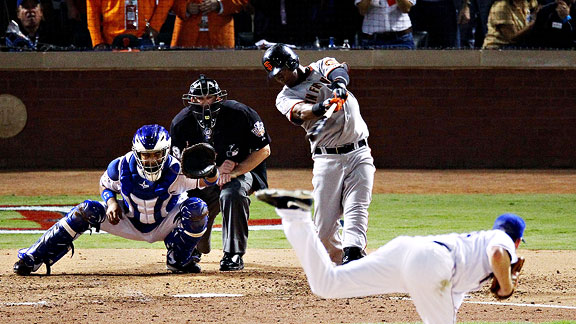 Getty ImagesBengie Molina had called for a ball off the plate, but Cliff Lee went after Renteria.
There should be no regrets for the
Texas Rangers
about the 2010 World Series, because they were completely dominated over a week of baseball. The No. 3-4-5 hitters in their lineup --
Josh Hamilton
,
Vladimir Guerrero
and
Nelson Cruz
-- combined to hit .130 in the series, and the
Giants
posted as many runs in five games (29) as Texas had hits (29). The Giants'
Juan Uribe
turned into Brooks Robinson at third base,
Freddy Sanchez
became
Roberto Alomar
, and old
Edgar Renteria
played like he was young all over again.
But of course there will be crossroad moments to ponder in the years ahead, in the way we wonder if the 1988 World Series might have been different if Dennis Eckersley had thrown a fastball to Kirk Gibson rather than a slider, or how the 2000 World Series might have played out if
Timo Perez
had run hard from first base rather than being cut down at the plate.
For the Giants, that moment came in the seventh inning of Game 5, with runners at second and third and two outs and Renteria at the plate. Renteria, of course, has had a rebirth in the past two weeks, partly because he has been one of the few players not coping with fatigue this time of year, after being benched late in the season. Renteria had just 52 at-bats from the end of July to the end of the regular season, and a total of two at-bats in the first six games of the postseason.
But Renteria, at age 35, had been installed into the everyday lineup by Bruce Bochy, at a time when the manager was just trying to find somebody who might contribute to the offense. And after getting a hit and scoring twice in Game 1 of the World Series, he slammed a homer and drove in three runs in Game 2. Renteria added three more hits in Game 4, and so as he strolled to the plate, Giants catcher
Bengie Molina
-- who had played with Renteria in San Francisco -- had it in his mind that he wanted to pitch around Renteria. Because Molina knew the guy on deck,
Aaron Rowand
, had played even less than Renteria.
Since being benched in the middle of September, Rowand had a total of 12 at-bats in the previous 45 days. With first base open, Molina figured it was just better to work around the hot-swinging Renteria and go after Rowand. His feelings were reinforced when Lee missed badly with his first two pitches to Renteria, falling behind two balls and no strikes.


Lee was thinking differently [about Renteria]. "I was trying to throw him a strike," Lee said. "I don't want to walk anyone."


Molina called for a cut fastball off the outside edge of the plate, looking for Lee to waste the pitch off the edge. If he fell behind in the count 3-0 and walked him, so be it; then they could really attack Rowand.
But Lee was thinking differently. "I was trying to throw him a strike," Lee said. "I don't want to walk anyone."
Were Molina and Lee on the same page? "I don't know," Molina said. "He's a machine. He attacks the zone. He always throws strikes."
The last strike he threw to Renteria turned out to be perhaps the last pivotal pitch of the World Series.
Lee loaded the cut fastball in his left hand as he always does, with his palm and fingers slightly off-center, to spin the ball. This cutter, however, did not spin the way Lee had spun others earlier in the game; it was flatter, and rather than angle down out of the strike zone, out of harm's way, it ended up over the middle of the plate.
And 4,755 days after Renteria singled home
Craig Counsell
to end the 1997 World Series against the
Cleveland Indians
, the he turned on the hanging cutter and clubbed it, in a way that neither Molina nor Lee nor Renteria will ever forget. "He put a good swing on it," said Lee. "Maybe I should've been more fine [with that pitch]."
Or maybe he should've bypassed Renteria altogether.
The Mighty Tim
Molina caught Lincecum for years in San Francisco before being traded to the Rangers in the middle of this season, and in Molina's first two at-bats against his old batterymate, Lincecum kept throwing sliders at him. But on the final pitch of his third at-bat, Molina saw Lincecum's changeup -- the pitch that had confounded his teammates throughout Game 5. Like the other Rangers, Molina swung and missed. "I got a taste of the changeup," Molina said. "I looked at him [like] 'You friggin' guy.'"
Lincecum mustered 22 missed swings, and each of his 10 strikeouts came on missed swings. Here are the most K's in a World Series clincher, all-time.
2010
Tim Lincecum
, 10, Giants
1967 Bob Gibson, 10, Cardinals
1965 Sandy Koufax, 10, Dodgers
1945 Hal Newhouser, 10, Tigers
1908 Orval Overall, 10, Cubs
From ESPN Stats & Information: For his out pitch, Lincecum went to his bread and butter -- the changeup. Hitters were 0-for-10 against his change with two strikes, including eight of his 10 strikeouts, which tied a season high. He had outstanding command of the pitch as he got Rangers hitters to expand their strike zone all night. Seven of his eight strikeouts on the change came on pitches out of the zone, with six of those seven coming down in the zone.
Lincecum's devastating off-speed stuff was so effective, at least in part, thanks to the improved fastball he showed in Game 5. His fastball averaged 92 mph, only the third time since July 15 he's averaged 92 or higher. Of the 46 fastballs he threw, 29 were in the strike zone (63 percent), his best since Sept. 18. Since his dominant start in Game 1 of the NLDS, opponents were hitting .440 against Lincecum's fastball. On Monday, showing improved velocity and command, hitters were just 1-for-8.
His slider was pretty good, too, as Lee Singer writes: How Tim Lincecum dominated the Rangers, giving the Giants their first World Series title since 1954:
"Since changing the grip on his slider in early September, the pitch has been Lincecum's new best friend. He's been relying on it more frequently with increased success and Game 5 was no different. He threw 26 sliders, second-most this season to only his Game 1 start, when he threw 35. Eighteen of the 26 sliders (12 for strikes) came early in the count, as Lincecum paired it with his fastball to get ahead. Overall, the Rangers swung at the pitch 14 times, missing on an incredible nine of those swings (64 percent, season avg 31 percent)."
Since Lincecum changed his grip on the slider, the results have shifted. He throws it twice as often (18.8 to 9.6 percent), and opponents are hitting it at a lower rate (.148 opponent BA to .208). This miss percentage has also risen from 28.2 percent to 34.7 percent.
•
Brian Wilson
tied the record for most postseason saves (six, shared by several, including Mariano Rivera) for a player who finished with a 0.00 ERA.
The mood in Texas
The Rangers' clubhouse remained closed for a full 25 minutes after the Game 5 loss, as manager Ron Washington spoke to the players, and when reporters were let in, the sound of backslapping could be heard throughout the place -- teammates giving each other a final hug goodbye. All year, one of the strengths of the Rangers was the ability to put losses behind them, and after the ultimate defeat, they seemed to handle it with perspective, with an understanding of just how well they had played in 2010, and how far the franchise had advanced. The players conveyed a feeling that this is only the first step for this group of Rangers players. Even Lee, who figures to be the most prominent free agent of the forthcoming offseason, still harbored strong sentiments about teammates with whom he played for just four months.
"We're going to use this as motivation and come back ready to go," said Lee.
We?
"I like this team," he said. "It was a very fun team to play on. ... I expect this team to do good things next year. I don't know if I'll be a part of it."
We'll see.
Free agency
Less than an hour after Brian Wilson's final pitch, the business of the offseason began, when the Major League Baseball Players Association sent out a press release declaring that 142 players had become free agents, in keeping with the new rules negotiated between the union and Major League Baseball. So as Juan Uribe helped hoist the championship trophy and
Pat Burrell
hugged teammates and
Aubrey Huff
and a couple of others celebrated, they technically were not part of the San Francisco Giants' roster.
Series wrap