Jayson Werth's deal says more about Boras
December, 6, 2010
12/06/10
8:39
AM ET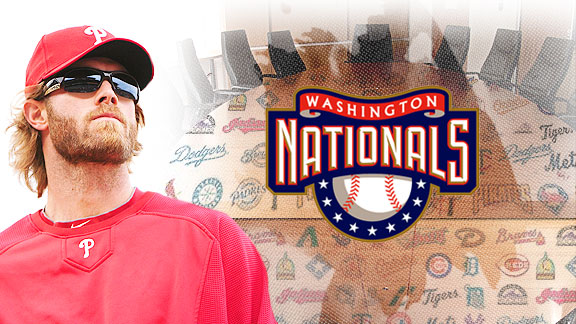 ESPN.com IllustrationHere we go -- the winter meetings will see many dominoes fall after Jayson Werth.
Scott Boras will often make extraordinary claims -- and make almost unbelievable comparisons. The perception of some executives is that he will present really high numbers in speculation about his clients so he can make the eventual terms look more palpable to interested teams.
At the outset of this offseason, Boras compared one of his clients,
Jayson Werth
, to
Matt Holliday
-- whose seven-year, $120 million deal stunned baseball officials this past winter -- and many executives viewed the link of Werth and Holliday as more super-agent rhetoric.
And on Sunday, Werth got
more
than Holliday; for the first time in history, Boras might have
underestimated
what his client would get.
Werth's seven-year, $126 million contract immediately drew anger from rival officials who were furious about the terms. "Absolutely crazy," said one high-ranking AL official.
"You're kidding me," a general manager screamed into the phone. "What could they have been thinking?"
Mets executive Sandy Alderson offered this, dryly: "I thought they were trying to reduce the deficit in Washington."
To put this in perspective: The Nationals spent more money on Werth than all the free agents the franchise had signed in the previous 20 years combined.
Through the years, Boras has always had one or two clubs he has gone back to for his big strikes. For a time, that team was the
Texas Rangers
, with owner Tom Hicks, who wrote the checks for
Alex Rodriguez
and
Chan Ho Park
. For a time it was the
Los Angeles Dodgers
, who paid top dollar for
Kevin Brown
and others. In more recent years, Boras has doubled back to the
Detroit Tigers
, for players such as
Magglio Ordonez
and
Johnny Damon
.
The Nationals appear to be his new best friends, given the contracts worked out for
Stephen Strasburg
, Bryce Harper and now for Werth. It's worth remembering as the talks continue for another Boras client -- first baseman
Carlos Pena
.
The Nationals went all out for Werth,
writes Adam Kilgore
. Werth says
he didn't feel wanted by the Phillies.
Werth took big money to join a doormat,
writes Phil Rogers
. Werth is a nice player, writes Bill Conlin,
but the Nationals' decision was awful.
In 2010, Werth led the NL in doubles (46), but was top-10 in numerous categories: extra-base hits (fourth, with 75), runs (fourth, with 106), OPS (sixth, at .921) and OBP (eighth, at .388), among others.
The Nationals, meanwhile, ranked 29th in outfielder batting average (.244), 26th in outfielder slugging (.390) and 25th in outfielder OPS (.720). Werth last year: .296/.532/.921. He'll no doubt improve that area.
A problem, though: Werth hit .186 with runners in scoring position, the fifth-lowest by any player since 2000 (minimum 150 PA), and the worst since
Aubrey Huff
hit .181 in 2006. He'll fit in with a Nationals team that hit .253 with runners in scoring position, ranked 21st in MLB and 13th in the NL.
This contract is unprecedented for the
Washington Nationals
franchise in a number of regards.