D-backs are loving Adam Eaton
March, 13, 2013
3/13/13
9:17
AM ET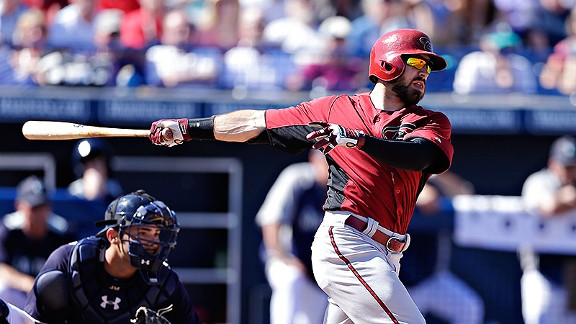 AP Photo/Gregory BullAdam Eaton is the kind of player who drives opponents crazy in a variety of ways.
Adam Eaton
has a gift for angering other people,
Arizona Diamondbacks
general manager Kevin Towers has decided. The other day, the center fielder bunted on
James Shields
and the
Kansas City Royals
seemed put off by that, and when Eaton slid into third base he banged against
Mike Moustakas
.
"I think everybody likes him on our team," said Towers, "but everybody on the other team hates him. He's just one of those guys."
Towers is closing in on two decades as a big league GM, and while
Quilvio Veras
did some nice things in Towers' years with the Padres, Towers can't recall ever having a prototypical leadoff hitter like Eaton before: someone who gets on base consistently, who pressures the defense, who forces the issue. Towers has watched the Giants set a standard for the NL West in recent years and sees a steady drumbeat in the way they compete, despite lacking a dynamic offense.
"They'll get guys on base and they'll put pressure on the defense," said Towers. "They won't make mistakes, and you look up in the late innings and you're down a run, and they've got that great bullpen."
Justin Upton
and
Chris Young
could carry the Diamondbacks for stretches with their power, Towers felt, but when that duo stopped hitting home runs, Towers thought the Arizona offense just stopped. He's hoping now that Eaton can alter that equation, because speed doesn't slump. Eaton might run out a hit, steal a base, run down a ball in the gap.
"He's one of those guys who does something every day to help," said Towers. "He's going to do something that's going to show up offensively or defensively to help your club every night."
Eaton is 5-foot-8, weighs 185 and was a 19th-round draft pick after attending Miami (Ohio); that uphill climb is why Towers believes Eaton plays with a chip on his shoulder. There seems to be a little streak of
Dustin Pedroia
in him. As the Diamondbacks moved to sign
Jason Kubel
last winter, Eaton -- who had spent the 2011 season in Class A and Double-A, phoned his agent and asked if he could call Towers. His agent asked him why.
"They don't need Kubel," Eaton said. "They have me."
Eaton has a powerful arm -- Towers distinctly recalled this
powerful throw that Eaton made
for the Diamondbacks last September -- and more power than you'd expect, given his size. He had almost as many extra-base hits in the minor leagues last year as strikeouts (see table) -- again, very Pedroia-like.
When Eaton was playing in Triple-A last year, a rival scout approached his manager, Brett Butler, and asked if he could speak to Eaton, so that he could thank him. He explained that he had been following Reno for the better part of a week, as they played the Dodgers' Triple-A affiliate, and that in many cases, the scout could not draw a true home-to-first time because the players had not run hard. With Eaton, on the other hand, the scout had never failed to get a time at 4.1 seconds or better, and he wanted to pass on his appreciation.
Eaton has a total of 103 plate appearances in the big leagues, in 22 games at the end of last season, so logic will tell you there will be valleys and peaks. But when Eaton posted a .382 on-base percentage in that handful of chances, this was in keeping with what he has done at every single level he has played in professional baseball.
Eaton enters this year as
the No. 91 overall prospect
as ranked by Keith Law, but some folks who he competes against feel a little more strongly than that. Just before the Diamondbacks promoted Eaton last year, a manager and a hitting coach of another team stood and chatted with Towers and Butler. "Can you just get that little pissant out of our league?" said the manager, and he meant it as a complement.
"He's a guy who seems to be in the middle of something good every day," said Towers.
The Diamondbacks will need that this year, in what figures to be a very competitive NL West.
Meanwhile,
Patrick Corbin
is making a strong case to be part of the Diamondbacks' rotation,
as Steve Gilbert writes
. Speaking of great defensive plays: Check out this
one by Corbin last season.
Around the league
• The Miami New Times won't hand over its documents to Major League Baseball, but more important, the paper reports that there is an ongoing investigation of
Anthony Bosch by the state of Florida
. If this happens in an aggressive manner, with subpoena power wielded, there will be a growing paper trail and testimony -- which is not good for any players who dealt with Bosch.
Major League Baseball does not have subpoena power; the state of Florida does.
• What had been a really smooth spring for the Phillies took a turn Tuesday, when Roy Halladay's velocity dropped significantly -- and he got whacked around,
as Bob Brookover writes
. From Bob's piece:


"I would say there's some concern," Dubee said when asked about Halladay's lack of velocity. "But I would say a lot of it has to do with him having no tempo to his delivery."

Asked if Halladay was in the process of reinventing himself as a pitcher, Dubee said the veteran righthander is going to have to learn to trust his fastball even if it does not have the same bite it once did.

"I think he's probably going to pitch similar to what he used to pitch with his dominant sinker," Dubee said. "I think sometimes he runs away from his fastball and we had a good talk about that afterward today.

"Whether it is 88 or 92, he is still going to have to pitch off his fastball and trust his fastball. I think now even some of our catchers are getting caught in too many ruts where we are going soft with him and not protecting the soft with the fastball."


The Tigers' hitters spoke loudly, writes Jim Salisbury.
From his story
:


"Yeah, it concerns me," said manager Charlie Manuel, who met with GM Ruben Amaro Jr. after the game.

It was unclear what that meeting was about, but Halladay, coming off an injury-plagued and disappointing season in 2012, has been one of the big topics in camp. His productivity is crucial to the team's chances.

Manuel, who was downcast after the 10-6 loss, went on to say that Halladay was healthy and needed to keep working to be ready for the regular season.

Halladay is famous for his hard work. After the game, he said the hard work caught up with him.

"I was really lethargic," he said. "Warming up it was as good as it has been all year. Once we got out there (in the game) it was completely different. I think it's just that time of spring. You're going all the time. We had an extra day so I threw two bullpens in between, and you're trying to work on as much stuff as you can. So I really feel that kind of caught up with me today."


• On Tuesday's podcast, Tim Kurkjian explained all of the
nerdy talents that
Aaron Boone
has, and Aaron, Tim and I told protective cup stories from baseball lore.
• The Dominican Republic and the U.S.
won in the WBC
. The wins are coming bloodlessly for the U.S.,
writes Jerry Crasnick
.
Robinson Cano
was
not happy with
something that
Nick Punto
did.
Giancarlo Stanton
was
a help.
• Randy Smith was general manager of the
San Diego Padres
at the end of the 1994 season, and when manager Jim Riggleman left to go with the
Chicago Cubs
, Smith knew whom he wanted to hire as manager. Smith's candidate, he thought, was excellent at dealing with players and was tough when he needed to be, and thrived at in-game strategy -- but he had no major league experience and wasn't a big name. The Padres were right in the middle of being sold, from Tom Werner to John Moores. Larry Lucchino, who was part of Moores' group and would be the boss to whom Smith would answer, lobbied for Davey Lopes, who didn't have major league managerial experience but was very well known. Smith went so far as to put his job on the line in pushing his own candidate over Lopes, and those who know Lucchino say that's what he prefers from the people who work for him -- that they make a stand for what they want.
So it came to pass that the Padres hired Bruce Bochy, who is entering his 19th year managing, the Giants as well as San Diego, and now Randy Smith's unheralded candidate has emerged as a candidate for the Hall of Fame. Bochy, 57, is 23rd all time in victories among managers, and 14 of the 22 managers who rank ahead of him are already in the Hall of Fame, with Tony La Russa, Bobby Cox and Joe Torre to join sooner, and Jim Leyland later.
By the way: Bochy wouldn't answer a question about whether he is happy with Pablo Sandoval's conditioning, after Sandoval rejoined the
Giants from the WBC.
• Rival scouts who see the Yankees these days speak separately, but the consensus is this: Short of strong, complete seasons from
CC Sabathia
,
Hiroki Kuroda
and
Andy Pettitte
, they cannot view the '13 Yankees as anything but a team that struggles to reach .500.
George Vecsey wonders: Where are the
Yankees he loved to hate?
Dings and dents
1. The Dodgers don't know whether
Zack Greinke
will be able to make his first start, or if he'll be
open the year on the disabled list
. From Ken Gurnick's story:
Greinke said the diagnosis of "inflammation" was something he and the team knew for a while, having had an MRI exam last week that ruled out structural damage to ligaments or tendons.

"I think we did [know the diagnosis]," he said. "But we just have to figure out what to do with what it is."
Asked if he was concerned about flying to Los Angeles for an exam, he said: "Not really. I didn't know exactly what the problem is. I guess I still don't. Maybe they do. I'm not a doctor."

Greinke said he wasn't sure if the discomfort he felt the past two weeks is the same discomfort he's felt in previous seasons "or a little different."


2.
Nick Markakis
is out with
a herniated disc
.
3.
Carl Crawford
faced
live pitching
.
Moves, deals and decisions
1. With
David Ortiz
out, John Farrell intends to use a DH rotation,
writes Peter Abraham
.
2. The Diamondbacks are marketing infielder
John McDonald
, because of their surplus of similar players.
3. The Rangers are tracking
Joba Chamberlain
,
writes George King
. If, in fact, Texas believes it might have a trade match with the Yankees, I wonder if it could be for
Craig Gentry
, who hit really well against lefties last season, with an .859 OPS. The Yankees like Chamberlain more than what is perceived, feeling he has the stuff and the makeup to be a closer down the road. But he's eligible for free agency after this season, and the Yankees have a surplus of bullpen right-handers at this moment and could deal from that to add an outfielder.
The Rangers are said by other teams to be open to a deal for the 29-year-old Gentry, who has bounced around and is not yet eligible for arbitration, and Texas is likely to go with
Leonys Martin
in center field. Gentry posted excellent
defensive metrics last season
, as well.
4. The Rays announced
David Price
will
start Opening Day
.
5. Tampa Bay sent
Chris Archer
to
the minors
.
6. The Astros are not in a rush to name their
Opening Day starter
.
7. Tim Cowlishaw thinks that the Rangers
are more likely to
acquire
Rick Porcello
than
Kyle Lohse
.
The fight for jobs
1. It's
Drew Smyly
against Rick Porcello for the No. 5 spot in the Detroit rotation, and it's a good battle so far,
writes George Sipple
.
2.
Bruce Rondon
can make the Tigers even if he isn't the closer,
says Jim Leyland
.
3. A Blue Jays lefty is making a
strong impression in camp
.
4.
Freddy Garcia
had a
really good showing
.
5.
Brandon Inge
is trying to win a job on the Pirates' bench,
writes Bill Brink
.
6.
Julio Teheran
continues to have a
great spring training for the Braves
.
7. Evan Gattis is making a serious push to be
part of the Braves' 25-man roster
.
Tuesday's games
1.
Allen Webster
wowed
the Red Sox.
2. James Shields had
a rough day
.
3.
Josh Beckett
looked
really good
.
4.
Jason Hammel
was pleased with
some work he did
.
5.
Alexi Ogando
needed a good day, and
he had one
.
6.
Felix Hernandez
looked good
.
NL West
•
Tim Lincecum
threw pretty
hard for the Giants
.
•
Troy Tulowitzki
got an
encouraging sign the other day
.
NL Central
• A leap of faith has
Daniel Descalso
on the upswing,
writes Derrick Goold
.
•
Paul Daugherty writes about
the refined
Homer Bailey
.
• There are flickers of
hope for the Cubs
.
• Hunter Morris' hopes
for making the Brewers'
roster are taking a hit.
NL East
•
Ian Desmond
is being more aggressive at the plate,
writes James Wagner
.
• The Marlins' roster is slow in taking shape,
writes Clark Spencer
.
AL West
•
Yoenis Cespedes
can
concentrate on baseball now
. Here are
some details about his family
.
•
Hank Conger
is trying to find his release point,
writes Pedro Moura
.
• Brendan Ryan's brother is helping
him find his swing.
AL Central
•
Don Kelly
is making a case for himself again,
writes Lynn Henning
.
• A Twins prospect is
sticking with baseball.
• The Royals want to make sure one of their top prospects doesn't
rush back from injury.
•
Michael Bourn
has hit the ground running with the Indians,
writes Paul Hoynes
.
AL East
•
Brandon Morrow
is still working out the kinks,
writes Mike Rutsey
.
Other stuff
• With the fourth anniversary of the Oakland blue-ribbon committee right around the corner, Athletics owner Lew Wolff is
still swinging for San Jose
.
• If the Red Sox are serious about winning now, then Jackie Bradley will be in the lineup on Opening Day,
writes John Tomase.
•
Phillippe Aumont
talked about the craziness of
that Mexico-Canada fight.
In speaking with some participants, they thought it probably wasn't a good idea for Mexico to pick a fight with Canada, which had a roster loaded with a bunch of oversized players.
Luis Cruz
says:
"I lost it."
• Hawk Harrelson and Steve Stone say their
issues are resolved
.
•
Mariano Rivera
is irreplaceable,
writes Joel Sherman
.
I think the players and executives who don't embrace advanced metrics have the same roadblock that proponents of advanced metrics have with intangibles like teammate trust and big-moment presence: They don't understand them, in the way that the other side does. And the best general managers are incorporating both means of evaluating players.
• It is really cool that Billy Joel did this, for
someone pursuing a dream
.
And today will be better than yesterday.