The banged-up NL Central
March, 26, 2011
3/26/11
8:39
AM ET
Right after starter
Adam Wainwright
was lost for the season, manager Tony La Russa said nobody would feel sorry for the
St. Louis Cardinals
, and that despite the crushing nature of that injury, the team would just have to plow ahead, because there will be games and the season will be played.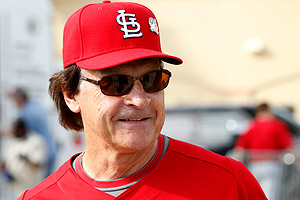 Joel Auerbach/Getty ImagesEven after Adam Wainwright's injury, St. Louis manager Tony LaRussa has remained upbeat about his team's 2011 chances.
So it was within the first day or so after the Wainwright injury that Cardinals GM John Mozeliak found himself in La Russa's office being encouraged by the manager, who spoke of how much he liked the team the Cardinals had put together. La Russa has been around long enough to know that sometimes these kinds of things start to even out among rivals; the other teams start to lose
their
key players to injuries, too.
Which is precisely what has happened in the National League Central. The
Milwaukee Brewers
will be without starter
Zack Greinke
for the first month or so, having lost him to a basketball injury, and they'll know on Monday -- when
Shaun Marcum
is scheduled to pitch -- whether they'll also have a hole in the No. 2 spot in their rotation. The
Cincinnati Reds
were thought to have more rotation depth than any team in the division, to go along with their extraordinarily talented core of young position players, but in the past two weeks, the Reds' starters have dropped like falling dominoes.
Johnny Cueto
was the first, with arm trouble.
Bronson Arroyo
has been under the weather, and on Thursday he was tested for valley fever; it turns out
he has been diagnosed
with mononucleosis.
Mike Leake
has remained healthy but has pitched poorly. On Friday,
Homer Bailey
-- who had been slotted as high as second in the rotation, as the others started to have problems -- was shut down because of a shoulder impingement,
as John Fay writes
, an injury that the Reds say is not serious.
Right now, the first turn of the Reds' rotation could look something like this:
Edinson Volquez
Travis Wood
Bronson Arroyo
Mike Leake
Sam LeCure
Nobody is going to feel sorry for them, and Reds GM Walt Jocketty -- who worked alongside La Russa in Oakland and St. Louis for years -- knows this. On Friday evening, Jocketty sent this email:
"Everything is pretty good here. We have had a couple setbacks with Cueto and Bailey, but they are short term and should only miss a couple of starts. We are lucky to have the depth we have to overcome the setbacks. Bronson has had numerous tests and all is well and he has been cleared to make his next start on Tuesday."
There may be teams with higher ceilings in other divisions, but there is no division that is deeper than the NL Central, which has no less than four teams that appear to have a legitimate shot to finish in first place. They haven't even played a single game that counts, and already it's starting to feel like a long and tough year in this division. Extra credit will be given for competitive survival.
The Brewers picked up a swingman
, in
Sergio Mitre
; Doug Melvin views him as a reliever. The
Chicago Cubs
cut
Braden Looper
,
who indicated that he is retiring
, and Carlos Silva's chances for making the team improved.
•
Drayton McLane is close
to selling the
Houston Astros
to Jim Crane.There could be greatness in the Astros,
writes Richard Justice
. Crane was
once a student-athlete
.
• There are four songs in the running for Troy Tulowitzki's walk-up music;
vote here
. I know which song I would vote for, but I'm never telling anyone, ever.
• And the hits just keep on coming for the
Philadelphia Phillies
, who will be without closer
Brad Lidge
indefinitely. The Phillies are now without their No. 3 hitter from last year, given the absence of
Chase Utley
, and their No. 5 hitter, given the departure of
Jayson Werth
, and their closer. To put that into perspective, imagine the
New York Yankees
without
Mark Teixeira
,
Robinson Cano
and
Mariano Rivera
, or the
San Francisco Giants
without
Buster Posey
,
Aubrey Huff
and
Brian Wilson
; imagine the
Boston Red Sox
without
Carl Crawford
,
Adrian Gonzalez
and
Jonathan Papelbon
. Since that first day when the starting rotation was introduced,
Cliff Lee
sitting in the middle of
Roy Halladay
,
Joe Blanton
,
Roy Oswalt
and
Cole Hamels
, almost nothing has gone right for Philadelphia.
And in time, we'll see if Placido Polanco's injury situation is more precarious than what has been let on so far, as rival evaluators believe.
Lidge will start the year for the third time in four years,
as Paul Hagen writes
.
•
Tommy Hunter
could
miss up to six weeks
. Not good.
Neftali Feliz
is not an option for the rotation, by the way.
•
Mat Latos
has an
inflamed bursa sac
. Not good.
Tim Stauffer
will
pitch on Opening Day
.
• It's a wait-and-see situation with
Joe Nathan
, after a spring in which
Matt Capps
has thrown well,
writes La Velle Neal
. It sounds like Nathan will open the year as the Minnesota closer, and then as time goes along, performance will dictate any necessary adjustments.
Dings and dents
1. Within
this Nick Piecoro notebook
, there is some positive news about
J.J. Putz
, the Arizona closer.
2. There was a sign of progress for Brian Wilson, as mentioned
within this notebook
.
3. Jair Jurrjens's injury is
believed to be minor
.
4.
Joe Beimel
had a setback and
will start the year
on the disabled list.
5. The Marlins' starting outfield will be together
for the first time
.
6. An injury to
Brian Tallet
has muddled the St. Louis bullpen situation,
as Derrick Goold writes
.
7.
Joel Zumaya
could
begin throwing soon
.
8.
A cut on the thumb
has hurt a Minnesota reliever.
9. Five Brewers are
likely to start the season
on the disabled list, including
Corey Hart
and
LaTroy Hawkins
.
10.
Octavio Dotel
will
open the season
on the
Toronto Blue Jays
' disabled list.
11.
Dioner Navarro
has a strain
.
12.
Adam LaRoche
has
been shut down
until Monday.
13.
Kyle Farnsworth
had
another injury scare
.
14. The Red Sox, like a lot of teams,
are dealing with injuries a lot
, and working to be at the forefront of injury prevention.
Moves, deals and decisions
1.
Mike Sweeney
signed with the
Kansas City Royals
so he
could retire as a Royal
. He had a nice career, and nobody represented the sport better. Here's some key dates in Sweeney's tenure, courtesy of
the Kansas City Star
.