For Phillies, it hinges on Roy Halladay
March, 18, 2013
3/18/13
7:10
AM ET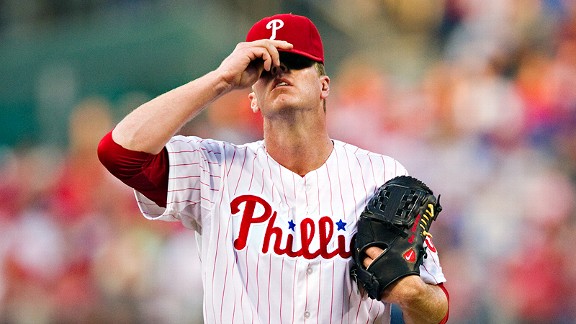 Howard Smith/US PresswireRoy Halladay wasn't nearly the same pitcher in 2012 as he was in 2011. So what is he now?
CLEARWATER , Fla. -- Just before
Roy Halladay
threw his first pitch here Sunday, he stepped behind the mound and bent over at the waist, as you might see on a weekend morning outside of a fraternity on St. Patrick's Day.
I tried to remember if the future Hall of Famer had some sort of
Turk Wendell
routine, kicking the rosin bag or drawing something in the dirt for good luck. But that's not really Halladay's style, so when the Phillies announced after he lasted only one subpar inning that he departed with a stomach virus, the explanation seemed plausible to me.
And anyway, the conspiracy theories about whether he was removed because of his fastball velocity are irrelevant. Eventually, it's the hitters who will tell us whether Halladay's spring problems are temporary or permanent. Eventually, he's going to have to get back on the mound, after he's feeling better, and he's going to have to try to get hitters out, no matter what he's throwing. Then we'll know.
The red flags still hover over Halladay, who had an ugly outing six days ago in which he could neither command his fastball nor throw it very hard, and Sunday's small sample -- for whatever it's worth -- wasn't very good, either. Scouts sitting behind home plate with radar guns reported he was throwing in the 85-87 mph range, and as the inning progressed, he had difficulty commanding his fastball.
If Halladay bounces back, then the Phillies' world will look oh-so-different, because there is a lot of good stuff happening for them this spring.
Ryan Howard
has been hammering the ball this spring, driving the ball the other way; being out with an injury, he said, allowed him to refocus and review videotape from 2008 and realize that he had stopped concentrating on taking the ball to left-center and left field. After working with
Wally Joyner
just before the start of spring training,
Domonic Brown
loosened his grip of the bat and has been swinging better.
Michael Young
was on the half-field again at 8:50 a.m. Sunday, as he has been most every morning since the Phillies' camp opened, taking ground balls hit by Ryne Sandberg. Young had thought about his struggles at third base for the Rangers and decided it didn't make sense, because he's not a big, lumbering guy and he's got good hands; something didn't add up. He thought about how he moved just before the pitch when he played shortstop -- upright, mostly, because when a ball was hit he had the time to react. But that approach hadn't worked so well at third base, and when he arrived at camp, he talked to Sandberg about staying low, so that he would be in position to react more quickly. As Sandberg slapped the grounders at him, Young looked like a lobster, crouched just above the infield dirt. He has fared well at the position this spring, the Phillies feel.
Chase Utley
moved past all the offseason knee rehabilitation he has done and instead focused on baseball drills, and he is bouncing around in a way he hasn't in years, with some built-in caution. When the rest of the Phillies worked on infield drills before batting practice, Utley was not on the field -- because really, there's no point. There is some conservation being practiced, to save Utley for the regular season.
The most subtle alteration is an attempt to reinvigorate the team, to create more energy, and some players say they can feel the difference, from the way that new hitting coach Steve Henderson and Joyner like to talk about hitting, to the presence of catching instructor Mick Billmeyer in the dugout.
Ben Revere
, the new center fielder, brings a lot of energy, and Young is highly regarded for his consistent daily approach. The Phillies have mostly had the same group for the past six years, and there was a sense in the front office that change was needed.