Manny's last laugh
April, 9, 2011
4/09/11
8:19
AM ET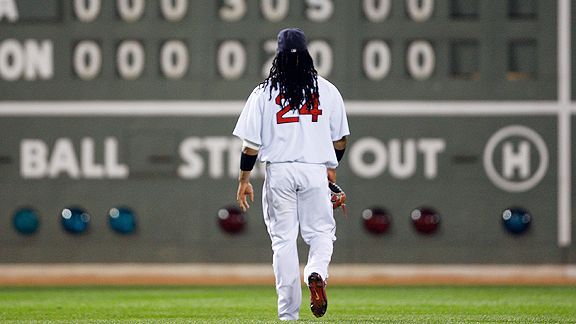 Jim Rogash/Getty ImagesManny Ramirez walked away from the game Friday.
BOSTON --
Manny Ramirez
looks like a different guy this spring, we heard over and over. Wow, his bat speed looks so much better, scouts raved. The guy is in phenomenal condition, they said. He looks a lot stronger, they said.
The Red Sox players saw the same thing. After word broke Friday that Ramirez had retired instead of facing suspension,
David Ortiz
said that the Boston players talked in their dugout this spring about how good Manny looked, how quick his bat was. This was especially striking, because late last season, in his brief time with the White Sox, Ramirez's bat speed had all but disappeared, and evaluators from some teams were convinced he was finished.
But now he's gone, retiring abruptly after he was informed that he had tested positive for a performance-enhancing drug and faced a possible 100-game suspension.
Former teammates like
Jonathan Papelbon
and Ortiz and
B.J. Upton
and
Andre Ethier
spoke respectfully
about what a good teammate he was, what an incredible talent he was. And Hall of Fame voters, like colleague Jayson Stark and I,
will mention
, fairly, the incredible numbers Ramirez compiled, the 555 home runs and the .312 career average, and we will weigh how the circumstances of his retirement will weigh in the rendering of his legacy.
And where is Manny in all of this? Well, he's probably laughing at everybody.
Legacy? Hall of Fame? Teammates? Does anyone really think, after all we've seen in the past decade, that Ramirez cares about any of that?
He won. He's like the guy who robbed a bank of millions and was sentenced to 10 hours of community service.
According to his page on Baseballreference.com, Manny Ramirez
made over $200 million for his career
. How many of those dollars, those 555 home runs, were hit with the help of performance-enhancing drugs? Who knows? You could say a handful or you could say all of them and this would be fair speculation, given the evidence of his stunningly shameless use of performance-enhancing drugs in recent years.
For the first half of Ramirez's career, Major League Baseball was a wild, wild West of steroid use, with widespread use and virtually no oversight. Oh, sure, there was a loose structure in place whereby a crackdown was possible, but no one ever really did anything.
But in 2002, the players' union that Ramirez is a part of took its first steps toward drug testing, largely because a number of players within it lobbied quietly for change. Veterans like
Todd Zeile
had come to understand that the increase in drug use had forced many players to make a very difficult decision: Either stay clean, without benefit of performance-enhancing drugs, and risk being surpassed professionally by players who were juicing; or join the crowd and take the drugs too.
The union agreed to survey testing, in an effort to keep all of the union brethren on a level playing field. And despite the fact that everybody knew when the tests were being administered, and despite all that was at stake for the reputation of the union, Ramirez reportedly tested positive in 2003. He apparently didn't care about the whole level playing-field thing, or the fact that a positive test might lead to more testing for others; he used anyway. He was perfectly willing to cheat teammates, cheat other players.
In the summer of 2008, as his contract with the Red Sox was set to expire, he forced his way out of Boston -- convincing club executives that he was intent on sabotaging the team -- and in two months with the Dodgers, he put on a stunning display of production, hitting about .400. He looked liked a different guy with the Dodgers. His bat speed looks so much better, scouts raved. The guy is in phenomenal condition, they said. He looks a lot stronger, they said.
And after getting an extension of two years and $45 million, he was suspended under the terms of baseball's drug policy. In other words, knowing all the risks -- to his own legacy, his Hall of Fame chances, his reputation -- he apparently opted to drug up, to cheat his employers, teammates, union brethren.
His last months with the Dodgers were an embarrassment. He was often hurt, and only intermittently productive. The Dodgers, finally fed up with him, dumped him in a late-season deal with the White Sox, and Ramirez mustered exactly one RBI.