Suspicion of PED use lingers
May, 12, 2011
5/12/11
8:33
AM ET
The player in question departed, and when he landed in his next spot, he thrived; he became a completely different player, in fact, in his production and in his impact. Quite suddenly, the player went from being a journeyman to a star. This was duly noted by a talent evaluator on his old team in a recent conversation.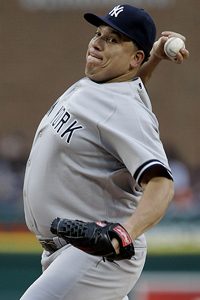 Getty ImagesQuestions about Colon's comeback have surfaced.
"We're not
that
stupid," the evaluator said.
His words echo those of other decision-makers around the sport. About a half-dozen years have passed since Major League Baseball and the Players Association put some teeth into the drug-testing program -- as
Kevin Frandsen
, who has been suspended
for 50 games
, learned firsthand -- but none of us should assume that everyone in the sport is clean.
All players will continue to look for ways to get better and some will be willing to go outside the lines, and
Manny Ramirez
demonstrated beyond any doubt that you can get caught and still win, to the tune of tens of millions of dollars.
So when spikes in performance occur, talent evaluators will ask the kind of hard questions that were not asked in the '90s, namely: Is that player cheating?
"I learned," said one decision-maker. "What's the old saying? 'Fool me once, shame on you; fool me twice, shame on me.' When I see an older player have a big jump in performance, I assume it's probably not real, and that he's probably found a way to get access to [performance-enhancing drugs]."
When
Bartolo Colon
established himself as a star years ago, there were games when he was clocked as high as 99 mph in the ninth inning. Colon won a Cy Young Award, and then because of injury and conditioning issues, he basically went away for five years, throwing fewer than 300 innings from 2006-2010.
"



When I see an older player have a big jump in performance, I assume it's probably not real.



"


-- a major league GM
Now he's throwing in the mid-90s, and this raised eyebrows throughout the sport. "When old players get old, they should get worse," said one executive. "They shouldn't get better."
It turns out that Colon went through a stem-cell procedure, as Serge Kovaleski writes, at a
regenerative medical clinic
. Major League Baseball is looking into this now and will make its own determination if rules have been broken.
The Players Association should, as well -- and has even more reason to be vigilant, to keep a level playing field among its members. The steroid problem exploded in the '90s when nobody dealt with it, and players were forced to make a choice that many of them found difficult: Either take drugs to keep up, or fall behind in their profession to those who were taking drugs.
Ramirez tested positive, and so did Frandsen. A handful of players have been hit with major suspensions. Players face the possibility of being tested every day.
But nobody should ever assume that the issue of performance-enhancing drugs has gone away.
Notables
• It was a tough day for the L.A.-area teams:
Kendrys Morales
has been
lost for the year
, writes Mike DiGiovanna, and a key Dodgers reliever went on the disabled list with
an anxiety disorder
, as Dylan Hernandez.
•
Jake Peavy
had a
good first outing
for the White Sox, just another sign of a turnaround for Ozzie Guillen's team. A rival talent evaluator saw the White Sox recently and came away convinced that they will bounce back to at least make a serious charge at the
Cleveland Indians
. "There's too much talent there for that to not happen," said the evaluator.
• Watched some of the Rays' win
over the Indians
on Wednesday, and David Price's devotion to the fastball was striking. The numbers compiled by Courtenay Harris of ESPN Stats & Information bear that out:
Price threw 112 pitches, and 103 fastballs. The 103 fastballs and 92 percent pitch usage are Price's highest totals over the past three seasons.
Fastball velocity: Price's fastball velocity averaged 95.3 (highest of season) and maxed out at 98 mph. With two strikes, Price averaged 1.2 mph faster (95.1 with fewer than two strikes to 96.3 with two strikes). That allowed Price to strike out five Indians hitters with the pitch.
He mixed the location of the fastball: Price threw no more than 52 percent of his pitches to a certain location. The lefty threw at least 23 percent of his pitches to each vertical quadrant. Price also threw 82 percent of his pitches either inside or outside.
Here are the most fastballs Price has thrown in a start:
Thursday: 103
Sept 13, 2010: 100
July 7, 2010: 99
May 5, 2011: 99
July 29, 2010: 98
Aug 9, 2010: 96
Dings and dents
1.
Stephen Strasburg
is close to
throwing off a mound
.
2.
Dallas Braden
needs
shoulder surgery
that will probably end his season, writes John Shea.
3.
Andrew Bailey's next step
will come Saturday
.
4.
Geovany Soto
landed on the
disabled list
.
5.
Ike Davis
was sent home, to
be evaluated
, as Andy Martino writes.
6.
Robinson Cano
got hit in the head
by a fastball
.
7.
Chase Utley
is feeling
really good
.
8.
A Pirates reliever went on
the disabled list
.
9.
Jason Heyward
will have
an MRI today
.
10.
Ryan Braun
dinged
his ankle
.
Moves, deals and decisions
1.
The commissioner briefed other owners on the
Dodgers' situation
.
2.
The Yankees won't talk about CC Sabathia's opt-out clause with him during the season.
3.
Aroldis Chapman
is struggling, but he
won't be sent
to the minors, says Dusty Baker.
Wednesday's games
1.
Miguel Tejada
had
a nice night
, and the Giants' perfect homestand continued.
Brian Wilson
has three saves and two wins
on this homestand
, as Alex Pavolic writes within this notebook.
2.
The Padres had a really,
really big day
, writes Don Norcross.
3.
Matt Garza
pitched around a rain delay, and the Cubs' hitters
went off
. From Harris:
Matt Garza has 65 strikeouts this season, placing him third in MLB behind
Tim Lincecum
and
Roy Halladay
. What is notable about Garza, though, is that his strikeouts are coming on pitches out of the zone. He has the highest strikeout rate on at-bats ending with a pitch out of the zone:
Matt Garza 72.3 (47/65)
Derek Lowe
: 70.7 (29/41)
Brett Anderson
: 70.0 (28/40)
Felix Hernandez
: 67.3 (37/55)
Jon Lester
: 66.7 (34/51)
3.
The Angels' bullpen
blew it
.
4.
Hiroki Kuroda
was
"the man"
for the Dodgers.
5.
Felix Hernandez had a
shaky outing
, as Larry Stone writes.
6.
The Yankees were betrayed
by their bats
, writes Ben Shpigel.
7.
John Lackey
is Boston's
speed bump these days
: He got pounded again, as Michael Vega writes; afterward, he referred
to a personal issue
.
8.
Toronto ran
all over Boston
.
9.
The Phillies rallied, getting
a big hit
from
Jimmy Rollins
.
10.
Chris Tillman
picked
up the Orioles
.
11.
The Braves' bullpen took
a beating
.
12.
Gaby Sanchez
made a crucial error that
cost the Marlins
. At least
Hanley Ramirez
showed some signs of a breakout along the way. From Stats & Information: Ramirez hit his second homer of the season in his 34th game, the longest it's ever taken him by a long shot. Here are the game totals until his second home run:
2011: 34
2010: 20
2009: 4
2008: 7
2007: 10
2006: 13
13.
The Cardinals
got blasted
.
14.
Victor Martinez
has turned into
an RBI machine
, as John Lowe writes.
15.
Randy Wolf
had a
forgettable outing
. Along the way,
Prince Fielder
mashed his 200th career homer. From Elias: Fielder is the 101st left-handed hitter with 200 HRs -- but the fourth-youngest at the time:
25 years, 144 days: Mel Ott
25-242: Eddie Mathews
26-182: Ken Griffey Jr.
27-2: Prince Fielder
27-89: Darryl Strawberry
Now, the Fielders are also in the father-son 200 HR Club:
Fielder: 200 Prince, 319 Cecil
Bonds: 762 Barry, 332 Bobby
Alou: 332 Moises, 206 Felipe
Bell: 201 Buddy, 206 Gus
16.
The Twins had their
guts ripped out
, despite the play of
Jason Kubel
.
17.
Eric Hosmer is the
golden child
. Hosmer is someone the Royals
should try to lock up
, writes Sam Mellinger.
18.
The Rangers
were luckless
on Wednesday.
The Patience Index
Other stuff
• If you think
Albert Pujols
will be a Cub next year, you're
embracing fantasy
, writes Joe Cowley. If Pujols signed with the Cubs, writes Bernie Miklasz, he would be doomed to
many years of losing
.
• Even in a tough season, these Astros
don't quit
, writes Richard Justice.
• The fans' patience with Joe Mauer's absence
is wearing thin
, writes Patrick Reusse.
• The Rockies are aching to
thaw their offense
, writes Troy Renck. Carney Lansford offered some observations
about the Colorado hitters
.
•
Drew Storen
is throwing
more fastballs
, writes Adam Kilgore.
•
Michael Pineda
is a
blue-collar prodigy
, writes Jerry Brewer.
• A Red Sox rookie took an
important step
.
• Tim Lincecum has some thoughts on the
Cy Young Award
.
•
John Danks
appreciates the support he's getting
from friends and family
.
• There is sad news about
a longtime GM
.
• A longtime Yankees trainer
is retiring
, as Steve Zipay writes. The most amazing thing about that is that Gene Monahan worked for George Steinbrenner for more than 30 years and was never blamed for injuries to the point that he was fired.
And Monahan will always be remembered by players from the 2001 Yankees for the speech he made to them before the final game of the World Series that year. They lost the game, but afterward, some players were tearful as they recalled how inspiring Monahan's words were, in a team meeting. Joe Torre asked him to speak, and the words he said touched those in the room.
And today will be better than yesterday.