Jonny Venters' incredible season
June, 5, 2011
6/05/11
8:45
AM ET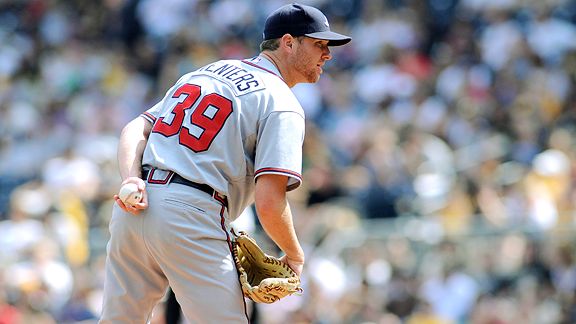 Dave Miller/US PresswireOpposing hitters haven't enjoyed when Jonny Venters has entered games this season.
NEW YORK -- A clubhouse attendant who has been around ballplayers for a long, long time reports that he has never heard the kind of visceral, defeated responses from hitters that
Jonny Venters
generates. They can't stand facing him, and can't stand trying, with great futility, to square up his two-seam fastball, which seems to dive as it reaches home plate. Imagine trying to take a swing against a golf ball thrown from a rooftop.
Venters' numbers tell one side of the story: The guy has allowed two runs in 35⅔ innings. He's pitched 118⅔ innings in the majors and surrendered just one home run. He has struck out 35 batters in 35⅔ innings -- which means he's getting a lot of swings and misses -- and yet is averaging a Halladay-like 13.4 pitches per inning.
But another side of the story of his dominance is told by hitters, like
Joey Votto
, who made a weak out against Venters last year and then, on his way back to the dugout, veered past the pitcher's mound. "You're not fun to face," Votto said to Venters.
The left-hander grinned as he told this story. His teammates really love Venters for how he carries himself, with total humility and appreciation for what he's doing. "He strikes out the side and he comes off the mound like he can't believe it," said one of the veterans around him.
Venters was initially summoned from the minors last year with the thought that he could match up well against left-handers, but as Braves manager Fredi Gonzalez noted, it really doesn't matter whether you bring him in against left-handers or right-handers ... or against the middle of the order or against pinch-hitters. He has completely overpowered everybody.
It doesn't matter to Venters, either, when he pitches. Gonzalez and pitching coach Roger McDowell summoned Venters and closer
Craig Kimbrel
into a meeting recently and told both of them that there might be days when Venters gets the call to finish a game, rather than Kimbrel. This isn't because of any dissatisfaction with Kimbrel, but because Gonzalez believes that there might be a day when Kimbrel could use a break, and because he figures it's not a bad thing for Venters and the Braves for him to experience the ninth-inning ledge.
Venters kind of shrugged when asked about this, and grinned again. "I don't think either one of us cares about what role we're in," he said, referring to Kimbrel. "For Craig and I, I think the simpler, the better."
Nobody really has a strong theory about why Venters' two-seam fastball moves so violently. Venters started throwing a two-seamer in Triple-A, with the same grip as everybody else, and had some good results. But once he got to big leagues, he noticed that the balls were different -- harder on their surface -- and he liked the adrenaline of coming into a game out of the bullpen. All of a sudden, his two-seamer began developing a reputation as a worthy heir to
Mariano Rivera
's cutter as the most dominant pitch in the majors.
Opposing hitters are batting .140 against Venters this year and they have a slugging percentage of .167; they have an OPS of .395. They're batting .087 with runners in scoring position, with 10 strikeouts in 23 at-bats and no extra-base hits.
He has faced 34 hitters when working with zero days of rest -- he's worked
more innings
than any reliever in the majors -- and in those at-bats, he's allowed one hit. That's an .029 batting average, which is impossibly good. "I feel better when I'm throwing more," Venters said. "I feel like I can stay in rhythm."
If there is a kryptonite for Venters, nobody has found it yet.
• Our colleague Orel Hershiser is joining the Steve Garvey group that is looking into the possibility of purchasing sports franchises. I asked Orel if he intended to pursue a possible purchase of the Dodgers, and he said, "The Dodgers are not for sale; I wish them the best."
He also said, "The city of Los Angeles and Dodger fans deserve the best."
This is now called the
Garvey-Hershiser Group
, Jill Painter writes.
• Last week,
Jason Heyward
got another MRI that indicated that his shoulder has no structural damage. He has been receiving deep-massage treatment this week, which is apparently helping; he could soon be on his way back.
His teammates want him back as soon as possible, and feel they need him. There is a distinct feeling, in being around the Braves' players, that they want Heyward to grind his way through his discomfort, to get back on the field and play, even if he's not completely 100 percent healthy. They want him to focus on making the necessary adjustments to the way opposing pitchers have attacked him in 2011 -- pounding him with fastballs inside -- and work through his early-season slump. They've seen the impact that he can have in the
187 games he has played
.
• Wrote here earlier this week about the interesting quandary of the
Seattle Mariners
, given the success of
Michael Pineda
and the fact he's never thrown more than 139⅓ innings in any season. The
Texas Rangers
have a similar situation with
Alexi Ogando
-- but under completely different parameters. Ogando is among the early Cy Young candidates in the American League, but he's never pitched a full season as a starter in the majors or the minors, or in the Dominican Republic, where he transitioned from being an outfielder to a relief pitcher.
Ogando is 27 years old, with a body that has filled out. When he was in the Dominican -- working under the tutelage of Jose Jaimes, Pablo Blanco and John Burgos -- he had limited innings, under less stressful competition. "So this is basically new to him and us, as far as any innings limit," Rangers GM Jon Daniels wrote in an email. "He's such a unique guy -- in his delivery, his background, body type, the whole deal -- no real comparables. We're monitoring him, in much the same way we did with C.J. [Wilson] last year. The staff will back off when it can, or if he needs a breather, but we don't have a set number of innings we're aiming for. When he had a blister last month, we skipped a start. He probably could have thrown through it, but we played it safe, thinking that in addition to his finger, the extra time between outings might be beneficial in big picture."
Ron Washington wants Ogando in the
All-Star Game
, writes Evan Grant.
It's worth repeating: The Rangers have a lot of room for growth.
Derek Holland
was
outstanding on Saturday
.
•
Jose Reyes
hit a bases-loaded triple to key the Mets' 5-0 win over Atlanta on Saturday. Triples have not been a rare occurrence for Reyes thus far in 2011.
FROM ELIAS:
The draft
The Pirates have a
number of candidates
for the No. 1 pick, writes Bill Brink, although within the industry the betting is very heavy that they will take Gerrit Cole.
Anthony Rendon could be the
second pick in the draft
, writes Larry Stone.
The Royals
will have options
with the No. 5 pick in the draft, writes Bob Dutton.
The draft will provide an opportunity for the Phillies to
restock their farm system
, writes Bob Brookover.
The Astros could be
focusing on high schoolers
, writes Zachary Levine.
The Rangers might be passing
on a local kid
.
•
Albert Pujols
mashed a
couple of homers on Saturday
, in what has been a really nice week for him. His numbers the past seven days:
Average: .370
Homers: 4
RBIs: 9
Slugging percentage: .889
OPS: 1.358
More on Pujols, from ESPN Stats & Info: Pujols had his 41st career multi-HR game on Saturday, including his ninth career walk-off. Both of Pujols' home runs came on pitches out of the strike zone. He's only the second player this season (
Juan Miranda
being the other) to have a multi-HR game on pitches out of the zone. The home runs were Pujols' fourth and fifth of the season on pitches out of the zone, eclipsing his total of four all of last season and pushing him into the MLB lead.