Buster Olney:

Seattle Mariners
February, 14, 2014
Feb 14
7:43
AM ET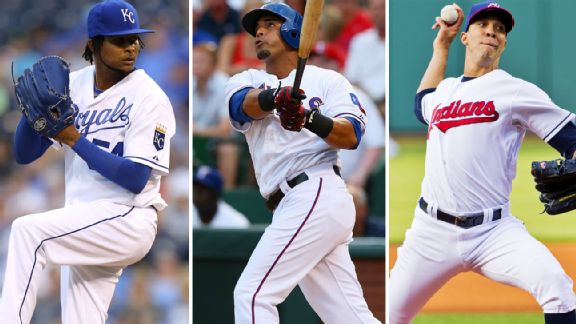 Getty ImagesErvin Santana, Nelson Cruz and Ubaldo Jimenez -- members of "The Draft Pick Five" -- still wait.
TAMPA, Fla. -- An AL executive drew an analogy the other day between the situation facing "The Draft Pick Five" free agents --
Nelson Cruz
,
Ervin Santana
,
Ubaldo Jimenez
,
Stephen Drew
and
Kendrys Morales
-- and the sale of a house.
"If the price on the house is set and it just sits there and nobody's buying at that price," the executive said, "isn't there a time when the reality of the market sets in and the price comes down?"
Players are reporting to spring training all over the baseball landscape, and those five players -- five veterans tied to draft-pick compensation -- remain unsigned, fueling the most-asked question in the industry these days: Where will those players land
To continue reading this article you must be an Insider
January, 4, 2014
Jan 4
10:21
AM ET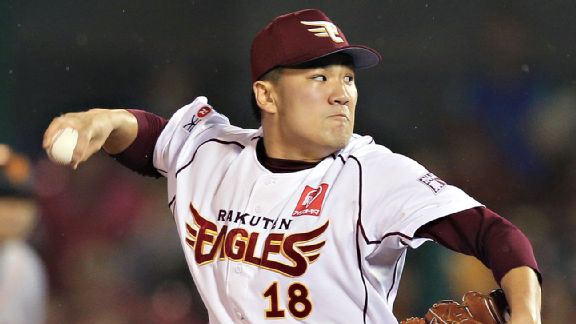 AFP/Getty ImagesIf Masahiro Tanaka signs with the Astros, he could lead one of baseball's top young rotations.
We knew that
CC Sabathia's
preference, when he became a free agent in the fall of 2008, was to return to his home state of California, if all things were equal. He might have loved to sign with the Dodgers, if all things were equal. But that was before the Yankees, well aware of Sabathia's interest in playing in the Golden State, made the bidding unequal, with their offer of $161 million.
When
Robinson Cano
became a free agent two months ago, we knew the gap between what his side asked for and what the Yankees offered was enormous, and we knew that the tension between the two sides was building -- a clue that Cano was ready to leave for the right offer.
When
Albert Pujols
filed for free agency, there was clearly a breach developing between him and the Cardinals, and a year later the same was true in the talks between
Josh Hamilton
and the Rangers. The player's perception of his own value was far different, in those cases, than the team he was leaving, and this is how Pujols wound up completing his deal in about 48 hours, and how Hamilton left the Rangers for a division rival.
But in the case of Masahiro Tanaka, we really don't have clues about what he wants from his free agency.
To continue reading this article you must be an Insider
December, 23, 2013
12/23/13
8:26
AM ET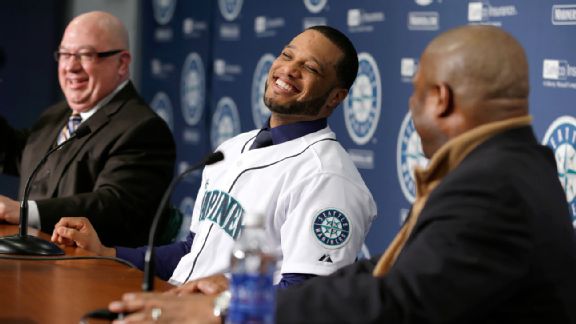 AP Photo/Ted S. WarrenThe Mariners' deal with Robinson Cano was another sign of the AL's money shift.
It's hard to say when the first real sign of escalation in the American League West appeared. Maybe it was the Mariners' trade for
Cliff Lee
in December 2009, a swift and aggressive deal made before any of the AL East powers knew that Lee was actually available. Or maybe it was the Rangers' deal for Lee the next summer, when Texas outmaneuvered the Yankees to get a left-hander who propelled them to the World Series for the first time.
Or perhaps it was the Angels' signing of
Albert Pujols
at the winter meetings in 2011, the first ripple felt in baseball from the new wave of lucrative local television deals that were being signed by some clubs.
Regardless of how it started, what we have continued to see is something of a shift in the American League, like weight being moved from one side of the scale to the other.
To continue reading this article you must be an Insider
December, 15, 2013
12/15/13
8:59
AM ET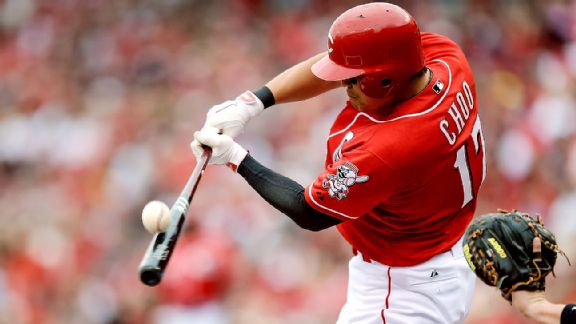 Jamie Sabau/Getty ImagesShin-Soo Choo is one of the big names still available in free agency, and he has a number of potential suitors.
The Mariners have spent about $250 million this offseason, and the Yankees more than $300 million. Most of the best free agents have come off the board, and as general managers rushed out of the building with the dolphin on the top to catch flights out of Florida on Thursday, a lot of the winter work was done.
But some teams still have room for a big move before the offseason is over:
1. Texas Rangers
: GM Jon Daniels says he does not expect any more
major moves for the Rangers this winter
. But Texas remains in an excellent position in its negotiations with
Shin-Soo Choo
and
Nelson Cruz
, because it appears the Rangers are one of the last teams -- maybe
the
last team -- prepared to spend big money on an outfielder.
To continue reading this article you must be an Insider
November, 23, 2013
11/23/13
10:00
AM ET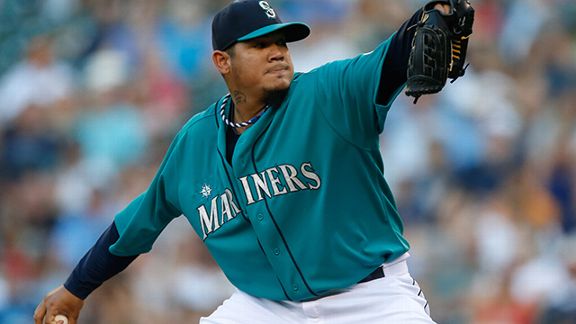 Otto Greule Jr/Getty ImagesStarter Felix Hernandez, signed through 2019, has Seattle's only long-term contract.
There are more than a few rising young executives -- and older executives, for that matter -- who are outside of the
Seattle Mariners
' organization and looking in, and they are wistful, wishing they could grab the Mariners' steering wheel.
First and foremost, they love the city, curled around Puget Sound, surrounded by fir trees and hemlocks; they see it as a great place to live. They love the ballpark, underrated and underappreciated. They see potential in the passion of a fan base that is dormant after more than a decade of struggles.
They see the Mariners as the great sleeping giant in baseball.
They see a possible financial powerhouse, given that the Mariners
own their own television network
.
They see a team saturated with prospects taken near the top of the draft.
To continue reading this article you must be an Insider
September, 28, 2013
9/28/13
9:55
AM ET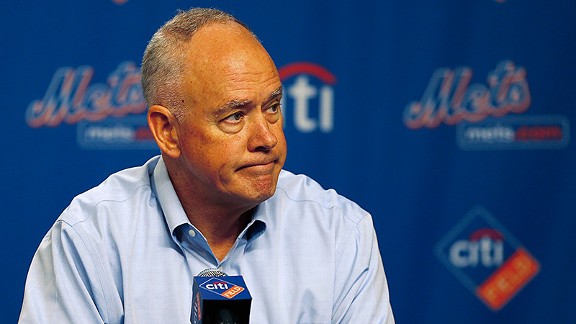 Rich Schultz/Getty ImagesThe Mets' disappointing season has likely earned Sandy Alderson's club a protected draft pick.
The
New York Mets'
loss Friday was the 87th of their season. And it was a really important loss.
With that defeat, the Mets moved back into position to have the No. 10 pick in the 2014 draft -- and if this holds over the last two days of the regular season against the
Milwaukee Brewers
, the Mets' first-round pick would be among those 10 that are protected against draft-pick compensation.
This past winter, the Mets' pick was not protected, which affected their aggressiveness in trying to sign
Michael Bourn
and others. If they finish the year lined up for the No. 10 pick (or better), it could nudge them into pursuit of one of the better free-agent position players who will be available this winter. If they signed a
Shin-Soo Choo
or a
Jacoby Ellsbury
, the Mets would have to surrender only a second-round pick in compensation.
To continue reading this article you must be an Insider
September, 7, 2013
9/07/13
9:54
AM ET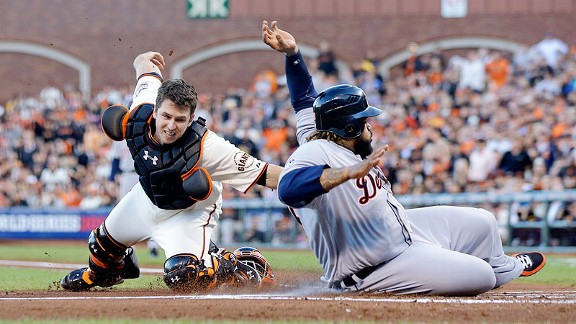 AP Photo/Marcio Jose SanchezA hard collision at home plate caused Giants catcher Buster Posey to miss much of 2011.
A talent evaluator who works in baseball imagined the future testimony aimed at a team -- or all of Major League Baseball -- in a lawsuit filed by a catcher seriously injured while blocking home plate.
"'I was told in spring training by my catching instructor that this is something I need to do,'" the evaluator said, imitating the words that any catcher could say. "'I didn't block home one day and he called me a -----, and he said that blocking home plate is something that every catcher is expected to do.'"
The evaluator jumped into another role, imagining himself as the catcher's lawyer: "'What happened next?'"
Evaluator as catcher: "'I blocked home plate, as I was instructed to do, and now I can't walk.'"
This testimony could be especially effective, the evaluator noted, if it comes from someone sitting in a wheelchair, and if you think that can't happen, maybe you should watch this video of the hit that Harrisburg catcher
Brian Jeroloman
took in a Double-A playoff game the other night, when he
was run over
by Erie's Brandon Douglas.
To continue reading this article you must be an Insider
August, 25, 2013
8/25/13
9:40
AM ET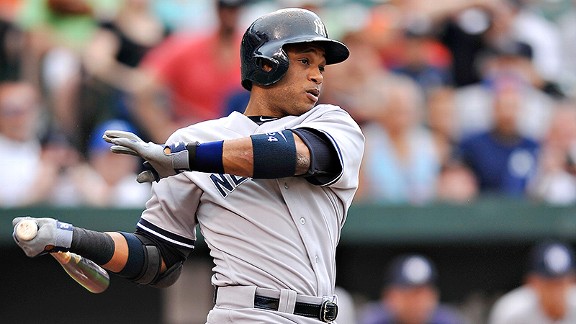 AP Photo/Gail BurtonYankees second baseman Robinson Cano's 4.8 WAR is among the best in baseball.
LOS ANGELES -- If the Yankees don't make the playoffs, then as of this morning, there are 33 games left in the career of
Mariano Rivera
.
But everybody saw that coming. There may also be only 33 games remaining in
Robinson Cano
's tenure with the Yankees if he leaves as a free agent when the season is over. He is their best player and they need him, and yet in recent years, teams have held the line with their own superstars -- for instance, the Cardinals with
Albert Pujols
and the Rangers with
Josh Hamilton
-- and those choices have been quickly vindicated.
The Yankees have their own experience in deciding whether to invest in a long-term star (
Alex Rodriguez
), and that hasn't turned out so well.
Cano is represented by Jay-Z and CAA, and the expectation among executives is that they will be looking to plant a flag with their contract -- something in the A-Rod/Pujols neighborhood.
But a big question that has come up among some rival officials is this: What teams will compete against the Yankees to sign him to create that leverage?
To continue reading this article you must be an Insider
August, 22, 2013
8/22/13
7:33
AM ET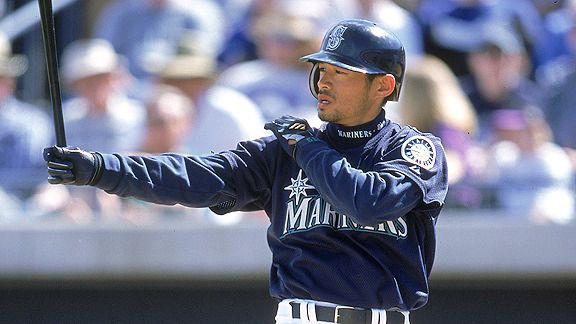 Jeff Gross /Allsport Since his arrival in the majors in 2001, Ichiro's style has never wavered.
It has always been Pat Gillick's way to know about each player's family and the relevant challenges of home life, and so when
Ichiro Suzuki
and his wife arrived in Seattle for the first time before the 2001 season, there was a conversation about apartment rental.
Yumiko Fukushima, who married Ichiro in 1999, told the Mariners that she and her husband wanted to find a three-bedroom apartment -- one bedroom for the couple, another for visitors, plus a third bedroom. Gillick was the general manager of the Mariners and the advice from the team was that a two-bedroom place would suffice, Gillick recalled, but Ichiro's spouse said no, they needed a third bedroom -- because Ichiro would use that room to practice his swing.
"I don't know that I've run into an athlete or a player who is so committed and passionate about the game as Ichiro," Gillick said over the phone Wednesday, just a few hours before Ichiro collected the 4,000th hit of his time in Japan and in Major League Baseball.
Baseball history is littered with the what-could-have-been stories such as Dwight Gooden, whose greatness was curtailed by his personal demons. Ichiro is at an extreme opposite end of that scale, because for year after year, his days have been built around preparation for each at-bat and each game, from his eating habits to his perpetual work of stretching his body to the painstaking treatment of his bats.
By way of comparison, Gillick mentioned Wayne Gretzky, who wasn't the biggest player or the fastest skater, and never had the hardest shot. "Gretzky, to me, didn't shoot the puck -- he kind of guided the puck," said Gillick, who now works for the Phillies. "Ichiro is the same way. He guides the ball. He serves the ball, like a tennis player -- in the same way that a tennis player uses the boundaries of the court, he uses the boundaries of the infield."
The hit that Ichiro got Wednesday was typical for him. A turn of his right hip, the hands and the bat following; a slashing swing; a shot past Toronto third baseman
Brett Lawrie
. It was the 2,722 hit in Major League Baseball for Ichiro, after 1,278 hits while playing in the shorter seasons of Japan.
There is no way to know how many more home runs that Ted Williams and Joe DiMaggio would've hit had they not missed seasons in the middle of their careers to military service, and in the same way, it's impossible to know what Ichiro would have done had he played his entire career in Major League Baseball.
But Gillick is among many talent evaluators who believe that Ichiro would have excelled had he started playing in the majors and would have accumulated about the same number of hits, because his unique set of skills would have translated at any level: The exceptional hand-eye coordination; the superlative speed; the complete devotion to his craft.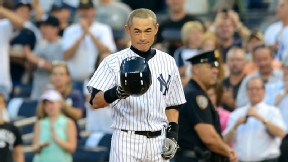 Ron Antonelli/Getty ImagesIchiro acknowledges fans after 4,000.
"The guy is a pure hitter," said Gillick, who was inducted into the Hall of Fame in 2011 for his executive work with the Blue Jays, Orioles, Mariners and Phillies. "Everybody was concerned he wouldn't adapt to the American style of baseball. I'm very confident that from the get-go, he would've hit just as well in the U.S. [as in Japan]."
That seems apparent based on what Ichiro did upon his arrival. He dominated in his first year in MLB, hitting .350 with a league-leading 242 hits and 56 stolen bases. He won the MVP. He'd put up similar numbers in Japan. He also won the first of 10 Gold Gloves.
Jim Colborn was the Mariners scout who pushed the team to sign Ichiro, while serving as the pitching coach for Orix in Japan, and he raved about Ichiro's makeup and his work ethic. That first time that Ichiro arrived in Seattle, Gillick recalled, Dave Myers -- a coach for the Mariners at the time -- threw batting practice to Ichiro. "He took 150 swings and he never stepped out of the batter's box," Gillick said. "He never came out to catch his breath or rest. I had never seen that before."
To continue reading this article you must be an Insider
August, 18, 2013
8/18/13
9:29
AM ET
By
Chris Stewart
| ESPN.com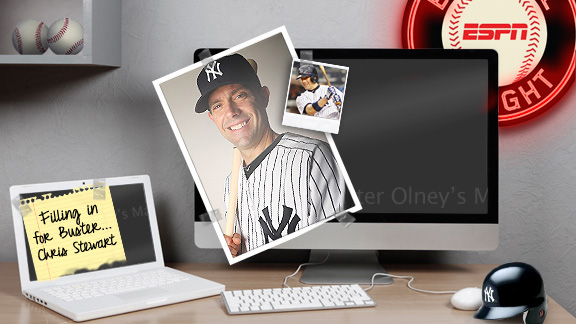 ESPN IllustrationYankees catcher Chris Stewart takes the reader through a day in his shoes.
The typical baseball game consists of only about 14 minutes of live action throughout a roughly three-hour, first- to last-pitch competition. Players usually arrive at the clubhouse for a standard 7 p.m. game between 1 and 2 p.m. This five- to six-hour gap contains baseball rituals such as warm-ups, workouts, batting cage work, stretching, batting practice and final game preparation.
All of these rituals take a little more than three hours for most, so it makes one wonder: What goes on during the other two to three hours?
To continue reading this article you must be an Insider
August, 11, 2013
8/11/13
10:00
AM ET
By
Brad Ziegler
| ESPN.com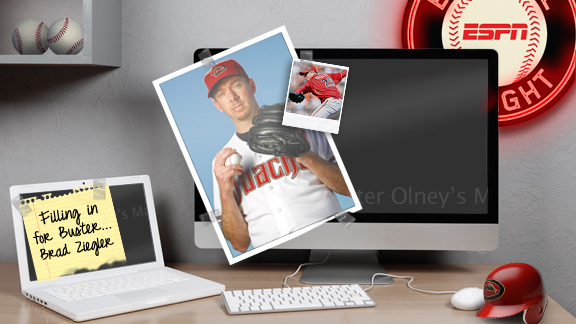 ESPN IllustrationArizona pitcher Brad Ziegler makes a Sunday column relief appearance for Buster Olney.
Buster Olney is on vacation this week, so for the second straight year, guest columnists are writing the lead of his column in his absence. Today, D-backs reliever Brad Ziegler chimes in on what makes union leader Michael Weiner such a special person.
This is a crazy game. If you had told me when I was growing up that I'd have at least six seasons of time in major league baseball, I'd have been absolutely ecstatic. While it was always a dream of mine to play, it also always seemed so far out of reach. Yet, here I am, blessed with so many things in my life, including a career that I truly enjoy. There are many other things, too: an amazing family (including the two friendliest dogs in existence), financial security and good health.
Good health -- something I'm thankful for every day. Something that not everyone in this life shares.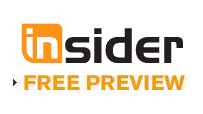 One of the most respected people in this game is in the fight of his life, and anyone -- everyone -- who has any part of this game is pulling for him. Players, coaches, general managers, owners, writers, umpires.
Everyone.
As many of you know, Michael Weiner is currently serving as the executive director of the Major League Baseball Players Association -- our union. And anyone who follows the game also knows that a year ago, Michael was diagnosed with a Stage 4 glioblastoma, an aggressive and inoperable brain cancer.
I've been a player representative for the union since the start of the 2009 season. In the middle of that season, I got a phone call from Donald Fehr, informing me that he was retiring as executive director. After a few conference calls, we selected the obvious replacement that December: Michael Weiner. I hadn't yet met Michael. My agent, Rob Martin, had met him a few times and heard him speak a couple of times, so I asked what he was like. "The man is a human computer," he said. "He can probably quote you the entire basic agreement."
In my time getting to know Michael at various union events or even through casual phone calls, I can honestly say I have seen zero instances to dispute my agent's assessment. However, I can also honestly say that while his knowledge of the basic agreement and labor law in general is impressive, it isn't even close to his best asset.
His best feature is, far and away, who he is as a person. He's a devoted family man. He often speaks of his wife, Diane, and his three lovely daughters, and you can tell how much he cares for them. Furthermore, he genuinely cares about every single ballplayer. Never once has he started a conversation with me in which the first topic wasn't about how my family and I were doing. I'm guessing he's the same way with every other player. Those who've taken the time to get to know him know exactly what I'm talking about.
[+] Enlarge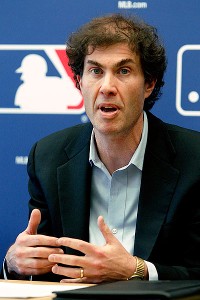 AP Photo/Frank Franklin IIMichael Weiner's leadership on the issue of PEDs has been pivotal, writes Brad Ziegler.
As far as his professionalism, there's one thing that has really stood out to me: He genuinely cares about improving the game of baseball. Don't get me wrong, he wants things to be as good as possible for the players. And he can get downright angry and ruthless when he feels like the owners are attempting to encroach on the principles we, as a union, have stood on since our inception. But he also gets the big picture: What is best for the game in the long run?
In my opinion, never has this been more evident than when dealing with our Joint Drug Agreement. Michael has listened to the players. We want the game clean. No more PEDs. Period. We want to be the era that, down the road, is widely accepted as the group of players who cleaned up baseball. We certainly want to punish those who are caught with something illegal in their system, even if it's not intentionally ingested with the mindset of gaining an edge on the field.
As for those who intentionally cheat? Ban them for a year. Or ban them for life. As for voiding their contracts, well, that time may be coming. Players are sick and tired of guys trying to beat the system, and at this point, we have no tolerance. We are tired of this being the focus of our sport, year after year. Baseball is an amazing game -- perfect in so many ways -- and we must keep the attention on the field, where it should be.
It has to be a tough spot for Michael to be in when it comes to this topic. He's supposed to represent all players and get the best possible outcome for them in every situation, right? No. Michael's response: "If they cheated, they should be punished -- I'm just here to help make sure they get a fair trial."
To me, that is someone who genuinely cares about our game and the way it's perceived publicly. We all leave a legacy in life, and he wants the game to be better when his time in the game is over than it was when he first got involved.
I recently had a casual conversation with an MLB general manager. We discussed Michael's medical situation, and he said something that really stuck out to me: "That guy is incredible. He's the best thing that's ever happened to this game."
And even if he said it in passing, I'm not sure he's far off.
Michael's legacy on this game has already been established. And whether he continues to build on it for the next 40 years, or if he's taken from this life sometime sooner, he continues to leave a mark on this game -- and on people's lives -- that won't ever be forgotten. It is an absolute privilege to work alongside you, Michael. And it's an even greater pleasure to call you my friend.
Notes and links (from Buster)
• Hanley Ramirez will try out his right shoulder on Sunday. Meanwhile, the Dodgers never lose: After Zack Greinke's strong effort Saturday, they've now won 36 of their last 44. The Rays pulled off a hidden-ball trick.
• The Braves' winning streak ended.
Jordan Schafer was activated from the disabled list, and Fredi Gonzalez intends to use him.
We had the Braves on "Sunday Night Baseball" the last two weekends, and our crew talked to Gonzalez about how he would structure his lineup down the stretch and into the playoffs. Gonzalez wasn't specific -- and he doesn't need to be -- but I walked away from those conversations convinced that his standards will be simple. He will play the best lineup he believes gives him the best chance of winning, regardless of contract size and track record. He reiterated that the Braves' collapse in 2011 changed the way he thinks, because now he's much more willing to make changes.
If B.J. Upton struggles early in September, he won't play as much in late September, I'd guess, and Schafer's presence gives Gonzalez an attractive alternative, especially against right-handed pitchers.
Brian McCann has a sore knee and was out of the lineup. The Braves' lead in the AL East gives Gonzalez the flexibility to liberally rest veterans such as McCann, and McCann has shown enough this season to demonstrate to teams that might be interested in him in the winter that he'll continue to be a productive player. He might be the most sought-after free agent of the winter, given that he could fit so many teams: Texas, Washington, the Yankees, Boston, San Francisco (with he and Buster Posey sharing catcher/first base duties), Philadelphia, the White Sox, etc.
• Miguel Cabrera did it again. His current triple crown standing:
Batting average: .363 (first, by 33 points)

Home runs: 35 (he trails Chris Davis, who has 42)

RBIs: 109 (tied for first with Davis)
• White Sox GM Rick Hahn and the players believe in Robin Ventura, writes Paul Sullivan.
• Ryan Ludwick is nearing his return, and undoubtedly, the Reds need him to come back and produce. The Reds have been a middle-of-the-pack offensive team since the All-Star break.
• Jason Hammel is hopeful that his forearm issue doesn't keep him out a long time.
• Ryan Raburn and Yan Gomes are getting more playing time, Paul Hoynes writes.
• The Rangers regained first place with help from Alex Rios.
• Will Middlebrooks is getting a welcome chance to reboot, writes Nick Cafardo.
• Jayson Werth had a really big day.
• The Astros are on pace to finish 52-110, with a run differential of minus-242.
• Jacoby Ellsbury led the Red Sox to victory.
• The Rockies are collapsing, and it's open season on internal evaluations.
• Adam Eaton has been finding his groove at the plate.
• The Phillies need to make a decision on Charlie Manuel, writes Bob Brookover.
In some parts of the Philadelphia organization, it's already taken as a fait accompli that Manuel and some staffers will be let go. But it'll be interesting to see if the logic used in the re-signing of Chase Utley -- he's an important part of the team's history, and he is still productive -- will be used in Manuel's case. Because if the Phillies don't believe Manuel is the best person for the job now, they should've already fired him, and if they think that like Utley, he can still do the job, they should extend him.
Other stuff
• There is a reported BALCO and Biogenesis link: Alex Rodriguez.
The tide has turned when it comes to MLB cheats, writes Tom Haudricourt.
Rodriguez is on a short leash with Yankees fans, writes Bob Klapisch.
• The ousted St. Louis radio duo of Jack Clark and Kevin Slaten are weighing their options.
• Ken Griffey Jr. was part of the ceremony in which he was inducted into the Mariners' Hall of Fame. He's a really complicated person.
And today will be better than yesterday.
August, 2, 2013
8/02/13
8:16
AM ET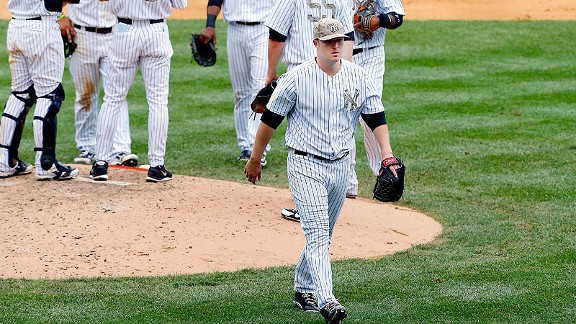 Jim McIsaac/Getty ImagesA fly ball pitcher stuck in Yankee Stadium, Phil Hughes could benefit from a move.
The names have started passing through the waiver wires, and there will be a lot of deals this month, some general managers are predicting. More players will change hands as more teams wave the white flag on the 2013 season and try to save a little money or recoup a little value.
Below, some of the guys who are candidates to be traded this month, either because they get claimed by a team and a deal is worked out or because they pass through waivers and are subsequently swapped:
Starting pitchers
Phil Hughes, Yankees
: They are not going to re-sign him, but they could give him a one-year qualifying offer after the season in order to recoup a compensation draft pick. If the Yankees deal him this month, they'll want at least the value of a pick in return.
To continue reading this article you must be an Insider
July, 25, 2013
7/25/13
7:41
AM ET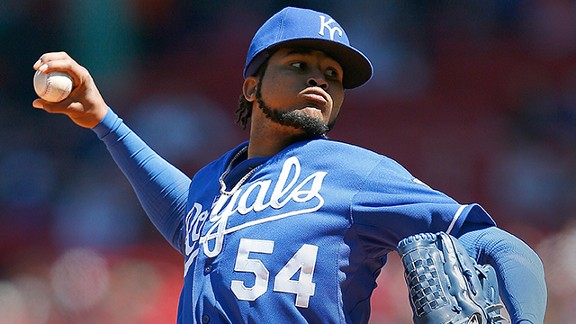 Jim Rogash/Getty ImagesShould the Royals sell Ervin Santana and store more assets, or hope he'll keep them in contention?
Before the trade deadline in 1996, then-Orioles general manager Pat Gillick assessed his team and decided to blow it up. He arranged trades of
Bobby Bonilla
and
David Wells
, believing that Baltimore's organization needed an injection of prospects for its depleted farm system.
When you looked at that through the prism of the standings, it made complete sense: On July 28, 1996, the Orioles were
12 games out of first place
.
But Baltimore owner Peter Angelos had a completely different perspective -- as someone who was focused on selling tickets, selling hope. And he thought it was a bad idea to raise the white flag on the season with more than two months to play because of what that said to paying customers.
That the Orioles surged back and advanced all the way to the American League Championship Series didn't necessarily mean that Angelos was right and Gillick was wrong, because there have been plenty of examples of owners stepping in and killing deals for the same reason only to see their team fall out of the race.
But that example should underscore the reality that Major League Baseball teams aren't run like Strat-O-Matic teams: They are businesses. Sure, the chances of the
Kansas City Royals
and the
Philadelphia Phillies
, who are both eight games out of first place, look really bad, and the same goes for the
Seattle Mariners
, 11 games out in the AL West.
To continue reading this article you must be an Insider
July, 4, 2013
7/04/13
9:28
AM ET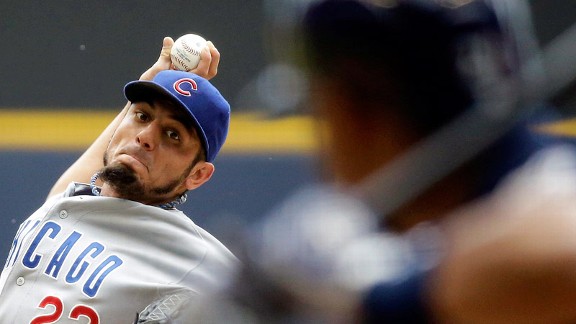 AP Photo/Morry GashThe Cubs were unlucky at the deadline last year. Matt Garza could make up for it in 2013.
Rival executives strongly believe that at most,
Matt Garza
has four to five starts remaining with the
Chicago Cubs
-- but probably fewer than that, because he has quickly developed into the most marketable, most sought-after starting pitcher, with a handful of American League teams involved in the chase. Garza had another strong outing Wednesday night against Oakland, and in his past 30 innings, he has allowed 3 runs, 19 hits, 8 walks and racked up 28 strikeouts.
Some teams view Garza warily, knowing that he was taken down by injury at the end of 2012 and at the outset of 2013. But as one AL official explained Wednesday, you have to assume that because Garza has so much at stake this year as a pitcher headed into the free-agent market, he will do everything possible to succeed. He has tens of millions of dollars at stake in the last half of the season -- and perhaps in October if his next team advances into the postseason.
Last year, the Cubs' efforts to trade Garza were sabotaged when he got hurt. But this year, a dream scenario is developing for them: In a lukewarm market of starting pitchers, Garza has become The Target, because of how well he's throwing and because of his history of pitching in the AL East and his past success.
Yesterday I took
a look at the NL
. Today, a rundown of where the AL teams stand, with just 27 days before the July 31 trade deadline:

Baltimore Orioles
They moved on
Scott Feldman
to ensure that they get
somebody
among the group of available starters, and in his first start for them Wednesday, he provided exactly what they paid for:
six solid innings
in a win against the White Sox.
The Orioles rank dead last in batting average from
their designated hitters
, at .205, and so they have some room for improvement, and some flexibility. I've thought (and this is pure speculation) that if the Phillies decided to move
Chase Utley
that there would be a perfect fit for him with the Orioles. He could play some second base, he could serve some in the DH role, and give them one more excellent grind-it-out hitter for an already deep lineup.

Boston Red Sox
To continue reading this article you must be an Insider