February, 21, 2015
Feb 21
9:24
AM ET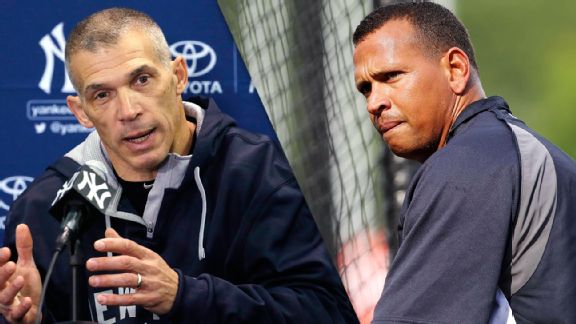 APCompared with two years ago, Joe Girardi sounds a lot more like A-Rod's manager now, not his friend.
TAMPA, Fla. --
Alex Rodriguez
is the opposite of subtle, with personality traits and a history that seemingly guarantee some crazy ending to his playing career. After two decades of spectacular home runs and confessions and a record-setting suspension, even Hollywood screenwriters would have a difficult time imagining an ending that would be a topper to the drama he has produced.
But it may well be that the mechanism that drives Rodriguez out of the game in the months ahead will turn out to be relatively mundane. If Rodriguez cannot hit fastballs any more, he may get squeezed out by a good old-fashioned roster pinch, a time when the Yankees designate him for assignment, he passes through waivers unclaimed and is out of baseball. Because of the past problems between Rodriguez and the Yankees, there is a career lifeline commonly used for veterans in Rodriguez's situation that is simply not available to him. We'll get to that in a moment.
Yankees manager Joe Girardi talked Friday about how Rodriguez must show he deserves playing time, as
Andrew Marchand writes
. Girardi's tone in speaking about Rodriguez was somewhat different than two years ago, more antiseptic. He sounded more like Rodriguez's manager than his friend.
When he was first asked Friday about Rodriguez's handwritten apology, Girardi quickly veered to reiterate his own feelings about steroid use in baseball, about how it has hurt the game and how players' performances are perceived.