Buster Olney:

MLB Hall of Fame
August, 15, 2013
Aug 15
8:35
AM ET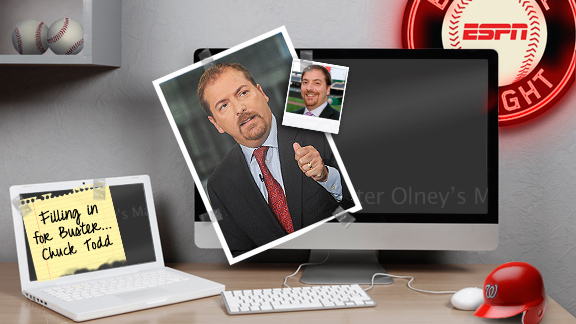 ESPN IllustrationAfter many years of blaming Bud Selig, Chuck Todd sees the commissioner in a new light.
Buster Olney is on vacation this week, so guest columnists are writing the lead of his column in his absence. So far, D-backs reliever Brad Ziegler wrote about MLBPA head Michael Weiner; Oakland reliever Sean Doolittle discussed what it's like to play for the A's; ESPN NFL draft guru Mel Kiper Jr. discussed his love of baseball; and super-agent Scott Boras offered up his opinions regarding how to fix the draft and free agency. Today, NBC News reporter and chief White House correspondent Chuck Todd and NBC "Meet the Press" host David Gregory take over.
In the world of politics, how successful elected officials first present themselves in their initial run for office is usually the perception that sticks with them for most of their career. Either they are a maverick/outsider who likes to make trouble for the establishment or they are an insider power climber who wants to be the establishment. How they first run and succeed or fail is how they are perceived for their career, and it's hard to get reporters and observers such as myself to ever see them in a different light.
Sometimes it takes the death of a politician before perceptions actually change in the media and the public. Just look at Harry Truman or Ronald Reagan.
After years of criticizing the commissioner of baseball from the cheap seats, I've found myself praising Bud Selig and even acknowledging that he's good for the game. Let me repeat, Bud Selig has been good for baseball. It's a sentence I never thought I would ever write. And I bet I'm not alone.
To continue reading this article you must be an Insider
August, 11, 2013
Aug 11
10:00
AM ET
By
Brad Ziegler
| ESPN.com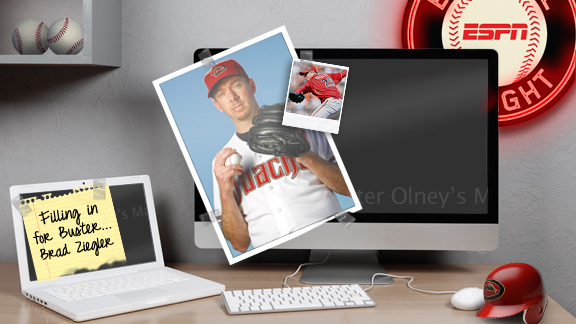 ESPN IllustrationArizona pitcher Brad Ziegler makes a Sunday column relief appearance for Buster Olney.
Buster Olney is on vacation this week, so for the second straight year, guest columnists are writing the lead of his column in his absence. Today, D-backs reliever Brad Ziegler chimes in on what makes union leader Michael Weiner such a special person.
This is a crazy game. If you had told me when I was growing up that I'd have at least six seasons of time in major league baseball, I'd have been absolutely ecstatic. While it was always a dream of mine to play, it also always seemed so far out of reach. Yet, here I am, blessed with so many things in my life, including a career that I truly enjoy. There are many other things, too: an amazing family (including the two friendliest dogs in existence), financial security and good health.
Good health -- something I'm thankful for every day. Something that not everyone in this life shares.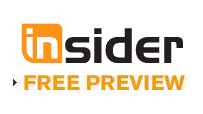 One of the most respected people in this game is in the fight of his life, and anyone -- everyone -- who has any part of this game is pulling for him. Players, coaches, general managers, owners, writers, umpires.
Everyone.
As many of you know, Michael Weiner is currently serving as the executive director of the Major League Baseball Players Association -- our union. And anyone who follows the game also knows that a year ago, Michael was diagnosed with a Stage 4 glioblastoma, an aggressive and inoperable brain cancer.
I've been a player representative for the union since the start of the 2009 season. In the middle of that season, I got a phone call from Donald Fehr, informing me that he was retiring as executive director. After a few conference calls, we selected the obvious replacement that December: Michael Weiner. I hadn't yet met Michael. My agent, Rob Martin, had met him a few times and heard him speak a couple of times, so I asked what he was like. "The man is a human computer," he said. "He can probably quote you the entire basic agreement."
In my time getting to know Michael at various union events or even through casual phone calls, I can honestly say I have seen zero instances to dispute my agent's assessment. However, I can also honestly say that while his knowledge of the basic agreement and labor law in general is impressive, it isn't even close to his best asset.
His best feature is, far and away, who he is as a person. He's a devoted family man. He often speaks of his wife, Diane, and his three lovely daughters, and you can tell how much he cares for them. Furthermore, he genuinely cares about every single ballplayer. Never once has he started a conversation with me in which the first topic wasn't about how my family and I were doing. I'm guessing he's the same way with every other player. Those who've taken the time to get to know him know exactly what I'm talking about.
[+] Enlarge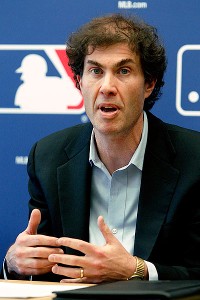 AP Photo/Frank Franklin IIMichael Weiner's leadership on the issue of PEDs has been pivotal, writes Brad Ziegler.
As far as his professionalism, there's one thing that has really stood out to me: He genuinely cares about improving the game of baseball. Don't get me wrong, he wants things to be as good as possible for the players. And he can get downright angry and ruthless when he feels like the owners are attempting to encroach on the principles we, as a union, have stood on since our inception. But he also gets the big picture: What is best for the game in the long run?
In my opinion, never has this been more evident than when dealing with our Joint Drug Agreement. Michael has listened to the players. We want the game clean. No more PEDs. Period. We want to be the era that, down the road, is widely accepted as the group of players who cleaned up baseball. We certainly want to punish those who are caught with something illegal in their system, even if it's not intentionally ingested with the mindset of gaining an edge on the field.
As for those who intentionally cheat? Ban them for a year. Or ban them for life. As for voiding their contracts, well, that time may be coming. Players are sick and tired of guys trying to beat the system, and at this point, we have no tolerance. We are tired of this being the focus of our sport, year after year. Baseball is an amazing game -- perfect in so many ways -- and we must keep the attention on the field, where it should be.
It has to be a tough spot for Michael to be in when it comes to this topic. He's supposed to represent all players and get the best possible outcome for them in every situation, right? No. Michael's response: "If they cheated, they should be punished -- I'm just here to help make sure they get a fair trial."
To me, that is someone who genuinely cares about our game and the way it's perceived publicly. We all leave a legacy in life, and he wants the game to be better when his time in the game is over than it was when he first got involved.
I recently had a casual conversation with an MLB general manager. We discussed Michael's medical situation, and he said something that really stuck out to me: "That guy is incredible. He's the best thing that's ever happened to this game."
And even if he said it in passing, I'm not sure he's far off.
Michael's legacy on this game has already been established. And whether he continues to build on it for the next 40 years, or if he's taken from this life sometime sooner, he continues to leave a mark on this game -- and on people's lives -- that won't ever be forgotten. It is an absolute privilege to work alongside you, Michael. And it's an even greater pleasure to call you my friend.
Notes and links (from Buster)
• Hanley Ramirez will try out his right shoulder on Sunday. Meanwhile, the Dodgers never lose: After Zack Greinke's strong effort Saturday, they've now won 36 of their last 44. The Rays pulled off a hidden-ball trick.
• The Braves' winning streak ended.
Jordan Schafer was activated from the disabled list, and Fredi Gonzalez intends to use him.
We had the Braves on "Sunday Night Baseball" the last two weekends, and our crew talked to Gonzalez about how he would structure his lineup down the stretch and into the playoffs. Gonzalez wasn't specific -- and he doesn't need to be -- but I walked away from those conversations convinced that his standards will be simple. He will play the best lineup he believes gives him the best chance of winning, regardless of contract size and track record. He reiterated that the Braves' collapse in 2011 changed the way he thinks, because now he's much more willing to make changes.
If B.J. Upton struggles early in September, he won't play as much in late September, I'd guess, and Schafer's presence gives Gonzalez an attractive alternative, especially against right-handed pitchers.
Brian McCann has a sore knee and was out of the lineup. The Braves' lead in the AL East gives Gonzalez the flexibility to liberally rest veterans such as McCann, and McCann has shown enough this season to demonstrate to teams that might be interested in him in the winter that he'll continue to be a productive player. He might be the most sought-after free agent of the winter, given that he could fit so many teams: Texas, Washington, the Yankees, Boston, San Francisco (with he and Buster Posey sharing catcher/first base duties), Philadelphia, the White Sox, etc.
• Miguel Cabrera did it again. His current triple crown standing:
Batting average: .363 (first, by 33 points)

Home runs: 35 (he trails Chris Davis, who has 42)

RBIs: 109 (tied for first with Davis)
• White Sox GM Rick Hahn and the players believe in Robin Ventura, writes Paul Sullivan.
• Ryan Ludwick is nearing his return, and undoubtedly, the Reds need him to come back and produce. The Reds have been a middle-of-the-pack offensive team since the All-Star break.
• Jason Hammel is hopeful that his forearm issue doesn't keep him out a long time.
• Ryan Raburn and Yan Gomes are getting more playing time, Paul Hoynes writes.
• The Rangers regained first place with help from Alex Rios.
• Will Middlebrooks is getting a welcome chance to reboot, writes Nick Cafardo.
• Jayson Werth had a really big day.
• The Astros are on pace to finish 52-110, with a run differential of minus-242.
• Jacoby Ellsbury led the Red Sox to victory.
• The Rockies are collapsing, and it's open season on internal evaluations.
• Adam Eaton has been finding his groove at the plate.
• The Phillies need to make a decision on Charlie Manuel, writes Bob Brookover.
In some parts of the Philadelphia organization, it's already taken as a fait accompli that Manuel and some staffers will be let go. But it'll be interesting to see if the logic used in the re-signing of Chase Utley -- he's an important part of the team's history, and he is still productive -- will be used in Manuel's case. Because if the Phillies don't believe Manuel is the best person for the job now, they should've already fired him, and if they think that like Utley, he can still do the job, they should extend him.
Other stuff
• There is a reported BALCO and Biogenesis link: Alex Rodriguez.
The tide has turned when it comes to MLB cheats, writes Tom Haudricourt.
Rodriguez is on a short leash with Yankees fans, writes Bob Klapisch.
• The ousted St. Louis radio duo of Jack Clark and Kevin Slaten are weighing their options.
• Ken Griffey Jr. was part of the ceremony in which he was inducted into the Mariners' Hall of Fame. He's a really complicated person.
And today will be better than yesterday.
July, 29, 2013
Jul 29
6:47
AM ET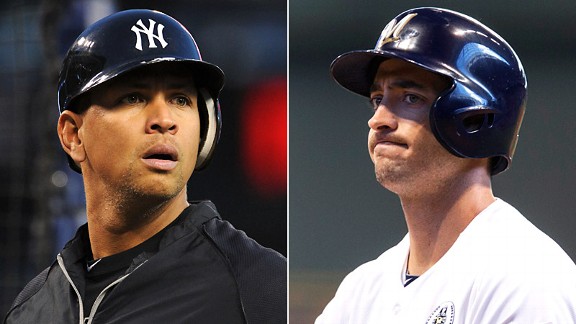 Tim Fuller/USA TODAY SportsA-Rod and Braun could be targets of lawsuits if teams feel the players destroyed their own value.
ATLANTA -- Long before
Ryan Braun
accepted his suspension or
Alex Rodriguez
asked his lawyer to join a conference call in which the topic was a quadriceps strain, club officials throughout Major League Baseball had started to look into the topic of whether they had legal recourse against players who used performance-enhancing drugs.
For the Yankees, this question really began with
Jason Giambi
, and this is why Giambi gave the infamous I'm-Sorry-But-I-Can't-Tell-You-Why news conference so many years ago. With the help of his own representation, answers to difficult questions were crafted in such a way that he could steer around open admission of steroid use -- to protect the money that he had earned and that he would earn in the future -- while still responding, sort of. The statement that Braun issued last week was designed the same way.
The Yankees long ago concluded that given the rules contained within the collective bargaining agreement, they cannot void a contract based on PED use, which is why Rodriguez is still a member of their organization and may still play if he appeals what is expected to be a forthcoming suspension, rather than accepting it.
But some officials and lawyers within the game are taking a look at other avenues through which they might gain some financial relief from busted players –- back doors, in a sense.
To continue reading this article you must be an Insider
July, 18, 2013
Jul 18
7:38
AM ET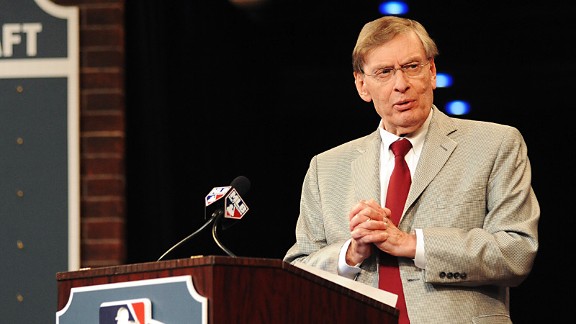 AP Photo/Tomasso DeRosaIf he times suspensions to happen before HOF ceremonies, Bud Selig could gain some backing.
Whenever the Biogenesis suspensions go down, Major League Baseball will enter a new stage of a public-relations battle -- and if commissioner Bud Selig is looking for the biggest splash, with the best chance for reinforcement, then he would make the announcements in the next seven days.
The Hall of Fame ceremony in Cooperstown, N.Y., will be held next weekend, in a year in which no recent retirees will be inducted, and if Selig makes his announcement of suspensions before Friday, he will be guaranteed three days of almost uniformly positive response.
See, the Hall of Famers will be asked, again, how they feel about steroid users and about MLB's recent fight against users, and over and over again most will almost certainly say that they don't think the PED users belong in the Hall of Fame and that Major League Baseball is doing the right thing.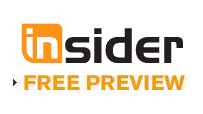 I don't agree with the PED stance of a lot of the Hall of Famers -- some of whom have admitted using amphetamines during their careers -- and personally, I don't care when Selig makes his announcement.
But having the support of folks such as Hank Aaron, Johnny Bench and others is an extremely powerful PR weapon for Selig, who is said by colleagues to be aware of how his legacy is being shaped. He might as well use the arsenal that is at his disposal.
The gloves are off in
the PED war
, writes Richard Griffin.
• Michael Weiner's stance on possible PED users has been different from that of his predecessors, players say. In the past, the union focused on privacy rights and doing everything possible to throw road blocks in front of Major League Baseball.
But players say that Weiner's stance has evolved with the practical realities of the time. On one hand, he will say that every player is entitled to the due process of the drug-testing system, and that it is the union's responsibility to help the player through this process.
On the other hand, Weiner also views the players' association as part owners of the drug-testing system; it is put in place by their players to protect the interests of their players, to help increase the chances for a level playing field. And he has told the players in so many words that if somebody cheats, they
should pay the price
.
From the piece:
"I can tell you, if we have a case where there really is overwhelming evidence, that a player committed a violation of the program, our fight is going to be that they make a deal," Weiner said without referring to specific players. "We're not interested in having players with overwhelming evidence that they violated the (drug) program out there. Most of the players aren't interested in that. We'd like to have a clean program."

• Rodriguez is confident he'll be back Monday. He just keeps on talking.

Trade buzz

1. Justin Morneau is bracing for the end of his time with the Twins, writes Mike Berardino.

2. Phillies president David Montgomery is showing optimism as his team nears a crucial period of decision-making.

3. For the Padres, rentals no longer make sense, says GM Josh Byrnes.

4. The Diamondbacks shouldn't rush into a deal they'll regret, writes Scott Bordow.

5. The Giants, now a potential seller, will have to try to turn it around, writes Henry Schulman.

The Giants have a long homestand to open the second half and unless they collapse completely -- say, lose eight of their next 10 -- I don't think there's any way they become all-out sellers before the July 31 trade deadline. Their stands are filled daily and they will not want to signal a complete elimination of hope for their customers with more than two months to play.

6. Seattle GM Jack Zduriencik doesn't expect to be aggressive before the trade deadline, writes Geoff Baker. From his story:


"In all fairness, I don't think I'm going to be aggressive," Zduriencik said before the break. "I don't think I'm going to go out there and start shopping our players. I don't think that's the right thing to do."

Zduriencik said his goal is to put "a healthy club on the field" once the season resumes Friday in Houston. He'll still take calls from interested trade partners and consider options to better the club.

But right now, he said, he's finally seeing the club he initially envisioned.

"We've been through a lot in the early part of this year between struggles, between injuries and setbacks," he said. "So, we like what's happened (in July), but who knows? I don't have a crystal ball. I can't predict one way or the other what's going to happen."

Notables

• Something worth remembering: Miguel Cabrera's second-half numbers have typically been better in recent seasons, and not by a small margin. Cabrera, second-half OPS versus first-half OPS:

2008: +113
2009: +34
2010: -74
2011: +121
2012: +135

Is this because opposing pitchers wear down in late July and August? The weather?

It's unclear. But he's got a heck of a shot to be the first player ever to win the Triple Crown in back-to-back seasons.

• Jim Leyland's approach to managing the All-Star Game was different from what we've seen in recent years, something he hinted at in a conversation with J.J. Hardy Monday. He told the Baltimore shortstop that he was going to play extensively, and that the American League was going to try to win the game.

He wasn't kidding. At the end of the fifth inning, the only starting position player who was out of the game was Robinson Cano, who had been hit by a pitch in his first plate appearance. And, in the final innings, Leyland relied heavily on matchups in choosing his relievers, matching left-handers against left-handers, right-handers against right-handers.

For years, the best players played the most in the All-Star Game; in 1963, for example, six NL starters got four plate appearances. Somewhere along the way, the All-Star Game evolved into some kind of a participation event, with managers clearing their benches and bullpens while trying to get everybody into the game.

Leyland -- who is part of Bud Selig's special committee of advisors -- veered the other way, and hopefully he has taken the handling of the All-Star Game in a different direction.

• Mark Attanasio sees a silver lining ahead for the Brewers.

Moves, deals and decisions

1. The Brewers got the sixth pick in the competitive balance lottery.

2. A Cuban pitcher says he is defecting.

3. Rangers executive Rick George resigned, and this would seem to leave more room for Nolan Ryan on the business side.

4. Mike Dee is joining the Padres.

Dings and dents

• Robinson Cano is day-to-day. I'd guess that Cano will be available to DH against Boston this weekend, at the very least.

AL East

• Manny Machado is in rare company as he chases the record for doubles. Machado is currently on a pace to hit 66 doubles, so he's a little behind.

• The Rays' pitching can make their hot streak continue, writes Gary Shelton. They face a difficult decision in a tough division, writes Marc Topkin.

• The Jays' starting pitchers are just not that good, writes Steve Simmons.

• John Tomase has a midseason report card for the Red Sox.

• The Red Sox are looking for the next Justin Masterson, writes Tim Britton.

AL Central

• The Tigers are poised for a good second half, writes Drew Sharp.

• The Twins intersect with timidity too often, writes Patrick Reusse.

• For the Royals, the first half was a frustrating quest for .500, writes Dick Kaegel.

AL West

• The Rangers' second-half goal is to stay healthy.

• The Athletics feel like there is room for improvement.

• J.P. Hoornstra has a report card on the Angels.

• Astros owner Jim Crane preaches patience.

NL East

• Jordan Zimmermann is the same as he ever was, writes Adam Kilgore.

• The Phillies still have hope in the weak NL East, writes Matt Gelb. Philadelphia is facing a crucial stretch of games in the second half.

• Sandy Alderson admits that his rebuilding plan is taking longer than he had hoped.

• Jose Fernandez's performance in the All-Star Game was overshadowed.

• Freddie Freeman enjoyed his All-Star experience.

NL Central

• The Cardinals have gotten some surprise contributions, writes Derrick Goold.

Carlos Beltran hopes to play three more years. He will be a coveted target in the offseason among AL teams because he has an excellent, disciplined approach at the plate and because he would be a solid outfield-DH option. He'd make sense for the Rangers, Yankees, Blue Jays, Rays, Mariners, etc.

• Gene Collier has a prediction for the Pirates' second half.

• Bob Nutting is no longer a punchline, writes Joe Starkey.

NL West

• All of the National League is scrambling, writes Patrick Saunders.

• Clayton Kershaw bristled at something that Bruce Bochy said.

Other stuff

• The Twins are nervous about the condition of Target Field after a Kenny Chesney concert.

• Bud Selig's patience over the Rays' attendance is thin. And I want my kids to do their chores on time.

• Matt Harvey envies Derek Jeter.

• Brett Myers got hammered on Twitter after rendering an opinion.

And today will be better than yesterday.