Buster Olney:

Milwaukee Brewers
September, 28, 2013
9/28/13
9:55
AM ET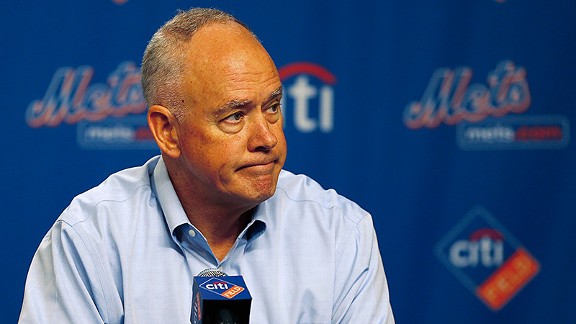 Rich Schultz/Getty ImagesThe Mets' disappointing season has likely earned Sandy Alderson's club a protected draft pick.
The
New York Mets'
loss Friday was the 87th of their season. And it was a really important loss.
With that defeat, the Mets moved back into position to have the No. 10 pick in the 2014 draft -- and if this holds over the last two days of the regular season against the
Milwaukee Brewers
, the Mets' first-round pick would be among those 10 that are protected against draft-pick compensation.
This past winter, the Mets' pick was not protected, which affected their aggressiveness in trying to sign
Michael Bourn
and others. If they finish the year lined up for the No. 10 pick (or better), it could nudge them into pursuit of one of the better free-agent position players who will be available this winter. If they signed a
Shin-Soo Choo
or a
Jacoby Ellsbury
, the Mets would have to surrender only a second-round pick in compensation.
To continue reading this article you must be an Insider
September, 7, 2013
9/07/13
9:54
AM ET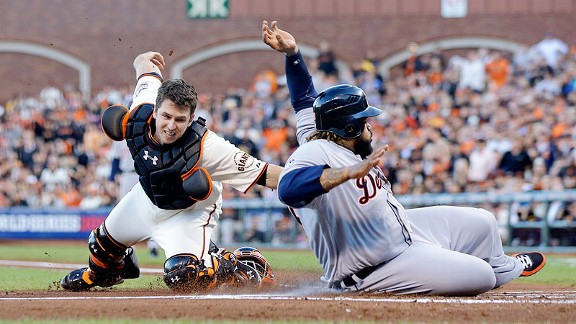 AP Photo/Marcio Jose SanchezA hard collision at home plate caused Giants catcher Buster Posey to miss much of 2011.
A talent evaluator who works in baseball imagined the future testimony aimed at a team -- or all of Major League Baseball -- in a lawsuit filed by a catcher seriously injured while blocking home plate.
"'I was told in spring training by my catching instructor that this is something I need to do,'" the evaluator said, imitating the words that any catcher could say. "'I didn't block home one day and he called me a -----, and he said that blocking home plate is something that every catcher is expected to do.'"
The evaluator jumped into another role, imagining himself as the catcher's lawyer: "'What happened next?'"
Evaluator as catcher: "'I blocked home plate, as I was instructed to do, and now I can't walk.'"
This testimony could be especially effective, the evaluator noted, if it comes from someone sitting in a wheelchair, and if you think that can't happen, maybe you should watch this video of the hit that Harrisburg catcher
Brian Jeroloman
took in a Double-A playoff game the other night, when he
was run over
by Erie's Brandon Douglas.
To continue reading this article you must be an Insider
August, 25, 2013
8/25/13
9:40
AM ET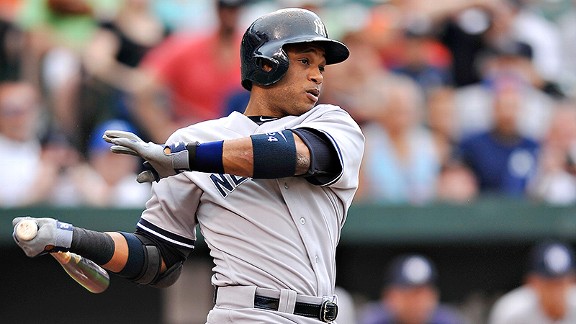 AP Photo/Gail BurtonYankees second baseman Robinson Cano's 4.8 WAR is among the best in baseball.
LOS ANGELES -- If the Yankees don't make the playoffs, then as of this morning, there are 33 games left in the career of
Mariano Rivera
.
But everybody saw that coming. There may also be only 33 games remaining in
Robinson Cano
's tenure with the Yankees if he leaves as a free agent when the season is over. He is their best player and they need him, and yet in recent years, teams have held the line with their own superstars -- for instance, the Cardinals with
Albert Pujols
and the Rangers with
Josh Hamilton
-- and those choices have been quickly vindicated.
The Yankees have their own experience in deciding whether to invest in a long-term star (
Alex Rodriguez
), and that hasn't turned out so well.
Cano is represented by Jay-Z and CAA, and the expectation among executives is that they will be looking to plant a flag with their contract -- something in the A-Rod/Pujols neighborhood.
But a big question that has come up among some rival officials is this: What teams will compete against the Yankees to sign him to create that leverage?
To continue reading this article you must be an Insider
August, 23, 2013
8/23/13
7:37
AM ET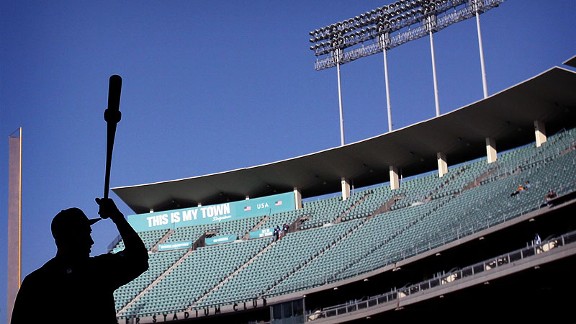 Jeff Gross/Getty ImagesAgainst the backdrop of his statement, there's still much we can't see about Ryan Braun.
About 10 minutes before the start of a "Sunday Night Baseball" game in Baltimore on June 30,
Chris Davis
finished his pregame routine and stopped alongside the photo well, where I was sitting. Davis had something on his mind.
Earlier in the day, he said, he answered a question posed to him on Twitter: Are you on PEDs?
He had responded no, and he talked about the responses to his response. A lot of folks didn't believe him.
To continue reading this article you must be an Insider
August, 18, 2013
8/18/13
9:29
AM ET
By
Chris Stewart
| ESPN.com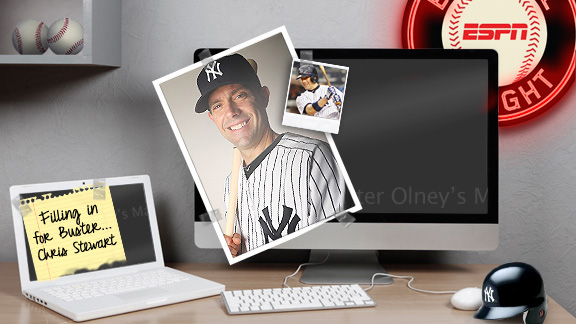 ESPN IllustrationYankees catcher Chris Stewart takes the reader through a day in his shoes.
The typical baseball game consists of only about 14 minutes of live action throughout a roughly three-hour, first- to last-pitch competition. Players usually arrive at the clubhouse for a standard 7 p.m. game between 1 and 2 p.m. This five- to six-hour gap contains baseball rituals such as warm-ups, workouts, batting cage work, stretching, batting practice and final game preparation.
All of these rituals take a little more than three hours for most, so it makes one wonder: What goes on during the other two to three hours?
To continue reading this article you must be an Insider
July, 29, 2013
7/29/13
6:47
AM ET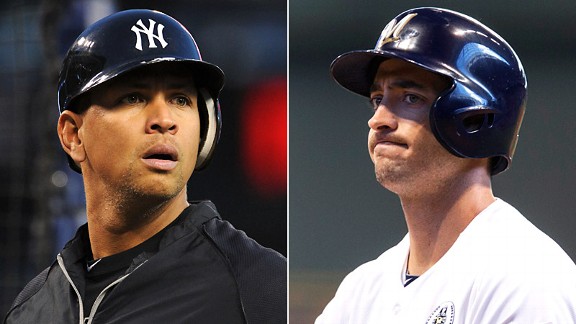 Tim Fuller/USA TODAY SportsA-Rod and Braun could be targets of lawsuits if teams feel the players destroyed their own value.
ATLANTA -- Long before
Ryan Braun
accepted his suspension or
Alex Rodriguez
asked his lawyer to join a conference call in which the topic was a quadriceps strain, club officials throughout Major League Baseball had started to look into the topic of whether they had legal recourse against players who used performance-enhancing drugs.
For the Yankees, this question really began with
Jason Giambi
, and this is why Giambi gave the infamous I'm-Sorry-But-I-Can't-Tell-You-Why news conference so many years ago. With the help of his own representation, answers to difficult questions were crafted in such a way that he could steer around open admission of steroid use -- to protect the money that he had earned and that he would earn in the future -- while still responding, sort of. The statement that Braun issued last week was designed the same way.
The Yankees long ago concluded that given the rules contained within the collective bargaining agreement, they cannot void a contract based on PED use, which is why Rodriguez is still a member of their organization and may still play if he appeals what is expected to be a forthcoming suspension, rather than accepting it.
But some officials and lawyers within the game are taking a look at other avenues through which they might gain some financial relief from busted players –- back doors, in a sense.
To continue reading this article you must be an Insider
July, 23, 2013
7/23/13
6:43
AM ET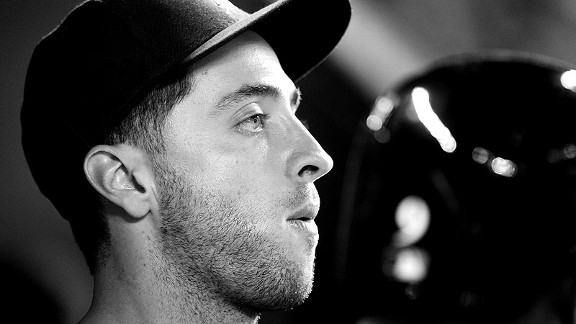 Marc Serota/Getty ImagesRyan Braun will sit out the rest of the season, but the hard feelings won't end there.
There was a moment recently when the shift in the attitude of Major League Baseball players toward performance-enhancing drug cheaters blossomed fully, when the last stages of evolution came into view.
The players have changed on this issue from the time the first gossip of steroids use in baseball began in the 1980s, moving from ignorance to ambivalence to acceptance to frustration to resentment to the current DEFCON 1 anger.
A pitcher drilled a hitter in a game this season, and when the inning was over and he returned to the dugout, the pitcher explained to his teammates that he had plunked the guy because he's a juicer -- a cheater, a PED user. The teammates who heard him understood.
To continue reading this article you must be an Insider
July, 22, 2013
7/22/13
7:12
PM ET
Before Lance Armstrong finally admitted to Oprah that he used performance-enhancing drugs, he called some of the people he had attacked directly or hurt through many years of lying to offer some form of apology.
Ryan Braun
needs to do the same thing, if he hasn't already started. Because he is the Lance Armstrong of baseball.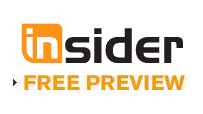 His first call must go to Dino Laurenzi Jr., the collector whose character and work he called into question when he made his now infamous statement in February of 2012, after he won his appeal.
He needs to offer apologies to his teammates. As Braun made that statement, he was accompanied by teammates, whom he almost certainly deceived.
He needs to apologize to the
Arizona Diamondbacks
franchise. Braun tested positive for PEDs in the fall of 2011, in the midst of the playoffs, and against Arizona that fall, he batted .500, with nine hits in 18 at-bats, as the Brewers edged the Diamondbacks, three games to two. Braun's performance, aided by performance-enhancing drugs, may have directly cost the Diamondbacks' players money and a chance to advance to the World Series.
The players' union has gone through a tremendous evolution in its attitude toward those who violate the terms of the drug-testing system, and in the aftermath of Braun's test, there were members of the Arizona organization who were enraged. The players voted over and over to implement and then repeatedly strengthen the drug-testing program, to ensure the level playing field, because they didn't want some players to have an advantage over other players in trying to win jobs and earn money.
Braun cheated all of them, and in the fall of 2011, nobody was affected more directly than the Diamondbacks.
He owes an apology to the Milwaukee Brewers' organization. They gave him a big contract, and then signed him to a massive extension, worth about $150 million. They are a small-market franchise and they signed him to be their
Cal Ripken
, their leader, the centerpiece of their organization -- and now he is no longer that, and can no longer be that, because his professional reputation and marketability are destroyed. He is not only a cheater, he is a cheater who lied about it, then attacked to protect the lie. This is a crushing blow for the Brewers' franchise.
He needs to apologize to the fans, all of those who supported him because they believed his lies. He misled them, and they bought his jerseys and went to his restaurant and bought tickets to see him play, because he is theirs.
A lot of those apologies need to take place in private, but a lot needs to take place in public, and with more teeth than the words released by Major League Baseball in a statement -- which was shocking in itself, in how the No. 2 person in the sport, Rob Manfred, was quoted as complimenting Braun as it suspended him:
"We commend Ryan Braun for taking responsibility for his past actions. We all agree that it is in the best interests of the game to resolve this matter. When Ryan returns, we look forward to him making positive contributions to Major League Baseball, both on and off the field."
Are you kidding? In light of all of the money spent by MLB in dealing with Braun's first appeal, in how much damage has been done to the sport, in how much of a pall Braun's situation has cast over other players -- Braun is commended?
No. The only person who should be talking now is Braun, who should be apologizing to all those he hurt, while embracing the full range of embarrassment with all necessary humility and honesty.
He earned it.
July, 3, 2013
7/03/13
10:29
AM ET
The perception in some corners around baseball is that the
Chicago Cubs
fared well
in their trade
of
Scott Feldman
to the
Baltimore Orioles
Tuesday. "They turned a one-year rental into pieces that can help [going forward]," said an AL evaluator. "They signed him knowing that they could get something for him if he bounced back, and it paid off."
No one doubts that
Jake Arrieta
is talented, and as the Orioles know from their experience with
Chris Davis
, sometimes it just takes longer for some players to blossom than others. Maybe that will happen with Arrieta now that he is with the Cubs, a team that continues to collect as much volume as possible, in the same way the Astros have.
There are more deals to come from the Cubs in the days ahead, with
Kevin Gregg
and
Matt Garza
replacing Feldman on their front burner. When
David DeJesus
returns from the disabled list later this month, the Cubs probably will assess the interest for him and
Nate Schierholtz
and trade one, but not both.
Beyond the Cubs, here is how the trade market is shaping up for the rest of the teams in the National League.

Arizona Diamondbacks
Aaron Hill
just came back, and they remain hopeful that
Adam Eaton
will return sometime soon to the everyday lineup. Their trade-market focus is pitching: They have been among the teams talking about Gregg for bullpen help, and about Yovani Gallardo and others for their rotation.
To continue reading this article you must be an Insider
June, 23, 2013
6/23/13
10:42
AM ET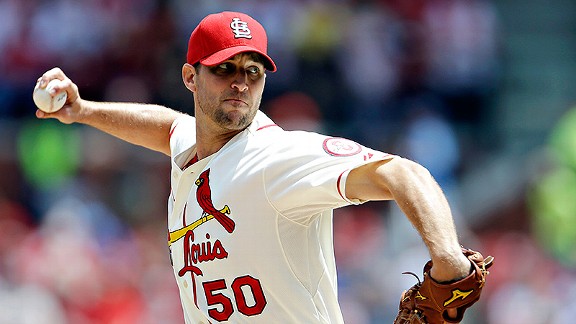 AP Photo/Jeff RobersonAdam Wainwright has a 11.11 strikeout-to-walk ratio, by far the best in baseball.
ST. LOUIS -- Oh sure,
Adam Wainwright
would rather have been on the field in 2011 doing what he loves to do. But he explained on Saturday that while he has always loved baseball, he sort of renewed his vows with the sport that summer as he went through his long recovery from reconstructive elbow surgery.
When the Cardinals were on the road, Wainwright and his wife, Jenny, structured their days around watching the team play, and enjoyed it so much that Jenny told Adam that when his playing days are over, she wants to get the television package that enables them to see all the major league games.
But for Wainwright, that year of watching everybody else play had a practical impact on how he thinks on the mound and how he pitches. He had always had very good command, but since he's come back, his control has been historically great because of a philosophical change that he adopted in his time of reflection.<!—offer-->
Wainwright takes the mound for the Cardinals on "Sunday Night Baseball" (8 ET, ESPN) against the
Texas Rangers
, with more wins (10) this season than walks allowed.
"It's a matter of making an intentional, solid choice to go out there to go out and attack hitters," said Wainwright.
Wainwright grew up in Georgia and liked watching
Russ Ortiz
pitch. Ortiz was a battler, never giving in, never throwing meatball fastballs in hitters' counts; it's a very passive-aggressive way of pitching, and it served Ortiz well in his career.
"In my mind, it was great that he never gave in," said Wainwright. "When he got into a big spot, he knew who was on deck, and he never gave in."
But as Wainwright reflected on that, he said he thought also about how
Chris Carpenter
,
Cliff Lee
and other aggressive strike-throwers went after hitters without any thought of who was on deck.
"What that did for me was put more emphasis on the pitch I was throwing," he said. "I made less mistakes that way. Now I can attack hitters more than I ever have."
That 2011 season, he said, he realized how much he loved baseball when he had it taken from him. So when he and Jenny watched games together, he was an active viewer -- keeping a spiral notebook by his side, jotting down notes and thoughts about what he saw.
"I wanted to know what made pitchers great," he said. "I wanted to know what made Carp great, what made Cliff Lee great, what made
Roy Halladay
great. On the other hand, what could I do better that could take my game to the next level?"
It's happened. Wainwright is in the midst of the best season of his career, with a 2.37 ERA, the best strikeout-to-walk ratio in his career (a staggering 11.11, which, if he carries it out over the full season, will be the
greatest of all time
) and a more efficient approach.
Wainwright's pitches per inning
2005: 15.5
2006: 15.9
2007: 15.7
2008: 14.8
2009: 15.5
2010: 14.6
2012: 15.6
2013: 14.0
The Cardinals need more from Wainwright Sunday night, given that Texas has taken the first two games of this series.
Martin Perez
-- who has been working on controlling his emotions on the mound -- had a
strong start Saturday
.
•
Max Scherzer
has reached a stage in his incredible 2013 season in which every time he has success, he's mingling with legends in his performance.
From ESPN Stats and Information:
Max Scherzer moved to 11-0 on the season Saturday, throwing seven innings of two-run ball to lead the Tigers to a 10-3 win over the Red Sox. He's just the fifth starting pitcher in the past 40 years to start a season 11-0 or better and the first to do it since
Roger Clemens
in 1997. Three of the previous four to start a season like that went on to win the Cy Young Award.
Scherzer struck out six, running his streak of starts with six or more strikeouts to 15. That's the longest streak by any pitcher to begin the season since
Pedro Martinez
and
Randy Johnson
did it in 2000 and tied for the fourth longest in modern baseball history.
From the Elias Sports Bureau, most consecutive starts with at least six K's to begin a season in AL history:
2000 -- Pedro Martinez, 29
2013 -- Max Scherzer, 15 (active streak, includes Saturday)
1999 -- Pedro Martinez, 15
2001 -- Pedro Martinez, 14
From ESPN Stats and Info, how Scherzer beat the Red Sox:
A. After allowing two runs and three hits in the first inning, Scherzer would settle down and allow only three hits the rest of the way. He threw 76 percent fastballs in the first -- and allowed two hits with the pitch -- but threw just 52 percent fastballs the rest of the way (one hit allowed).
B. With seven lefties in the Red Sox lineup, Scherzer threw a career-high 31 percent changeups. He kept 70 percent of his changeups down in the zone, his second-highest percentage this season.
C. Scherzer threw 75 percent of his fastballs on the outer third or further outside, his highest percentage in the last five seasons. All four of his fastball strikeouts came on pitches in that location.
D. Scherzer didn't walk a batter for the third time this season despite going to six three-ball counts. Three of his six strikeouts came with the count full, tied for his most in the last two seasons.
• Drew Sharp thinks Scherzer has won the
right to start the All-Star Game
.
Around the league
• That's 10 straight wins for the Blue Jays,
and counting
.
•
Lance Berkman
, a member of the 2011 Cardinals team that repeatedly ripped the guts out of the Rangers in the greatest World Series of all time, has enjoyed teasing his new Texas teammates about all of that. "To the victors go the spoils," Berkman said with a smile, as part of an interview that we may show on "Sunday Night Baseball." After the on-camera discussion, Berkman detailed his verbal (good-natured) torture of the other Rangers, saying that he has asked them whether the Texas clubhouse was more silent after Game 6 or Game 7.
• On a recent conference call, Dan Shulman posed a really interesting question: If you were thinking about winning only one championship in a given season and had all the players to choose from, would catcher
Yadier Molina
be the first guy you'd take?
The selection would be smart for a few reasons. He hits: He currently leads the NL with a .358 batting average. He directs the defense: The Cardinals' position players credit him with making subtle but pivotal adjustments in the field. And he is widely regarded as the best defensive catcher of his time.
General managers will tell you that of all the deficiencies in defensive metrics, there isn't really a great way to enumerate the work that catchers do. So you look at pieces and parts, and Mark Simon of ESPN Stats and Info dug these out:
To continue reading this article you must be an Insider
June, 20, 2013
6/20/13
8:14
AM ET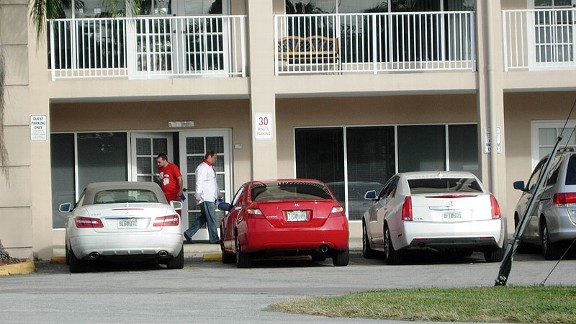 Mike Fish/ESPNMajor League Baseball wants the full story on Biogensis. And they're willing to pay for it.
If you've kept up with the
NSA surveillance stories of late
, then you're familiar with the logic behind the explanation for the decisions:
Yes, it's not an ideal situation, but this is the reality of our times and we have to deal with it.
It's a line of thinking that has been embraced by Major League Baseball in its evolving war on performance-enhancing drug users.
For years, the institution of baseball looked the other way. Then, a decade ago, Major League Baseball and the players' union agreed to the first form of PED testing. And as would-be cheaters have worked to circumvent the testing -- or to beat it straight up -- MLB has found itself neck-deep in a cesspool of characters and character.
This is not the fight they want, the fight they chose, or the fight they probably ever envisioned. But this is the reality of the times and they have to deal with it -- and like the CIA, one of their most effective weapons is cash, which they are wielding aggressively.
To continue reading this article you must be an Insider
June, 16, 2013
6/16/13
10:21
AM ET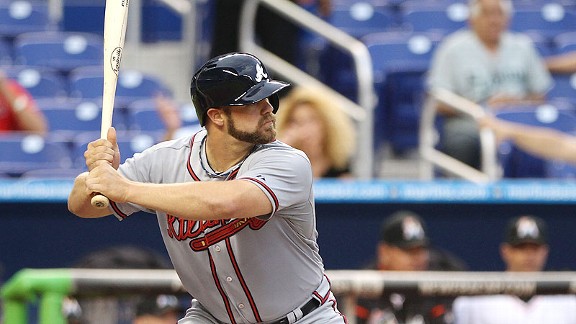 Marc Serota/Getty ImagesEvan Gattis has an .818 on-base percentage as a pinch hitter this season in Atlanta.
ATLANTA -- Braves slugger
Evan Gattis
has a total of two hits in 21 at-bats in June, so the threat of his impact on games probably outweighs his actual production.
But the mere threat is tangible, maybe because rival pitchers, catchers and managers have all seen what he can do to a baseball. Like when he crushed a neck-high Stephen Strasburg fastball beyond the bullpens back in April, or earlier this week, when he turned a pitch into a cloud of rosin --
literally
-- in San Diego.
To continue reading this article you must be an Insider
June, 5, 2013
6/05/13
1:17
PM ET
Melky Cabrera
was suspended for the use of performance-enhancing drugs in 2012 and lost about a third of his salary, or about $1.8 million of the $6 million that he made. Then, when he went into free agency, he signed a two-year, $16 million deal with the
Toronto Blue Jays
.
According to "
Outside The Lines
," Cabrera now faces a 100-game suspension, meaning that he could lose about $4.4 million in salary. So in the end, Melky Cabrera could be busted twice in two years -- and still walk away with $15.8 million for his work in 2012, 2013 and 2014.
Does crime pay in Major League Baseball?
Heck yeah, it does.
To continue reading this article you must be an Insider