October, 30, 2014
Oct 30
12:42
PM ET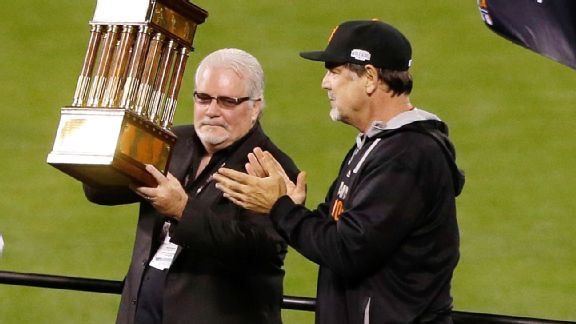 Jason O. Watson/Getty ImagesGM Brian Sabean and manager Bruce Bochy deserve a lot of credit for three Giants titles in five years.
Here's a look at what comes next for many of the primary figures from the
San Francisco Giants
and
Kansas City Royals
For Pablo Sandoval, there's free agency.
Six months ago, it seemed like there was no chance Sandoval would work out a deal with the Giants, and it's still very possible he'll leave, given the gap between what he might ask for and what the Giants seem comfortable in paying. They've had concerns about his conditioning, and going beyond a three-year deal may seem like an enormous risk.
But more than any other franchise, San Francisco places a high value on what a player has done in the past, including contributions on the field, clubhouse standing and with Giants fans. This is part of the reason they gave
Tim Lincecum
a two-year, $35 million deal last fall: He won Cy Young Awards for the team, and was beloved by the fans.
So it's possible that the Giants will extend themselves beyond their comfort level for Sandoval, given his role in the team's three championships and how revered he is in San Francisco. And no one can doubt how much confidence he plays with on the sport's greatest stage.
Before Game 7, Sandoval chatted next to the batting cage, and I asked him about how
Yordano Ventura
had stared him down in two plate appearances in Game 6, first when he hit a bouncer to the mound and then later after he drew a walk.