October, 21, 2014
Oct 21
9:45
AM ET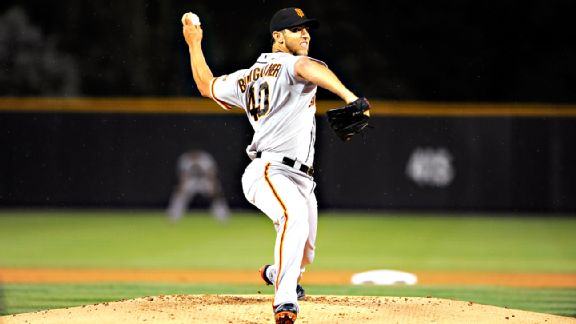 AP Photo/Jack DempseyMadison Bumgarner has an elongated delivery, which the Royals might try to take advantage of.
KANSAS CITY -- When
San Francisco Giants
pitcher
Madison Bumgarner
delivers the ball to home plate with a runner at first base tonight, the numbers that appear on the stopwatch of
Kansas City Royals
first-base coach Rusty Kuntz will indicate to him that the Royals should try to steal.
Bumgarner is 6-foot-5 and has the wing span of a condor, and if you think of his body like a catapult, the time required to remove the ball from his glove, draw his arm all the way back and then sling it toward home plate is relatively slow, no less than 1.3 or 1.4 seconds.
Kuntz has said during the course of the postseason that everything the Royals try to do is dictated by those numbers on the stopwatch: If the pitcher's delivery time is 1.2 seconds or more, Kansas City will run. But 1.3 seconds? In the Royals' world, that's like a green light.
But over time, Bumgarner has developed a speed trap.