Buster Olney:

Colorado Rockies
April, 30, 2014
Apr 30
10:24
AM ET
In case you missed it:
The three
leading hitters in the NL
batting race all wear the same uniform.
The Rockies'
Charlie Blackmon
is batting .379,
Troy Tulowitzki
is at .376, and
Justin Morneau
is at .357. Oh, yeah, and
Nolan Arenado
is hitting .313 and
D.J. LeMahieu
is batting .305. Colorado is taking full advantage of Coors Field, and the team OPS is more than 50 points higher than any other team, and the Rockies are 16-12 after coming back to beat the Diamondbacks on Tuesday.
February, 26, 2014
Feb 26
10:20
AM ET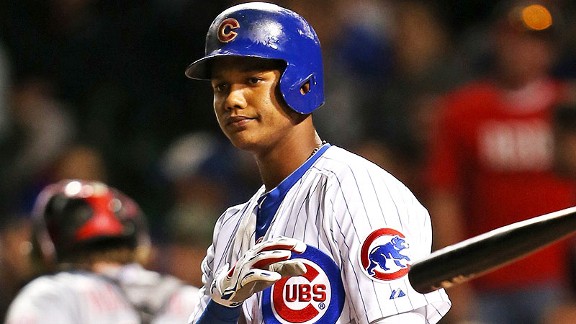 Nuccio DiNuzzo/Chicago Tribune/MCT/Getty ImagesStarlin Castro and the Cubs are not getting help from their early-season schedule.
In following Tuesday's column
ranking the American League's early-season schedules
, Wednesday we have the National League. The teams are ranked toughest to easiest in caliber of early-season schedule.
---

1. Chicago Cubs
Games vs. teams with records of .500 or better in 2013:
31 of first 40.
Home/away:
18 of their first 40 are at home.
Notables:
The Cubs basically get to run an NL Central gauntlet in the first quarter of the season, with 21 of their first 40 games against the Cardinals, Reds and Pirates.
To continue reading this article you must be an Insider
December, 29, 2013
12/29/13
9:13
AM ET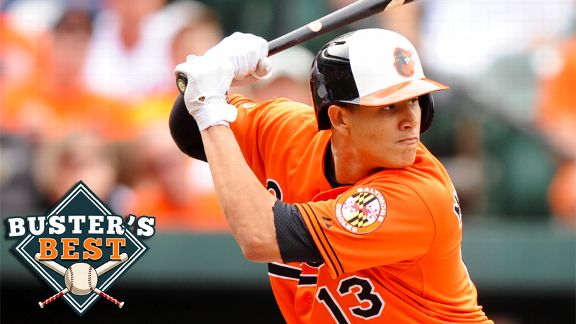 Mitchell Layton/Getty ImagesBaltimore's Manny Machado earned the American League Platinum Glove Award last season.
There probably has been more focus on evaluating and maximizing defensive efficiency than any other part of baseball in the last five years. If we're looking for explanations about why offensive production has been declining, increased
defensive
production might be responsible.
In Part IV of our series, we look at the top 10 defenses in Major League Baseball.

1. Baltimore Orioles
The Orioles posted pictures of their Gold Glove winners in their spring training facility, and with good reason: Buck Showalter's club has continued the organizational tradition -- fostered by the likes of Paul Blair, Brooks Robinson, Mark Belanger,
Cal Ripken Jr.
and others -- of strong defense. The best of the group is third baseman
Manny Machado
("The best at his position, and it's not close," said one evaluator), although we don't know what condition he'll be in during his first months back on the field since having knee surgery.
They have Gold Glove defenders at shortstop (
J.J. Hardy
), center field (
Adam Jones
) and at catcher (
Matt Wieters
). Right fielder
Nick Markakis
and first baseman
Chris Davis
are solid defenders, and newcomer
David Lough
posted one of the best UZR/150 ratings among outfielders with at least 650 innings last season.
To continue reading this article you must be an Insider
September, 28, 2013
9/28/13
9:55
AM ET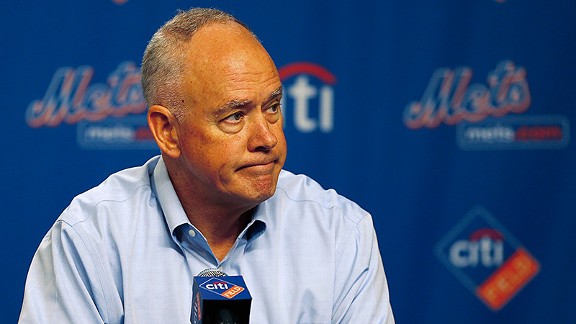 Rich Schultz/Getty ImagesThe Mets' disappointing season has likely earned Sandy Alderson's club a protected draft pick.
The
New York Mets'
loss Friday was the 87th of their season. And it was a really important loss.
With that defeat, the Mets moved back into position to have the No. 10 pick in the 2014 draft -- and if this holds over the last two days of the regular season against the
Milwaukee Brewers
, the Mets' first-round pick would be among those 10 that are protected against draft-pick compensation.
This past winter, the Mets' pick was not protected, which affected their aggressiveness in trying to sign
Michael Bourn
and others. If they finish the year lined up for the No. 10 pick (or better), it could nudge them into pursuit of one of the better free-agent position players who will be available this winter. If they signed a
Shin-Soo Choo
or a
Jacoby Ellsbury
, the Mets would have to surrender only a second-round pick in compensation.
To continue reading this article you must be an Insider
September, 25, 2013
9/25/13
10:31
AM ET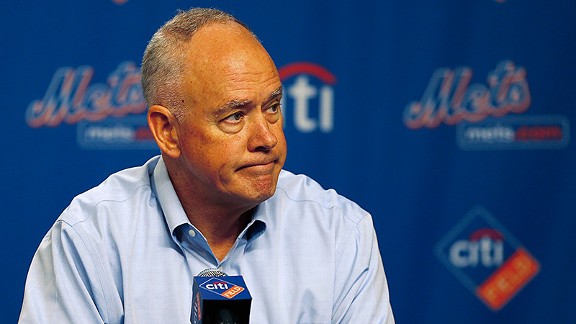 Rich Schultz/Getty ImagesIf Sandy Alderson wants to be a real player for free agents, he needs a protected pick.
The race that is drawing the most attention among baseball officials might not be that for the AL wild-card spots -- which increasingly appears to be a three teams-for-two-spots situation among the Rays, Indians and Rangers -- nor the final jockeying in the NL Central race.
No, the race being scrutinized is the one that will dictate how teams are going to be positioned for draft picks Nos. 7 through 14.
There are two reasons why this is crucial:
To continue reading this article you must be an Insider
September, 7, 2013
9/07/13
9:54
AM ET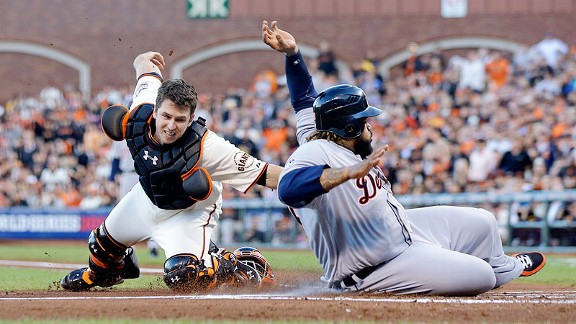 AP Photo/Marcio Jose SanchezA hard collision at home plate caused Giants catcher Buster Posey to miss much of 2011.
A talent evaluator who works in baseball imagined the future testimony aimed at a team -- or all of Major League Baseball -- in a lawsuit filed by a catcher seriously injured while blocking home plate.
"'I was told in spring training by my catching instructor that this is something I need to do,'" the evaluator said, imitating the words that any catcher could say. "'I didn't block home one day and he called me a -----, and he said that blocking home plate is something that every catcher is expected to do.'"
The evaluator jumped into another role, imagining himself as the catcher's lawyer: "'What happened next?'"
Evaluator as catcher: "'I blocked home plate, as I was instructed to do, and now I can't walk.'"
This testimony could be especially effective, the evaluator noted, if it comes from someone sitting in a wheelchair, and if you think that can't happen, maybe you should watch this video of the hit that Harrisburg catcher
Brian Jeroloman
took in a Double-A playoff game the other night, when he
was run over
by Erie's Brandon Douglas.
To continue reading this article you must be an Insider
August, 25, 2013
8/25/13
9:40
AM ET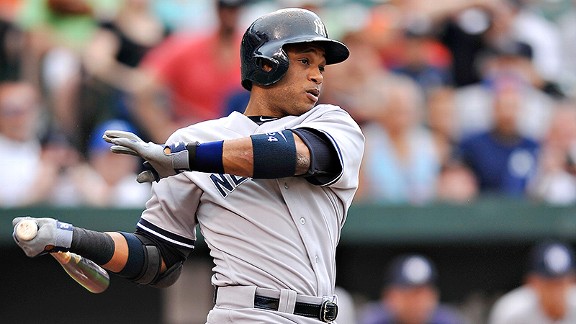 AP Photo/Gail BurtonYankees second baseman Robinson Cano's 4.8 WAR is among the best in baseball.
LOS ANGELES -- If the Yankees don't make the playoffs, then as of this morning, there are 33 games left in the career of
Mariano Rivera
.
But everybody saw that coming. There may also be only 33 games remaining in
Robinson Cano
's tenure with the Yankees if he leaves as a free agent when the season is over. He is their best player and they need him, and yet in recent years, teams have held the line with their own superstars -- for instance, the Cardinals with
Albert Pujols
and the Rangers with
Josh Hamilton
-- and those choices have been quickly vindicated.
The Yankees have their own experience in deciding whether to invest in a long-term star (
Alex Rodriguez
), and that hasn't turned out so well.
Cano is represented by Jay-Z and CAA, and the expectation among executives is that they will be looking to plant a flag with their contract -- something in the A-Rod/Pujols neighborhood.
But a big question that has come up among some rival officials is this: What teams will compete against the Yankees to sign him to create that leverage?
To continue reading this article you must be an Insider
August, 11, 2013
8/11/13
10:00
AM ET
By
Brad Ziegler
| ESPN.com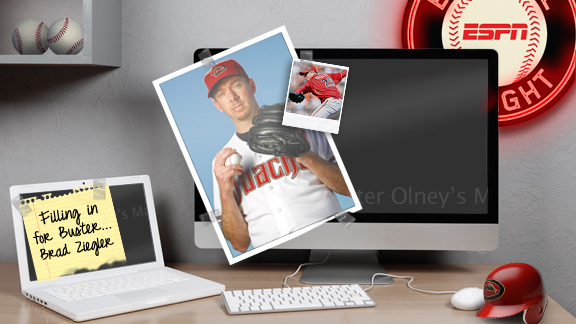 ESPN IllustrationArizona pitcher Brad Ziegler makes a Sunday column relief appearance for Buster Olney.
Buster Olney is on vacation this week, so for the second straight year, guest columnists are writing the lead of his column in his absence. Today, D-backs reliever Brad Ziegler chimes in on what makes union leader Michael Weiner such a special person.
This is a crazy game. If you had told me when I was growing up that I'd have at least six seasons of time in major league baseball, I'd have been absolutely ecstatic. While it was always a dream of mine to play, it also always seemed so far out of reach. Yet, here I am, blessed with so many things in my life, including a career that I truly enjoy. There are many other things, too: an amazing family (including the two friendliest dogs in existence), financial security and good health.
Good health -- something I'm thankful for every day. Something that not everyone in this life shares.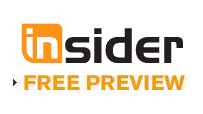 One of the most respected people in this game is in the fight of his life, and anyone -- everyone -- who has any part of this game is pulling for him. Players, coaches, general managers, owners, writers, umpires.
Everyone.
As many of you know, Michael Weiner is currently serving as the executive director of the Major League Baseball Players Association -- our union. And anyone who follows the game also knows that a year ago, Michael was diagnosed with a Stage 4 glioblastoma, an aggressive and inoperable brain cancer.
I've been a player representative for the union since the start of the 2009 season. In the middle of that season, I got a phone call from Donald Fehr, informing me that he was retiring as executive director. After a few conference calls, we selected the obvious replacement that December: Michael Weiner. I hadn't yet met Michael. My agent, Rob Martin, had met him a few times and heard him speak a couple of times, so I asked what he was like. "The man is a human computer," he said. "He can probably quote you the entire basic agreement."
In my time getting to know Michael at various union events or even through casual phone calls, I can honestly say I have seen zero instances to dispute my agent's assessment. However, I can also honestly say that while his knowledge of the basic agreement and labor law in general is impressive, it isn't even close to his best asset.
His best feature is, far and away, who he is as a person. He's a devoted family man. He often speaks of his wife, Diane, and his three lovely daughters, and you can tell how much he cares for them. Furthermore, he genuinely cares about every single ballplayer. Never once has he started a conversation with me in which the first topic wasn't about how my family and I were doing. I'm guessing he's the same way with every other player. Those who've taken the time to get to know him know exactly what I'm talking about.
[+] Enlarge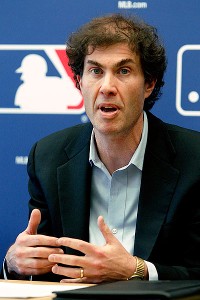 AP Photo/Frank Franklin IIMichael Weiner's leadership on the issue of PEDs has been pivotal, writes Brad Ziegler.
As far as his professionalism, there's one thing that has really stood out to me: He genuinely cares about improving the game of baseball. Don't get me wrong, he wants things to be as good as possible for the players. And he can get downright angry and ruthless when he feels like the owners are attempting to encroach on the principles we, as a union, have stood on since our inception. But he also gets the big picture: What is best for the game in the long run?
In my opinion, never has this been more evident than when dealing with our Joint Drug Agreement. Michael has listened to the players. We want the game clean. No more PEDs. Period. We want to be the era that, down the road, is widely accepted as the group of players who cleaned up baseball. We certainly want to punish those who are caught with something illegal in their system, even if it's not intentionally ingested with the mindset of gaining an edge on the field.
As for those who intentionally cheat? Ban them for a year. Or ban them for life. As for voiding their contracts, well, that time may be coming. Players are sick and tired of guys trying to beat the system, and at this point, we have no tolerance. We are tired of this being the focus of our sport, year after year. Baseball is an amazing game -- perfect in so many ways -- and we must keep the attention on the field, where it should be.
It has to be a tough spot for Michael to be in when it comes to this topic. He's supposed to represent all players and get the best possible outcome for them in every situation, right? No. Michael's response: "If they cheated, they should be punished -- I'm just here to help make sure they get a fair trial."
To me, that is someone who genuinely cares about our game and the way it's perceived publicly. We all leave a legacy in life, and he wants the game to be better when his time in the game is over than it was when he first got involved.
I recently had a casual conversation with an MLB general manager. We discussed Michael's medical situation, and he said something that really stuck out to me: "That guy is incredible. He's the best thing that's ever happened to this game."
And even if he said it in passing, I'm not sure he's far off.
Michael's legacy on this game has already been established. And whether he continues to build on it for the next 40 years, or if he's taken from this life sometime sooner, he continues to leave a mark on this game -- and on people's lives -- that won't ever be forgotten. It is an absolute privilege to work alongside you, Michael. And it's an even greater pleasure to call you my friend.
Notes and links (from Buster)
• Hanley Ramirez will try out his right shoulder on Sunday. Meanwhile, the Dodgers never lose: After Zack Greinke's strong effort Saturday, they've now won 36 of their last 44. The Rays pulled off a hidden-ball trick.
• The Braves' winning streak ended.
Jordan Schafer was activated from the disabled list, and Fredi Gonzalez intends to use him.
We had the Braves on "Sunday Night Baseball" the last two weekends, and our crew talked to Gonzalez about how he would structure his lineup down the stretch and into the playoffs. Gonzalez wasn't specific -- and he doesn't need to be -- but I walked away from those conversations convinced that his standards will be simple. He will play the best lineup he believes gives him the best chance of winning, regardless of contract size and track record. He reiterated that the Braves' collapse in 2011 changed the way he thinks, because now he's much more willing to make changes.
If B.J. Upton struggles early in September, he won't play as much in late September, I'd guess, and Schafer's presence gives Gonzalez an attractive alternative, especially against right-handed pitchers.
Brian McCann has a sore knee and was out of the lineup. The Braves' lead in the AL East gives Gonzalez the flexibility to liberally rest veterans such as McCann, and McCann has shown enough this season to demonstrate to teams that might be interested in him in the winter that he'll continue to be a productive player. He might be the most sought-after free agent of the winter, given that he could fit so many teams: Texas, Washington, the Yankees, Boston, San Francisco (with he and Buster Posey sharing catcher/first base duties), Philadelphia, the White Sox, etc.
• Miguel Cabrera did it again. His current triple crown standing:
Batting average: .363 (first, by 33 points)

Home runs: 35 (he trails Chris Davis, who has 42)

RBIs: 109 (tied for first with Davis)
• White Sox GM Rick Hahn and the players believe in Robin Ventura, writes Paul Sullivan.
• Ryan Ludwick is nearing his return, and undoubtedly, the Reds need him to come back and produce. The Reds have been a middle-of-the-pack offensive team since the All-Star break.
• Jason Hammel is hopeful that his forearm issue doesn't keep him out a long time.
• Ryan Raburn and Yan Gomes are getting more playing time, Paul Hoynes writes.
• The Rangers regained first place with help from Alex Rios.
• Will Middlebrooks is getting a welcome chance to reboot, writes Nick Cafardo.
• Jayson Werth had a really big day.
• The Astros are on pace to finish 52-110, with a run differential of minus-242.
• Jacoby Ellsbury led the Red Sox to victory.
• The Rockies are collapsing, and it's open season on internal evaluations.
• Adam Eaton has been finding his groove at the plate.
• The Phillies need to make a decision on Charlie Manuel, writes Bob Brookover.
In some parts of the Philadelphia organization, it's already taken as a fait accompli that Manuel and some staffers will be let go. But it'll be interesting to see if the logic used in the re-signing of Chase Utley -- he's an important part of the team's history, and he is still productive -- will be used in Manuel's case. Because if the Phillies don't believe Manuel is the best person for the job now, they should've already fired him, and if they think that like Utley, he can still do the job, they should extend him.
Other stuff
• There is a reported BALCO and Biogenesis link: Alex Rodriguez.
The tide has turned when it comes to MLB cheats, writes Tom Haudricourt.
Rodriguez is on a short leash with Yankees fans, writes Bob Klapisch.
• The ousted St. Louis radio duo of Jack Clark and Kevin Slaten are weighing their options.
• Ken Griffey Jr. was part of the ceremony in which he was inducted into the Mariners' Hall of Fame. He's a really complicated person.
And today will be better than yesterday.
July, 14, 2013
7/14/13
8:36
AM ET
CHICAGO --
General managers look at strength of schedule all the time; players and managers almost never look at it, because they're in the fight and focused on the micro, rather than the macro.
But the GMs are always watching the upcoming slate of games because it gives context and shapes decisions. The
Pittsburgh Pirates
, for example, had by far the toughest on-paper starting schedule in the majors -- and once they got through that stretch with a respectable record, they vaulted toward the top of the NL Central.
Here are the strength-of-schedule rankings for Major League Baseball's contending teams in the second half; they are listed toughest to easiest. I considered every team within eight games of the top of its division as of Saturday afternoon.
1. Kansas City Royals
Games against teams with records of .500 or better:
35
Home/road:
37 of 71 games at home
Schedule quirks:
Between the rain makeups that have squeezed out their off days and 20 games remaining against Detroit and Cleveland, the Royals have a major challenge ahead of them -- and it starts right away, with seven games against the Tigers and Orioles right out of the break. From July 30 through Sept. 11, Kansas City will play 44 games in 44 days.
In mid-September, the Royals will play
four
consecutive series against the Tigers and Cleveland, so they will have an opportunity to run down the teams in front of them.
The big finish:
The Royals close out with a week on the road -- three games at Seattle, then four games against the White Sox.
To continue reading this article you must be an Insider
July, 3, 2013
7/03/13
10:29
AM ET
The perception in some corners around baseball is that the
Chicago Cubs
fared well
in their trade
of
Scott Feldman
to the
Baltimore Orioles
Tuesday. "They turned a one-year rental into pieces that can help [going forward]," said an AL evaluator. "They signed him knowing that they could get something for him if he bounced back, and it paid off."
No one doubts that
Jake Arrieta
is talented, and as the Orioles know from their experience with
Chris Davis
, sometimes it just takes longer for some players to blossom than others. Maybe that will happen with Arrieta now that he is with the Cubs, a team that continues to collect as much volume as possible, in the same way the Astros have.
There are more deals to come from the Cubs in the days ahead, with
Kevin Gregg
and
Matt Garza
replacing Feldman on their front burner. When
David DeJesus
returns from the disabled list later this month, the Cubs probably will assess the interest for him and
Nate Schierholtz
and trade one, but not both.
Beyond the Cubs, here is how the trade market is shaping up for the rest of the teams in the National League.

Arizona Diamondbacks
Aaron Hill
just came back, and they remain hopeful that
Adam Eaton
will return sometime soon to the everyday lineup. Their trade-market focus is pitching: They have been among the teams talking about Gregg for bullpen help, and about Yovani Gallardo and others for their rotation.
To continue reading this article you must be an Insider
June, 23, 2013
6/23/13
10:42
AM ET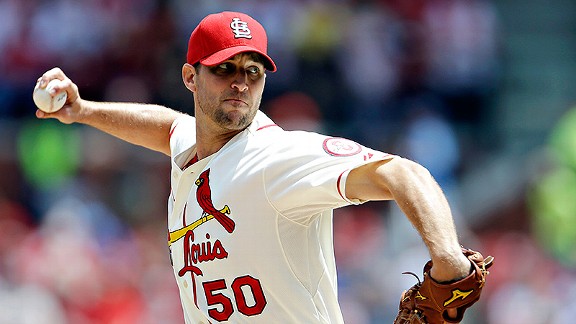 AP Photo/Jeff RobersonAdam Wainwright has a 11.11 strikeout-to-walk ratio, by far the best in baseball.
ST. LOUIS -- Oh sure,
Adam Wainwright
would rather have been on the field in 2011 doing what he loves to do. But he explained on Saturday that while he has always loved baseball, he sort of renewed his vows with the sport that summer as he went through his long recovery from reconstructive elbow surgery.
When the Cardinals were on the road, Wainwright and his wife, Jenny, structured their days around watching the team play, and enjoyed it so much that Jenny told Adam that when his playing days are over, she wants to get the television package that enables them to see all the major league games.
But for Wainwright, that year of watching everybody else play had a practical impact on how he thinks on the mound and how he pitches. He had always had very good command, but since he's come back, his control has been historically great because of a philosophical change that he adopted in his time of reflection.<!—offer-->
Wainwright takes the mound for the Cardinals on "Sunday Night Baseball" (8 ET, ESPN) against the
Texas Rangers
, with more wins (10) this season than walks allowed.
"It's a matter of making an intentional, solid choice to go out there to go out and attack hitters," said Wainwright.
Wainwright grew up in Georgia and liked watching
Russ Ortiz
pitch. Ortiz was a battler, never giving in, never throwing meatball fastballs in hitters' counts; it's a very passive-aggressive way of pitching, and it served Ortiz well in his career.
"In my mind, it was great that he never gave in," said Wainwright. "When he got into a big spot, he knew who was on deck, and he never gave in."
But as Wainwright reflected on that, he said he thought also about how
Chris Carpenter
,
Cliff Lee
and other aggressive strike-throwers went after hitters without any thought of who was on deck.
"What that did for me was put more emphasis on the pitch I was throwing," he said. "I made less mistakes that way. Now I can attack hitters more than I ever have."
That 2011 season, he said, he realized how much he loved baseball when he had it taken from him. So when he and Jenny watched games together, he was an active viewer -- keeping a spiral notebook by his side, jotting down notes and thoughts about what he saw.
"I wanted to know what made pitchers great," he said. "I wanted to know what made Carp great, what made Cliff Lee great, what made
Roy Halladay
great. On the other hand, what could I do better that could take my game to the next level?"
It's happened. Wainwright is in the midst of the best season of his career, with a 2.37 ERA, the best strikeout-to-walk ratio in his career (a staggering 11.11, which, if he carries it out over the full season, will be the
greatest of all time
) and a more efficient approach.
Wainwright's pitches per inning
2005: 15.5
2006: 15.9
2007: 15.7
2008: 14.8
2009: 15.5
2010: 14.6
2012: 15.6
2013: 14.0
The Cardinals need more from Wainwright Sunday night, given that Texas has taken the first two games of this series.
Martin Perez
-- who has been working on controlling his emotions on the mound -- had a
strong start Saturday
.
•
Max Scherzer
has reached a stage in his incredible 2013 season in which every time he has success, he's mingling with legends in his performance.
From ESPN Stats and Information:
Max Scherzer moved to 11-0 on the season Saturday, throwing seven innings of two-run ball to lead the Tigers to a 10-3 win over the Red Sox. He's just the fifth starting pitcher in the past 40 years to start a season 11-0 or better and the first to do it since
Roger Clemens
in 1997. Three of the previous four to start a season like that went on to win the Cy Young Award.
Scherzer struck out six, running his streak of starts with six or more strikeouts to 15. That's the longest streak by any pitcher to begin the season since
Pedro Martinez
and
Randy Johnson
did it in 2000 and tied for the fourth longest in modern baseball history.
From the Elias Sports Bureau, most consecutive starts with at least six K's to begin a season in AL history:
2000 -- Pedro Martinez, 29
2013 -- Max Scherzer, 15 (active streak, includes Saturday)
1999 -- Pedro Martinez, 15
2001 -- Pedro Martinez, 14
From ESPN Stats and Info, how Scherzer beat the Red Sox:
A. After allowing two runs and three hits in the first inning, Scherzer would settle down and allow only three hits the rest of the way. He threw 76 percent fastballs in the first -- and allowed two hits with the pitch -- but threw just 52 percent fastballs the rest of the way (one hit allowed).
B. With seven lefties in the Red Sox lineup, Scherzer threw a career-high 31 percent changeups. He kept 70 percent of his changeups down in the zone, his second-highest percentage this season.
C. Scherzer threw 75 percent of his fastballs on the outer third or further outside, his highest percentage in the last five seasons. All four of his fastball strikeouts came on pitches in that location.
D. Scherzer didn't walk a batter for the third time this season despite going to six three-ball counts. Three of his six strikeouts came with the count full, tied for his most in the last two seasons.
• Drew Sharp thinks Scherzer has won the
right to start the All-Star Game
.
Around the league
• That's 10 straight wins for the Blue Jays,
and counting
.
•
Lance Berkman
, a member of the 2011 Cardinals team that repeatedly ripped the guts out of the Rangers in the greatest World Series of all time, has enjoyed teasing his new Texas teammates about all of that. "To the victors go the spoils," Berkman said with a smile, as part of an interview that we may show on "Sunday Night Baseball." After the on-camera discussion, Berkman detailed his verbal (good-natured) torture of the other Rangers, saying that he has asked them whether the Texas clubhouse was more silent after Game 6 or Game 7.
• On a recent conference call, Dan Shulman posed a really interesting question: If you were thinking about winning only one championship in a given season and had all the players to choose from, would catcher
Yadier Molina
be the first guy you'd take?
The selection would be smart for a few reasons. He hits: He currently leads the NL with a .358 batting average. He directs the defense: The Cardinals' position players credit him with making subtle but pivotal adjustments in the field. And he is widely regarded as the best defensive catcher of his time.
General managers will tell you that of all the deficiencies in defensive metrics, there isn't really a great way to enumerate the work that catchers do. So you look at pieces and parts, and Mark Simon of ESPN Stats and Info dug these out:
To continue reading this article you must be an Insider
June, 16, 2013
6/16/13
10:21
AM ET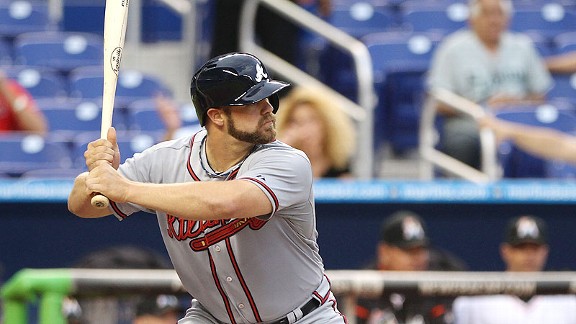 Marc Serota/Getty ImagesEvan Gattis has an .818 on-base percentage as a pinch hitter this season in Atlanta.
ATLANTA -- Braves slugger
Evan Gattis
has a total of two hits in 21 at-bats in June, so the threat of his impact on games probably outweighs his actual production.
But the mere threat is tangible, maybe because rival pitchers, catchers and managers have all seen what he can do to a baseball. Like when he crushed a neck-high Stephen Strasburg fastball beyond the bullpens back in April, or earlier this week, when he turned a pitch into a cloud of rosin --
literally
-- in San Diego.
To continue reading this article you must be an Insider
June, 6, 2013
6/06/13
8:24
AM ET
A smart baseball executive talked the other day about how difficult the new rules have made it for teams to build through the draft. Under the old rules, organizations could divert funds into their draft spending and aggressively pay players in the later rounds -- usually talented high schoolers who had thoughts of going to college -- and build their pool of prospects.
But under the new rules, with a slotting system, that really isn't possible anymore without rule-bending. And remember, there are also new restrictions on signing international free agents.
"The teams that already have a good group of prospects are in an incredibly strong position," said the executive, naming the Cardinals, Rays and Pirates among those clubs. "But on the other hand, if you don't have that kind of talent in your organization, it's become much more difficult to get it."
To continue reading this article you must be an Insider