January, 24, 2015
Jan 24
9:41
AM ET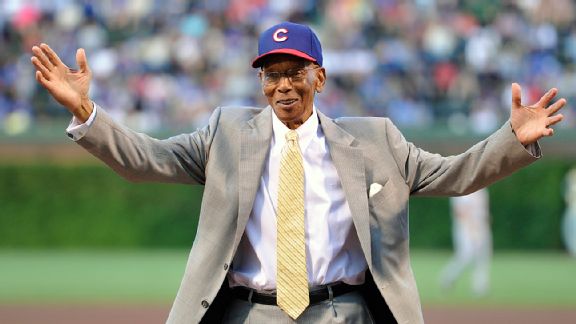 AP Photo/Jim Prisching"Mr. Cub" Ernie Banks, who played 19 seasons in Chicago, passed away at the age of 83 on Friday.
In the first season of Home Run Derby, Ernie Banks
vied against Mickey Mantle
for the big money: The winner would get $2,000, the loser $1,000, with $500 bonuses built in for particular achievements. "Pretty lucky," Banks said, after the first of his homers.
The modesty and the cash payout -- little more than what players would get in a week's worth of meal money these days -- distinguish Banks as a man of a different time and place, when television was in black and white, when whites were only beginning to understand what it meant to be black in this country, only beginning to affect change.
But Banks was different even in his time, among his peers, seemingly free of cynicism and flush with joy, the way we all hoped someone fortunate enough to play baseball for a living would be. The way we all hope
we
would be.
Ernie Banks came through Nashville in the late '80s to pitch something – maybe it was a book, or a product – and the man seemed entirely happy, speaking about a love affair with game that he did not seem to take for granted. He praised his teammates and talked about the love of playing a game, about being outside on a warm day. The reality could be more complicated, of course; Wrigley Field can be one of the coldest places on earth, when the temperatures drop and the wind is gusting in from center field.
But Banks did not speak of that. There was no whining, no complaining, no off-the-record back-biting about the newest generation of ballplayers or the increasing salaries they were paid. For baseball, he conveyed only unabashed love; for his good fortune, he expressed only gratitude, and in the other two or three times we crossed paths, that never changed.
Banks was interviewed at the time he
received the Medal of Freedom
.
"I look at my life, look back, and say, 'What have I done?'" Banks said. "I think we all do that as we get older in life.
"I think about baseball. America's greatest pastime. Maybe that's it -- hitting a baseball, going and catching it, playing against another team, playing against other players. And then it's over, and what have I really done?
"They show the records. You won MVP awards, you did this, you did that. So it's very special, as I think about it."
Colleague Willie Weinbaum sent these notes from an interview he and Jeremy Schaap did with Frank Robinson. Jeremy asked Robinson how he would describe Banks.
"Be ready to listen," Robinson began, laughing. "Because you are not gonna get much to say. He is gonna do all the talkin'. Ernie loves to talk. He loves the game, but he loves to talk. He loves people. He loved to be around people. And he loves to talk about everything and anything. But Ernie -- don't let Ernie fool you. He's a very smart individual. He knows a lot about different subjects. And you have to be prepared to discuss those things with him if you're around him for any length of time."
Jeremy asked Robinson about Banks as a large man playing shortstop. "Very graceful," Robinson replied.
"He was like a dancer. He's just smooth, very graceful without putting any effort into it, it looked like. And he moved to first base. But he was -- he was a good shortstop. He was a good shortstop."
• Ernie Banks passed away Friday, and nobody represented a team or a city the way that Banks did,
writes Michael Wilbon
.
• No other Cub will be adored in the same way that Banks was,
writes Chris De Luca
.
• Banks leaves this world to play two, and maybe more,
writes Rick Morrissey.
• Banks was a
man for all seasons.
•
Tim Kurkjian writes
about Banks' unbridled joy.
•
Dick Goldstein writes
about the Banks mantra in his New York Times obituary of Banks.
Around the league
This is a big concern: