September, 9, 2014
Sep 9
8:22
AM ET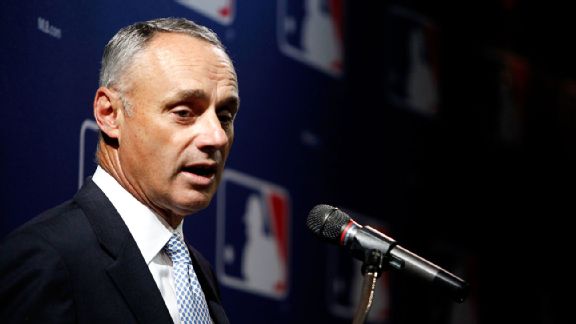 AP Photo/Ricardo ArduengoRob Manfred should see the NFL's failures as a call to action for MLB.
It's as if NFL commissioner Roger Goodell has fully mapped a minefield for MLB commissioner-elect Rob Manfred through trial and error, with pieces of Goodell's reputation scattered all over as a result. As Manfred prepares to take over four and a half months from now and begin his own legacy, he can have a full understanding of how domestic violence -- once something not to be spoken of by previous generations, once expected to be a private matter -- is now regarded as intolerable by a society that has gained tolerance in so many other ways.
The high ground can be clearly seen and identified, and Manfred has an opportunity to do the right thing, in the way that new NBA commissioner Adam Silver did in the Donald Sterling case, and what Goodell did not do in the Ray Rice situation.
Manfred should go where other sports have not gone before, without fretting over the possible response of the players' association, and announce that Major League Baseball will have a zero-tolerance policy for domestic violence.
If you hit your spouse, Manfred should announce, if you physically abuse your children, you will not be employed by Major League Baseball or any of its 30 teams -- as a player, as a coach, as a manager, as someone working in the front office. If you hit your spouse or children, you will not own a baseball team.
Manfred is a smart person and he would know that the implementation of a no-tolerance policy against domestic violence would be subject to labor grievances, to lawsuits. But Silver faced the same complications as he considered discipline of Sterling, and decided that whatever the cost faced by the NBA would be worth it in the end. Because he now has rebranded his NBA, his leadership, as fully principled.
[+] Enlarge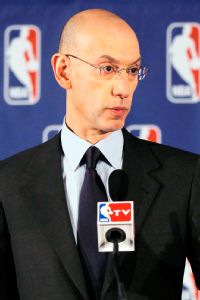 Andy Marlin/USA TODAY SportsAdam Silver's quick action on Donald Sterling was lauded.
Manfred should do the same thing, because it's the right thing to do, but also because he knows by now that there will be a day, maybe today, maybe next month, maybe next year, when Major League Baseball will face the issue of domestic violence because of the actions of one of its own. Some player or club employee is going to have an incident, sadly. It's inevitable.
Something will happen, and a society that has reframed its view of domestic violence through the Ray Rice case will stare down Manfred and ask: What are you going to do now?
There is no reason for Manfred to wait for that time to respond. He has the chance to be progressive, to declare where baseball stands on this, just as Silver did with racial intolerance.
Major League Baseball was slow to react to the growing backlash to the use of performance-enhancing drugs, but after the infamous congressional hearing of March 17, 2005, Bud Selig moved from playing defense to playing offense. He has pushed for tougher testing, toughened the policy. Now, he does not miss an opportunity to say that Major League Baseball has the toughest drug-testing policy in professional sports, a rendering vetted by drug-testing agencies. He has earned that right.
Manfred could do this right now on the question of domestic violence. Yes, there could be a day when a high-profile player valued by Major League Baseball would be lost to the sport because of a no-tolerance policy, and there's no way to know for sure if an arbitrator would back a suspension and loss of salary. But Manfred cannot be wrong in doing the right thing on this issue. All he has to do to know that is to see how Goodell's leadership is disintegrating, after he did the wrong thing.
Notables
• During two days of being around