March, 17, 2015
Mar 17
9:48
AM ET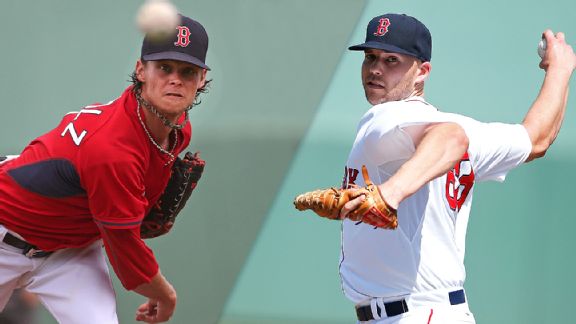 Getty ImagesBoston pitchers Clay Buchholz and Justin Masterson haven't exactly quieted the doubters this spring.
CLEARWATER, Fla. -- These are the dog days of spring training, when Opening Day is about three weeks away and the position players are mostly ready to go but now must wait on the starting pitchers to build enough stamina. The bus rides are starting to wear on everyone in this time of March, and some players are dealing with the malady commonly known as the dead-arm phase. Orioles manager Buck Showalter sat in the visiting manager's office at the Phillies' complex here and remarked about how much more time all teams have to put into spring training. The spring marathon is only half over. It's too soon to take anything at face value, because there is still time for improvement, still time for adjustments and quite frankly, at this stage of spring training, there is the growing need for the adrenaline that accompanies games that count. But rival evaluators who serve in various roles are beginning to plant some red flags over the Red Sox rotation, wondering if there is going to be enough. At the very least, they are asking about the depth behind the Boston rotation -- which could be needed, and has a chance to be pretty good. Scouts talked about seeing
Clay Buchholz
throw 87-89 mph in his most recent start; what they did not see was that he was more in the 90-93 mph range in his previous starts.
Justin Masterson
struggled to keep the ball down in his start against the Phillies on Sunday, and when
Wade Miley
followed him to the mound, he had trouble too; rival evaluators noted a lack of command and were surprised by how flat his stuff seemed. Then, on Monday,
Joe Kelly
walked off the mound with an injury, as
Gordon Edes reports
. What does it all mean? Maybe nothing, at this stage of spring. Or maybe something. The rotation equation figures to be fragile for the Red Sox because they don't have a top-of-the-rotation horse or two; in some ways, the Boston rotation will be like one of those eight-man crews that row boats up and down the Charles: It might be only as good as its weakest man. The Boston rotation can work, but it'll be important for all of the parts to be functional.