November, 7, 2014
11/07/14
8:09
AM ET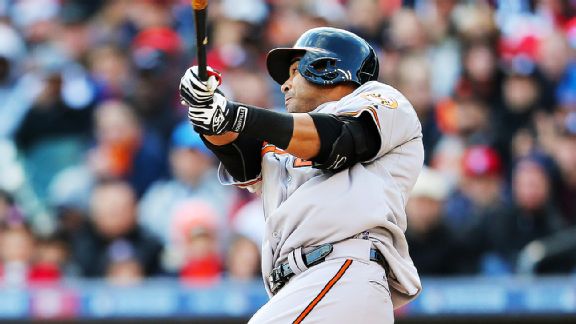 Leon Halip/Getty ImagesNelson Cruz led the majors in HRs, but his past suspension for PED use still worries some when it comes to a deal.
More than a decade ago, general managers elaborated on the
murky business of investing in players
who may or may not be using performance-enhancing drugs. Within that 2002 New York Times article, a couple of GMs from that time gave voice to the importance and the challenge of speculating:
"It's a fairly routine topic when discussing a player who suddenly is a lot bigger," said Randy Smith, general manager of the Detroit Tigers. "To me, you've got guys who look to enhance their performance and get a contract, and become much different than they were in the past. It's very hard to evaluate. You see guys with slider bat speed all of a sudden become good hitters with tremendous power potential.

"I think it's all over the industry, and I think with all the money that's out there it becomes more relevant."

When a player is acquired, San Diego General Manager Kevin Towers said, "you have to be very cautious if you feel the player is a user."

He added, "You are cautious about doing a long-term deal if he's had one or maybe two big years."
Penalties for drug testing began two years later, and by 2006, even the players' association bought into the idea of strengthening the penalties and working to create a level playing field for a silent union majority that didn't want to have to think about using drugs to keep up.
But more than a decade after Smith and Towers elaborated on the guessing game that general managers faced, the newest generation of GMs continues to guess, to speculate, to wonder.
Major League Baseball teams are starved for power, and for right-handed hitting particularly