October, 17, 2014
Oct 17
9:07
AM ET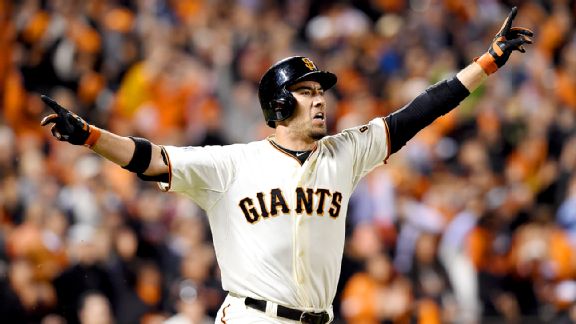 Thearon W. Henderson/Getty ImagesTravis Ishikawa would normally be out of a tight game in the later innings.
SAN FRANCISCO -- Jake Peavy's eyesight is awful, and the truth is he sprinted out of the Giants' dugout Thursday night not entirely sure of what he had just seen. Peavy didn't know whether Travis Ishikawa's long drive to right field had cleared the tin on top of the wall, or if it had ricocheted off the brick. He only knew that Ishikawa had mashed a ball beyond the reach of the Cardinals' outfielders, far enough to score the game-winning run and win the pennant.
"I'm so proud of you!" Peavy screamed at Ishikawa, as he moved to embrace him.
"Get out of the way!" Ishikawa shouted while trying to dodge Peavy, unsure of whether he needed to avoid being touched by teammates in order to make this journey around the bases count.
Or at least that's what Ishikawa and Peavy think he shouted; nobody could remember with complete clarity even a few minutes after, because of how overwhelmed they were by the moment.
Tim Hudson
couldn't recall exactly what Giants manager Bruce Bochy said to him when they hugged on the field, but whatever it was, Hudson was weeping with the realization that after 16 years in the major leagues, and after having his ankle dislocated in 2013, he will play in the World Series. Hudson started tearing up again as he started talking about the words between him and his manager. "I'm a marshmallow," he said.
Buster Posey
, the catcher admired by teammates because of how understated he is no matter how tense the situation, pumped his fists happily on the field, once, between hugs with teammates. Third-base coach Tim Flannery was crying. Mike Morse waved happily to someone he knew in the stands. The stoic
Madison Bumgarner
couldn't stop smiling; neither could
Brandon Crawford
.
Jeremy Affeldt
shouted, randomly.
Among them, Ishikawa struggled to catch his breath.
On the last Wednesday of the regular season, the day of Game No. 158, there was no thought that he would play a meaningful role in the postseason, let alone play left field. He has been a first baseman for almost his entire career, and 23 days ago, he had exactly zero career starts in left field in the major leagues.
But the Giants were desperately seeking a solution in left field, having learned the last week of the regular season that
Angel Pagan
would miss the rest of the season and the playoffs.
Gregor Blanco
was needed in center field and
Juan Perez
had performed poorly in September, and in conversation with Bochy, Giants general manager Brian Sabean suggested that he try Ishikawa, who had a handful of outfield starts in the minor leagues. Bochy, with nothing to lose, went along with it and found a left fielder in the last hours of the regular season -- a decision that had gone well right up until the third inning of Game 5 Thursday night, when Ishikawa misread a line drive by
Jon Jay
.
The potential for another crushing defensive mistake like that loomed in Bochy's mind into the middle innings. He had usually pulled Ishikawa out of games in the sixth or seventh inning, and as he and bench coach Ron Wotus shared thoughts in the eighth inning, Bochy decided that he was going to give Ishikawa one more at-bat and then replace him with Perez.
One more chance for Ishikawa. One more swing. And when he hit the ball
To continue reading this article you must be an Insider