November, 13, 2014
Nov 13
9:44
AM ET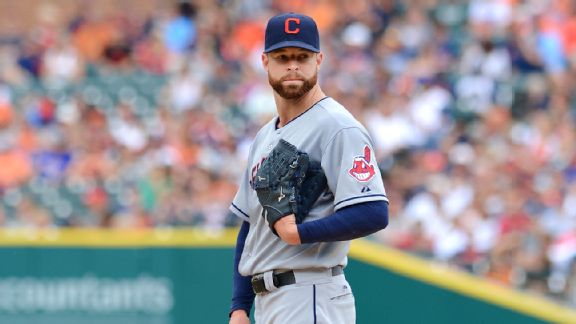 Mark Cunningham/Getty ImagesCorey Kluber's stoic demeanor is revered by Indians players and coaches.
Accolades for a teammate are always a good thing, but after
Corey Kluber
won the AL Cy Young Award on Wednesday, the joy that others within the Indians organization experienced ran deep.
Because of the person that Kluber is, and because of his work ethic, others are touched by the award's affirmation. "He is so solid and cares only about the team," Indians pitching coach Mickey Callaway said in an email.
I had written Callaway and bullpen coach Kevin Cash to get their thoughts on Kluber, who is consistent in his stoicism. "In one game, he was coming off the mound and into the dugout after striking out 13 or something," Callaway wrote, "and I was elated on the top step, with my hand up, waiting for a big up-high five. And he, with no excitement at all, put out a low five, so no one could see he was actually having to high-five his overly excited pitching coach.
"And I came down with my hand ever so gingerly, and slapped him a low five, because I didn't know what else to do. Later on, around the other starters, with Kluber standing there, I told that story. Kluber -- in Kluber fashion -- responded with, 'What was I supposed to do?' That shows how good he is at controlling his emotions."
"It's hard to pick out something about his work ethic," Callaway added, "because he absolutely does the same thing every day between starts. He is so consistent."
Cash wrote, "What stands out is his consistency. It's obvious that he rarely shows much emotion on the field, but what's impressive is the way he evolved and took ownership in being the leader of our staff."
I had mentioned to Cash that the stories about Kluber and his demeanor and work ethic reminded me of what I used to hear from the Blue Jays and Phillies about
Roy Halladay
. "He
is
very similar to Doc with his work ethic," Cash wrote back (after
interviewing for the Rays' managerial job
), "and I definitely don't say that lightly because nobody worked like him.
"One [example] would be how much [Kluber] constantly tried to develop his changeup in his throwing program in between starts. I found it very impressive that as good as his season was going, he never wavered in his attempt to get a feel for a pitch that he would only use a handful of times throughout a game."
Kluber thought that
Felix Hernandez
would win the Cy Young Award,
writes Paul Hoynes
.
If I had had a ballot, I would've voted for Hernandez, but the notion that Hernandez was robbed or that Kluber is somehow unworthy is ridiculous.
To continue reading this article you must be an Insider