March, 28, 2015
Mar 28
10:40
AM ET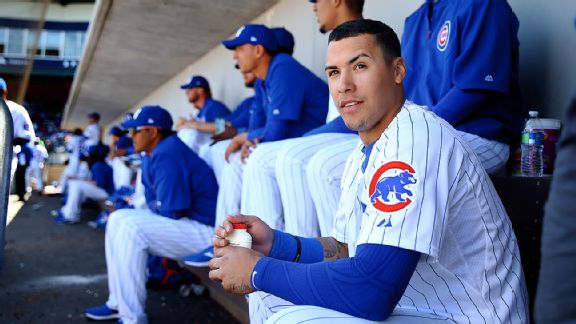 Mark J. Rebilas/USA TODAY SportsJavier Baez has drawn rave reviews this spring, particularly from new manager Joe Maddon.
MESA, Ariz. -- The Cubs'
Javier Baez
lurched away from second base here the other day in taking a wide lead in the first inning of an exhibition against the Angels, and the instant the grounder was hit toward the shortstop hole, Baez broke for third base. A mistake, according to conventional wisdom, because there was nobody out. Angels shortstop
Erick Aybar
gloved the ball and flipped the ball toward third baseman
Taylor Featherston
, who quick-tagged Baez as he slid into third base. The umpire called Baez out from his position in foul territory, but when he saw the ball had trickled onto the ground, the call was changed. Baez would've been out if Featherston hadn't dropped the ball. But here's the thing: Replay showed that Baez
beat
the throw and should've been called safe even if Featherston hadn't dropped the ball. In this case, Baez's baserunning instincts -- which new manager Joe Maddon had raved about in conversation a couple of weeks ago -- had paid off, creating an opportunity that few other players could generate, and moments later, Baez slid across the plate with the Cubs' first run of the game. Baez's rate of strikeouts as a hitter is what draws the most notice, because it is historic. He went to the plate 229 times in 52 games last year and whiffed in 95 at-bats, hitting .169. The 22-year-old second baseman has 16 strikeouts in 44 at-bats this spring, with three walks. But there is so much else about Baez that Maddon has fallen in love with, which is why he's still in big league camp, still competing for the second-base job, still talked about as a player with a high ceiling.