April, 24, 2014
Apr 24
8:17
AM ET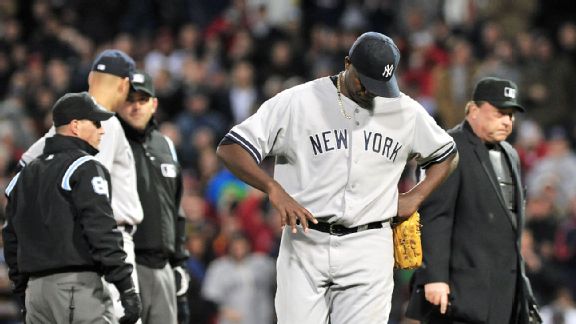 Bob DeChiara/USA TODAY SportsMichael Pineda's plight -- an inability to grip a ball in the cold -- isn't unique. And everybody knows it.
BOSTON --
Michael Pineda
ambled into the visitors clubhouse here at about 4:30 Wednesday wearing a polo shirt and jeans, white earplugs stuffed into each side of his head, and a smile on a face that was closer to the ceiling than any face in the room. The 6-foot-7 Pineda always seems cheerful, is always pleasant to talk to, to the degree that he reminds me of the main character in "
The Story of Ferdinand
."
Ferdinand is a massive bull, and given his immense power, everybody else wants Ferdinand to fight. But Ferdinand wants to lie under a tree and smell the flowers. His is a simple outlook in a complicated world.
A few hours later, after Pineda had been ejected, he had told his teammates that he was sorry, and when reporters filed into the small visitors clubhouse, Pineda was waiting for the inquisition. He towered over the horseshoe of reporters, his smile gone, and gave simple explanations for why he had smeared pine tar on the right side of his neck before going out to pitch the bottom of the second inning against the Red Sox. "It was cold," he said. "I didn't want to hit anybody. I didn't feel the ball, and I don't want to hit anybody."
Throughout the first inning, you could see at field level how much Pineda was struggling to get a feel for the baseball, on a night when wind ripped through Fenway Park. Between pitches, he dabbed at the back of his neck for some perspiration, at his forehead. He tried to blow on his hand, at one point seemingly spitting on it.
"I don't think anybody can feel the ball when the weather is like this," said Yankees catcher
Brian McCann
, who said he was struggling to control the ball while throwing it back to the pitcher.
After a long first inning in which Pineda allowed a couple of runs and was badly missing the target, he returned to the dugout apparently intent on finding a solution to a problem that a lot of pitchers -- OK, probably most pitchers -- have long ago solved. Just about everybody uses something, as some of the Yankees and Red Sox have said in private conversation over the past week, as if they were talking about drivers who go beyond the speed limit. But as Pineda went out to the mound for the second inning, he became the guy who zooms past a state trooper in the left lane at 80 mph.
[+] Enlarge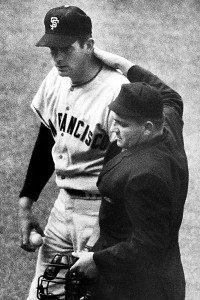 AP Photo/Rusty KennedyGaylord Perry had his neck checked more than once. He's also in the Hall of Fame.
He had a swipe of pine tar on the right side of his neck, and after
Aaron Boone
pointed it out on our broadcast -- immediately, as the inning began -- the phone of Yankees general manager Brian Cashman lit up as he sat in the stands by the visitors dugout, and Cashman got up to go to the clubhouse. Presumably, he was going to initiate the same sort of conversation that was had with Pineda April 10, after he started a game with pine tar apparent on his right hand.
But by the time Cashman got to the clubhouse
To continue reading this article you must be an Insider