December, 20, 2014
Dec 20
10:10
AM ET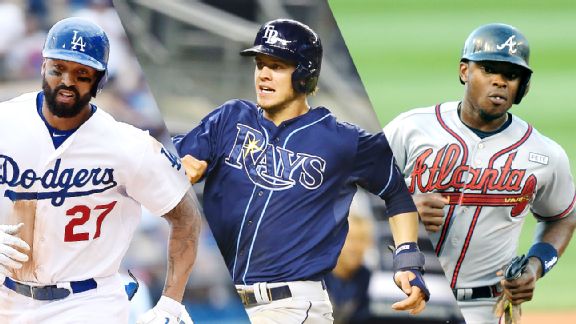 Getty Images
The whole baseball world is talking about the
San Diego Padres
today, in the dead of winter, probably for the first time since
Roberto Alomar
and Joe Carter were traded for
Fred McGriff
and
Tony Fernandez
a quarter-century ago. The Padres' spring training site in Peoria, Ariz., has usually been a place reporters pass on their way to some other more interesting venue, but in a couple of months, San Diego's rounds of batting practice will be must-see, with
Matt Kemp
,
Justin Upton
and
Wil Myers
taking turns to launch baseballs way over the tilted heads of awestruck teammates shagging fly balls.
Before the events of recent days, you would've been more likely to find Bigfoot in the Gaslamp district of San Diego than three of baseball's most explosive power hitters in the Padres' lineup. The team has everybody's attention, and presumably, this will translate into immediate payoff in offseason ticket sales. The Padres can already count a win in the anticipation column.
Which is why it's no fun to acknowledge the cracks in these days of Padres bliss: When quilted together, the pieces San Diego has acquired appear completely ill-fitting, like a resplendent suit that runs beyond the fingertips and over the toes.
Kemp alone, or Upton alone, or Myers alone would represent an offensive upgrade for a team that challenged records for futility last year.