November, 18, 2014
Nov 18
9:29
AM ET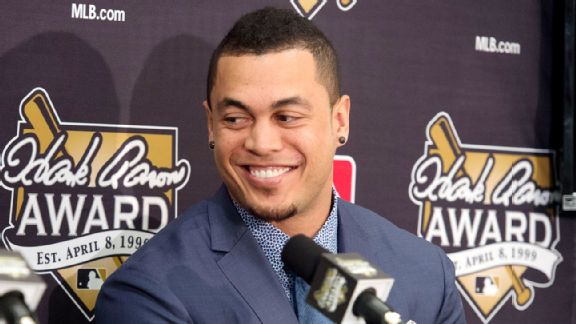 Rob Tringali/MLB Photos via Getty ImagesGiancarlo Stanton is no doubt smiling today after agreeing to a 13-year, $325 million deal with Miami.
In one day, Major League Baseball served as the backdrop to a major trade, the second-biggest contract ever doled out by a team from Canada and the finalization of the largest contract in the history of North American professional sports.
Offseason, indeed.
Because of those deals, dominoes are falling all over the place.
A domino tumbles on … Giancarlo Stanton.
He is well-liked and regarded within the sport as a really good person, which is certainly part of the reason the Marlins decided to invest in him. MLB is lucky to have Stanton,
Andrew McCutchen
,
Clayton Kershaw
and
Mike Trout
as the best of its best.
But while having the largest contract in history guarantees Stanton the accumulated wealth of a small nation, the sheer size of the deal will carry with it additional pressures no person could ever be truly prepared for.
As Darren Rovell tweeted on Monday, Stanton will now make about $68,000 a day for the next 13 years, an income that will separate him from the fans who will pay to see the outsized slugger with the outsized contract for years to come. When he goes through the inevitable slumps that happen to every player, the response will sometimes have a layer of venom he has not experienced before. Because of the contract, there will be an expectation for him to get five hits in every four at-bats, to hit 600-foot homers nightly. Some fans will be like the folks who would go to a Vegas show wanting to hear Sinatra do his best-ever version of "My Way," in a way he had never done it before.
It will be impossible for Stanton to live up to the contract, and the sooner he embraces that reality, the easier it will be for him to function.
To continue reading this article you must be an Insider