July, 24, 2014
Jul 24
8:04
PM ET
TORONTO -- When the
Red Sox
crossed the border into Canada on Sunday night, they were hoping this trip would be a catalyst to playoff contention.
Now, sobered by three straight losses to the
Blue Jays
that buried them deeper in last place in the AL East, the Sox this weekend visit the
Tampa Bay Rays
with an altered agenda. With the trading deadline a week away and little incentive to keep this group intact, this almost surely represents the end of the road for any number of Sox players.
[+] Enlarge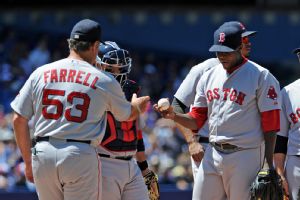 Dan Hamilton/USA TODAY SportsRubby De La Rosa was relieved in the fifth inning Thursday after giving up seven runs in Boston's 8-0 loss in Toronto.
Red Sox manager John Farrell acknowledged as much, even before the Sox fell 8-0 to the Jays on Thursday afternoon.
"I will say this," Farrell said, "I think there will be moves that will go on regardless of our record over the next seven days."
Not surprisingly, with Sox majority owner John W. Henry and CEO Larry Lucchino both coming out in the past 24 hours to reiterate the status quo on
Jon Lester
contract talks -- there will be none until after the season -- there is renewed speculation the Sox might even entertain trading their ace left-hander.
Multiple sources on both sides say that is not where this is headed. The Lester camp says the subject of a possible trade has never been broached with the pitcher, and GM Ben Cherington has made it a priority to keep Lester informed of all developments. The pitcher was even given advance notice by Cherington a couple of days ago, according to a source, that ownership was planning to comment on the current status of negotiations.
"This doesn't change anything," said Lester, who reiterated his preference to re-sign with the Sox.
On the Sox side, one club source termed it "highly unlikely" the Sox would trade Lester, while another club source said he doesn't expect a trade and still maintains some confidence that Lester will be re-signed.

It's not out of the realm of possibility, but trading Lester when he is having arguably the best season of his career -- after a week in which the Sox received subpar starts from
Jake Peavy
,
Clay Buchholz
and
Rubby De La Rosa
against the Blue Jays -- would make for a very tough sell.
Not so for others in the Sox clubhouse. Peavy almost certainly will be dealt, with one source insisting that the
San Francisco Giants
are in the forefront of potential suitors. The
Kansas City Royals
are considering
Jonny Gomes
to satisfy their need for a right-handed outfield bat. Farrell noted Thursday that while
Will Middlebrooks
is making obvious progress in Pawtucket, he won't be back until the Sox make some roster adjustments, which could involve moving shortstop
Stephen Drew
.
Drew is one of two Scott Boras clients who did not get the kind of multiyear offers they were expecting last winter and signed after the season began. The other was
Kendrys Morales
, who, like Drew, signed a one-year deal, with Minnesota, and on Thursday was traded back to the team he played for last season, the
Seattle Mariners
.
"Hasn't crossed my mind, buddy," Drew said about a possible trade. "I've been there before. I don't worry about it. My job is to play and do the best I can."
Other potential trade pieces: Left-handed reliever
Andrew Miller
is highly coveted and is a free agent after the season, but the Sox don't have an obvious replacement for him. To date, they haven't offered him an extension, but that could still be in the offing. Left-handers
Felix Doubront
and
Craig Breslow
are eminently available, as is right-hander
Edward Mujica
. Middlebrooks can't be ruled out as a potential trading piece, either.
The priority now for the Sox, rather than trying to remain in the playoff race, is to identify and acquire players who will help them in the future, which is why teams say they are asking for outfielders, an obvious need, in return.
"This was a tough series," veteran catcher
David Ross
said. "We needed to win more than one game."
[+] Enlarge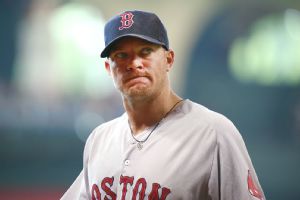 Andrew Richardson/USA TODAY SportsHow much longer will Jake Peavy don a Red Sox uniform?
Ross insisted that the trade deadline has not monopolized clubhouse conversation.
"We have a group of guys who keep our heads down and play," he said. "I don't know what guys are thinking, but we're not talking about it."
Just days ago, the talk headed into the weekend centered on the matchup between the Rays, who have won seven in a row and have the league's best record since being 18 games under .500, and the Sox, who had won eight of nine after mauling the Blue Jays 14-1 on Monday night.
"I know they don't care for us too much," Ross said. "It was competitive last year; I think they thought they were better than us, and they weren't."
There was also the subplot of the bad blood between Rays ace
David Price
and Sox slugger
David Ortiz
, with Ortiz saying he no longer has any respect for Price after the pitcher intentionally drilled him with a fastball back on May 30, while Price said Ortiz sometimes believes he's "bigger than the game."
But in the ninth inning here Thursday, Ortiz had back spasms during his final at-bat and is uncertain of playing Friday night. And Price presumably has bigger issues on his mind; he is highly sought after on the trade market and could be making his final start for the Rays.
July, 24, 2014
Jul 24
3:39
PM ET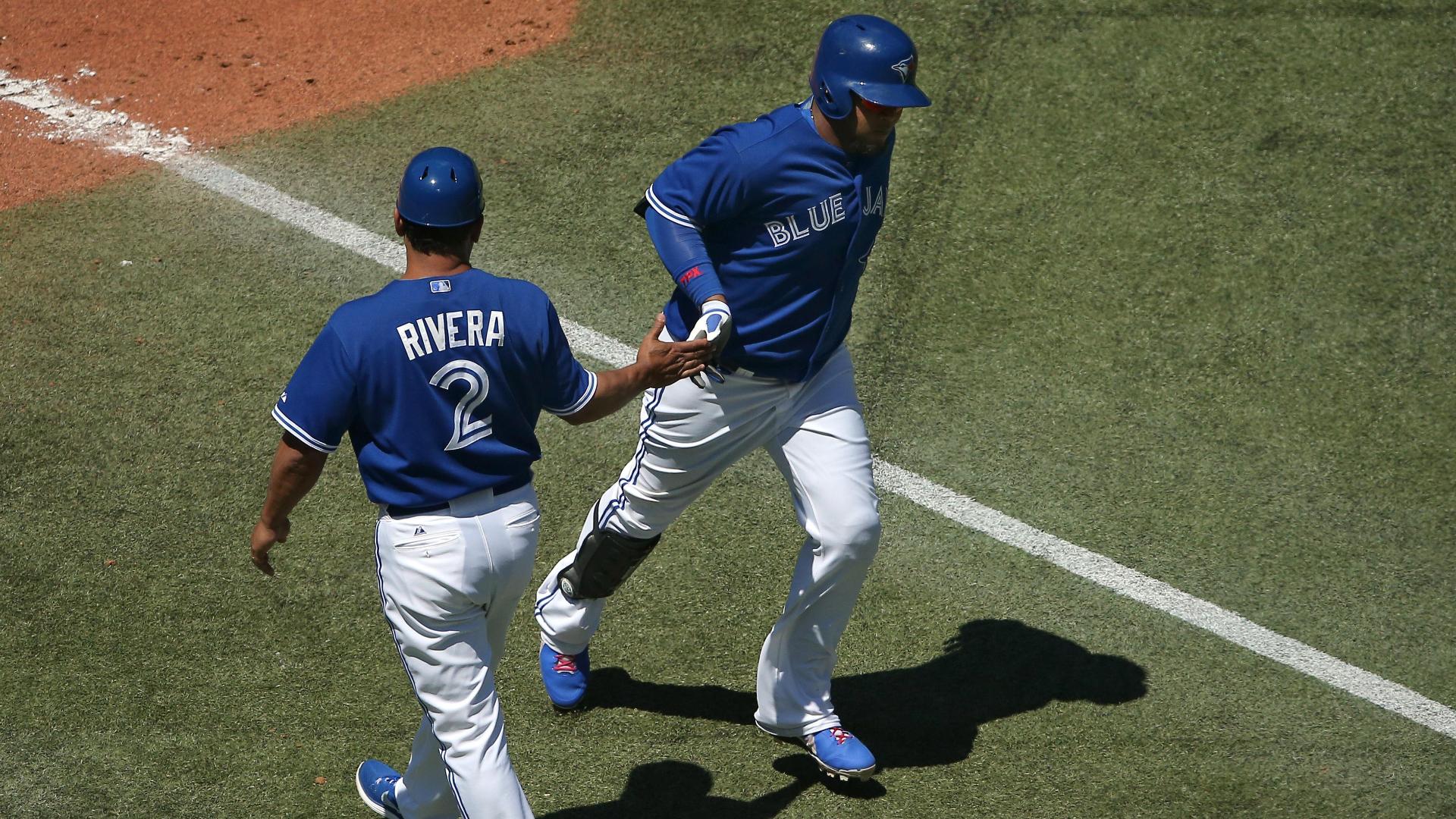 TORONTO -- Yes, they're still in the playoff race, after all.
The
Toronto Blue Jays
, that is.
The Red Sox? Well, this trip was supposed to be a referendum on whether they could improbably play their way back into contention. After their third straight loss to the Blue Jays, this one by an 8-0 count, that answer is starting to come into focus.


The Sox had fanned the comeback talk with five straight wins, the last a 14-1 rout of the Jays here Monday night. Since that game, the Sox have been outscored by the Jays 21-8, cementing their place in the division basement.
The Jays, meanwhile, had been in free fall, going 15-25 since June 6, when they were 14 games over .500 and in command of the AL East. But after losing nine of 11 games, the Jays have now won five of their past six, including three straight for the first time since a six-game winning streak at the start of June.
Thursday afternoon, they routed
Rubby De La Rosa
, who gave up nine hits and seven runs (six earned) and left with the bases loaded and no outs in the fifth.
Scoring runs had been an issue for the Jays, who are missing middle-of-the-order hitters
Edwin Encarnacion
,
Brett Lawrie
and
Adam Lind
. It ceased to be one against the Sox, as
Juan Francisco
singled, tripled and homered, driving in four runs and scoring two, keying Toronto's 14-hit attack.
The Red Sox, meanwhile, managed just one hit, a bloop single by
Shane Victorino
, as another highly regarded Jays rookie, right-hander
Marcus Stroman
, took a no-hitter into the seventh. Stroman pitched seven scoreless innings for the third time in his past four starts.
The Sox had a season-high 18 hits Monday night. The one hit Thursday was a season low.

Ortiz hurt:
With two out in the ninth and a 2-and-0 count at the plate,
David Ortiz
evidently injured himself on a checked swing and was removed from the game. He was replaced by
Jonny Gomes
, who flied out to end it.
Pedroia sits:
Dustin Pedroia
, who had appeared in 98 of the team's first 100 games, sat out for what manager John Farrell called a scheduled day off. Replacing him at second was rookie
Brock Holt
, who became the first Sox player to start games at seven different positions in a season.
July, 24, 2014
Jul 24
1:33
PM ET
TORONTO -- He didn't want his name to be used, because he likes to send ideas to the Red Sox and didn't want to risk being cut off. But a man who describes himself as a passionate fan of the club shared a recent e-mail he sent to the Sox front office, making a case for re-signing Jon Lester. He shared it with ESPN Boston; because it's so well-stated, we're sharing it with you.
Some input on Lester (and I know that none of it will be particularly novel, but you've often encouraged me to keep the inputs coming):

I know it's not my money and that Lester has to be viewed in the larger context -- creating an overall salary structure, the kids on the way up, the risk that he declines over time, etc.

But... even with all that, here's one vote in favor of going well above and beyond the comfort zone, if necessary.

Why:

1. He's a legit ace and there are so few of them in baseball.

2. He's a postseason warrior and we know that guys like that -- who raise their games in October -- are rare. He's done it enough for us to safely conclude that it's real in his case, like it was with Schilling.

3. He likely has the admiration and respect of all, or nearly all, of his teammates.

4. As a fan, I understood losing Ellsbury. The Yankees' offer was stupid money and Jacoby is a nice player, a very good player, who put up ONE sensational season. And nothing more, at least thus far. From what I have heard, he was not a popular guy on the team and was one of the few outsiders on last year's tight club. As a fan, letting Salty go made sense. As a fan, I could see both sides of the Drew situation.

Losing Jon Lester would be different. It would truly hurt. It would be a painful reminder of why it's not good to invest overly in anything but the laundry. That might be the harsh reality, but sports are romantic and we fall in love with some of the players. Lester is one of them.

5. As a fan, losing Jon to the Yankees would be intolerable. Enough of that. Especially as a fan living down here, it just cannot be tolerated. The Boston Red Sox should not be a feeder club to the Yankees. Leave that for the Royals and A's and other small-market teams.

6. Other money will be coming off the books; I think, and please excuse my boldness, that suffering one possible large overpay will not break the bank or make it impossible to put forth a roster than can compete for the title.
July, 24, 2014
Jul 24
1:13
PM ET
TORONTO --
Dustin Pedroia
was not in the Red Sox lineup on Thursday, and manager John Farrell said it was a scheduled day off.
Pedroia broke an 0-for-17 skid with a first-inning single Wednesday night, but is batting just .083 (2 for 24) since the All-Star break.
Brock Holt
, who sat Wednesday, is playing second base, which will make him the first Sox player ever to start games at seven different positions (all except pitcher and catcher).
July, 24, 2014
Jul 24
12:01
PM ET
TORONTO -- It's curious that after weeks of silence on the topic, Red Sox majority owner John W. Henry finally weighed in on the
Jon Lester
contract situation, emailing the Boston Herald to say that the sides have agreed to "put off" further negotiations until after the season. But it's a stretch to say that Henry's comments are a sign that Lester is a goner or that the Sox will not ultimately make an offer more in line with the current market for a top-of-the-line pitcher.
What it means is that informal conversations in recent weeks between the sides have not led to a resumption of negotiations, which already were "tabled" after spring training. CEO Larry Lucchino had said before the All-Star break that the club intended to approach Lester, but it hasn't proceeded to the stage of making another offer. There is still time to do so, and sources on both sides still maintain that both the club and Lester want the pitcher to remain with Boston.
Clearly, the closer Lester comes to becoming a free agent, the chances that he will test the open market increase, but there still is a window for the Sox to conduct substantive negotiations before the start of the free-agency period.
Assuming that he is not signed before then, Lester will become a free agent at 9 a.m. on the day after the last game of the World Series. A "quiet period" follows, in which the Sox hold exclusive negotiating rights, but other teams can discuss their interest in him.
During the "quiet period," the Sox can make Lester a one-year qualifying offer, equal to the average salary of the highest-paid 125 players in the game. Last year that figure was more than $14 million. Lester would then have seven days to accept or decline the offer; if he declines it, the Sox would receive a first-round sandwich pick as compensation, while the club signing him would sacrifice a first-round pick.
July, 24, 2014
Jul 24
10:32
AM ET
BOSTON -- The rivalry between the
Boston Red Sox
and the
New York Yankees
is considered one of the greatest in all of sports.
It's built on incredible moments, amazing comebacks, plenty of bench-clearing brawls, and memorable triumphs and heartbreak. Both sides have experienced it all. This rivalry was at its peak during the 2003 and 2004 seasons.
During Game 3 of the 2003 ALCS, Red Sox pitcher
Pedro Martinez
hit the Yankees'
Karim Garcia
in the top of the fourth inning at Fenway Park. The benches cleared, but order was quickly restored. In the bottom of the inning, Yankees pitcher
Roger Clemens
delivered a pitch high and inside on Red Sox hitter
Manny Ramirez
.
The benches and bullpens emptied again, only this time punches were thrown. The melee escalated when Martinez grabbed Yankees coach Don Zimmer by the head and tossed him to the ground.
The Yankees eventually won that series on
Aaron Boone
's walk-off home run in the bottom of the 11th inning of Game 7 at Yankee Stadium.
In 2004, another epic chapter was written in the history books. On July 24 at Fenway Park, Red Sox pitcher
Bronson Arroyo
drilled Yankees cleanup hitter
Alex Rodriguez
with a pitch in the top of the third inning. Rodriguez had words with Arroyo, before Red Sox captain and veteran catcher
Jason Varitek
stepped in and shoved his mitt into A-Rod's face, inciting another bench-clearing brawl.
"I knew it would never get any better than that," Arroyo said in a recent phone interview. "I was 27-years-old and I was seasoned enough in the big leagues where I didn't feel totally uncomfortable, but I was still young in my career. I knew it was never going to be any better than playing against those guys 19 times a year. It felt like a playoff game every time.
"Things like that dramatize it even more and that was one year removed from the whole Don Zimmer and Pedro Martinez fight, so it was like a heavyweight boxing match all the time, the electricity of a Mike Tyson fight all the time, because you never knew what was going to happen. It was definitely fun to be just in the place, much less in uniform. It was just high drama all the time."
In October of that season, the Yankees held a 3-0 series lead on the Red Sox in the ALCS, but Boston mounted a historic comeback to win in seven games, before sweeping the
St. Louis Cardinals
for the Red Sox's first World Series title in 86 years.
There's been plenty more to add to this rivalry since the '04 season, but the fisticuffs subsided.
In August 2013, Rodriguez was able to play after he appealed a suspension for his involvement in the Biogenesis scandal. This did not sit well with many players in the majors, including most everyone on Boston's pitching staff. So, on Rodriguez's first trip to Fenway Park after his appeal, Red Sox pitcher
Ryan Dempster
drilled Rodriguez with a fastball.
The benches and bullpens emptied, but no punches were thrown.
This season, with Rodriguez serving a season-long suspension, the rivalry seems a bit different. Red Sox veteran DH
David Ortiz
believes he knows why.
"People right now still question a lot if the rivalry's still going on just because they're not seeing [fights]," he said. "What people need to understand is that right now there are so many rules and so many suspensions that in case something happens with a guy like myself, and I decide to charge a pitcher, I already know I'm going to miss five games at least, and if I miss five games out of that lineup it's going to hurt us.
"Everybody's trying to stay away from that. MLB is trying to keep everybody away from that. MLB has been doing an unbelievable job when it comes down to sending the right message to the fans and there's so many big suspensions because of that. Plus, another thing I believe, you know how pitchers back then used to get mad and angry when you take them deep, and next thing you know they were hitting somebody on purpose, but that's not part of the game anymore, because you know the minute [MLB] finds out that you hit somebody on purpose you're going to have to pay a fine and be suspended, too. So, there's a lot of different things going on right now compared to what the game was 10 or 11 years ago, and that has confused the fans when it comes down to the rival thing. I believe the fans need to pay attention to that a little more."
July, 24, 2014
Jul 24
12:31
AM ET
TORONTO -- The Blue Jays, of course, won. The Rays won their seventh straight. The Yankees won a rain-shortened affair. And although the division-leading Orioles lost in Anaheim, the Red Sox were assured of being in last place when they go to Tropicana Field Friday for this weekend's series against the Rays.
They fell back to seven games under .500 (47-54) with 61 to go, seven of those games coming before the July 31 trading deadline. The Sox had hoped this 13-game stretch against division rivals would give some closure to the back-and-forth of whether they can still contend this season or should retool for 2015 and beyond.
Jake Peavy
remains the most likely trading piece. Scouts from the Pirates, Brewers, Giants and Royals all were in attendance for Peavy's start Tuesday night. The Cardinals, who had scouted him earlier, were not, but one major-league source insisted they retain some interest.
The White Sox have a scout here too, Chicago perhaps looking to interest the Red Sox in outfielder
Dayan Viciedo
. The Royals, in the market for a right-handed bat, also have been linked to
Jonny Gomes
. Teams in the market for relief are hoping that the Sox might move
Andrew Miller
, who is three months away from free agency.
Felix Doubront
is available. Questions remain whether the Sox would move
Stephen Drew
, call up
Will Middlebrooks
, who homered again Wednesday night for Pawtucket, and move
Xander Bogaerts
back to short.
These are all situations awaiting some resolution. The trade market has begun to accelerate; if there is to be deal-making by the Sox, it should be coming soon.
July, 24, 2014
Jul 24
9:54
AM ET
ESPNBoston.com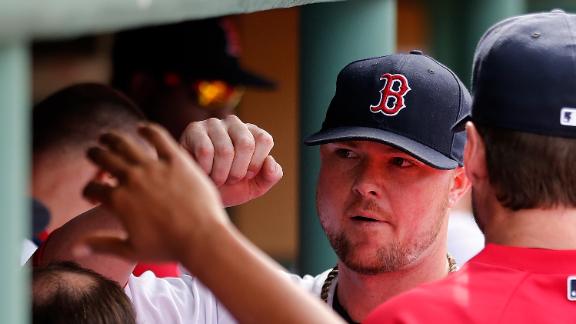 Boston Red Sox president Larry Lucchino confirmed Thursday morning that the team and ace Jon Lester have agreed to table contract negotiations until after the season.
"It's done in part out of respect for Jon Lester and his desire to postpone this until after the season," Lucchino said in an interview with Boston sports radio station WEEI. "He's on an extraordinary roll. His last five or six games, his ERA is I don't know, 0.90 or something like that.
"He's leading this team, leading the rotation, and his very strong preference ... was not to have his family and himself distracted and focused on something other than pitching and winning baseball games."
Red Sox owner John Henry made a similar proclamation Wednesday night in an email to the Boston Herald.
"I'm not going to discuss Jon's situation out of respect for both Jon and [general manager] Ben [Cherington] other than to say that both sides have put further discussion off until after the season," Henry wrote. "It's clear that both Jon and our organization would like to see Jon back next year if possible."
Lester said Thursday that the postponement of the contract talks won't impact his desire to stay with the Red Sox -- even for a relative discount.
"This doesn't change anything," Lester said. "We've said this right along.''
The Red Sox and Lester had negotiated during spring training, and the two sides spoke on at least a few occasions during the season. But apparently there will be no deal struck between now and the end of the regular season. If the sides do not come to terms before November, Lester will become one of the most coveted free agents in baseball.
Just before the All-Star break, a major league source told ESPNBoston.com that the Red Sox were having "conversations" that could lead to another offer for Lester, but it is unclear whether they took a serious run at him.
The club's offer to Lester in spring training was in the neighborhood of four years and $70 million, far lower than what he could command on the open market and apparently below what Lester was looking for even when factoring in his willingness to take a discount to stay in Boston, a desire he said in January.
All along, Lester has added a caveat to his preference that the Red Sox not reopen talks until after the season. He said it last month in New York after he outdueled Yankees ace Masahiro Tanaka
July, 24, 2014
Jul 24
12:09
AM ET
TORONTO -- There was something noticeably different about John Farrell's lineup card Wednesday night.
Brock Holt
was nowhere to be found. Not in left field, right field or center field. Not at first base, second base, short or third. And not batting leadoff, something Holt had done in each of the team's previous 54 games, a span in which he'd delivered more hits (77) than any player in the game.
The rookie who is the only player in the big leagues this season to have appeared at every position but pitcher and catcher was on the bench, manager John Farrell having decided after Holt failed to hit the ball out of the infield four times Tuesday night that he could use a night off. Especially with a day game following on Thursday.
"He's played every inning since sometime back in May (May 23 to be exact)," Farrell said. "The last couple of days, you're starting to see it a little bit in his play. He's deserving of a day off."
Holt will be back in the lineup Thursday, Farrell said.
Shane Victorino
batted leadoff and singled and scored ahead of David Ortiz's home run in the first, then was retired on his last four at-bats in Boston's 6-4 loss.
July, 23, 2014
Jul 23
11:56
PM ET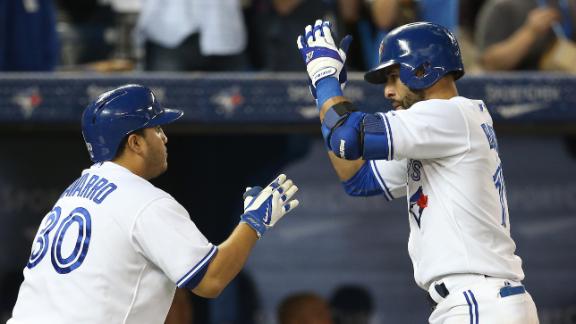 TORONTO -- There was a dazed aspect to
Clay Buchholz
's pitching Wednesday night, and that was even before he took a comebacker from
Munenori Kawasaki
off the side of his head.
The
Boston Red Sox
barely had time to savor the 3-0 lead
David Ortiz
gave them with his fourth home run in three nights before Buchholz gave it all back in the bottom of the first, foreshadowing what would become a 6-4 Sox defeat to the
Toronto Blue Jays
.
"I'll take the blame for this one, for sure," Buchholz said.
[+] Enlarge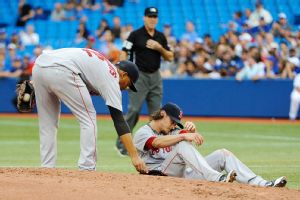 Peter Llewellyn/USA TODAY SportsXander Bogaerts checks on Clay Buchholz, who was hit near the temple with a comebacker in Toronto's three-run first inning.
With a chance to put the Sox back in a winning mode, Buchholz instead went
Jose Reyes
single,
Melky Cabrera
four-pitch walk and
Jose Bautista
RBI double to the first three Toronto batters. The Sox cut down one run at the plate on a fielder's choice, but Bautista beat Mike Napoli's throw to the plate for a second run and Kawasaki kept the inning alive with his base hit off Buchholz's noggin,
Josh Thole
followed with a ground-rule double, and the game was tied.
"I was lucky to get out of it without giving up more than I did," Buchholz said.
He also was fortunate to escape injury on the comebacker that missed his glove.
"Funny," he said. "As a pitcher, when the ball is hit at you. it looks like it's coming back a thousand miles an hour or really slow. I felt like I got my glove up, but I was sort of falling away and it went over my glove."
The ball struck him in the temple, said Buchholz, who expressed relief it did not hit him in the face.
"I was dazed, for sure," said the right-hander, who was attended to by manager John Farrell and a trainer but remained in the game after throwing a couple of practice tosses. "Any time you're hit by the ball, it's going to take a second."
Farrell said he was satisfied that Buchholz could remain in the game.
"We checked him between innings," he said. "There were no lingering effects. For someone wondering about a concussion, he checked out with all field tests and was able to continue on."
But the night was anything but easy for Buchholz. Twice he hit the No. 9 batter in the Jays' order,
Anthony Gose
, with a pitch to lead off an inning. Buchholzwalked four, after walking just one over his previous five starts. And with the Sox leading 4-3 in the sixth, he left a changeup over the plate to
Ryan Goins
, who tripled into the gap to tie the score at 4-4 and scored the go-ahead run on a throwing error by
Xander Bogaerts
.
July, 23, 2014
Jul 23
11:26
PM ET
TORONTO -- Before anyone offers
Xander Bogaerts
' tie-breaking error Wednesday night as further proof that the Red Sox should have never moved him to third base, remember that he made game-deciding errors at shortstop too, like the throwing error he made on a cold night in Chicago in April that resulted in a walk-off White Sox win.
But it's fair to say that the 21-year-old rookie, asked to transition to third two months into the season, has had his fair share of head-hanging moments, which was his reaction Wednesday night when he bounced a throw to first baseman
Mike Napoli
on what should have been an easy inning-ending play on Jose Reyes's ground ball in the sixth.
[+] Enlarge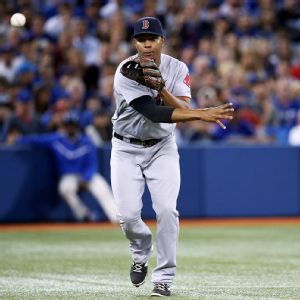 Tom Szczerbowski/Getty ImagesXander Bogaerts' throwing error in the sixth, which allowed the go-ahead run to score, overshadowed what was otherwise a good night for the rookie.
Instead, it allowed
Ryan Goins
, who had tripled in the tying run, to score the go-ahead run in what would become a 6-4 Blue Jays win, Boston's second straight loss after a five-game winning streak.
"Reyes was probably still two full body lengths away from the bag,'' manager John Farrell said. "It was that in-between play. The spin off the bat takes the ball to his backhand side, he fielded the ball in good shape, but it seemed like he didn't get his feet set to deliver a fine throw.''
With the Red Sox facing a 12:30 start Thursday, Bogaerts did not linger in the clubhouse after the game, though it's likely he probably didn't mind skipping an opportunity to discuss his misplay.
The error spoiled what might have otherwise been a good night for him: two hits, including a two-out RBI double in the fourth (his first double since June 6) that tied the score at 4, and a nice barehanded pickup and throw on Munenori Kawasaki's sacrifice in the third.
Bogaerts has shown the ability to make reaction plays at third -- he charges the ball well and brings good hands to the position -- but he also has made nine errors in 38 starts at third, five of which have come on throws. In defensive WAR, which represents how many more games a team would win with him at the position rather than an average minor-league replacement, Bogaerts began the night with a minus 1.2.
The advanced defensive metrics weren't kind to him at short either, assessing him a minus 1.2 at that position, but we're talking a relatively small sample size at both short and third.
"Recognizing the number of errors, I can't say there's exactly one reason that links them all together,'' Farrell said. "It's not for [a lack of] effort or intensity in making a play.''
The Red Sox are not worried that Bogaerts will give them at least average defense at whatever position he ultimately winds up at; his value primarily resides in his bat. And with five hits in 13 at-bats in the first three games of this series, they're hopeful he's emerging from what has been a horrific 36-game slump (18-for-136, .132 average entering play Wednesday).
July, 23, 2014
Jul 23
9:50
PM ET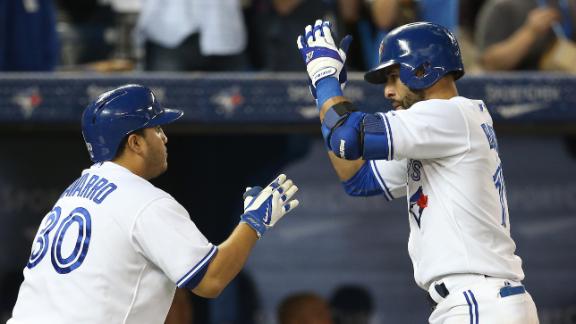 TORONTO -- The one-hop grounder that
Clay Buchholz
took off the side of his face in the first inning Wednesday night was more painful. But a second straight loss here to the
Toronto Blue Jays
may have left the more lasting bruise.
The Red Sox, who can ill afford such reversals during this 13-game stretch against division rivals, took a little more air out of the "They Can Climb Back Into This" movement, losing, 6-4, to the Blue Jays.


Staked to a 3-0 lead by David Ortiz's fourth home run in three nights, this one off knuckleballer R.A. Dickey, Buchholz gave it right back in the bottom of the first, an inning in which he gave up four hits, a four-pitch walk and was dazed by Munenori Kawasaki's comebacker that glanced off his glove and slammed into his cheek.
The Sox regained the lead on two-out doubles by
Daniel Nava
and
Xander Bogaerts
in the fifth, but an inning later the Jays were ahead to stay. Buchholz issued a one-out walk to
Josh Thole
,
Ryan Goins
hit a Buchholz changeup for a triple into the gap, and third baseman Bogaerts threw away a routine ground ball by
Jose Reyes
for the go-ahead run.
Jose Bautista
hit Andrew Miller's first pitch for a home run in the seventh to make it 6-4, and the last 13 Sox batters were set down in order, six by
Aaron Sanchez
, the Jays' top prospect whose 98 m.p.h. fastball provided a jarring contrast to Dickey's floaters.
The Sox, who had pummeled the Jays, 14-1, in the series opener, remain in last place in the AL East, with the series finale Thursday afternoon.
Buchholz was an inefficient mess for most of the night, allowing six hits, walking four and hitting two batters in six innings.
Papi's pace:
Ortiz, 38, is on pace to hit 38 home runs this season, which would be his most since hitting a club-record 54 in 2006. Only six players in major league history have hit 38 or more home runs in a season at 38 years or older: Barry Bonds (twice), Darrell Evans, Hank Aaron, Frank Thomas, Rafael Palmeiro and Ted Williams. Aaron, Thomas and Williams are Hall of Famers (Thomas's induction comes Sunday). Bonds and Palmeiro have been discredited by their links to performance-enhancing drugs.
July, 23, 2014
Jul 23
11:10
PM ET
[+] Enlarge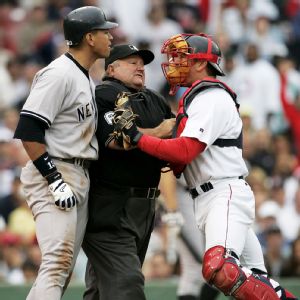 Jim Rogash/Getty ImagesFor all the hoopla generated by the 2004 incident involving Alex Rodriguez and Jason Varitek, the principals remain reluctant to discuss it.
BOSTON -- The image of Red Sox catcher Jason Varitek shoving his mitt into the face of Alex Rodriguez has become an iconic symbol of the storied rivalry between Boston and the New York Yankees.
The picture hangs in sports bars, restaurants and man caves all over New England. It is sold in memorabilia stores -- even though both players refuse to add their autographs to the print -- and it represents to Red Sox Nation all that went right that season.
It's been 10 years since those two players ignited a bench-clearing brawl on July 24, 2004 at Fenway Park. The Red Sox, who had fallen to the Yankees in a heart-wrenching seven-game ALCS the year before, were trailing 3-0 with two outs in the top of the third inning when pitcher Bronson Arroyo drilled Rodriguez on his heavily padded left elbow with an inside fastball.
As Rodriguez slowly started toward first base, he stared down Boston's pitcher and had words for Arroyo.