March, 28, 2015
Mar 28
6:36
PM ET
PORT CHARLOTTE, Fla. -- Takeaways from the Port, where former No. 1 prospect Matt Barnes continues to make a bid to break camp with the Red Sox as a reliever, after serving exclusively as a starter in three seasons since he was drafted out of the University of Connecticut.
[+] Enlarge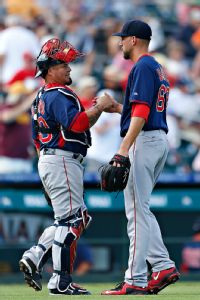 Joel Auerbach/Getty ImagesMatt Barnes has shined this spring by commanding his mid-to-upper 90s fastball.
On Saturday against the Rays, Barnes entered in relief of knuckleballer Steven Wright with six unearned runs in and two on and two out in the fourth and induced Asdrubal Cabrera to ground into an inning-ending force play. He then worked two more scoreless innings, allowing just a hit and no walks while striking out four.
He has been used exclusively as a reliever in "A" games this spring, making seven appearances out of the bullpen, and has touched 96 and 97 mph with his velocity. With 16 strikeouts and no home runs allowed in 12 innings, he is giving the Sox an inviting option to add another power arm to the pen.
"I feel happy with how I've thrown the ball,'' Barnes said.
The bullpen is in something of a state of flux because of the uncertain status of closer Koji Uehara, who has been sidelined since March 14 with a strained left hamstring. Uehara, who has made just three appearances this spring, threw a bullpen side session Saturday, and may throw another on Monday if he checks out OK Sunday, John Farrell said. The Sox manager insists there is still a possibility Uehara could open the season on time.
"Even if Koji were able to get in a couple of games, we'd remain open-minded,'' Farrell said. "We're talking about a one-inning reliever, a veteran guy who has been able to keep his arm in shape. This is still day to day.''
Joe Kelly, who is scheduled to be the team's No. 5 starter, came out of his minor league start Friday fine and would be scheduled to go again Wednesday. How does Kelly impact the bullpen? The Sox may place Kelly on the DL to start the season, since they won't need a No. 5 starter until April 15, at home against Washington. If they do so, Farrell said the club might open the season with an extra reliever.
To date, the locks for the bullpen are Uehara, once he is healthy, Edward Mujica, Alexi Ogando, Junichi Tazawa, and Anthony Varvaro. Still to be determined is whether the Sox will keep one or two lefties, with newcomer Robbie Ross, recovering from a minor knee problem earlier in camp, making a late push to challenge Craig Breslow and Tommy Layne. Right-hander Brandon Workman, who has had a tough spring but struck out the side Saturday, is in the mix, as is Barnes.
Because of the health issues involving Uehara and Kelly, those decisions may not come until the end of camp, Farrell said.
Other takeaways Saturday: Shane Victorino played right field, led off the game with a nine-pitch walk, came around to score and later singled in a run in what Farrell hopes will be the first of three straight starts in the outfield. Victorino has not yet started back-to-back games in the outfield.
Knuckleballer Steven Wright gave up four singles and a walk after Xander Bogaerts' two-out error in the fourth, leading to five unearned runs for the Rays. Up to that point, with the exception of two first-inning walks, Wright was breezing along, and Farrell mentioned again how much he likes the contrast in styles a knuckleballer can offer. Wright figures to open the season in Pawtucket's rotation and in line for a quick callup.
Rick Porcello started for High-A Salem in a minor league game and threw 96 pitches, 71 for strikes. He faced 32 batters while recording 25 outs and allowed a run on five hits. Porcello will likely ramp down in his final spring tuneup in advance of starting the season's second game in Philadelphia on April 8.
Humberto Quintero, who appears likely to start the season backing up Ryan Hanigan at catcher, caught Porcello and went 0-for-6 at the plate.
Pablo Sandoval had 11 plate appearances in two minor league games, playing for Salem and Greenville, and had three hits, the hits all coming while batting left-handed.
Left-hander Eduardo Rodriguez walked three straight batters on 12 consecutive balls in the ninth, but gave up just one run while striking out two.
Mike Napoli hit an opposite-field, wind-aided home run, his third of the spring, and Hanley Ramirez lined a two-run base hit.
March, 28, 2015
Mar 28
6:26
PM ET
PORT CHARLOTTE, Fla. — Ryan Hanigan, a native of Andover, Massachusetts, was traded twice on one day last December to wind up with his hometown team. Now, a week before the Boston Red Sox break camp, the 34-year-old catcher who has never caught more than 100 games in a season in an eight-year big-league career is about to become the team's No. 1 catcher because of an elbow injury to the highly regarded Christian Vazquez.
The Red Sox have not announced the extent of Vazquez's injury, other than to say he would be seeking a second opinion after results of an MRI administered Friday showed some degree of structural damage. But it was clear from Hanigan's comments following Boston's 9-6 victory over the Tampa Bay Rays on Saturday that the injury is more than a short-term concern and points to possible surgery.
"I don't know what's going to happen," Hanigan said. "He's a good kid. He worked hard. It's just too bad. Things happen. He'll be back. Just have to put in the work to get himself back.
[+] Enlarge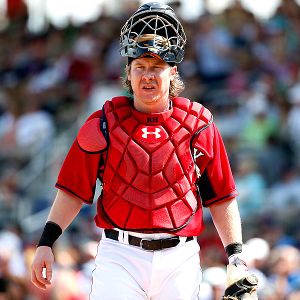 AP Photo/Tony GutierrezRyan Hanigan will likely be Boston's Opening Day catcher.
"The positive thing is whatever happens, he hopefully won't have to deal with it the rest of his career. Take care of it now. I don't know the details. I was looking forward to working with him this year. Just too bad."
Hanigan termed it a "shock" to learn that the elbow issue that surfaced after Vazquez threw out a Yankees minor-leaguer, Tyler Wade, attempting to steal a base in a May 13 game at JetBlue Park has become the most serious health issue to face the Sox this spring. The Sox arranged for Vazquez to undergo an MRI on Friday, manager John Farrell said, after Vazquez, who said he was making progress in his throwing program, appeared to have "plateaued" in his recovery from the injury.
Hanigan was Tampa Bay's Opening Day catcher last season and started 31 of the team's first 52 games. But he went on the disabled list with a strained hamstring — the team went 1-12 in his absence — then made a second trip to the DL in July with a strained left oblique that cost him six weeks. The previous year, with Cincinnati, he played just 75 games because of two other DL stints, one because of an oblique strain, the other because of a sprained left wrist.
Last Dec. 19, Tampa Bay dealt him to the San Diego Padres, who hours later flipped him to the Red Sox for third baseman Will Middlebrooks. While Farrell at the time of the deal declared Vazquez as the team's primary catcher, Hanigan said he was preparing as if he would be the team's everyday catcher. Now, because of Vazquez's injury, that is the likely scenario, with veteran backup Humberto Quintero behind him. Farrell mentioned Blake Swihart, the No. 1 prospect in the organization, as another possibility, but indications are that the Sox will want Swihart to gain more experience in Triple-A, though a call-up at some point during the season appears inevitable.
"I always trained to come in to be the starting guy," Hanigan said. "That's what I always wanted, to tell you the truth. I trained that way in the offseason, worked hard to be ready whenever my name was called."
Hanigan said he believes he has become sufficiently acquainted with the team's pitching staff, no easy task given that he is a newcomer and four of the five pitchers in the starting rotation have been added since July 31.
"I know where all these guys are at; I know their checkpoints," he said. "I think I can benefit from the next week-and-a-half to work on sequencing of pitches … but I know what their ball does, I know how they want to pitch. I've been able to talk to them, give my two cents. They've been very receptive. There's been good feedback. I'm excited."
Hanigan said he had some throwing issues with his elbow early in his playing career but was able to correct them without resorting to surgery.
"I changed the way I threw and followed a strength program to take the pressure off my elbow," he said. "They helped me to learn to throw to take as much pressure off my elbow as I could. I changed things to make sure I wasn't cranking on the elbow.
"Fortunately for me, to tell you the truth, my arm is stronger and hurting less. I went the last three, four seasons where I could throw as hard as I want every day. I think I got my mechanics down, my program down to where it works."
In Vazquez, the Sox are losing a catcher who was favorably compared to St. Louis Cardinals' All-Star Yadier Molina, not only for his formidable arm strength but his overall defensive skills behind the plate — pitch framing, blocking pitches, game calling. "I call him mini-Yadi," said pitcher Joe Kelly, who was Molina's teammate before being traded to the Red Sox.
After his call-up on July 9, Vazquez became the team's regular catcher, replacing A.J. Pierzynski (released), playing in 55 games (50 starts) and throwing out 51.7 percent of the runners attempting to steal on him, 15 of 29. That's the best rate in Sox history for any catcher playing 50 games or more.
Hanigan, like another Sox backup catcher of recent vintage, David Ross, comes with a solid defensive reputation. He has a career caught-stealing rate of 38 percent (115 of 303), although that number fell to 21 percent last season (8 of 38). The Rays signed him to a three-year, $10.75 million deal before the 2014 season, believing he would handle the majority of their catching duties. But injuries, and his second off-year at the plate (.198 with the Reds in 2013, .218 last season with the Rays) made him expendable.
Hanigan, who had a hit in three at-bats Saturday, is batting .263 this spring.
"I'm getting there," said Hanigan, who added he hoped to get at least another 15-or-so at-bats before the end of camp.
March, 28, 2015
Mar 28
2:34
PM ET
PORT CHARLOTTE, Fla. -- Entering play Saturday, first baseman-outfielder Allen Craig had the most spring training at-bats of any player on the Red Sox, 40.
[+] Enlarge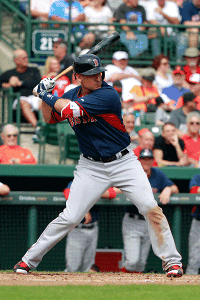 Kim Klement/USA TODAY SportsHeading into Saturday, Allen Craig was batting a respectable .275 this spring with one home run.
That's no accident. The Red Sox insist Craig's workload is related to their desire to give him as much playing time as possible after last season's disappointing performance that followed his 2013 foot injury. Talent evaluators following the Sox, however, maintain that the added exposure is tied to the team's desire to trade him to alleviate their crowded outfield situation. And with a week left before the team breaks camp, there was talk here that the Sox were close to trading Craig, though that could not be confirmed Saturday afternoon.
Craig, acquired from St. Louis along with pitcher Joe Kelly in the John Lackey trade, is under contract with the Sox for a guaranteed $25.5 million through the next three seasons. The team holds a $13 million option for 2018, with a $1 million buyout. Craig batted .300 or better three straight seasons for St. Louis and hit .375 against the Red Sox in the 2013 World Series despite a foot injury that caused him to miss the last 22 games of the regular season and the first two rounds of the playoffs.
But Craig struggled last season, batting just .237 for the Cardinals and only .128 in 29 games for the Sox after the trade. He refused to blame his injury, but his mechanics were clearly impacted at the plate.
So far this spring, Craig has posted a .275/.348/.400/.748 slash line, with 11 hits, including two doubles and a home run.
"He's not a project," Sox hitting coach Chili Davis said this spring. "He's a proven hitter, and he's piecing it together again. I've had sessions that were beautiful in the cage, and he's starting to feel like himself again. He just needs to get at-bats.
"He was hurt last year. He was in a different environment last year; he was traded in the middle of the year. Not to make excuses, because he doesn't make excuses, that's why he stayed in the lineup. He's that kind of person.
"He knows what he can do. He's a quiet, confident person. Actually, I'm real happy he's here. He's a veteran hitter, he's an RBI guy and he's proven himself and knows what he's got to do. I'm just here to try to help him along and I know he's going to get there. He's going to get there and I'm truly hoping he's here when he gets there, because he's going to do some damage and help us win some ballgames."
But as the Sox roster is currently aligned, it's hard to see where Craig would get playing time. Manager John Farrell and GM Ben Cherington already have to figure out how to make room for Hanley Ramirez, Mookie Betts, Rusney Castillo and Shane Victorino into the same outfield, and switch-hitter Daniel Nava gives the Sox depth in the outfield and at first base. Brock Holt is another outfield option, and Jackie Bradley Jr. and Bryce Brentz represent organizational depth. Bradley began the day batting .389, behind only Betts (.487) and Atlanta's Freddie Freeman (.390) in the Grapefruit League.
Which is why the speculation is growing louder that Craig will be dealt before the end of camp. At this point, it remains a rumor, but there is no question that clubs have had at least preliminary discussions with the Sox about the 30-year-old Craig.
March, 28, 2015
Mar 28
1:19
PM ET
PORT CHARLOTTE, Fla. — Here are the lineups for Saturday's exhibition here between the Boston Red Sox and Tampa Bay Rays.
Red Sox
Shane Victorino, RF
Brock Holt, 3B
David Ortiz, DH
Hanley Ramirez, LF
Mike Napoli, 1B
Rusney Castillo, CF
Xander Bogaerts, SS
Ryan Hanigan, C
Jemile Weeks, 2B
Steven Wright, RHP
Rays
John Jaso, DH
Steve Souza, RF
Asdrubal Cabrera, SS
Evan Longoria, 3B
James Loney, 1B
Desmond Jennings, LF
Brandon Guyer, CF
Logan Forsythe, 2B
Curt Casali, C
Nathan Karns, RHP
Plans for Victorino and Ortiz: Red Sox manager John Farrell said the plan is for Victorino, who has not played in back-to-back games in the field this spring, to play in three straight starting Saturday. With day games Saturday and Sunday and a night game Monday, he hopes to have David Ortiz hit in three straight games as well.
March, 28, 2015
Mar 28
12:44
PM ET
[+] Enlarge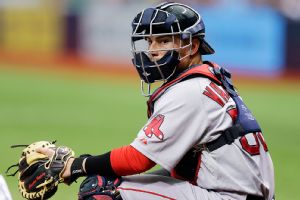 AP Images/Chris O'MearaChristian Vazquez is unlikely to play in the Red Sox's opener, manager John Farrell said.
PORT CHARLOTTE, Fla. -- The results of the MRI administered on Christian Vazquez's throwing elbow Friday raised sufficient concerns for the Boston Red Sox catcher to seek a second opinion, manager John Farrell said Saturday morning.
Farrell was vague about the MRI's findings, but said he met with Vazquez on Saturday to discuss the results, and a decision to seek a second opinion was made.
Farrell was asked if the MRI showed ligament damage, which would raise the possibility of surgery.
"I was not told specifically what's going on there," he said. "If, in fact, it involves [the ligament] to what extent, if it is involved, we just know there have been some findings in the MRI. I think before we get too far ahead of ourselves, a second opinion will be had and information compared, but clearly the MRI suggests that there's more information that's going to be had."
March, 27, 2015
Mar 27
6:33
PM ET
FORT MYERS, Fla. — Boston Red Sox manager John Farrell prefers to take a head count of healthy bodies before he announces his choice of starting pitcher for Opening Day. That's why there has been no official acknowledgment that Clay Buchholz will draw that assignment April 6 in Philadelphia, even though Farrell set up his rotation at the start of spring training with Buchholz in mind and has not deviated from that schedule.
Buchholz was still standing at the end of his latest spring exercise, Friday's 4-2 loss to the Atlanta Braves in Kissimmee that came to a premature end in the seventh inning because of heavy rain. So, assuming Buchholz remains in an upright position after his final spring tune-up next Wednesday, the manager might decide it's safe to confirm his choice of the 30-year-old right-hander to inaugurate the 2015 season.
Operating under that assumption, then, we take the liberty of offering you a few nuggets related to the first Opening Day assignment of Buchholz's career.
Buchholz is scheduled to become the 10th pitcher to start an opener for the Red Sox since 1988, when Roger Clemens made the first of his eight Opening Day starts—seven straight, interrupted by Aaron Sele in 1995, before the Rocket made his last opening start for the Sox in 1996. Tom Gordon started the first opener after Clemens' departure in 1997, followed by seven straight opening starts for Pedro Martinez. Curt Schilling started in 2005 and 2006, Daisuke Matsuzaka in 2007, Josh Beckett in 2008 and 2009, and Jon Lester made the last four Opening Day starts before signing with the Chicago Cubs.
Lester was 1-1 with two no-decisions in his four Opening Day starts. Last season, he gave up two runs in seven innings but lost to the Orioles 2-1.
Buchholz has a better exhibition record this season (2-2, 3.60 ERA in 15 innings, 18 strikeouts, 3 walks) than Lester (0-1, 6.48 ERA in 8 1/3 innings, 1 walk, 9 strikeouts and one missed start because of "dead arm.")
Buchholz has never faced the Phillies. The only batter he has faced on the Phillies' roster is Ben Revere, who went 3 for 6 against Buchholz when he was with the Minnesota Twins.
The Phillies went 73-89 last season. In 63 appearances (62 starts) against teams with a sub-.500 records, Buchholz is 32-12 with a 3.38 ERA.
In Buchholz's first starts in April, he has a 7.11 ERA, allowing 45 hits and 25 earned runs in 31 2/3 innings.
Buchholz is 13-10 with a 4.53 ERA in his career in April. Last season, he was 1-2 with a 6.60 ERA in April, the opening act of his worst season in the big leagues. But go back one season, when Buchholz was healthy, and he was spectacular in April, going 5-0 with a 1.19 ERA, with 39 strikeouts and 13 walks in 37 2/3 innings. Buchholz went at least seven innings in all five of his starts and allowed no more than two earned runs in any of them. A start like that in 2015 and Lester's name fades from the conversation in Boston.
As for Friday's game, Buchholz gave up 12 hits and did not have a single clean inning, although he pitched out of a bases-loaded jam in the fifth. All of Atlanta's runs were delivered by former Sox players — Pedro Ciriaco, who hit a three-run double, and Kelly Johnson, who homered just before the rain came. Johnson's career with the Sox lasted 30 days. He was acquired at the trading deadline from the Yankees for Stephen Drew, then was traded to the Orioles on Aug. 30 for Jemile Weeks. He signed with the Braves as a free agent in January.
Mookie Betts, with ESPN's TV cameras on the scene, turned in another Mookie-in-spring performance, leading off the game with a single, stealing a base, making a diving catch and hitting a two-run home run off Braves ace Julio Teheran. He's batting .487 this spring.
Robbie Ross kept himself in the left-handed reliever competition with a scoreless inning, including two strikeouts.
March, 27, 2015
Mar 27
11:04
AM ET
March, 27, 2015
Mar 27
10:44
AM ET
FORT MYERS Fla.--Clay Buchholz made the long bus trip from JetBlue Park to Disney Friday to face the Atlanta Braves in what is his next-to-last tuneup before pitching Opening Day April 6 in Philadelphia against the Phillies. That's weather permitting; thunderstorms were in the forecast. The game is scheduled to be televised by ESPN.
With only eight days left before the club breaks camp in Florida, a number of regulars made the trip, including outfielders Mookie Betts and Rusney Castillo, second baseman Dustin Pedroia, and third baseman Pablo Sandoval. Pedroia is scheduled to serve as DH. Rookie catcher Blake Swihart, who already has been optioned to Triple-A Pawtucket, is scheduled to catch Buchholz, and with Christian Vazquez scheduled to undergo an MRI on his throwing elbow Friday, Swihart cannot be ruled out as a replacement, although it's more likely that veteran backup Humberto Quintero could be added to the roster. That would keep the Sox from having to start the clock on Swihart's big-league service time.
Castillo hit a walkoff home run Thursday and will be playing alongside Betts in the Sox outfield. Shane Victorino, whom John Farrell said will he his starting right fielder if healthy, has yet to play back-to-back games in the outfield this spring.
As of Friday morning, it should be noted, Farrell has yet to announce Buchholz is pitching the opener, but he has set up his rotation that way.
Here's the lineup:
Mookie Betts, CF

Dustin Pedroia, DH

Pablo Sandoval, 3B

Allen Craig, 1B

Daniel Nava, LF

Rusney Castillo, RF

Brock Holt, SS

Blake Swihart, C

Jeff Bianchi, 2B

Clay Buchholz, RHP
March, 27, 2015
Mar 27
10:11
AM ET
FORT MYERS, Fla. -- Boston Red Sox catcher Christian Vazquez said Friday that he was scheduled for an MRI later that morning and acknowledged he still has some discomfort in his throwing elbow.
"It's less every day, but it's good," he said. "Getting better every day. I'm happy for that."
Vazquez was scheduled to catch Joe Kelly in a minor league game here Friday afternoon, weather permitting. Vazquez would not be allowed to throw to bases, only back to the pitcher.
Vazquez has not played in a major league exhibition since March 13, when he reported he felt something in his elbow after throwing out Yankees minor leaguer Tyler Wade attempting to steal in a game in Fort Myers.
Red Sox manager John Farrell said Thursday that Vazquez had developed some soreness in his triceps, the muscle behind the elbow, which he attributed to Vazquez altering his throwing mechanics. He said the club has been working on Vazquez regaining his normal arm slot.
The MRI is the first imaging procedure Vazquez is undergoing since he hurt the elbow. Vazquez said he didn't know why he is being tested now.
"They know what they're doing," he said. "I trust them, you know. We have a good medical staff here."
The team is eight days away from breaking camp in Florida, which leaves little time for Vazquez to be ready for the April 6 regular-season opener in Philadelphia.
"I think I'm going to be fine, I hope I'm going be fine for Opening Day," he said. "That's the goal here.
"I want to be 100 percent to help the team. I need to be ready to help the team win. That's my goal: Be ready, be healthy. This is the first time in my life that I got hurt. I'm, you know, a little bit sad with myself for the first time [being hurt], but I'm fine."
Vazquez said he is well aware of the elbow injury that Matt Wieters, the Orioles' catcher, sustained last season, which led to Tommy John surgery.
"Yeah, man, it's tough," he said. "This is my food, my arm. I need to be healthy to help the team. I trust these guys and I'm going to be fine."
March, 27, 2015
Mar 27
9:39
AM ET
ESPN.com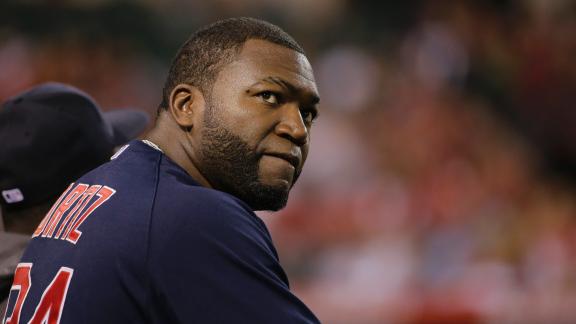 Who are the best players in Major League Baseball heading into the 2015 season?
ESPN formed a panel of MLB writers, analysts and contributors to rank the top 100. We'll run through the top 10 lists at every position each day and unveil the top 25 on Tuesday with a special edition of "Baseball Tonight" (8 ET, ESPN2 & WatchESPN).
The results will be announced on ESPN.com, Facebook (ESPN Baseball Tonight) and Twitter (@BBTN). Fans can use the hashtag #BBTN100 to join the discussion and follow along.
To compile the top 100, we polled more than 60 ESPN experts in February and March, starting with a list of more than 300 players. Using a 0-to-10 scale, they evaluated the players based only on how well they will perform in 2015. Players expected to miss 2015 with an injury were not included.
Three players dropped out of the top five from last year -- Albert Pujols (at first base this year), Billy Butler, Kendrys Morales.
Check out the list below to see who jumped into the top five for 2015.
March, 26, 2015
Mar 26
11:47
PM ET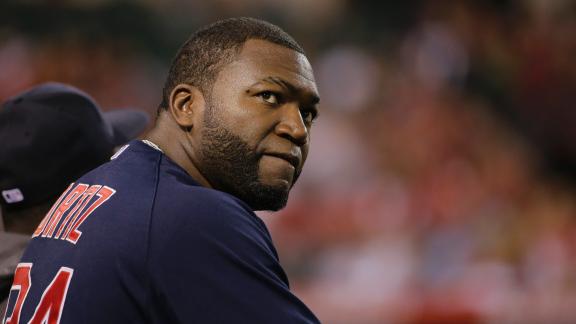 FORT MYERS, Fla. -- You can admire David Ortiz's passion, respect his anger, understand his frustration that his remarkable accomplishments in 13 seasons with the Boston Red Sox -- including three World Series titles -- are filtered through the prism of baseball's steroid era, and his name being linked to a positive PED test in 2003 that was supposed to be anonymous.
His fellow players surely empathize with his despair that his work ethic, intelligence and mental preparation, not to mention the difficult circumstances of his upbringing that he was able to overcome, are given short shrift in any discussion of what he has done in the game.
[+] Enlarge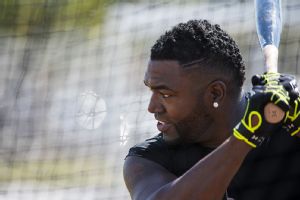 Michael Ivins/Boston Red Sox/Getty ImagesAfter Lance Armstrong and Alex Rodriguez, David Ortiz has to live in a sports world full of doubters.
What is impossible to accept, however, is the naiveté Ortiz demonstrates in his essay for the Derek Jeter-owned The Players' Tribune website. How can Ortiz possibly believe that passing dozens of drug tests, which he claims to have done in the last decade of testing by Major League Baseball, proves anything other than he has passed dozens of drug tests?
No one in 2015 -- as Ortiz surely must understand -- can offer passed drug tests as irrefutable proof of innocence, not when the two biggest drug cheats in sports, cyclist Lance Armstrong and Ortiz's onetime close friend, Alex Rodriguez, used to make the same argument, in terms just as passionate as Ortiz, before they were exposed.
Has drug testing helped deter PED use in Major League Baseball? The anecdotal evidence would suggest that it has.
Does passing a drug test entitle any player to a free pass when it comes to questions regarding PED use? In a better world, yes. But not in an environment in which one world-class athlete after another has lied repeatedly about being a user, and offered up passed drug tests as evidence of their innocence.

Armstrong claimed he was the most tested athlete in the world, saying he had been tested for banned substances hundreds of times and never produced a positive result.
Rodriguez repeatedly denied any use of banned substances during his time with the Yankees, which began in 2004. In 2009, he acknowledged that he had used banned substances with the Texas Rangers from 2001 to 2003, before testing went into effect.
For Armstrong and Rodriguez, their downfalls were not related to drug tests, but non-analytic proof.
The United States Anti-Doping Agency built its case against Armstrong based on evidence provided by numerous witnesses that Armstrong used EPO, blood transfusions, testosterone, cortisone and HGH. After years of denials, Armstrong finally came clean to Oprah Winfrey.
Major League Baseball suspended 14 players, including Rodriguez, not because of failed drug tests but because of their involvement in the Biogenesis scandal, with investigators following a paper trail that linked the players to the acquistion of PEDs from a South Florida clinic and the sham doctor who ran it, Anthony Bosch. Rodriguez confessed to PED use only after being granted immunity from prosecution by the government.
Yes, it tugs at the heart to read of Ortiz being confronted by his young son, after hearing fans chanting "Cheater" at his father, and asking his dad if he was a cheater. And it has the ring of authenticity, hearing Ortiz say that being able to tell his son that he is not a cheater means more than induction into the Hall of Fame.
But just as it requires an act of faith for a son to believe in his father, so it does for us. We have been lied to too many times, and have had too many passed drug tests waved under our noses as bogus proof. For Ortiz's sake, and that of his family, and for his fans, we can all hope there is no Oprah moment in his future.
March, 26, 2015
Mar 26
9:49
PM ET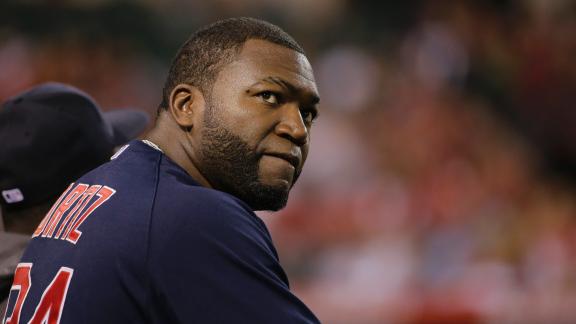 FORT MYERS, Fla. -- Boston Red Sox slugger David Ortiz, in a first-person essay on The Players' Tribune website, reiterated in strong terms that he never has "knowingly used steroids" and said "hell yes" he belongs in the Hall of Fame.
"Let me tell you something. Say whatever you want about me -- love me, hate me," Ortiz wrote. "But I'm no bulls------. I never knowingly took any steroids. If I tested positive for anything, it was for something in pills I bought at the damn mall. If you think that ruins everything I have done in this game, there is nothing I can say to convince you different.''
Ortiz described being home in the Dominican Republic last winter and being awakened by "two American guys holding briefcases" with "pee cups and big needles" who had come to administer drug tests mandated by Major League Baseball.
"In some people's minds, I will always be considered a cheater," he wrote. "And that's bulls---. Mark my words: Nobody in MLB history has been tested for PEDs more than me. You know how many times I've been tested since 2004? More than 80. They say these tests are random. If it's really random, I should start playing the damn lottery. Some people still think the testing is a joke. It's no joke. Ten times a season these guys come into the clubhouse or my home with their briefcases. I have never failed a single one of those tests and I never will.''
Ortiz's name surfaced in connection with steroids in 2009, when the New York Times reported that he and Red Sox teammate Manny Ramirez
March, 26, 2015
Mar 26
6:19
PM ET
By
Rick Weber, Special to ESPNBoston.com
FORT MYERS, Fla. -- Takeaways from the Fort, where David Ortiz emerged from a 10-day hibernation looking a bit sleepy and Mookie Betts continued his fast-track ride to the Spring Training Hall of Fame in the Red Sox's 5-4, 10-inning win over the Twins Thursday at JetBlue Park:
Ortiz's return from an eight-game absence was more about being healthy enough to be in the lineup than wowing anybody with tape-measure shots.
Ortiz hadn't played since March 16 because of dehydration, flu-like symptoms and what manager John Farrell described as "general soreness," which included the Achilles area that has caused Ortiz problems in recent years.
There was ample consternation -- and even some misguided criticism -- in Boston as the days wore on without Ortiz in the lineup.
[+] Enlarge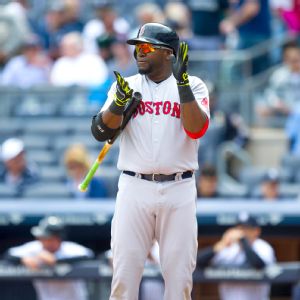 Rob Tringali/Getty ImagesDavid Ortiz returned to the lineup Thursday after an eight-game absence.
Ortiz was subdued after going 0-for-3, striking out in the first, grounding into a fielder's choice RBI in the third and popping up to shortstop Danny Santana in the fifth. He said he's not concerned about regaining any rhythm in his swing.
"I'm worried about making sure the wheels are where I want them to be," he said. "That's the kind of test I want to get through."
By those standards, it was a good day. Ortiz didn't exactly blaze a path to first base in the third inning, but he did avoid a double play by beating Santana's throw to first baseman Kennys Vargas.
"He got down the line well," Farrell said. "He kept from being doubled up. I think it's an indication that the soreness he's been dealing with, he's feeling better. That was the case in some baserunning in the last couple of days."
Asked if a stopwatch had timed his home-to-first dash, Ortiz quipped, "Hopefully not."
• Betts went 1-for-2 with a double, a walk and an RBI, raising his average to .472. He's slugging .871 and has seven doubles, more than twice as many as anybody else on the team. An odd stat: It was his first walk in 37 plate appearances.
• Rusney Castillo won the game with a one-out walk-off homer, sending Jake Reed's first pitch over the Green Monster in left field.
Yet Castillo slid into second.
"He doesn't take anything for granted," Farrell said.
Castillo is hitting .400, with two home runs and four RBIs in just 10 at-bats. Asked if Castillo is making the roster decisions tough, Farrell said, "I don't know that he's making it a difficult decision. He's a good player, and we've got a number of good players. We'll take every day of spring training to settle on what our Opening Day roster is going to be."
• First baseman Mike Napoli (ankle) returned to the starting lineup after being sidelined since March 18. He went 1-for-2 and scored a run, hiking his batting average to .391 in 23 at-bats.
• Catcher Christian Vazquez (right elbow) threw to the bases Thursday and said his throws were "normal" to second base. Farrell didn't exactly agree.
"He was restricted by the intensity, and that was the design of the throwing today," Farrell said. "To turn him loose, we're building up to that. I wouldn't say he's game-ready yet."
Asked when he would be ready, Vazquez said, "Very soon, very soon. I trust these guys here. We've got a great medical staff here and I'm going to be ready."
• Closer Koji Uehara (hamstring) made 60 throws from flat ground Thursday and will do the same Friday. Farrell said the plan is to get him on the mound Saturday and possibly into a game Monday, whether it's in the minor leagues or at JetBlue Park against the Twins.
"Today, there was more intensity to his running -- roughly 60 percent to 70 percent intensity, so following the off day, today was a sizable step forward with Koji," he said.
• Wade Miley started the game and went six innings, giving up four hits and three runs while walking one and striking out four.
"It's fun to watch him pitch," Farrell said. "There's a good flow to the game. He throws a lot of strikes. I thought his changeup was very good today, particularly against Torii Hunter on a couple of occasions. He threw just a few sliders that had good finish. The last two outings for him have been very strong."
Said Miley, "Every time I go out there, I feel competitive. I don't care what kind of game it is -- if we're in the backyard. That's kind of my mentality. So you make a couple of mistakes and it's frustrating. So I get a little bit upset at myself."
He said it wasn't the pitches that frustrated him; it was his pitch selection.
"I was not really focusing on the pitch I wanted to throw, just kind of throwing it without a purpose," he said.
• Craig Breslow and Dana Eveland pitched in Thursday's Triple-A game. Breslow went one inning, giving up two hits and one run while striking out one and throwing strikes on eight of 13 pitches. Eveland went one inning, giving up two hits while throwing strikes on 13 of 17 pitches.
• Justin Masterson started Thursday's high Class A Salem game against the Orioles on the back fields at Fenway South, giving up five hits and four runs (two earned), striking out four and hitting two batters in 4 2/3 innings. He threw strikes on 54 of 80 pitches.
• With Thursday's moves, the Red Sox have 43 players in big league camp, including 32 from the 40-man roster and 11 non-roster invitees.
• The Red Sox pitchers in Friday's game in Lake Buena Vista against the Braves: Clay Buchholz, Robbie Ross, Anthony Varvaro, Edwin Escobar, Felipe Paulino and Dalier Hinojosa.
March, 26, 2015
Mar 26
5:13
PM ET
ESPN.com news services
Just a day after being cut by the Buccaneers, Brandon Magee reported to the Red Sox's minor league camp on Tuesday to take a shot at the sport that had to take a backseat to football in college.
The 24-year-old Magee, who signed with Boston and attended minor league spring training in 2014, arrived Thursday at the team's Fort Myers, Florida, camp and took a few swings in the cage and threw out to 90 feet.
"He's a strong kid," said Ben Crockett, Boston's director of player development, of the 5-foot-11, 230-pound Magee. "He's really athletic. And certainly you can see why he had success as a football player as well, and why he may continue to have success. He's definitely a strong kid and someone we're looking forward to seeing."
Magee declined to talk, saying he wants a few days to get acclimated.
"We'll probably take it slow," Crockett said.
Magee, projected to be an outfielder, hit. 103 in 27 games over three seasons at Arizona State and was drafted by three MLB teams: the Tampa Bay Rays (2008, 29th round), Oakland A's (2011, 21st round) and Red Sox (2012, 23rd round). He didn't sign with either the Rays or A's, but took a $7,500 signing bonus from the Red Sox.
Last spring, after signing with the Bucs, he spent extended spring training with the Red Sox. Magee was recovering from a torn pectoral muscle suffered while playing on special teams for the Browns. In his six weeks in Fort Myers, he spent most of the time rehabbing, never entering any games, and not even taking batting practice until near the end.