October, 1, 2014
Oct 1
5:00
AM ET
Every Wednesday, we'll lead off the day with a look at some notable former Patriots and their production. This is who we will be following at the start of the season.
LB Brandon Spikes
(Bills) -- Played 42 of 66 snaps in a road loss to the Texans, and was credited with three tackles and one forced fumble. Has now played 127 of 287 defensive snaps on the season.
RB LeGarrette Blount
(Steelers) -- Carried four times for 25 yards in a home loss to the Buccaneers, playing 12 of 76 offensive snaps. He now has 21 carries for 158 yards on the season.
G Logan Mankins
(Buccaneers) -- Started at left guard and played all 65 offensive snaps in an upset road win over the Steelers.
LB Dane Fletcher
(Buccaneers) -- Started in place of the injured
Mason Foster
and played 75 of 76 snaps in a road win over Pittsburgh, and was credited with seven tackles (3 solo, 4 assisted).
QB Ryan Mallett
(Texans) -- He served as the No. 2 quarterback behind
Ryan Fitzpatrick
in a home win over the Bills and did not play.
LB Jeff Tarpinian
(Texans) -- Played solely on special teams in a home win over the Bills, logging 22 snaps and being credited with a tackle.
WR Greg Salas
(Jets) -- Played 41 of 64 offensive snaps in a home loss to the Lions and finished with two catches for 60 yards. He has played in 103 of 278 snaps on the season and has five catches for 128 yards.
TE Zach Sudfeld
(Jets) -- Played four of 64 offensive snaps in a home loss to the Lions and didn't register on the stat sheet. Has now played in 24 of 278 offensive snaps on the season.
TE Daniel Fells
(Giants) -- Played 26 of 81 offensive snaps in a road win over Washington and totaled two catches for 8 yards and one touchdown (his third of the season). He has played 90 of 284 offensive snaps on the season.
TE Benjamin Watson
(Saints) -- Started in a road loss to the Cowboys, but was on the field for just 15 of 61 offensive snaps and had one catch for seven yards. He has now played 90 of 277 offensive snaps this season and has four catches for 21 yards on the season.
CB Darius Butler
(Colts) -- Played 30 of 48 snaps in a home win over the Titans, and was credited with three tackles and one quarterback hit. He has played 172 of 251 defensive snaps and has 14 tackles and three passes defended on the year.
C Rich Ohrnberger
(Chargers) -- The 2009 Patroits fourth-round pick was inactive in a home win over the Jaguars after starting in Weeks 2 and 3 in place of the injured center
Nick Hardwick
.
G Ted Larsen
(Cardinals) -- The 2010 sixth-round draft pick started at left guard the first three weeks of the season. Arizona had a bye this week.
DL Tommy Kelly
(Cardinals) -- The Cardinals had a bye. Kelly has now played 128 of 197 defensive snaps over three games.
CB Aqib Talib
(Broncos) -- The Broncos had a bye. Talib has played 230 of 238 defensive snaps in three games this season, with five passes defended and 12 tackles.
WR Wes Welker
(Broncos) -- After totaling six catches for 60 yards (while playing 47 of 72 snaps) in Week 3 upon his return from suspension, he was off as part of the Broncos' bye.
QB Brian Hoyer
(Browns) -- The Browns (1-2) had a bye but Hoyer has played well enough to keep his starting job over
Johnny Manziel
entering Week 5.
TE Matthew Mulligan
(Bears) -- He is a free agent after being released by the Bears following Week 2 (he had played 25 of a possible 134 snaps).
RB Danny Woodhead
(Chargers) -- He sustained a broken fibula in his right leg in Week 3 against the Bills and was then placed on
season-ending injured reserve
.
QB Matt Cassel
(Vikings) -- Was placed on season-ending injured reserve with
fractured bones in his foot
. That has opened the door for
Teddy Bridgewater
to start for the Vikings in the job he was being groomed to assume.
(Anyone else you'd like to add to the list? Send a suggestion via Twitter to @MikeReiss).
September, 30, 2014
Sep 30
10:30
PM ET
KANSAS CITY, Mo. -- Picked-up pieces from fourth-quarter review of the
New England Patriots
' 41-14 loss to the
Kansas City Chiefs
on Monday night:
1. While the game was over at that point, and the Chiefs might have exhaled a bit, it was nicely done by Patriots backup quarterback
Jimmy Garoppolo
in leading a seven-play, 81-yard touchdown march on his first drive of the game. The ball was out quickly and delivered mostly with good accuracy. One can see the obvious traits that drew the Patriots to Garoppolo, as he showed good command and didn't appear to have any major issues when it came to getting the play-call, delivering it in the huddle, and running the overall offense.
2. Rookie running back
James White
showed some of the spark that had first been seen on the practice fields in offseason camps but wasn't quite there in preseason games. After he bounced an 11-yard run around right end (9:58 remaining), this note was jotted down: "As decisive as we've seen from him in a game." He looked quick and might have earned himself some more playing time in the weeks to come.
3. For those who view tight end
Tim Wright
as a catch-only tight end, evidence to the contrary could be shown on
Brandon LaFell
's 37-yard catch-and-run (8:17 remaining). Wright helped pave the way with a solid block (possible hold?) as he could also be positioning himself for more playing time in the weeks to come.
4. Footing was an issue for several players, as the field was slick. Cornerback
Malcolm Butler
slipped on
Donnie Avery
's 27-yard catch (13:42 remaining) and I wonder if the unfamiliarity with the venue (first trip since 2005) might have been a factor.
5. One pressure (third quarter) and one sack surrendered (by
Justin Houston
, fourth quarter) for rookie right guard
Cameron Fleming
in his NFL debut. Is that enough to earn him a second start? One question to monitor this week.
6. Tight end
Rob Gronkowski
is starting to do more things, a sign that he's on the cusp of becoming a full-time player once again. With 8:45 remaining, he motioned right to left and helped lead the way on
Stevan Ridley
's 8-yard run with a solid block. Four plays later, he was barreling into the end zone on a 13-yard catch-and-rumble (a.k.a. smashing and dashing). On a day when there weren't many highlights, Gronkowski's late-game work draws a mention.
September, 30, 2014
Sep 30
8:30
PM ET
KANSAS CITY, Mo. -- The
New England Patriots
used five different combinations along the offensive line in their 41-14 loss to the
Kansas City Chiefs
on Monday night as they used the latter portions of the action to try some different combinations.
A breakdown by drive:
1.
Nate Solder
-
Dan Connolly
-
Bryan Stork
-
Cameron Fleming
-
Sebastian Vollmer
(3-and-out)
2. Solder-Connolly-Stork-Fleming-Vollmer (8 plays and punt)
3. Solder-Connolly-Stork-Fleming-Vollmer (8 plays and punt)
4. Solder-Connolly-Stork-Fleming-
Marcus Cannon
(4 plays and punt)
5. Solder-Connolly-Stork-Fleming-Vollmer (3 plays and punt)
6. Solder-Connolly-Stork-Fleming-Vollmer (3 plays/strip sack)
7. Solder-Connolly-Stork-Fleming-Vollmer (2 plays/INT)
8.
Cannon
-Connolly-Stork-Fleming-Vollmer (4 plays/TD)
9. Solder-Connolly-Stork-
Ryan Wendell
-Vollmer (3 plays/pick-6)
10. Solder-
Wendell
-Stork-Fleming-
Cannon
(7 plays/TD)
11. Cannon-Wendell-Stork-Fleming-Vollmer (5 plays/punt)
The one player to go wire-to-wire in the same spot was rookie center Bryan Stork, who made his first career NFL start. The other takeaways are the Patriots going through the process of building back some confidence at tackle with Cannon, which is a more natural position for him, as well as working Wendell at guard (where he last played in a regular-season game in 2010 and 2011).
September, 30, 2014
Sep 30
7:15
PM ET
KANSAS CITY, Mo. – Picked-up pieces from third-quarter review of the New England Patriots' 41-14 loss to the
Kansas City Chiefs
:
1. In dissecting quarterback
Tom Brady
's first interception, in which he threw into a heavily trafficked area as receiver
Julian Edelman
broke off his out-and-up route to the sideline, it highlighted how the Patriots were using extra resources to account for protection concerns at the line of scrimmage. They initially kept eight players in to block, with running back
Stevan Ridley
chipping left outside linebacker
Tamba Hali
and tight ends
Rob Gronkowski
and
Michael Hoomanawanui
staying in on the right side of the line at the start of the play. The Chiefs rushed just five, which meant the Patriots had two receivers in pass-routes against six Kansas City defenders before Gronkowski released out late to make it a three-on-seven numbers game. It's no wonder Brady was throwing into heavy coverage.
2. The offensive line didn't seem to be a major cause for concern in the first half, but the breakdowns started to pile on top of each other in the third quarter when the Chiefs could pin their ears back and get after Brady. Rookie right guard
Cameron Fleming
was beaten to his outside shoulder by defensive lineman
Allen Bailey
on the third-and-6 sack in which Brady fumbled to be somehow recovered by left tackle
Nate Solder
. The pressure from Bailey forced Brady to step up into the pocket, where outside linebacker
Justin Houston
was knifing in against right tackle
Sebastian Vollmer
.
3. So confident with the ability to run on the Patriots, the Chiefs called six straight runs on their opening drive of the second half of 4, 5, 5, 16, 1 and 3 yards, respectively. On the 5-yard run on third-and-1,
Dont'a Hightower
struggled to set the right defensive edge, with
Chandler Jones
playing inside. The run initially came up the middle before it was cut outside. Soft edges were an issue for much of the day for the Patriots -- specifically with Jones and, to a lesser degree, Hightower.
4. Jones' struggles setting the edge earned him a spot on the sideline with 3:26 remaining in the third quarter (Chiefs 27, Patriots 7), as
Dominique Easley
got his first extended work at right defensive end in a game. Easley played his technique well by pressing and extending his arms into the chest of left tackle
Eric Fisher
on a
Knile Davis
run for no gain with 2:47 remaining, setting a nice edge on that play before rushing too far up the field past the quarterback from a two-point stance on the next play.
5. This was a game in which everything seemed to hit right for the Chiefs -- even on plays that didn't produce the desired results. For example, the screen pass that was dropped by running back Knile Davis was the perfect call against a six-man Patriots blitz (5:38 remaining). Just one of those days for New England. That's football.
6. Receiver
Brandon LaFell
's size (6-foot-2, 210 pounds) stood out on his 44-yard catch and run touchdown. As a bigger receiver, he's tough to bring down and that was one of the bright spots for New England. The play preceding that -- a 28-yard quick pass to running back
Shane Vereen
coming off a jet sweep play action to Julian Edelman to the opposite side -- was a glimpse of how the Patriots thought they might be able to attack the Chiefs by featuring their running backs in the passing game. But they just couldn't sustain enough drives early to get into that.
7. Tough night for safety
Tavon Wilson
, who struggled with his footing in limited snaps, with Travis Kelce's 16-yard catch-and-run at 3:26 following up a similar miscue in the second quarter on Kelce's 33-yard catch-and-run.
8. One offensive player stood out from a hustle perspective -- Edelman. On the Brady strip sack fumble recovered by the Chiefs, and then the
Sean Smith
interception, he displayed a maximum effort that wasn't overlooked at this address.
September, 30, 2014
Sep 30
3:03
PM ET
By
John McTigue, ESPN Stats & Info
AP Photo/Elise AmendolaTom Brady and Bill Belichick have some work to do to straighten out the Patriots.
The
New England Patriots
have fallen to No. 16 in the
ESPN.com NFL Power Rankings
, their lowest ranking since Week 7 of the 2008 season (17th), when
Matt Cassel
was filling in for an injured
Tom Brady
.
The Patriots host the
Bengals
in Week 5, one of two remaining unbeaten teams in the NFL this season (
Cardinals
) and the team allowing the fewest points per game this season (11.0).
If the Patriots want to avoid a 2-3 start and a further slide in the rankings, they'll need better play from their offense, specifically their quarterback.
Inefficient offense
Expected points added
(or efficiency) measures the impact of every play on each team's potential points, accounting for such factors as down and distance, field position and other situational factors.
This season, the Patriots rank eighth in defensive efficiency and 29th in offensive efficiency.
If this trend continues, it would be the first time since 2006 the Patriots defense outweighed the offense (that offense did rank sixth that season).
Contributing to the low efficiency is the fact the Patriots have converted only 36 percent of their third downs, 27th in the NFL. That would be the lowest of the Brady-Belichick era for the Patriots.
With the offense struggling, Brady's decline in play becomes the focal point.
Off the mark
Brady is on pace for his lowest completion percentage of his career. He has completed 59.1 percent of his passes (29th) and he has seen a league-leading 25.5 percent of his passes fall incomplete due to an over or underthrown pass.
Brady has also averaged just 5.8 yards per attempt (35th out of 36 qualified QBs), better than only Raiders rookie
Derek Carr
.
Contributing to the low completions and yards per attempt is the Patriots inability to stretch the field.
Brady has completed only one of 16 attempts thrown 20 or more yards downfield this season (6.3 percent). No other quarterback is below 15.0 percent completions on those passes this season.
Brady not the only one to blame
Brady has completed 73.5 percent of his passes to
Julian Edelman
this season, but only 47.5 percent of his attempts to the rest of the Patriots wide receivers.
Inconsistency in the receiving corps has likely played a factor in that, as no receiver outside of Edelman has been on field for a bulk of the team's snaps.
The pre-season trade of guard
Logan Mankins
may be looking like a big mistake too. Brady has been pressured on 26 percent of his dropbacks, which would be the highest since that data became available in 2009.
He's also been sacked on 6.2 percent of his dropbacks, which would be his highest since 2001. This had led to three lost fumbles for Brady, same as he had in the previous two seasons combined.
Belichick at fault too?
As one of the key decision makers in personnel, Bill Belichick faces some blame in the Patriots current scenario as well.
In the past five drafts, the Patriots have taken more quarterbacks (two) than offensive linemen (one -
Nate Solder
) in the first three rounds.
The Patriots have also drafted seven wide receivers total in the last five drafts. One of those receivers was Edelman, who has 200 career receptions. The other six have combined for 99 career receptions, but 25 of those weren't even for the Patriots.
September, 30, 2014
Sep 30
2:47
PM ET
By
Lee Schechter
| Special to ESPNBoston.com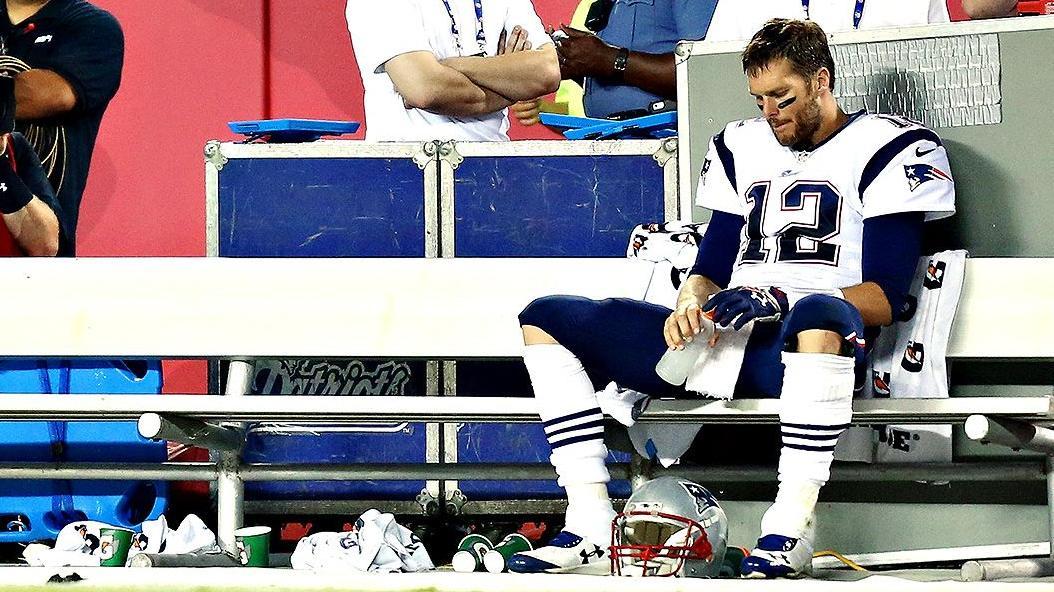 Former New England Patriots safety Rodney Harrison said Tuesday that quarterback Tom Brady looks "scared to death" when he drops back in the pocket to pass.
Harrison, a former teammate of Brady's and current NBC Sports football analyst, told WEEI 93.7 FM in Boston that it "hurt" him to see the Patriots struggle as badly as they did in Monday night's 41-14 loss to the Kansas City Chiefs.
The Patriots' offensive line played musical chairs in the loss as left tackle Nate Solder, right tackle Sebastian Vollmer and others were swapped out and moved around at various points during the game. Brady was sacked twice, threw two interceptions and was unable to establish himself in the pocket.
To Harrison, the problem with the Patriots' offense isn't as much Brady as it is those who are protecting him and the players he is throwing to.
"Tom Brady can still play," Harrison said. "But when you surround him -- there's a reason why Brandon LaFell was let go [by Carolina]. He's not a great player. He's a young guy, and he has to make his way in this league.
"And Danny Amendola, you look at him, no one ever said he was a great player. He's always been hurt. The history is behind it. Rob Gronkowski obviously coming off that ACL injury, he's been hurt. So it's not like when you look at the Patriots on paper they just have all these weapons and teams are afraid of them."
Patriots coach Bill Belichick pulled Brady after his second interception was returned for a touchdown by Chiefs safety Husain Abdullah
September, 30, 2014
Sep 30
2:45
PM ET
KANSAS CITY, Mo. -- Picked-up pieces from the second-quarter review of the
New England Patriots
' 41-14
loss
to the
Kansas City Chiefs
:
Dobson
1. One lingering question is why second-year receivers
Aaron Dobson
and
Kenbrell Thompkins
were inactive, and I think the first play of the second quarter is a good launching point to share a hypothesis as to why that was the case. On third-and-4, the Chiefs blitzed out of their dime defense as the Patriots countered in their "pony" grouping of three WRs and two RBs. The ball had to come out quick to account for the free rusher, and when that is the case, a quarterback has to have trust that his receivers will uncover quickly. I think
Tom Brady
has that trust with
Brandon LaFell
(14-yard gain on the play) at a higher level than Dobson and Thompkins. And I think if we're looking for reasons as to why Dobson and Thompkins were healthy scratches, that's the place to start when considering how the Patriots decided they wanted to attack -- and figured they would be attacked -- when facing the Chiefs.
2. From this view, a flaw in the Patriots' game plan to run out of the shotgun and use more screens, draws and shovel passes showed up on third-and-2 (13:08 remaining). The ball was on the right hash mark, and the call was to run
Shane Vereen
around right end. Although the Patriots needed just two yards, to the 40-yard line, Vereen was handed the ball out of the gun at the 47 and only had the short side of the field to work with. That seemed to be an example of the Patriots making life harder on themselves than it had to be. Vereen was stopped for no gain as linebacker
Josh Mauga
did a nice job penetrating on center
Bryan Stork
to create some disruption in the backfield.
Ridley
3. Other times, a screen simply needs to hit against the defensive play call, and an example where that didn't happen came with 2:50 remaining in the quarter. With a run-based look with a YY wing to the left side of the line, the Patriots tried to set up a right-side screen for running back
Stevan Ridley
, but the Chiefs didn't take the cheese. They just seemed to be a step ahead all day as Brady threw that one away.
4. It was mentioned in the
first-quarter review
that perhaps the Patriots might have considered staying in their base defense against the Chiefs' three-wide-receiver groupings because of their struggles defending the run in nickel. The play that sparked the thought was
Knile Davis
' 48-yard run (12:25 remaining). The Chiefs were at their own 14-yard line and came out in a tightly compact 3 WR/1 TE/1 RB package, while the Patriots countered in nickel with three down linemen and
Chandler Jones
in a two-point stance on the right side of the line. With effective pre-snap motion and quasi-play-action from left to right, the Patriots' front was manipulated out of position as Davis took a handoff up the middle and
Vince Wilfork
and linebacker
Jerod Mayo
appeared to struggle shedding. Too easy for the Chiefs.
Brady
5. A Brady throw to
Rob Gronkowski
into double coverage (9:50 remaining) with
Tamba Hali
dropping into coverage is one example where Brady's decision-making didn't seem to be at its best. Fullback
James Develin
appeared to be wide open on the opposite side after coming free off a block on
Justin Houston
. This seemed to be an example of Brady not necessarily feeling comfortable going through his progressions because of the duress he's been under.
6. Another soft edge set in the running game by Chandler Jones, as
Jamaal Charles
ran for 8 yards over Jones' side.
7. Assuming all of New England had the same reaction at the 2:43 mark: Why not run it, Tom Brady? Mauga was in the neighborhood, but Brady probably would have had the first down on the third-and-2 play if he tucked it and ran.
8. Tough call on cornerback
Logan Ryan
for illegal hands to the face, which earned him a stern talk from Bill Belichick on the sideline and a significantly reduced role in the second half. Wonder if Belichick sees it different after watching the ticky-tack call on tape or we are more forgiving.
September, 30, 2014
Sep 30
1:50
PM ET
KANSAS CITY, Mo. – Picked-up pieces from first-quarter review of the New England Patriots' 41-14 loss to the
Kansas City Chiefs
:
1. There is a long list of Patriots-based problem areas to address, but before we begin, let's start with this: Credit to the Chiefs. What they put together was like an offensive version of a ferocious blitz. They took it to the Patriots and played with great energy, mixing personnel groupings and formations masterfully and in rhythm, while feeding off the frenzied crowd. And even then, they left some plays on the field.
[+] Enlarge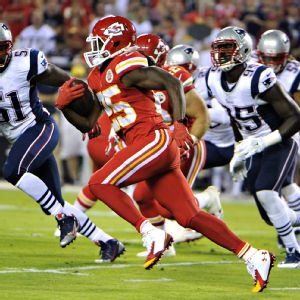 John Rieger/USA TODAY SportsJamaal Charles and the Chiefs gashed the Patriots on the ground.
2. Bill Belichick said the Patriots were hurt by some weakside runs. The first time this showed up was at 13:04 on
Jamaal Charles
' 11-yard run and it was a good example of how the Patriots were displaced out of their gaps while in the nickel defense (against Kansas City's 3 WR groupings). That seemed to be part of the Chiefs' plan – get the Patriots in a lighter six-man box and run on them. On this play, the offensive line slid to one side, and the Patriots' front of defensive linemen
Chandler Jones
,
Rob Ninkovich
,
Vince Wilfork
and
Chris Jones
, along with linebackers
Dont'a Hightower
and
Jerod Mayo
, mostly slid with them laterally. Charles ultimately cut back to the weakside and took advantage of the displacement of the defense. This was a play that highlighted how gap discipline and fundamentals can be better executed by New England by pressing offensive linemen and controlling them. Instead, the Chiefs dictated the way the game was played.
3. Running against the nickel showed up again with 5:49 remaining on third-and-2. The Chiefs had no problem pitching left there (3-yard run
Knile Davis
), feeling confident they could manipulate the Patriots' front-6 in the run game. They did consistently.
4. In the end, I wonder if the Patriots regretted staying in nickel against the Chiefs instead of playing the 4-3 base against everything thrown at them. There is obviously a trickle-down effect of doing that -- it would limit coverage options -- but it was almost as if they were facing a barrage of groupings and formations and perhaps less would have been more for them (we'll later highlight a play in the second quarter that sparked this thought).
5. The Chiefs ran on the base defense too, as evidenced by the 17-yard Charles' jaunt to open the second drive (8:13 remaining). Chandler Jones set a soft edge and might have been slightly held, as his failure to disengage highlighted a game's worth of issues for him in that area.
6. My sense of the Patriots' offensive game-plan was to feature draws and screens to try to use the Chiefs' aggressiveness against them. Hence the heavy usage of
Tom Brady
in the shotgun early (17 of 23 first-half snaps), and having rookie running back
James White
active for the first time this year. The first offensive play was a screen (4 yards,
Shane Vereen
), but the next two plays -- throws down the field to covered receivers
Julian Edelman
and
Brandon LaFell
-- highlighted how there were not often open windows in which to throw. From a play-calling perspective, a bit of a curious way to start the game and ultimately the screen/draw-based plan never truly came to life because of second- and third-down issues in the second quarter.
7. One positive from the quarter outside of special teams captain Matthew Slater's punt coverage: Good range from safety
Devin McCourty
(3:52) to break up a potential scoring pass to
Frankie Hammond
Jr.
8. Can't put all of the struggles in the running game on the offensive line or play-calling, as on the final play of the quarter, tight end
Rob Gronkowski
missed a block on outside linebacker
Justin Houston
after coming in motion left to right as Shane Vereen was brought down for no gain. The play capped off a first quarter in which the Chiefs played with greater energy and executed at a much higher level.
September, 30, 2014
Sep 30
12:50
PM ET
Every Tuesday on ESPNBoston.com, questions from
New England Patriots
followers are answered as part of a weekly mailbag.
Today's mailbag has been posted
and includes some of the following topics:
1.
Tom Brady
's struggles and how much that has caused the offense to sputter.
2. Has the loss of some of the more mentally and physically tough players affected the team?
3. Thoughts on where the Patriots go from here.
4. Lack of a pass rush shows up consistently, such as on
Alex Smith
's 33-yard connection to
Dwayne Bowe
.
5.
Marcus Cannon
and offensive line struggles.
September, 30, 2014
Sep 30
11:27
AM ET
By
Lee Schechter, Special to ESPNBoston.com
After a devastating 41-14 loss to the
Kansas City Chiefs
on Monday night, the Patriots are searching for answers on both offense and defense. While one or two players cannot be the saviors of this team, the Patriots will get some help from the returns of cornerback
Brandon Browner
and wide receiver
Brian Tyms
this week.
Coach Bill Belichick was asked about how to integrate Browner and Tyms this week after they both missed the first four weeks of the season while on suspensions.
"I think that's a question we will have to address and ultimately answer this week. I don't know the answer to [that question] right now," Belichick said during a conference call on Tuesday. "Right, those two players have missed four weeks -- four games -- but all the practice time as well, and we will have to see where they are relative to the other players."
Browner, the former
Seattle Seahawks
cornerback and member of the "Legion of Boom," was acquired this offseason. He provides the Patriots with a physical corner who has superior size and will definitely work his way into the mix in the Patriots' secondary.
Tyms was one of the surprise stories of training camp as he emerged as a taller receiving target (6-foot-3) who has good hands. He established a strong rapport with quarterbacks
Tom Brady
and
Jimmy Garoppolo
.
"I think both of those guys had good preseasons," Belichick said. "They both had very positive impacts in the opportunities that they had this preseason.
"We will have to evaluate that [time frame] during the week here and do what we think is best for the game against Cincinnati Sunday night."
Tyms has a tough task of claiming a roster spot and could be a fit on the practice squad. Considering the Patriots' decision to make wide receivers
Aaron Dobson
and
Kenbrell Thompkins
inactive against Kansas City, Tyms may have an opportunity for a role on the 53-man roster. If he treats it like he handled his opportunity during training camp, Tyms could emerge as a receiving option.
Defensive coordinator Matt Patricia knows that Browner is not the answer to all problems on defense as all players will be looked at this week to see what is best for the team going forward.
"Well, we have to see where [Browner] is at. I'm sure he will be anxious to get back with the team [and], his teammates will be anxious to have him out there working," Patricia said. "Keep plugging them all. Obviously, we just think we need to take a look at everybody right now and see how everything fits together and just try to improve as a defense as a whole."
September, 30, 2014
Sep 30
11:14
AM ET
ESPN.com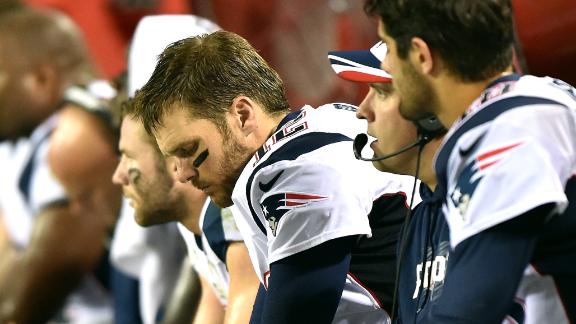 New England Patriots quarterback Tom Brady is struggling mightily.
In the wake of a humbling 41-14 loss to the Kansas City Chiefs, Brady's season statistics through four games are ghastly. He's completing fewer than 60 percent of his throws. He's on pace for a career-worst passer rating. He ranks 33rd in the league among 34 qualified QBs in yards per attempt.
Some observers suggest he's in decline. Others point to a substandard offensive line and a dearth of weapons at the skill positions.
We tap our experts to answer the question: What's wrong with Brady?
Sam Monson, Pro Football Focus
In short, Brady is declining. We have seen evidence of it the past few seasons, but it was subtle and slow enough that it wasn't easy to identify. Last season, there were many factors outside of Brady's control that affected his play, and many observers attributed the statistical dip to those other influences. But the fact is we have seen the best of Tom Brady, and the only question remaining is how steep the drop-off will be.
The losses of longtime offensive line coach Dante Scarnecchia and six-time Pro Bowl guard Logan Mankins have been a body blow to the offense. Scarnecchia had been able to craft impressive units year after year regardless of turnover, but this season the New England offensive line has crumbled, abandoning Brady at the very time he needs protection the most. The Patriots have already surrendered 55 total pressures (sacks, hits and hurries), two more than any other team in the league, 25 more than the league average and 45 more than the best mark in the NFL.
September, 30, 2014
Sep 30
11:00
AM ET
A weekly look at what the
New England Patriots
must fix:
There are a lot of choices this week after an
uninspiring performance
Monday night, and with the 3-0
Cincinnati Bengals
coming to town, struggles on run defense must be rectified. It's not so much that the Bengals are a dangerous rushing offense, but they use the run effectively to limit quarterback
Andy Dalton
's exposure to potentially compromising situations in the passing game.
The Patriots' issues on run defense Monday night against the Chiefs mostly came with their fits, which was similar to what we saw in the season opener when the Dolphins totaled 191 rushing yards against them. By taking a slight step to one side as a reaction to either play-action or misdirection -- or simply running up the field and leaving the inside gap unaccounted for as defensive end
Chandler Jones
did at times -- Patriots defenders were too easily displaced Monday night. That opened wide chunks of space for Chiefs running backs to exploit.
The NFL is a copycat league and Bengals offensive coordinator Hue Jackson wouldn't be doing his job if he didn't implement some of the same concepts Sunday to see how the Patriots react.
Then it comes down to shedding blocks and tackling for the Patriots, and that could obviously use an upgrade, as well.
September, 30, 2014
Sep 30
10:46
AM ET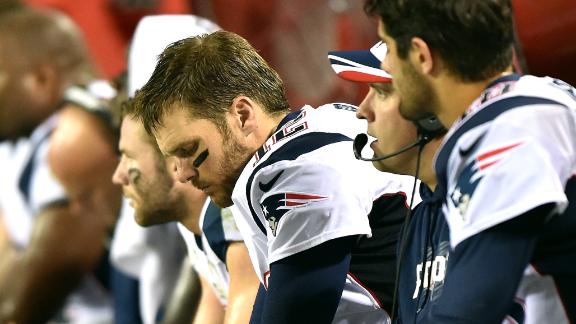 Join my weekly chat every Monday to have your question considered for the weekly Bruschi on Tap Q&A.
Q. Is it time to lower expectations for the Patriots? -- Avi (Brooklyn, New York)
If you're thinking Super Bowl right now, I'd say yes, it's time to lower your expectations and get back to focusing on what's going on within the AFC East. You have three teams that are 2-2. I think it's going to turn out to be a competitive race.
Also, it's time to lower your expectations offensively and raise them defensively. I don't know what can be fixed right now offensively when you have offensive line problems like they have. When you think your two offensive tackles might show you some good play, and they're not doing that. Then with two rookies in there, and a rotation they tried to implement -- Nate Solder's out, Solder's in; Ryan Wendell comes in and plays guard when he was your starting center for two years. They have major problems up front.
I'm going to tell you this: Even if they had Wes Welker, Randy Moss and whatever offensive weapons you want to name, they'd still be struggling, because they can't block. As much as you want offensive production, football on offense is about blocking first. If you can't run the ball or protect, you'll never a get a chance to see anything else.
Q. Consider this: Maybe the talent level on this team is just not up to par. Everyone looks for complex answers, but maybe the simple answer is that the Patriots are not a very good team. They have shown that three out of four games. A bad pattern is developing. -- Paul (Kenosha, Wisconsin)
September, 30, 2014
Sep 30
9:09
AM ET
KANSAS CITY, Mo. -- Bill Belichick ranked No. 1 in our Head Coach Tiers ranking of the 32 NFL head coaches last month, a project for which we had eight general managers, four former GMs, four personnel directors, four executives, six coordinators and four position coaches rate every coach in the league. He'll have to do his best coaching job yet to overcome the talent issues Belichick the general manager has created for the New England Patriots in 2014.
It's never been much of an issue in New England, because the team almost always improves and contends. That could happen again, but the Patriots' embarrassing 41-14 defeat to the Kansas City Chiefs on "Monday Night Football" showed just how small the Patriots' margin for error has become.
These Patriots barely beat winless Oakland in Foxborough eight days before the Raiders fired their coach. New England has now lost by 13-plus points twice in four games this season after suffering just one defeat by a margin that wide over the previous three seasons.
While the Chiefs' Andy Reid won the coaching battle at Arrowhead Stadium through the successful deployment of unusual formations and design of plays, that isn't the big story for New England. Squandering quarterback Tom Brady's final few seasons will become the big story if what we saw Monday night is truly representative.