February, 7, 2014
2/07/14
10:00
AM ET
Nebraska signed a
class of 24 prospects
on Wednesday that ranked 39th nationally and sixth in the Big Ten. We caught up with coach Bo Pelini on Thursday to discuss his thoughts on the group and a few issues related to recruiting:
Was there a group of positions that you considered most important to bolster with this class?
BP:
Probably where we needed some depth and we needed some numbers were offensive line and wide receiver. I feel good about the kids we got at those sports, starting with the four offensive linemen -- depending on exactly what happens with
(Mick) Stoltenberg
. I think he can do a number of different things for us. At wide receiver, we lost (Tre'vell) Dixon a year ago, and we just wanted to make sure our numbers were right there.
[+] Enlarge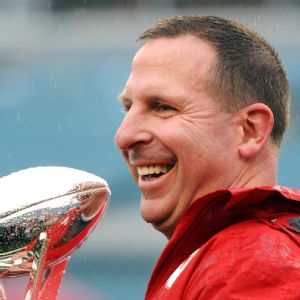 Melina Vastola/USA TODAY SportsBo Pelini believes this recruiting class addressed some depth issues.
What kind of momentum were you able to build from the Nebraska high school prospects, Stoltenberg, D.J. Foster and Luke Gifford, who committed early in the process?
BP:
They're quality kids. They're good football players, guys who we think are going to be very good for our program. Having been here and having a relationship with the guys, I thought they did a really good job of helping us in the recruiting class. Some of the other early guys like
(Demornay) Pierson-El
and
Peyton Newell
, were out on the social media, helping us recruit -- things that they weren't necessarily asked to do, but things that they just did on their own because they know it was important.
Zack Darlington
could be thrown in that group.
Is it a reflection on your staff's strengths in recruiting that you signed four players from Texas, nine from the Southeast but none from California, traditionally an important area for Nebraska?
BP:
It's different recruiting in California. They go about it a lot slower. Kids don't make as many early decisions. I think we'll still have a presence out there. How much, I don't know. When you look at the numbers, you wonder if the move into the Big Ten out of the Big 12 changes the perception a little bit of Nebraska. But we're going to continue to evaluate that.
You signed two junior-college defenders and were involved with several others at the juco level. How, in six years at Nebraska, have your feelings changed about the importance of recruiting the junior colleges?
BP:
Nothing's really changed as far as my philosophy. For us, there's been a pretty specific purpose behind recruiting a junior-college kid -- maybe to fill a spot in a class, or your lose somebody and you want a more mature, older kid to give you more balance on your roster. We're very selective on who we go after. That won't change. We're not going to be, any time soon, recruiting wholesale through the junior colleges. That's just not my philosophy. I'd rather develop them. I'd rather have four-, five-year kids than two-, three-year kids.
You added a coach last month with ties in Georgia. What have you seen already that Charlton Warren can add to your lineup of recruiters?
BP:
He has some ties. He has some built-up relationships, because he's been in there a lot. We're just going to have to play it by ear a little bit to see exactly how that works out, how that changes our reception down in Georgia. There are a lot of kids, just by sheer population, who come out of there. I'm sure he'll help us, but you've just got to constantly look at different areas and places where you have relationships.
Like just about every school, you were involved with recruits who flipped commitments, to and from Nebraska. How do you feel about the prevalence of flipping and does it affect the way you have go about recruiting?
BP:
Yeah. No. 1, you've got to recruit them and then recruit them again. With some kids, let's face it, a commitment doesn't mean much. You know until they sign on the dotted line that you're going to have to fight tooth and nail for them, regardless of what that guy has come out said publicly. There's all kinds of commitment types. It's crazy. There's something that could be done with the rules to help with that problem. Maybe an early signing date; maybe not having any signing date. When a kid commits, if he's ready, let's sign them up. I think there would be a lot of merit to that. I think it would solve a lot of issues on both sides, with coaches and players. Whether that ever happens, I don't know. As long as the rules are what they are, we'll have to continue to look for better ways to operate within them.
You generated a lot of laughs with cat tweets. But in all seriousness, how much do you recognize the importance of being a head coach, as you deal with kids in recruiting, who is somewhat in touch with social media?
BP:
Well, I think it's a reality. That's part of the deal. These kids are into it. They're aware of it, so you can't ignore that. We use it. We'll continue to use it as I get better at it. Social media is a big part of everything, so you can't just ignore it. You better embrace it and get on board.
So did you actually wrestle Tanner Farmer?
BP:
No, I didn't, but I offered to. He thought he'd break my back.
November, 25, 2013
11/25/13
3:00
PM ET
LINCOLN, Neb. -- If Shawn Eichorst, the first-year athletic director at Nebraska, peers out a window from the third floor that houses his office on the towering north end of Memorial Stadium, he can almost see a figurative line drawn in the sand.
On one side stands the pro-Bo Pelini crowd.
[+] Enlarge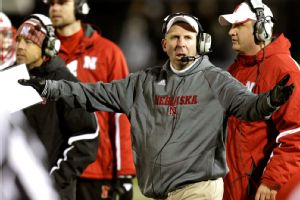 AP Photo/Gene J. PuskarWhat's in store for Bo Pelini's future at Nebraska? We'll find out soon enough.
Its members point to the sixth-year coach's clean football program, the undeniable fight and pride and resolve present in these Huskers -- on display again Saturday as Nebraska, with its No. 3 quarterback and an offensive line decimated by injuries, beat Penn State on the road in the cold and snow of overtime.
They speak of Pelini's improving defense, his 56 wins since 2008, the most of any coach hired that season, his excellent record in close games and how only Nebraska, Alabama, Oregon and Boise State have won nine games in each of the past five years.
The Huskers, at 8-3, can reach the mark again on Friday with a win at home over Iowa (noon ET, ABC).
On the other side lurks the anti-Bo crowd. It references the occasional blowout loss, the lack of a conference championship or BCS bowl game under Pelini, the recurring problems with turnovers and special teams and untimely penalties.
It talks of the four losses every season, recruiting missteps, a vanishing act from the national landscape and signs of general stagnation.
As the countdown reaches four days to the regular-season finale, the Pelini debate has grown red hot around Nebraska.
Factions on each side think the other is out of touch and unrealistic.
With every dramatic victory or heart-stabbing defeat, public opinion appears to sway. Really, though, the week-to-week events simply offer a revolving stage for each group to scream from the flatlands to the sandhills of this state. And loudly.
Yes, a figurative line has been drawn in the sand. It's divisive and damaging, potentially long term, for a program whose foundation was built upon unwavering support.
Eloquent receiver
Kenny Bell
, who returned a kickoff 99 yards for a touchdown against Penn State, spoke passionately in defense of his coaches last week. Offensive coordinator Tim Beck, by all accounts, grew emotional on Saturday when asked the criticism.
Among some in the media, the tone has turned angry.
Eichorst sees what is happening before him. That much we know.
Nearly all else about the law-school-trained administrator, including his stance on Pelini, remains a mystery.
Eichorst came to Nebraska from Miami last year. He wants to stay out of sight and out of mind during the season. An email request for his comment on Monday was returned with a polite acknowledgement but no hint of his plans to talk on the topic.
Meanwhile, Pelini addressed the team last Thursday as rumors circulated about his job status, assuring Nebraska players that he would not quit on them.
"That's the craziest thing I've ever seen," the coach said on Monday.
After the victory at Penn State, veteran running backs coach Ron Brown told the Omaha World-Herald, perhaps directed at the administration, that he sensed common traits between this team and the Huskers' 1992 and 1993 squads that set the stage for three national titles.
Nebraska recruit
Peyton Newell
shared on Twitter last week a private message from defensive line coach Rick Kaczenski, encouraging Newell to "look past the noise."
"I can tell you this bro, if I'm ever going into a fight," Kaczenski wrote, "and I could pick one person to stand by my side -- I'm picking coach Bo."
Pelini on Monday said he's not discussed anything with Eichorst about the end of this season.
"I'm not coaching to save my job or anything like that," Pelini said. "At the end of the day, I want to be here. And I want to be here if [the administration wants] me here. If somebody doesn't want me here -- and I'm not saying Shawn doesn't -- if they don't want me, then I'll move on. I'll go on my way.
He said he likes the direction of the Nebraska program.
"I like where we are," Pelini said. "I think the future is bright. I really do."
This fan meter on Pelini, if my gauge is accurate, is close to 50-50, minus the small cluster swayed week to week by the loud arguments of the group on stage. This week, the pro-Bo crowd is making noise.
Eichorst's silence has placed him at the center of the storm. His invisibility causes more harm than good. It's time to talk, unless, of course, he's planning a change, because what does he have to say in that case before this weekend?
My hunch: Eichorst, in his first year, doesn't want the blood on his hands that this kind of controversial firing would create. And the Huskers' unwavering spirit must count for something.
Pelini may, in fact, be out, but only if Eichorst decided in September he couldn't work with a coach who made the comments revealed on two-year-old audio tape in which Pelini was critical of the fans and suggested he was ready to leave Nebraska.
Outwardly, Eichorst appears the sophisticated type, riding shotgun with Chancellor Harvey Perlman -- whose own lawyer persona is at odds with the often-gruff Pelini. Will it matter?
Four days and counting to the end of this debate. For the sake of this program's stability, it can't get here soon enough.
October, 2, 2013
10/02/13
2:00
PM ET
From Wisconsin moving up in the polls to a few schools moving down, it was a busy week in the Big Ten and
the class rankings
reflect that.

Here's a look at what conference recruiting writers Brad Bournival and Tom VanHaaren saw and some trends to follow in the upcoming weeks:
September, 3, 2013
9/03/13
8:54
AM ET
There are still big holes to fill in recruiting for the 2014 class and top targets still on the board. A lot of position groups are being addressed in recruiting, but not many have been completely filled.
Big Ten recruiting writers Tom VanHaaren and Brad Bournival take a look at the most important position for each Big Ten team in the 2014 class.
To continue reading this article you must be an Insider
September, 2, 2013
9/02/13
8:00
AM ET
The opening weekend of college football and the beginning of a fall evaluation period means there is plenty to talk about in recruiting. Here is a look at what happened this weekend in Big Ten recruiting:
To continue reading this article you must be an Insider
August, 29, 2013
8/29/13
2:00
PM ET
Big Ten fodder is never hard to find, especially in recruiting. This week is no different as schools start positioning themselves in the recruiting world. Here's a look at a few programs that highligh a busy week in this week's Big Ten storylines.
Cornhusker in the making?
Defensive tackle
Peyton Newell
(Hiawatha, Kan./Hiawatha) is set to announce his decision on Friday. He is down to Kansas, Kansas State, Nebraska and South Carolina, but it's likely between South Carolina and Nebraska.
To continue reading this article you must be an Insider
August, 26, 2013
8/26/13
8:00
AM ET
By
Brad Bournival & Tom VanHaaren
| ESPN Insider
Ohio State and Michigan were at it again over the weekend in what has become commonplace in the recruiting world. The Wolverines nabbed an ESPN Junior 300 commit Friday and followed it up with another junior pledge on Saturday.
Not to be outdone, the Buckeyes grabbed an ESPN 300 standout of their own Sunday.
Here is a look at what happened over the past week.
To continue reading this article you must be an Insider
August, 21, 2013
8/21/13
2:00
PM ET
The latest version of the
ESPN class rankings
is out, and there are seven Big Ten teams within the top 40 classes.
With movement happening across the board, there are trends and stories developing, so Big Ten recruiting writers Tom VanHaaren and Brad Bournival give you a look at what to watch within the conference:
Trending up
To continue reading this article you must be an Insider
July, 5, 2013
7/05/13
12:00
PM ET