October, 1, 2014
Oct 1
11:30
AM ET
Michigan coach Brady Hoke is in his fourth season, but the Wolverines find themselves starting just one senior on offense and feature a variety of players yet to solidify their starting roles.
Hoke has said this is a young team and attributes that fact to some of the woes on the field.
While youth can be a factor in some cases, one Big Ten assistant says it shouldn't be an excuse for why a team isn't performing, or why players aren't developing.
"I'm not sure anyone can use the excuse of a young team," the coach said. "It's the coaches' job to get players ready to play. If they don't have experience, then you have to minimize what you ask [the players] to do."
To understand Michigan's situation, we take a look at the past recruiting classes, how the players have developed and how the results compare to their biggest rival.
Class of 2011
Hoke was hired in January 2011, so he and his staff only had a month to add any pieces to the 2011 class before national signing day. Hoke and his assistants added several prospects to this class, and these players are currently either seniors or redshirt juniors.
[+] Enlarge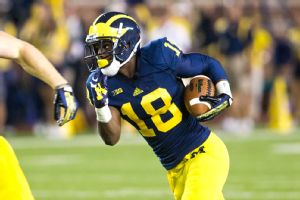 AP Photo/Tony DingBlake Countess is one of just five players from Michigan's 2011 recruiting class who have blossomed into solid contributors.
Total commits:
19
ESPN 300 commits:
0
Solid contributors (5):
Brennen Beyer
,
Blake Countess
,
Frank Clark
,
Desmond Morgan
,
Raymon Taylor
Players who left early (7):
Thomas Rawls
, Chris Barnett, Tony Posada,
Chris Rock
, Antonio Poole, Greg Brown, Tamani Carter
Outcome:
With seven players leaving before graduating, that was a huge blow to depth and the current roster. Only having five of 19 commitments develop to their potential didn't help, either.
Class of 2012
This was Hoke's first full class, and those players are now either juniors or redshirt sophomores. These prospects have had three years in Hoke's system and ideally should be the big contributors for the program.
Total commits:
25
ESPN 300 commits:
4
Solid contributors (5):
Devin Funchess
,
Jehu Chesson
,
Willie Henry
,
Joe Bolden
,
Jarrod Wilson
.
Jury is still out (4):
Amara Darboh
,
Dennis Norfleet
,
Chris Wormley
,
James Ross
.
Comparison:
Ohio State's 2012 class had 25 commits as well, and eight of those prospects turned into solid, consistent contributors. Urban Meyer was hired in November 2011, so this was partially his first class.
Outcome:
You could make the argument that there is still time left for these players to develop. Time is running out, though, and having only five of 25 playing up to their expected potential from this class is not good for the roster.
Class of 2013
This was Hoke's second recruiting class at Michigan and it was loaded with talent. This class is now redshirt freshmen and sophomores, so it's hard to fully judge these prospects as they still have plenty of football ahead of them.
Total commits:
27
ESPN 300 commits:
15
Solid contributors (5):
Derrick Green
,
Jake Butt
,
Jourdan Lewis
,
Delano Hill
,
Taco Charlton
.
Jury's out (5):
David Dawson
,
Patrick Kugler
,
Chris Fox
,
Mike McCray
,
Ben Gedeon
.
Comparison:
Ohio State's 2013 class was Meyer's first full class and 11 of the 24 commitments are already solid, consistent contributors. This is impressive, as these players are still relatively young. Having that many young contributors has helped accelerate Meyer's plan for the Buckeyes and turned them into Big Ten title and College Football Playoff contenders.
Outcome:
Michigan's recruiting classes have improved as time has gone on, but it might be too late. The 2011 and 2012 classes were where the Wolverines needed the most help with Hoke's transition, and whether it was lack of development or some other reason, those players haven't provided much production. Prospects from the 2013 and 2014 classes have started to take over as the majority of the impact players for the Wolverines.
Class of 2014
This was Hoke's best class yet, with a five-star commit and 10 prospects ranked as four-stars. Injuries have hampered a few prospects from making a real impact, but it is clear that the younger players are already pushing for time on the field.
Total commits:
16
ESPN 300 commits:
9
Solid contributors:
Mason Cole
,
Bryan Mone
.
Comparison:
Ohio State had 23 commitments in its 2014 class with 11 ESPN 300 prospects. The Buckeyes are seeing results from
Curtis Samuel
,
Raekwon McMillan
,
Sean Nuernberger
and
Erick Smith
. The Buckeyes have five true freshmen in the two-deep, so they are again getting production from the younger players.
Outcome:
Jabrill Peppers
,
Drake Harris
and a few other prospects have dealt with injuries, preventing them from consistently contributing. By all accounts, Peppers should be on the field when healthy and this class already has one starter in Cole along the offensive line. It's too early to tell how these prospects will pan out, but it is looking as though there will be some good players from this class.