December, 22, 2014
Dec 22
4:30
PM ET
It will be another full week before the NFL wraps up its regular season, which means at least as long before Michigan will name its next head coach.
Former Wolverine and current San Francisco 49ers coach Jim Harbaugh remains the No. 1 target in Ann Arbor, but multiple reports point toward other coaches with an NFL background being on the Michigan wish list. Jason La Canfora from CBS Sports reported Sunday that Michigan has kept other NFL coaches on its radar, including Baltimore's John Harbaugh, Buffalo's Doug Marrone and Sean Payton from New Orleans.
[+] Enlarge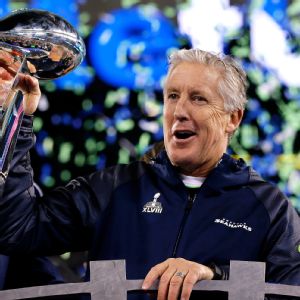 Kevin C. Cox/Getty ImagesPete Carroll has raised the Lombardi Trophy and the BCS national championship trophy.
Most current coaches who have left the NFL for a college program have found more success in school than on the pro level. If Harbaugh decides to join those ranks, he would be rare in that he would be leaving the NFL with a track record of success. Harbaugh is 43-19-1 as an NFL coach and led the 49ers to the NFC championship game in each of his first three seasons. Among the nine prominent coaches listed below who have been head coaches at both levels, only one left a professional league job for college on good terms. Here's a look at how some other programs have fared after hiring men with NFL experience.
Jim Mora (UCLA):
Mora spent his entire career in the NFL before he was hired to coach the Bruins three years ago. He had head-coaching jobs with Atlanta (2004-06) and Seattle (2009) and compiled a 32-34 record in that time. The Seahawks fired Mora after he went 5-11. He worked in broadcasting until 2012, when he went to UCLA. He has a 28-10 record so far in college and will face Kansas State in the Alamo Bowl on Jan . 2. He also has been mentioned as a potential candidate for the Michigan opening.
Pete Carroll (USC):
Carroll replaced Mora in Seattle in 2010 after almost a decade of coaching a dominant USC program. Carroll was 33-31 as a head coach in the NFL. His was fired after three seasons in New England where he had big shoes to fill as the replacement for Bill Parcells. Carroll was seen as an NFL bust who went on to win the 2005 BCS Championship. He returned to the NFL and salvaged his pro-level reputation by winning a Super Bowl, which is a career path Harbaugh probably wouldn't mind following.
Bill O'Brien (Penn State):
O'Brien is the only man on this list who left a successful NFL team for college. The caveat is that he was an offensive coordinator, not a head coach, during his time with the Patriots. O'Brien spent much of his early career as a college assistant. His first head-coaching job came at Penn State when he won national coach of the year honors in 2012. He left after the 2013 season to take over the Houston Texans, where he has again found success.
Nick Saban (Alabama):
Forty of the 42 seasons that Saban has coached have been in college football. He left LSU after winning a national title to coach the Miami Dolphins. Saban's team had a disappointing 15-17 record before he returned to the SEC as Alabama's coach in 2007. Rumors that Alabama – a blueblood program down on its luck – wanted Saban started during the regular season, and he had to dodge questions many times before saying outright that he wouldn't go to Alabama. Harbaugh has thus far avoided the same potential trap this season. Saban did, of course, wind up in Tuscaloosa, where he has won three national titles and is in position to make a run at a fourth in the coming weeks.
Bobby Petrino (Louisville):
Petrino had two stints in the NFL during his three decades of coaching. He was called an offensive genius by Jacksonville Jaguars head coach Tom Coughlin during his three years there as an assistant. Reviews after less than a year as Atlanta's head coach were not as kind. Petrino left Louisville with the promise of coaching Michael Vick and the Falcons in 2007. Vick was arrested before the season started and Petrino's team stumbled to a 3-10 start. He bailed in December, accepting a job at Arkansas, and informed his players by leaving a note in their lockers. He won double-digit games in his last two seasons with the Razorbacks before he was fired for off-the-field shenanigans.
[+] Enlarge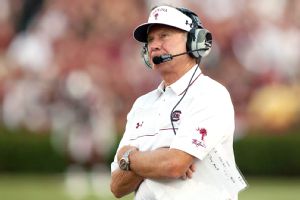 Jeremy Brevard/USA TODAY SportsSteve Spurrier again got the best of Georgia and showed that South Carolina will make noise in the SEC Eastern Division.
Steve Spurrier (South Carolina):
Spurrier has been the Head Ball Coach somewhere since 1987 and has only three losing season during that time. Two of them came during his brief cameo in the NFL. He resigned in 2003 after two disappointing seasons with the Washington Redskins and planned to retire. The former Gators legend returned to the SEC a year later. While he never has reproduced the success he had at Florida, he is 83-45 as South Carolina's coach since then.
Lane Kiffin (Alabama):
Kiffin became the youngest coach in Oakland Raider history in 2007, but his tenure there was short-lived. He was fired a month into his second season during an ugly spat with owner Al Davis. Kiffin finished his Oakland career with a 5-15 record. Kiffin has since burned bridges at Tennessee and been fired at USC, but has a 35-21 record on the college level. He also helped Alabama with a major offensive reconstruction this season.
Mike Riley (Nebraska):
One of the Big Ten's newest additions has coached in a wide variety of leagues since 1975. His three years as a head coach in the NFL have been among his least successful. Riley went 14-34 as the San Diego Chargers' coach. He was fired after a 1-15 record in 2001, when one of the team's three quarterbacks was veteran Jim Harbaugh. Riley has since found relative success in his hometown at Oregon State. The Beavers were 93-80 during 12 years under Riley.
Dennis Erickson (Utah):
Erickson is winding down a long coaching career as Utah's running backs coach. He has twice jumped from the NFL back to college after being fired. He took a crack at the pros in Seattle in 1995 after winning two national championships. His Seahawks' teams went 8-8 three times in four years, but he was fired. His second attempt, San Francisco in 2003 and 2004, was less successful. The 49ers fired him after a 2-14 year and he returned to the college ranks.
BIG TEN SCOREBOARD
Wednesday, 12/24
Saturday, 12/20
Monday, 12/22
Tuesday, 12/23
Friday, 12/26
Saturday, 12/27
Monday, 12/29
Tuesday, 12/30
Wednesday, 12/31
Thursday, 1/1
Friday, 1/2
Saturday, 1/3
Sunday, 1/4
Monday, 1/12
Tweets from https://twitter.com/ESPNCFB/lists/b1g