February, 27, 2015
Feb 27
8:00
AM ET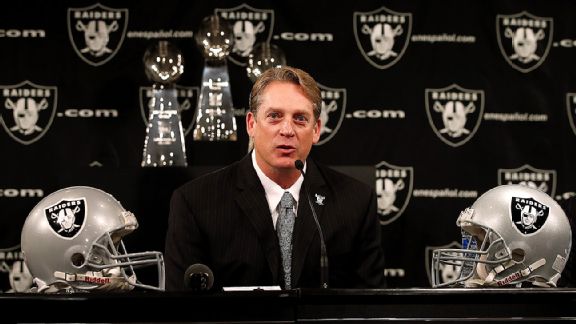 Justin Sullivan/Getty ImagesNew coach Jack Del Rio knows adding quality free agents is a key to turning around the franchise.
The Reggie McKenzie era with the
Oakland Raiders
is at a crossroads.
McKenzie, entering his fourth season as the team's general manager, is either going to start winning and prove he deserves to keep his job as the Raiders' primary football decision-maker since the death of legendary owner Al Davis, or he will eventually lose his job.
A key to McKenzie's fate is the upcoming free agency period, which begins March 10. The Raiders could have upwards of $60 million in salary-cap room -- among the most in the NFL. It should be enough to help this team with many needs, (McKenzie recently said his checklist is "big") rebuild what is widely considered one of the most meager rosters in the NFL.
The Raiders have been connected to free agents such as Green Bay receiver
Randall Cobb
, Kansas City center
Rodney Hudson
and Denver defensive tackle
Terrance Knighton
, among others.
However, the NFL is taking a wait-and-see approach when it comes to Oakland's ability to add impact players. Last year, Oakland had a record amount of salary-cap room (almost $70 million). Yet, Oakland let left tackle
Jared Veldheer
and pass-rusher
Lamarr Houston
walk, and it didn't sign any top talent. Instead, Oakland spent its money on aging veterans. Though a couple, such as
Donald Penn
and
Justin Tuck
helped, the free-agent class as a whole was a bust, and the Raiders went from 4-12 to 3-13. Essentially, the Raiders wasted their cache of cap room.
The Raiders seem bent on changing that this year. McKenzie, who recently said he will be looking for "some real players" this year, added he hopes to sign multiple starting-quality players.
He said a key to selling the Raiders to perspective free agents is the hope of building young players, such as quarterback
Derek Carr
and linebacker
Khalil Mack
, into stars.
"We're in the recruiting stage. Free agency, money, is major recruiting," McKenzie said. "It's like colleges, [players] want to see what you got. They want to see where we play, where we practice, where we meet. It's all important. What city you'll be in. Highlight the positives, and that's a part of it. And really, it gets to the point where they talk amongst themselves and everybody is positive. The energy is all about that, it's all about the vibe that they get when they're around current players. They see each other throughout, where they train, where they live. It's up to us to try and help facilitate that.
"I'm going to try and go after good players. I don't think last year, I felt like we need more role players. Now we're looking for some guys who can come in and be impact (players)."
New Oakland coach Jack Del Rio
is confident the Raiders will have success in free agency
. In fact, it seems like he's counting on it. Del Rio, who thinks the renovation of the team's facility is a step in the right direction, said they are all on on the same page: The Raiders know they have to spend money to get better.
"Those are things I talked about in the interview process that were important, and they've been followed up with actual commitment of capital, which I'm excited about," Del Rio said. "So as you go into this phase of free agency and acquiring players, we have cap space and we have a new staff full of teachers. We have a young quarterback. We have a good, young man off the edge in Khalil Mack. We've got a good left tackle. We've got corners. The things that we need to get started, we have. So, now we have to start adding good, quality people that are fired up to be part of the Raiders. I'm excited about part of that process that we're just getting into."
The NFL agent community is taking a measured approach because of the Raiders' recent history of losing and odd free-agent moves.
"I think Oakland will have to overpay to get guys," one agent said. "There's California's high taxes, the losing, the poor facility, the bad stadium, the question of the team's future home. All of those are reasons why the Raiders will need to be at the top of the market to attract guys."
However, another agent thinks the Raiders could be close to becoming attractive in free agency.
"Yes, Oakland is a tough sell, but if I had one of the top guys this year, I'd listen, because they have the room and the need," the agent said. "Oakland just has to convince that first big free agent, then it will get easier. Oakland is not a dream destination for guys, but if they could get a
Ndamukong Suh
to come, things will change in a hurry. The Raiders have to pull the trigger on a big name. They have to."
For example, there has been league conjecture that believes the Raiders will have to pay Cobb an average of $12 million a year if he gets to free agency. That is considered an overpay, but perhaps it will needed.
Oakland will have motivation to spend as well.
It needs to get close to reaching the league's minimum spending floor of 89 percent of the cap in cash from 2013 to 2016. The Raiders will likely need to spend big in the next two years to get there. The Raiders are aware of the many reasons they need to score in free agency. Now, it's time to see if they can execute.