December, 26, 2014
Dec 26
6:30
PM ET
ENGLEWOOD, Colo. -- There are times this season, such as a 21-point third quarter Monday night in Cincinnati, when the
Denver Broncos
' offense looks every bit as comfortable in sling-it-around, go-fast mode as it did last season when it set the NFL's single-season scoring record as the league's first 600-point team.
And there are times this season, such as a 45-carry, 214-yard rushing effort on a frigid night in Kansas City, when the Broncos have looked just as comfortable as a that's-going-to-leave-a-mark offense.
But with the regular-season finale approaching Sunday against
Oakland Raiders
and the playoffs looming, the Broncos would like to smooth out some of the rough spots in between.
"Everybody is trying to find a rhythm and it's just like, 'Who's it going to be? Passing game? Run game? Is it going to be the quarterback, the running back, the wide receiver?"' said offensive coordinator Adam Gase Friday. "The whole group, everybody's trying to find their own personal rhythm. That's where my job has to be, 'How do I get our whole group rolling in the right direction as fast as possible?' I think there have been some games where we've felt that way, where we've felt like, 'Alright we're going pretty good.'"
[+] Enlarge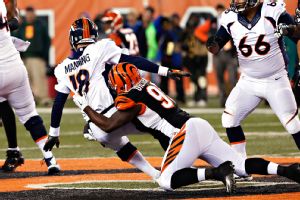 Aaron Doster/USA TODAY SportsWith the playoffs looming, the Broncos' offense is still trying to find its rhythm.
It isn't as if the dark clouds of touchdown-less doom have swirled around the Broncos. With 435 points after 15 games the current season still marks just the sixth time in franchise history the team has topped 400 points in a season.
Yes, it's certainly a long way from last-season's 606 points, but 600 points was uncharted ground before the Broncos went there in 2014. By comparison, the
New England Patriots
, who lead the league in scoring at the moment, need 41 points Sunday just to reach 500 points this season.
Broncos quarterback
Peyton Manning
leads the league in touchdown passes, with 39, and the Broncos have three players (
Demaryius Thomas
,
Julius Thomas
and
Emmanuel Sanders
) with at least nine touchdowns.
"We're certainly capable of moving the ball and scoring points," Manning said.
It's just, there have been times when Manning has looked out of sorts. Monday night was his first four-interception game since 2010. Manning has struggled when the Broncos haven't protected well, haven't controlled the line of scrimmage and when they've let scoring opportunities slip away.
Often the 19- to 22-yard field goals are the glowing red symbols of drives that got away since those are attempts that were made with the line of scrimmage between the 1- and 4-yard lines. This season two Broncos kickers --
Brandon McManus
and
Connor Barth
-- have made six field goals combined between 19 and 22 yards.
Turn those six drives alone into touchdowns and the Broncos are sitting at 459 points, or tied with the Patriots for the league lead.
After failing to come away with a title in either of the last two 13-3 seasons, the players understand one too many field goals, one too many sacks allowed, one too many missed blocks or one too many runs for negative yardage can be the difference in a playoff game.
"I think we just feel like there's more we can do," said wide receiver Demaryius Thomas. "We want to be consistent. We have to be more consistent. When we get those opportunities to make plays, we all have to make them, we can't leave anything out there and sometime we leave plays out there."
Monday night it was exactly those things with Manning's four interceptions, including one returned for a touchdown, a missed field goal right before halftime or the four plays for negative yardage (three runs, one pass).
"Got a little feel at the end of the first half (Monday) and then when we came out in the second half, that third quarter really felt good," Gase said. "(The players) kept coming back to the sidelines like, 'OK, I feel like we're getting it rolling pretty good here.' And in the fourth quarter we just kind of got stuck in a couple of situations where we had some game-changing type things happen. We thought we were alright and we either have a penalty, or we have a drop, or a sack or a tackle for loss that kind of changed the momentum of what we were doing in the fourth quarter. … And we've had a couple games where we've had some rough starts and didn't really get going until the middle of the game or in that third quarter. So we've just got to try to find it earlier. The sooner we can find that rhythm in a game, the better it's going to be for our offense."
"I'm not sure if the tempo really is what it's about as much as just the execution," Manning said. "We just have to be more sound. I have to be more on the details, more on the little fundamentals to get us started, to give each play a chance to succeed. Hopefully I can do a better job of that this week."